The trajectory of what we define as horror, in either cinema or literature, unveils an evolving shift of cultural tastes and beliefs as intriguing as the resulting products along the way. Despite the iconoclastic figures of horror that arose during the early days of cinema—from Dr. Caligari, Dr. Frankenstein, Nosferatu, and Dracula—the genre itselfwas considered low-brow, a vulgar vehicle for spectacle to satisfy the mainstream. Horror cinema, like no other, reflects the battle scars of compromise that is moviemaking, where limited resources stymie larger-than-life egos in front of and behind the camera to participate in the human alchemy of moviemaking. And thus, even with the contemporary surge of elevated horror over the past two decades, it's a genre that remains vulnerable to the scourge of the critical gatekeepers and the self-congratulatory awards ceremonies that tend to keep anything defined as genre in the shadows, leaving them to breed cult followings that ensure a worshipful legacy.
While one person's trash might be another's treasure, here are 10 dissonant horror-cinema gems that arguably missed the mark, for various reasons, on meeting the definition of their categorizations but remain fascinating, entertaining, and worthy of acknowledgment. Among them are flops, obscurities, embarrassments, and tax write-offs, all remnants of a past cinematic age, when shlock and shock value propagated freely.
10. The Lair of the White Worm (1988)
Thanks to the success of his 1986 film, Gothic (which dealt with Mary Shelley's inspiration for Frankenstein), British provocateur Ken Russell delivered one of his strangest efforts (which is saying something) in 1988 with The Lair of the White Worm, an adaptation of a lesser-known 1911 novel by Bram Stoker. Starring Catherine Oxenberg, Hugh Grant, and Peter Capaldi, it details the unearthing of an ancient snake skull that awakens a mythical snake god slain centuries prior. Russell's creature effects give the film the automatic stamp of cult cinema, but it's really a vivacious turn from Amanda Donohoe (of L.A. Law fame) as the secretive, sultry priestess to the awakened reptile that really makes Russell's film an odd perversity. Russell had been challenging notions of good taste since his 1969 adaptation of Women in Love, and even managed to receive praise for his work in genre with the earlier horror/sci-fi film Altered States. His white worm is lewd and gleefully lascivious.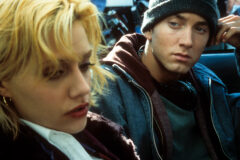 9. J.D.'s Revenge (1976)
Blaxploitation filmmaker Arthur Marks (Friday Foster, The Monkey Hu$tle) made one of the spunkiest entries in the genre with J.D.'s Revenge, starring a young Glynn Turman as a med student moonlighting as a taxi driver who unwisely permits himself to be hypnotized, allowing for possession by a slain 1940s gangster, J.D. Walker (David McKnight). J.D. is hot for revenge, desiring to kill the man responsible for the murder of his sister, leading him to a Reverend played by Louis Gossett Jr., the brother of the perpetrator. Turman's transition into a '40s style gangster is a lot of fun, and Marks' film takes on a swagger often missing from most Blaxploitation films, which simultaneously demeaned heroic Black characters as much as they glorified them. The dizzying plot points behind why J.D.'s sister was murdered add to the zany chaos of a film that has a strange mixture of elements and is quite unforgettable.
8. Toys Are Not for Children (1972)
Likely the most obscure title on this list, 1972's Toys Are Not for Children is a landmine of psychological traumas for its lead character, Jamie, a young woman who has an unhealthy fixation on her estranged father. One of two films directed by Stanley H. Brassloff (his 1968 debut, Two Girls for a Madman, has similar themes), it stars Maya Forbes in her only screen credit.
The gist of the story is Jamie is so obsessed with her absent father, she masturbates with toys he'd purchased for her, causing her mother, Edna (Fran Warren, who was a vocalist on the song "A Sunday Kind of Love") to kick her out of the house. Jamie finds employment in a toy store and marries the first man who speaks to her, only to leave him because she can't be sexual with him. Thanks to meeting a sex worker played by Evelyn Kingsley, who claims to know Jamie's father, the young woman takes off to New York to find her way to daddy through sex work. Which she does. And it would have been better if she hadn't.
7. Baby Blood (1990)
Director Alain Robak was at the helm of this bizarre offering about a creepy creature that crawls into the uterus of Emmanuelle Escourrou's character, Yanka. Mother and fetus communicate verbally (watching the film in French with English subtitles is recommended) as it demands she kill random men for the sustenance it requires. The somewhat disturbing narrative generates endlessly grotesque scenarios that are so bizarre the film becomes a situational comedy. A young Alain Chabat and director Jacques Audiard are among the cast. Escourrou would appear in the 2008 sequel, Lady Blood, where Yanka has now become a police officer after the birth of her cannibalizing creature.
6. Frankenhooker (1990)
Any number of Frank Henenlotter films could have made this list, including Basket Case (1982) and the extremely gratifying Brain Damage (1988), but his 1990 title, Frankenhooker, is something exceptionally gonzo.
In short, a medical student decides to reanimate the corpse of his fiancée after she's killed in a freak lawnmower accident at a barbecue. To assemble the parts he needs, he preys on sex workers in Manhattan. Hilarity ensues when his experiments result in reanimated sex workers, doomed to repeat their last phrases in life related to procuring money for sexual services. Some inventive practical effects add to the rough-around-the-edges glee, while Louise Lasser appears in a small role as the med student's mother.
5. The Leech Woman (1960)
Although lesser known than the Susan Cabot-starring The Wasp Woman (1959), Edward Dein's The Leech Woman is surprisingly effective in its subtexts about an aging housewife cast aside by her cruel husband. She exacts revenge by usurping control of a strange youth serum that requires them to travel to a remote African jungle to obtain an obscure ingredient. There she learns it must be mixed with juice from the human pineal gland, to be extracted violently by plunging a finger hook into the back of a man's skull.
B-film noir queen Coleen Gray (The Killing, Nightmare Alley) delivers a stellar performance as the alcoholic June, who quickly becomes addicted to her new path to beauty…which regularly fades, requiring lots and lots of murder. There's a Mystery Science Theater 3000 track to the film (though it's not necessarily needed), and ironically, Gray would spend her golden years crusading for prayer to be reinstated in public school. For converts to its appeal, Dein's 1955 B-film noir, Shack Out on 101, is also worth a look.
4. A Return to Salem's Lot (1987)
Without a doubt, A Return to Salem's Lot is a terrible film, a cash-grab sequel to Tobe Hooper's superior 1979 TV series adaptation of Stephen King's vampire novel. Director Larry Cohen, who unleashed a number of must-see oddities, from his It's Alive trilogy, God Told Me To (1976), The Stuff (1985), and some notable Blaxploitation offerings, denounced this project as a low point in his career. Michael Moriarty (from Cohen's 1982 film, Q: The Winged Serpent) leads a cast of stellar Hollywood notables, including June Havoc (sister of Gypsy Rose Lee), Evelyn Keyes, and Ronee Blakley. But rising above it all is a wacky performance from director Samuel Fuller, in Van Helsing mode as a Nazi hunter who has been monitoring the town. It turns out he's equally astute at slaying vampires. Watching Fuller stumble around chaotically in situations likely perilous to health brings the film to an unexpectedly entertaining zenith. Notably, the film is also the debut of Tara Reid, which isn't necessarily a selling point.
3. Trilogy of Terror (1975)
Dan Curtis directed Trilogy of Terror, a made-for-television anthology built around the exquisite Karen Black (whom he would direct again a year later in Burnt Offerings) and based on the writing of iconic genre writer Richard Matheson. As the title indicates, there are three segments, and four roles for Black, each titled for the character she's playing. First, Black's character is manipulated by a horny college student in "Julie," and then plays diametrically opposed twins in "Millicent and Therese." It's really the third segment, "Amelia," that makes the film captivating. Henpecked by her mother, the spinsterish Amelia finds herself battling the Zuni fetish doll she'd purchased earlier at an antique market. When the chain the doll is wearing falls off, it allows the warrior demon inside the doll to attack her. Amelia's eventual dominion over the doll, however, turns out to be rather detrimental to her mother's health.
2. The Killer Nun (1979)
Sadly, this is one of only two films directed by Giulio Berruti, better known as an editor (including the infamous Carroll Baker-led Baba Yaga, 1973). Sexual perversion seems to have been his forte, as his 1976 debut, We Are Like Fireflies, dealt with a sex worker who seeks revenge against the men responsible for her imprisonment by forcing them into her old line of work. But there's something quite sublime about his 1979 nunsploitation classic, The Killer Nun, particularly the performance of Swedish beauty queen Anita Ekberg (best known for cuddling a kitten in the Trevi Fountain in Fellini's La Dolce Vita, 1960). Here she plays Sister Gertrude, a Nurse Ratchet-like nun with a drug addiction who sexually assaults and murders those unlucky enough to be in the orbit of her descent. Alida Valli co-stars as the detached Mother Superior, and Joe Dallesandro is a lusty young doctor who arrives to aggravate her condition. The rather crude English dubbing adds a lot to the experience.
1. The Baby (1973)
You're unlikely to find a horror film more uncomfortably fun than Ted Post's The Baby (which he directed the same year as the Clint Eastwood film Magnum Force). The narrative has a doozy of a twist in the final act you likely won't see coming, but up until then it's a highly bizarre battle of wills between two women, an intensely zealous social worker played by Anjanette Comer and a battle-axe harridan of a protective mother played by an incredibly ripe Ruth Roman (who exists in the same continuum of Bette Davis for humans transformed by chain smoking).
The titular baby (David Mooney) is a whole adult man with a developmental disorder that causes him to behave exactly like an infant, wearing diapers and spending his day in a playpen. Comer's social worker wheedles her way onto the case, believing there's something suspicious about how his mother and two sisters treat the child, especially as the entire family depends on the disability checks they receive for his care. Roman, who was the female lead in Hitchcock's Strangers on a Train (1951), is gruffly terrifying, and a vicious delight to behold as the gone-to-seed Mrs. Wadsworth. Mooney's performance as the child, with infant noises dubbed over, is distressing and uncomfortable. Marianna Hill (The Godfather Part II, 1974) is also a highlight as one of the abusive sisters, looking as if she stepped off the set of The Howling (or, perhaps more appropriately, 1985's Howling II: Your Sister is a Werewolf). While it feels like The Baby is entertaining for all the wrong reasons, there's a major payoff in the finale that almost justifies the narrative insanity.
Watch Nick and his husband Joseph review (and spoil) films on their YouTube channel, Fish Jelly Film Reviews. Their podcast of the same name is available everywhere.