Karina Rykman identifies as "genre-fluid." The bassist/singer is almost frighteningly conversant on the guitar sparring of Derek Trucks and Warren Haynes, 311, Captain Beefheart and metal. After learning the White Stripes' "Seven Nation Army" on acoustic guitar in the eighth grade, Rykman learned to play bass by listening to favorite artists — eventually sometimes playing with them.
One such artist, Rush's Geddy Lee, sent her his new Big Beautiful Book of Bass with a personal note. They'd never met, but he'd seen an online clip of her schooling a random dude who'd questioned the propriety of Rykman wearing a Rush t-shirt. The man dared her to "name one Rush album," and Rykman promptly rattled off four. "You want them in chronological order!? You fucked with the wrong bitch!," she says.
Rykman's citizen challenger clearly didn't know that the New York native played in a band with virtuoso guitarist Alex Skolnick of Testament while in high school. By her early 20s, Rykman had jammed with Wilco's Nels Cline, keyboardist John Medeski, jazz drummer Billy Martin and experimental jazz/rock multi-instrumentalist Marco Benevento. Those experiences have clearly shaped her diverse but cohesive debut album, possessed of a vibe both youthful and mature.
Her first album, Joyride, was co-produced by Phish's singer/guitarist Trey Anastasio, whom Rykman met when she was in school with his daughter. The album captures Rykman's musical singularity and diversity without losing what she says is her "essential Karina-ness." Her in-the-pocket playing is malleable and by turns fluid, funky and super-heavy. The modern indie psychedelic approach on Joyride serves up a generous smattering of instrumentals, while Rykman's own voice proves delicate yet potent on the shimmering title track, which features Anastasio on guitar.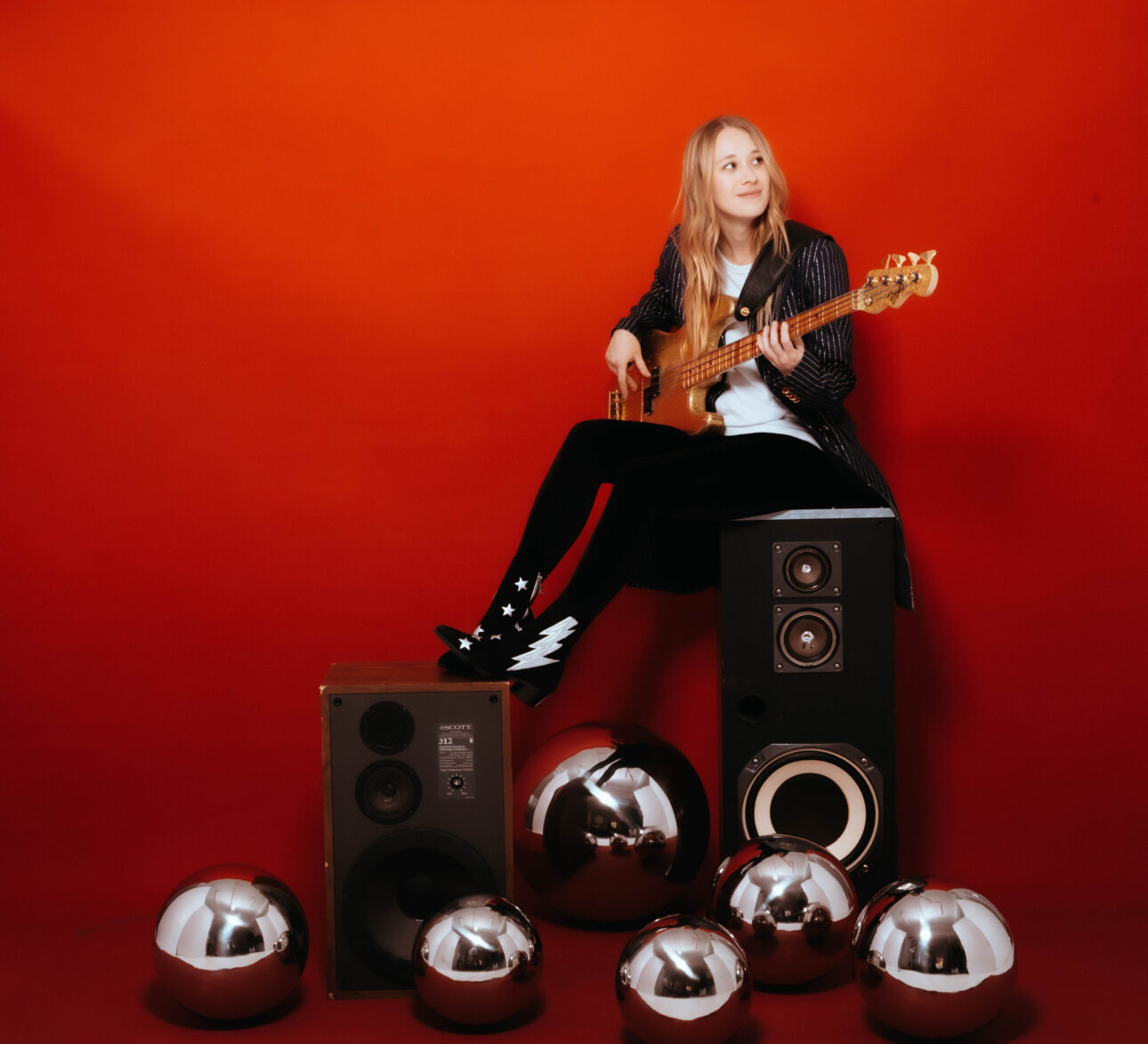 In addition to frequent sideperson work, her aforementioned power trio—Adam November (guitar, loopers, effects) and drummer Chris Corsico—have been playing and touring since 2017. Prior to the pandemic, Khruangbin invited Rykman's band to open for them, despite not having an album. Once shows resumed, Rykman performed at Bonnaroo in 2022 and opened for the Infamous Stringdusters and the California Honeydrops at Red Rocks. Also that year, she filled in on bass with the 8G Band on NBC's Late Night with Seth Meyers.
Despite her musical precociousness, Rykman didn't grow up in an overtly creative environment. The only child of a philosophy professor father and a French professor mother, she's almost entirely self-taught. She says not taking lessons ensured she would never lose her enjoyment of making music, a philosophy further strengthened by her solitary encounter with an instructor: "I did have one piano lesson with this very strict guy when I was in fifth grade. I was like, 'Yeah, we're done with that.'"
As a young autodidact with musical sensibilities ranging from chart-toppers to esoteric jazz, she had the rare ability to combine and create from that base/bass. "Weaving in and out of the mainstream is very interesting to me," Rykman says. "I like to study all of it. I like to learn and explore. I'm just a weird chameleon." That sensibility served her well at NYU's Gallatin School of Individualized Study, which allows students to create their own major. Rykman's choice? "Invention and Distribution in Contemporary Music," she says. "Both the creative and business sides."
Well-meaning fans sometimes praise Rykman by comparing her to Tina Weymouth of the Talking Heads. "That's a huge compliment, of course. I'm the biggest Talking Heads fan this side of the Mason Dixon," she says. Yet, she wonders, "Why did you get that idea? Because I'm blonde, and female? I feel as much Geezer Butler and Cliff Burton in my playing as I do Tina Weymouth."
The cited bassists, however, are neither lead singers nor in a three-piece. "It's really fun to play bass in a bombastic power trio because you can't overdo it, which is awesome," she says with a grin. There are no limits, despite the stripped-down format. "I'm a huge fan of Rush, the Police, Primus and Morphine; there are so many examples of Incredible power trios," she continues.
Despite her music nerd leanings, Rykman is far from the stereotype of a precious muso. "I believe in the person-to-person connection, the blurring of the lines between audience member and performer," she says, a fact made clear at every jubilant live performance. "There's no pedestal. I'm part of a band creating the music for that space. We're no different [than the crowd]. We're just energy transfer units, enjoying something together in the same moment in time and space."