Micah Brown and Micah Pueschel, two members of the sunshine reggae band Iration, acknowledge the widespread importance of maintaining mental health—taking care of our brains and well-being.
"When it comes to a global issue," lead singer Pueschel tells SPIN backstage at the BeachLife Festival in May, "when something like death, fear, and all these other things really impact the entire planet, then everybody is forced to deal with it. … We have to come to grips with mental health being on the same level as physical health."
Lead guitarist Brown explains that, in his own experience as a musician, mental health issues can slowly creep up on tour when things are typically hectic. With being so emotionally and physically close to people on the road, he tries to support his tourmates by checking in on them.


"Really don't give up on those people that you love who are struggling because it's not that easy to just get out of something like that," Brown says. "It's very all-encompassing in people's lives sometimes, so sometimes being that one person that checks in on them can make all the difference."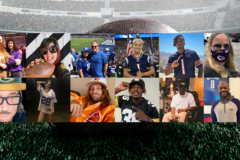 To escape the confinement of a tour bus and stay grounded while on the road, the reggae pop group—whose members largely hail from Hawaii and Southern California—enjoy spending time together outdoors. They'll golf, surf, bike, jog, or just go outside to get some sun and be active.
"Connecting with nature is a big part of that, I think," Pueschel says, "because when you're so ingrained in touring—you're indoors, in the bus, doing your traveling, moving so fast—as soon as you can get outside in nature, it feels like a reset."
Iration will release their newest album, Daytrippin, on October 6.
Subscribe to SPIN on YouTube and check out more videos from our SPIN IMPACT series in the playlist below: