For years, Florida-bred rockers Shinedown have been raising awareness about mental health and, prominently, suicide prevention.
Backstage at the SXSW Festival, singer Brent Smith and guitarist Zach Myers stress to SPIN that people shouldn't feel embarrassed about their mental health issues and, rather, can find help and support from others.
"Any way that we can get more information out there," Smith says, "from people from all walks of life from all over the planet, that there are people that can help you if you're struggling. … We're all a work in progress, and that's what we've always tried to tell people."
The band has been working with the American Foundation for Suicide Prevention for over a decade. Smith calls the AFSP an "incredible organization," crediting the foundation's research, workers, and how they "present" mental health.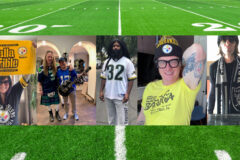 Shinedown's lyrics often touch on heavy subjects—and Myers recalls meeting many fans who have been impacted by suicide.
"I've just had to walk out of meet-and-greets because I'm about to cry [from the stories]," Myers says. "My cousin committed suicide when I was 14. He was my best friend. It touches everybody in different ways. To hear those stories from fans, it means a lot to us."
On one of Shinedown's recent tours, $1 from each ticket sale went directly to the AFSP, funding the organization and suicide prevention awareness across North America.
"Don't be quiet," Smith says. "If you see somebody that you can tell is struggling, whether it's a friend or a family member—even if it's a total stranger—if you notice something is off, we tell people, the worst thing you can do is be quiet."
Subscribe to SPIN on YouTube and check out more videos from our SPIN IMPACT series in the playlist below: