Killer Mike is this week's guest on our latest podcast, SPIN Sonic Impact. In his conversation with hosts Eliot and Olivia Goldberg, Mike discusses Ice Cube's influence on him, and the key moments of his life and career, including his big break on Outkast's 2002 song "The Whole World."
Also in the episode, Killer Mike shares how his mother influenced his world view, and why he paid tribute to her on his recently-released album, now the number one rap album in the nation, Michael.
Since Sonic Impact launched last year, Eliot and Olivia have interviewed music industry professionals who shared their life-changing stories about a specific musician who most influenced them. To kick off this season, the first in collaboration with SPIN, the duo interviewed SPIN founder Bob Guccione, Jr., who spoke about discovering Sinead O'Connor and breaking Nirvana to the public, and other stories from the magazine's early, wild years.
With SPIN as its partner, Sonic Impact will interview major musicians about the providential interactions that impacted their own journeys.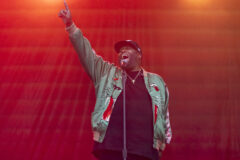 SPIN's Sonic Impact is available wherever you listen to podcasts.