Justin Tranter leaves an undeniable impression, in more ways than one. For the last decade, the larger-than-life songwriter has shaped the musical zeitgeist with major hits for the likes of Imagine Dragons, Justin Bieber, Selena Gomez, Fall Out Boy, Julia Michaels, Leon Bridges, YUNGBLUD and DNCE, among many others. Streams in the hundreds of millions – and sometimes billions – are the default for Tranter's songs, including Maroon 5's "Cold," Bebe Rexha's "I'm a Mess," and Halsey's "Bad at Love." Cultivating a talent pool which Tranter caretakes with a writer/artist-first ethos, the non-binary visionary established Facet Records and Publishing with a select group of exceptional music team of creatives.
Tranter's impact does not stop with music. As a proactive member of the queer community, Tranter leads fundraisers, supports creators, is an ongoing patron of businesses and a vocal advocate for equal rights and opportunities. The staunch vegan is a regular at neighborhood Los Angeles eateries like Plant Food and Wine as well as a repeat customer at the classic joint Real Food Daily, Psychic Wines and Naturewell where they custom-make their juices.
In person is where Tranter cuts the most overwhelming figure with a sly and ever-present sense of humor and tidal wave-like friendliness. And, of course, an unerring sense of glamor. Whether it's attire, accessories, makeup, sundries or décor, Tranter's got superb taste. They share their most glamourous tips for essential designers, shops and artistic go-tos, including the most essential accessory of all: a gorgeous German Shepherd—or two.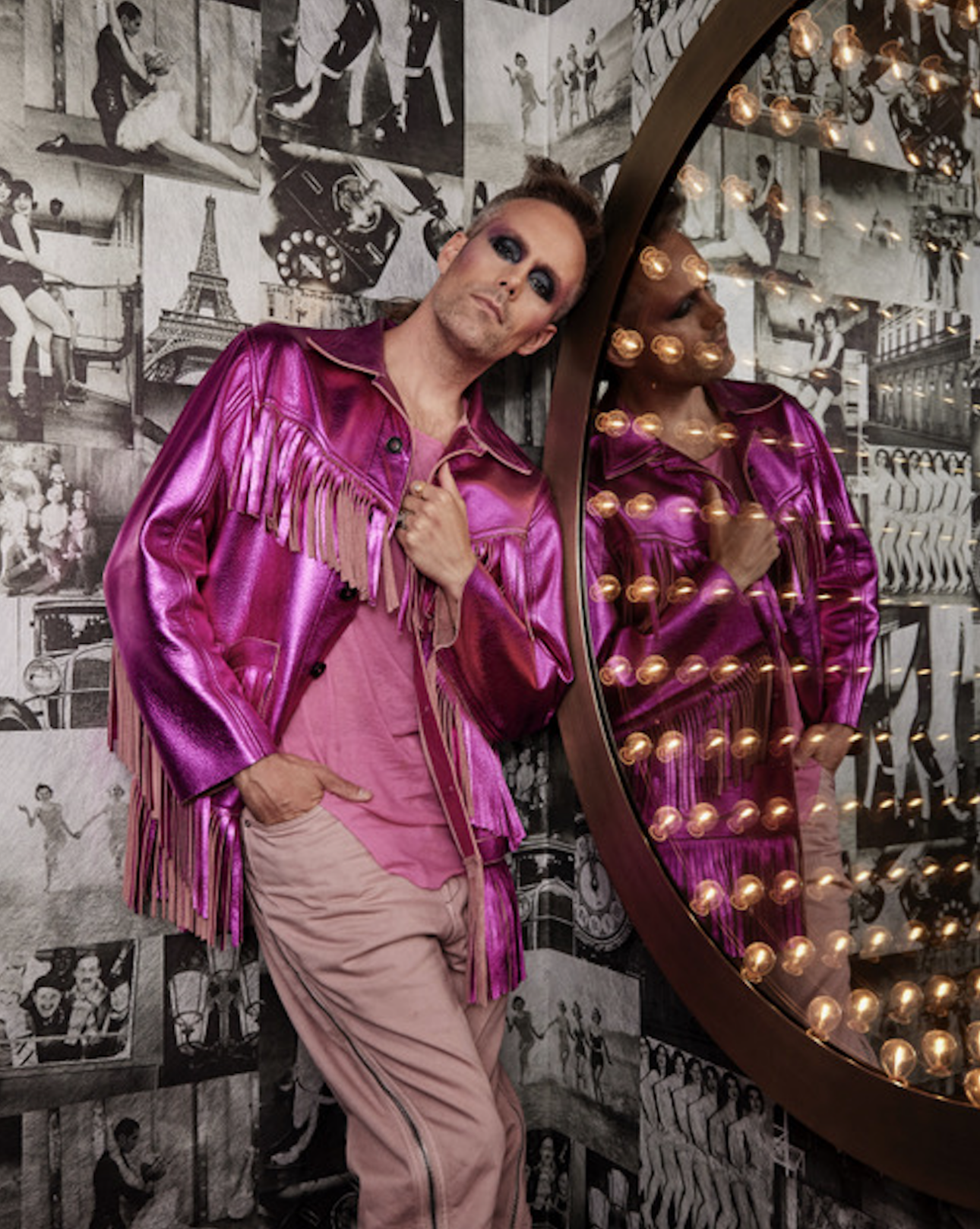 In a songwriting session, clothing is like a silent language that says: "This is who I am. This is what I stand for. This is the taste level I have, or—if you're not me, this is the taste level I don't have." You don't want to look like you tried too hard because the artist should be the one that's shining. Rick Owens is a great place for my daily vibes. I can show up to the studio and not feel overdressed but still feel exciting. I don't want to upstage the artist, but I still want the artist to feel like I get it. Rick is perfect for that.
One of the most successful women in music business history, Wendy Goldstein, asked me to be her guest at an event. I had a couple of hits already, but the money doesn't flow through for a while. A friend told me to go to Wasteland. I got a vintage Gucci suit for $400, which, at the time, was way too much money for me. But I made it happen and I looked fabulous. Now, the suit is a little too butch for my taste. But it's the suit that I lend to all of my friends when I invite them to the GLAAD Awards or the ACLU Gala, or any place where they need a fancy outfit but they don't have one. Wasteland has a very special place in my heart for getting me, and to this day, my friends, through fancy events so we can feel confident.
They have these amazing little rectangle handbags in eight different colors. I have all eight and they're amazing. I get asked, mainly by straight women, "Who is that bag? I need to buy it." I've never been complimented on something so much. It makes me proud to be able to celebrate and promote an independent, queer designer from Spain.
Jewelry
I do not want to get married, but I did want the ring like all the other femmes get, so I got it for myself. I got married to myself. I have a wedding band and a huge engagement ring, and then I bought another ring to stack with it because, in the same week, I had two songs go diamond: "Believer" (Imagine Dragons) and "Sorry"(Justin Bieber), so it has two little double diamonds on it.
Westside German Shepherd Rescue
I love German Shepherds. I think they're so kind and so beautiful and so loyal. They're supermodel dogs. In big cities, they don't get rescued a lot because they're so big. People don't have space for them. As someone who is privileged enough to have space, I always rescue older German Shepherds. It leads to more heartbreak because you have a shorter time with them. But why not give a dog the best Golden Girls retirement you possibly can.
Her talent [for makeup] is truly shocking. To see this trans woman be embraced by all these megastars, people she really looks up to like Carmen Elektra and Billy Porter, people in the fashion world, Ellen von Unwerth, who is, of course, an icon. To be able to help Darian move to LA from New York and turn the top floor of my house into this amazing '80s Miami coke den-meets-Barbie — even though I've never done coke once in my life – it's quite fabulous.
One of my favorite places is Ri-Ri-Ku. It has amazing independent designers or vintage finds of lots of amazing housewares or gifts, and then a couple of independent clothing designers. When I go gift shopping, it's always at Ri-Ri-Ku.
My first house was 90% Sunbeam. It was the best. Really beautiful. I felt so glamorous, but I could afford it. Their taste level is so high. Their price point is fantastic. They have some pieces that whatever era they're from, they feel like they could be in the future, even though they're organic. Makes you feel fancy, even though their price point isn't.
Tom is the definition of queer erotica. He has influenced all sorts of fashion designers, all sorts of makeup artists, all sorts of photographers. The gallery here in LA has historical Tom of Finland drawings, but features new younger artists as well. I've been to many great openings and events there. A wonderful space.
It's insane how many studios look like dentists' offices. It's really depressing. Our studio is decorated so it's colorful and crazy. We have acoustic paneling that I had art made for, inspired by Marilyn Monroe's last movie, The Misfits. It's a private studio for me, people that work with me, or are signed to my publishing company or record label. If you are one of my artists, you can use this space for free.