Surviving Beastie Boys members Adam "Ad-Rock" Horovitz and Michael "Mike D" Diamond helped christen the newly renamed Beastie Boys Square today (Sept. 9) at the intersection of Rivington and Ludlow Streets on New York's Lower East Side, which appears on the cover of the rap trio's iconic 1989 sophomore album, Paul's Boutique.
A 2014 initiative to rename the area failed by a 24-to-1 vote, but New York City Council approved the plan last year, spurred by the efforts of historian LeRoy McCarthy, who has also worked to rename New York streets in tribute to Tupac Shakur, the Notorious B.I.G., and Wu-Tang Clan.
"I want to thank everyone that loves Beastie Boys music," said Horovitz, after initially admitting that the event was both "fucking weird" and "fucking awesome. I don't really understand why, but I know that I love it. So in a way, that makes us kind of friends, like we bonded over these weird records. So, thank you."
"We walk around these streets and we don't really think about who they're named after, like Ludlow Street, Irving Street, Father Demo Square," he continued. "But it makes me really happy to know that some kid on their way to school 50 years from now is gonna pass by this and look up and be like, 'What the fuck is a Beastie Boy and why the fuck do they have a square?'"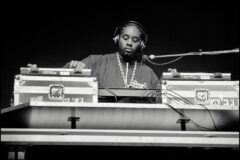 Diamond said even though the Beastie Boys didn't grow up around the Lower East Side, they always viewed it as "this cool place that we wanted to go and hang out. Somehow, the Lower East Side was gracious enough to have us and let us see so much incredible music." Calling early rap music "so revolutionary and so exciting," he recalled memorizing songs and mixtapes in hopes that the Beasties could one day make music of their own. "Now here we are all those years later. Thank you so much for everything," Diamond said.
The ceremony closed with a celebration of late member Adam "MCA" Yauch, who died of cancer in 2012 at age 47. "He was our brother on this amazing journey that we all got to go through," Mike D said.
In related news, the Beasties are screening their Apple film Beastie Boys Story tonight at the IFC Center in New York, and have relaunched their dedicated SiriusXM channel at 105 on the dial.