For the second year in a row, Taylor Swift dominated the MTV Video Music Awards. Last night (Sept. 12) at the Prudential Center in Newark, N.J., Swift scored a record-tying nine wins for music from the album she announced at the 2022 event, Midnights. The artist won Video of the Year for the fourth time for "Anti-Hero" and extended her career VMAs haul to 23, three shy of Beyonce's current record — all of this as her box office-busting Eras tour continues unabated.
Beyond Swift's big night, the VMAs featured high-energy performances from Megan Thee Stallion and Cardi B, K-pop acts such as Stray Kids and Tomorrow X Together, Video Vanguard winner Shakira and Global Icon Award winner Sean "Diddy" Combs, young country star Kelsea Ballerini, a cold open with Lil Wayne and Olivia Rodrigo, and the now-standard old-school hip-hop tribute to end the broadcast.
Below, SPIN sorts out the winners from the losers from a surprisingly entertaining 2023 VMAs extravaganza.
Taylor Time
We're running out of superlatives to describe the undisputed biggest pop star on earth right now, whose magic touch continued last night. Swift gladly shared the spotlight with her collaborators on the multiple-winning "Anti-Hero" video, inviting editor Chancler Haynes and director of photography Rina Yang onstage with her to say a few words. Describing the past year on the Eras tour as "the adventure of a lifetime," Swift added after taking home video of the year, "I just want to say that the fact that this is a fan-voted award means so much to me." Swift also made sure to plug the impending release of her 1989 re-record, which arrives on Oct. 27.
Respect Your Elders
Pop music is a young person's game, but MTV gleefully saluted its past by reuniting 'N Sync as well as "Promiscuous" collaborators Nelly Furtado and Timbaland to present awards. The members of 'N Sync apparently hadn't appeared in public together since the 2013 VMAs and looked to be enjoying themselves despite some questionable wardrobe choices (Lance Bass and your bright green suit and purple hair, we're gazing in your direction, and Joey Fatone, you looked like a bouncer in a casino). Swift was overwhelmed to accept the Best Pop Video award from Justin Timberlake and company, gushing, "I had your dolls! Are you doing something? What's going to happen now? They're going to do something and I need to know what it is. You're pop personified, so to receive this from your golden pop hands is .. it's too much." She gave a similar speech when later handed the Song of the Year trophy by Furtado and Timbaland, admitting, "I'm very millennially triggered by my choices of presenters tonight. You guys are going to do something, right?"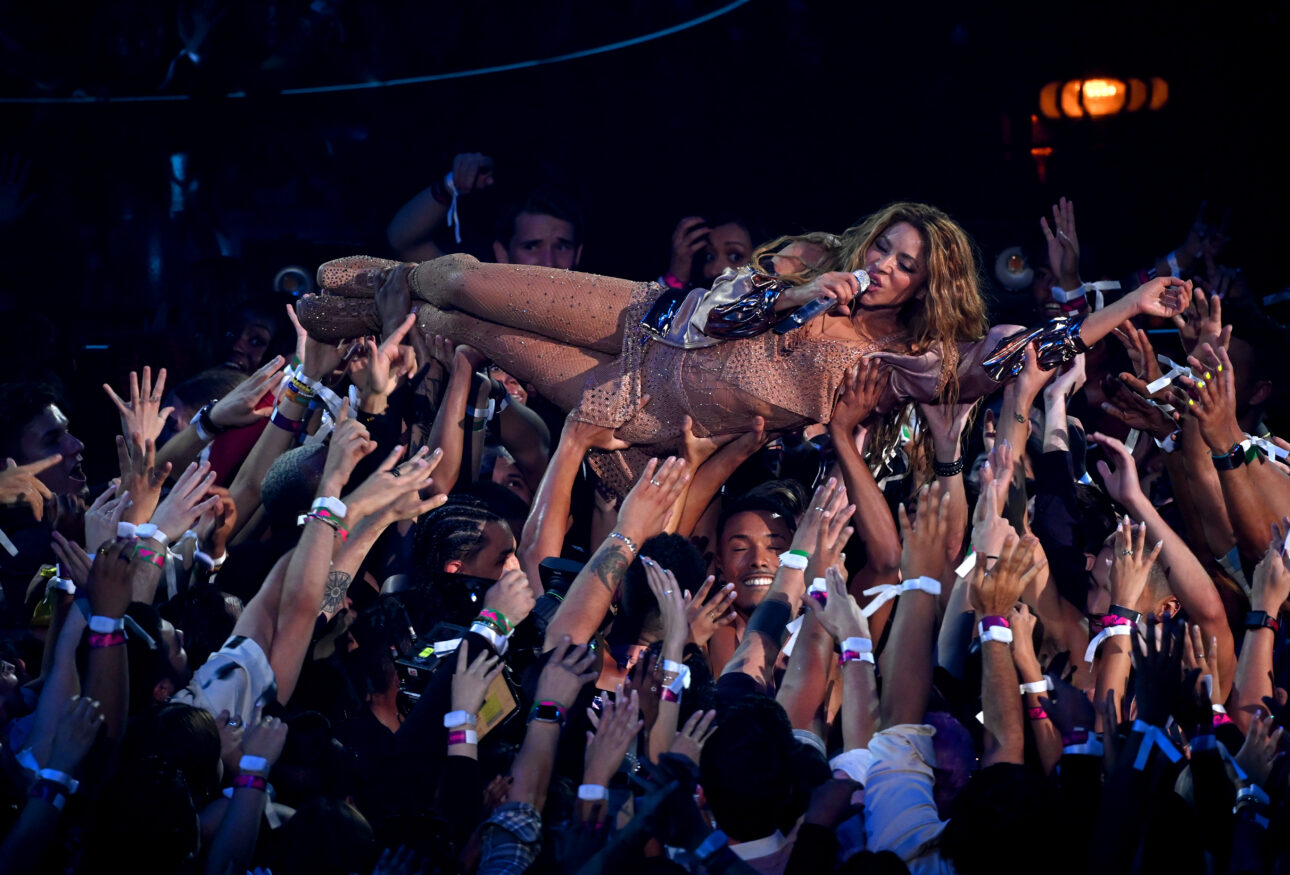 Award Your Elders, Too
Shakira, 46, shimmied like someone half her age during her Video Vanguard segment, crawling through a cave during "She-Wolf," indulging in rock star theatrics on "Objection (Tango)," brandishing knives as dance accessories, crowd-surfing, and then rising high above the ground on a narrow platform to conclude her hits-packed medley with the recent "BZRP Music Sessions #53." Although she made no mention of her upcoming Spanish trial on serious tax evasion charges, the Colombian superstar said during her speech, "I want to share this award with my fans, who always support me through thick and thin. Thank you so much for being my army and helping me fight all my battles." Later, 53-year-old Sean "Diddy" Combs took his turn running through a sequence of throwbacks ("All About the Benjamins," the Police-sampling Notorious B.I.G. tribute "I'll Be Missing You") with guest turns from Yung Miami and Keyshia Cole. The Bad Boy Records mogul, who has reportedly reassigned rights to some of the label's catalog to its artists and songwriters rather than himself, held his Global Icon Award aloft as he declared, "Love wins, ya'll." As for the decision to select eyeliner-loving, blouse-adorned 51-year-old Jared Leto as the presenter of the Best Hip-Hop VMA, the less said, the better.
Timing Is Everything
The stars aligned, literally and figuratively, for timely appearances in 2023, with Olivia Rodrigo dazzling with two songs from her days-old sophomore album Guts as part of the show's opening, Megan Thee Stallion and Cardi B shaking their posteriors with abandon during the first live rendition of their brand new single "Bongos," a black leather-clad Demi Lovato cranking the volume for a medley from her rock album due on Friday, and Minaj later debuting two tracks from her upcoming Pink Friday II project, including the uncharacteristic auto-tuned emo pop song, "Last Time I Saw You." It all felt appropriately of-the-moment, including Ballerini's outdoor rendition of "Penthouse," which happened to fall on her 30th birthday.
World Party
It took 49 minutes before the first Latin song was performed last night (Anitta's "Funk Rave"), but MTV certainly provided more than just lip service to songs of non-American origin. When "Funk Rave" later won Best Latin Video, Brazilian singer Anitta gave a shout-out to listeners in her home country and Mexico, promising, "You're gonna hear way more Brazilian funk in the world." Colombian pop star Karol G's VMAs debut featured solid performances of "OKI DOKI" and "Tá OK," while Peso Pluma became the first Muso Mexicana artist to grace the VMAs when performing "Lady Gaga" on a stage lit up by white laser beams. "Gags" sported the only usage of acoustic guitar and horns of the night, and Pluma also deserves credit for going out in public wearing that giant puffy vest and mullet. Later, there was a nice cross-cultural moment between Nigerian singer Rema and Selena Gomez, who won the previously un-broadcasted Best Afrobeat Award for their single "Calm Down." The apparently clueless crowd managed to politely applaud when Rema thanked genre pioneer Fela Kuti for inspiring his success: "This means so much seeing Afrobeat grow this big."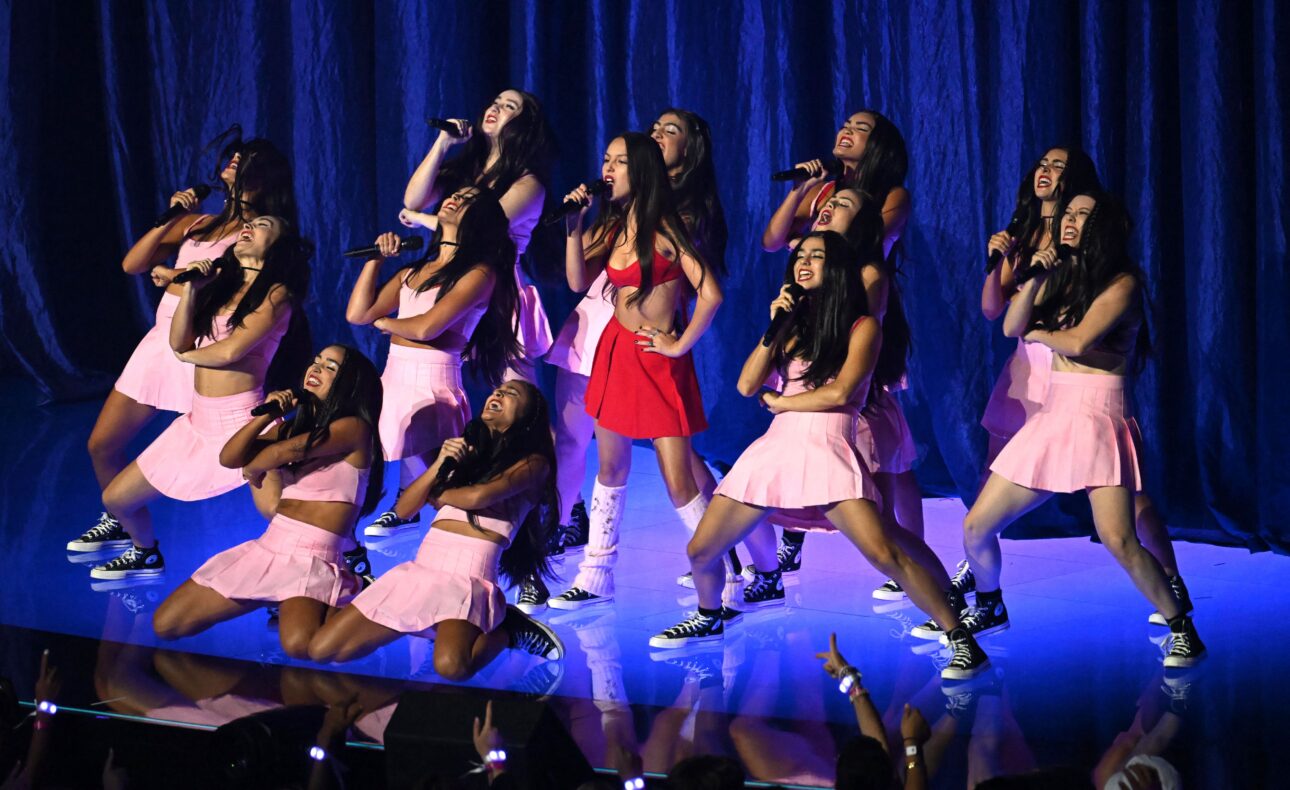 It Makes Me Wonder Sometimes…
At the risk of being cranky, do we really have to endure another three months' worth of multi-artist 50th anniversary hip-hop celebrations on TV? Genre pioneers such as Grandmaster Flash and the Furious Five, Slick Rick, and Doug E. Fresh all took the stage last night and deserve plenty of love, but the seemingly endless medleys are blunting the impact of this major rap anniversary and reducing it to well-worn soundbites. And while it was heartwarming to watch LL Cool J (55) and Run-DMC's Darryl McDaniels (59) nod to MTV's role in helping "Walk This Way" cross over to white audiences by performing that 1986 smash, Rev. Run was quite conspicuous in his absence. Plus, there had to have been more representative songs to choose for performances such as this than two more by Minaj — where was the shoutout to Yo! MTV Raps, which did more for hip-hop on MTV than any other program?
Naming Rights
The shameless product placement on display this year reached a new level of absurdity with a show-ending chyron trumpeting, "Burger King congratulates Taylor Swift for her win for Video of the Year" (it's hard to imagine Taylor fans high-tailing it to the drive-thru to "have it their way" after a long night at an Eras tour concert). Throughout, we were subjected to countless cut-ins on a smaller performance stage sponsored by Doritos (activate the QR code for "multiple views," folks!), numerous Bacardi commercials "celebrating 50 years of hip-hop," and a weird clip ostensibly in support of the Toyota-sponsored Video Vanguard segment, during which fans waved Shakira signs with all the enthusiasm of hostages while standing outdoors next to the Japanese auto maker's new Prius.
Pass The Fire Extinguisher
Kudos to Fall Out Boy for still meriting VMA attention after 20 years in the game, but its "update" of Billy Joel's 1989 history lesson-set-to-music "We Didn't Start the Fire" felt like the nadir of the evening's pop culture hit-and-runs. Somehow the group rendered one of the most annoying songs of the past four decades as something even more intolerable and witless ("Trump gets impeached twice!" "Polar bears got no ice!"), and frontman Patrick Stump's extremely ill-fitting suit only added to the WTF. No bonus points either for presenter Bebe Rexha, who before the song turned and pointed to her posterior-baring outfit and announced, "Hi everyone. Look at my ass!"
Is It Bedtime Yet?
This year's run-of-show was simply too overstuffed to end at a reasonable time, with the broadcast finally signing off at 11:51 p.m. ET after just shy of four hours on the air.