Like many great thinkers, Outside Lands co-founders Allen Scott and Rick Farman were standing in the woods when they had an epiphany four years into the festival's existence. As they watched Jack White perform a mist-flecked pop-up set amongst the trees on the outskirts of the San Francisco-based festival's stages in Golden Gate Park, they finally realized they had something special on their hands.
After all, what could be more uncommon than White and his all-female backing band, having emerged from Third Man's Rolling Record Store truck, playing five acoustic songs for hundreds of lucky onlookers (and Tom Morello) not far from parked food trucks and the dessert area called Chocolate Lands? By the time word of the performance spread across the grounds, it was over.
"That was, to this day, the most exciting surprise we've had at the festival," Outside Lands co-founder Allen Scott recalls of the set, which came together in the week beforehand. "We knew enough people would find it, or stumble upon it, in real time. Anytime an artist does something unexpected like this, it ends up being a moment. Jack and his management knew it was an important moment for the band and an endorsement for Outside Lands."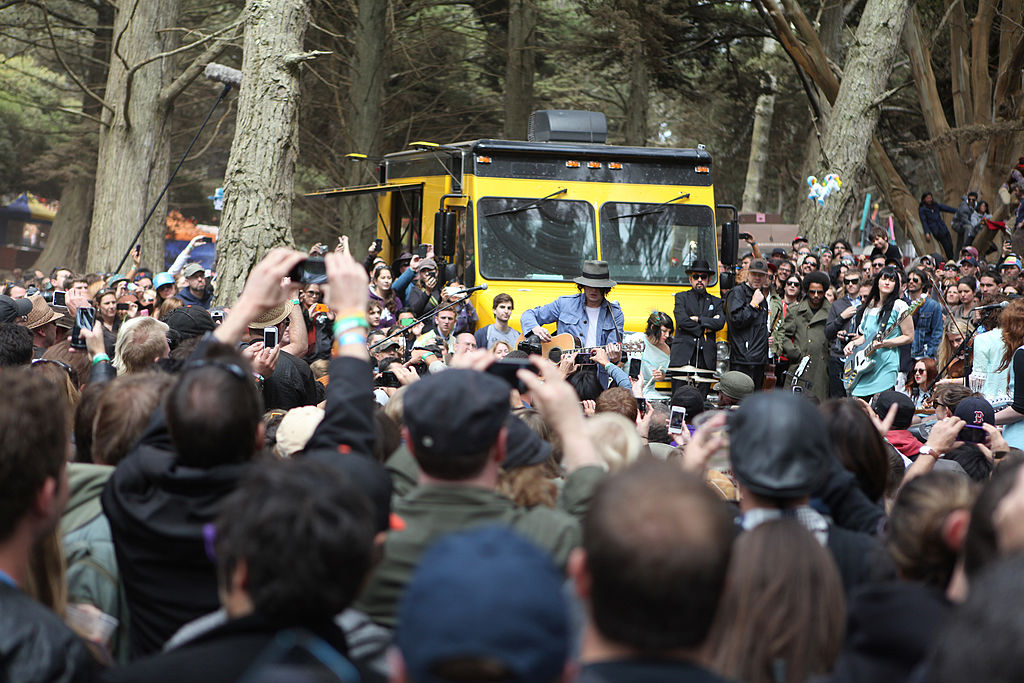 Jack White performing in the woods was the farthest thing from the mind of Bay Area concert promoter Allen Scott when he met Superfly Presents co-founder Farman at a Pollstar conference in the mid-2000s. Scott's company, Another Planet, had previously produced a 2004 free Dave Matthews Band charity concert in San Francisco's Golden Gate Park in tandem with the Farman-co-founded Superfly Presents, which created one of the first U.S. destination festivals with Bonnaroo in 2002. After that experience, the pair became curious about the viability of a proper festival at the iconic, three-and-half mile park, which stretches from the fabled Haight district to the Pacific Ocean.
Farman, who met the other Superfly principals while living in New Orleans, found himself thinking about "how the New Orleans Jazz and Heritage Festival had affected New Orleans so much. We thought, 'Why isn't there a big festival in the Bay Area that could do the same thing?' The answer was because nobody was focused on it."
At that point, the decidedly independent Another Planet was only five years old, but its co-founders Gregg Perloff, Sherry Wasserman and Steve Welkom spent decades promoting concerts in the region while working with Bill Graham Presents, including an infamous Pearl Jam/Neil Young show in 1995, the Tibetan Freedom Concert the following year, and the Guinness Fleadh festival in 1999. Buoyed by that institutional knowledge, Scott and Farman drove around the city together while brainstorming what a San Francisco event might look like, where it could be held, and how it could incorporate elements of the city's unique cultural history.
Food, beer, and wine had to be not only tasty and local but also experienced and enjoyed in much the same way as watching an artist performing on stage. San Francisco's thriving art scene and deep counterculture roots had to be celebrated as well, even though marijuana was still illegal at the time. "The whole mission was to create a platform for all of these awesome Bay Area artists — whether it's food, whether it's beverages, or whether it's visual art and for causes," Farman says.
For a number of reasons, particularly its size, proximity, and exquisite natural setting, Golden Gate Park quickly emerged as the ideal location to bring it all together. Residents of the surrounding Richmond and Sunset neighborhoods weren't so sure, especially after waging prior hard-fought battles to institute a less-than-ideal-for-a-music-festival 7 p.m. curfew for park events. "That was the biggest hurdle for us as we pitched the city," Scott says of efforts to keep the music going later into the evening, a process which ultimately took three years.
Outside Lands received the sign-off from city officials to launch as a weekend event in August 2008, but appeals continued to nearby neighborhoods to give the festival a chance before they pre-judged it as a nuisance. To honor the city, organizers even planned to name the performance stages after local enclaves such as Twin Peaks and Lands End. "When there were events in the park in the past, people living nearby often didn't know they were coming or have time to prepare," Scott says.
To alleviate those concerns, the festival sent out mailers with information about road closures, hired arborists to ensure the safety of the park's plants and trees, and even created a multilingual community hotline people could call for information or to complain about noise and unruly attendees. "They also wanted cars towed from blocked driveways and for us to create breaks in the fences for feral cats to be able to get through," Scott adds. "I'm not kidding."
A festival, especially a new one, is only as enticing as its lineup, and organizers felt confident that headliners Tom Petty and the Heartbreakers and Jack Johnson would draw a sizable crowd. Luckily, the bill became even more star-studded when a certain British band registered its interest in participating. "Radiohead came to us and said they wanted to play," Scott recalls. "We had to add a third day on Friday because of it, and convince the city to let it run until 10 p.m."
Opening day arrived on Aug. 22, with Beck, the Black Keys and Cold War Kids warming up the crowd before Radiohead's arrival. Things generally proceeded without issue until the Thom Yorke-led band began a set plagued with sound issues.
"We had a very iconic moment I try to block out," Scott says with a laugh. "I remember sitting with some of the partners and Radiohead's agent. We were all celebrating with 60,000 people in the park watching Radiohead on the festival's first-ever day, and then the sound goes out. Thom Yorke was a good sport about it the first time, jokingly asking if someone forgot to pay the power bill. The second time it happened, I think he was beyond frustrated, but it became part of the show and part of the lore of that first night."
After a profitable inaugural year, the 2009 edition of Outside Lands suffered a setback due to several factors, including the global recession and the Beastie Boys having to drop off the bill after Adam Yauch was diagnosed with cancer (they were replaced by Tenacious D). Scott admits the lineup, which leaned heavily on established rock artists such as Pearl Jam, Dave Matthews Band, and Incubus, "didn't speak to the times."
Outside Lands began transcending that hurdle with a continued focus on electronic music, which has long been embraced by Bay Area music fans. At first, festival organizers booked artists on the alternative/indie side of the genre such as Girl Talk, Chromeo, and Empire of the Sun, but in just a few years, mainstream heavyweights such as Kaskade, Deadmau5, Tiesto, Disclosure, and Skrillex landed high-profile slots. In 2023, ODESZA will become the first electronic artist to headline Outside Lands when it shares top billing along with Kendrick Lamar, Foo Fighters, and Lana Del Rey, which is further proof of how the programming has evolved with the ever-changing tastes of its attendees. This year, aespa will be the first K-pop group to perform at the festival. "Outside Lands has a history of having really great artists perform and we're really excited to be the
first K-Pop artist to play the festival!" aespa's Giselle says.
Still, when the 2010 incarnation was announced as a two-day event with another rock-driven lineup headlined by Grateful Dead spinoff Further and Kings of Leon, observers began raising concerns about Outside Lands' viability.
"2010 was a blessing and a curse," Scott says. "We had a difficult time booking the festival. For the third night, we were holding out for Prince and he was not someone who made decisions quickly. We were led on for a long time by his representative at the time —he'd have a new representative every year. We held out probably too long, and we had to go down to two days."
That year's Kings of Leon-led festival closing set proved to be a turning point, with 35,000 attendees basking in unseasonably warm and sunny San Francisco weather. "It finally felt like it clicked for San Francisco and the Bay Area," Scott says. "While people complained about 2009, and there were some hiccups before, everyone came together and the sun was shining. We went into 2011 with momentum, and that next year, we sold out."
"Looking at everybody eating all the food, drinking the wine, and being in this beautiful park, we realized this can't happen anywhere else," Farman says. "That Sunday felt like a big breakthrough. Now we really knew who we were."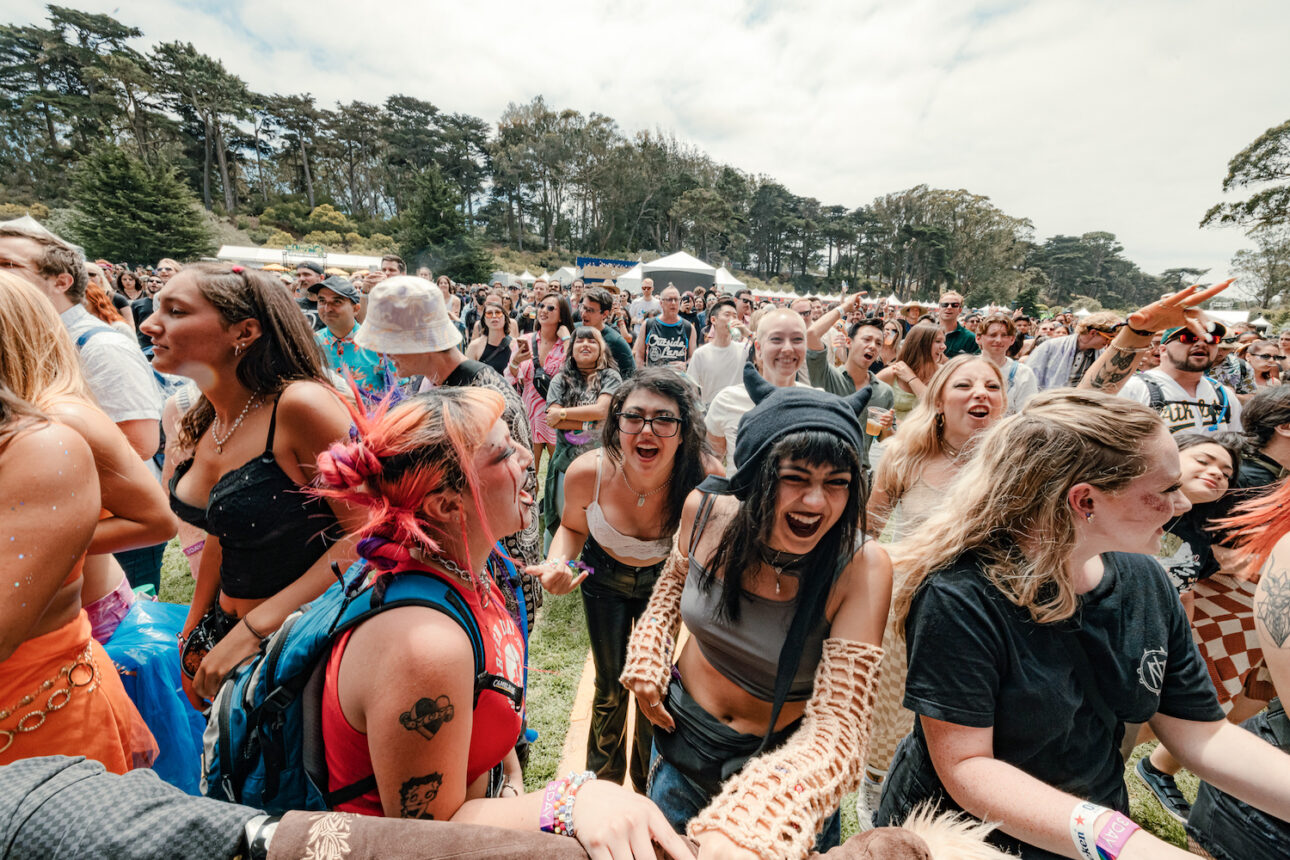 As Outside Lands grew, Scott and Farman held tight to their original wishes for it to be far more than just another music festival. A 2009 promotion with Major League Baseball led to the installation of an on-site batting cage, while the locally driven Taste of the Bay Area, Wine Lands, Beer Lands, and Cocktail Magic programming upped the event's hospitality game to new levels far exceeding the typical cheap beer, hot dogs and stale hot pretzels festival-goers had come to expect. Wine Lands director Peter Eastlake was even named Sommelier of the Year in 2013 by Food and Wine Magazine for his curation.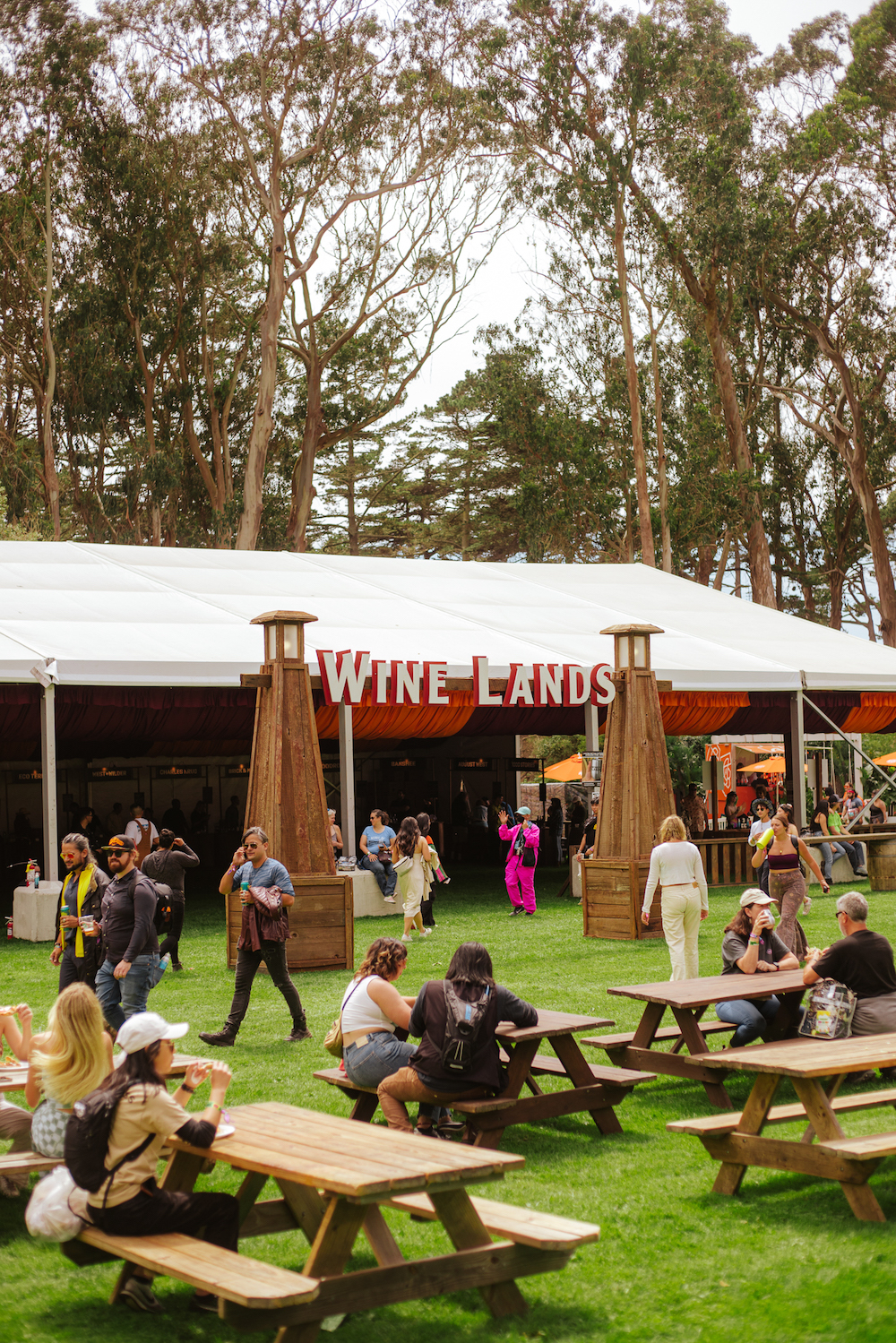 Unsurprising given its Bay Area setting, Outside Lands also doubled down on mitigating its environmental impact and, in partnership with Clean Vibes, has diverted more than 3.3 million pounds of waste since 2008. And when California legalized recreational marijuana on Jan. 1, 2018, Outside Lands launched Grass Lands that year as the first hub for the legal consumption and sale of cannabis at a U.S. music festival. For 2023, the fest has added Dolores' Stage, which will feature DJs, drag performers, and artists honoring the city's formative queer cultural lineage.
"All of that makes our festival unique, especially if you want to be around for 15 years or 30 years or 45 years," Scott says. Performers have taken notice of the special environment as well. "It feels a lot more relaxed and mature than a lot of the festivals I go to," two-time Outside Lands performer and San Francisco resident Tycho says. "It has its own demographic, but I think the climate and location go a long way to shape the experience for everyone."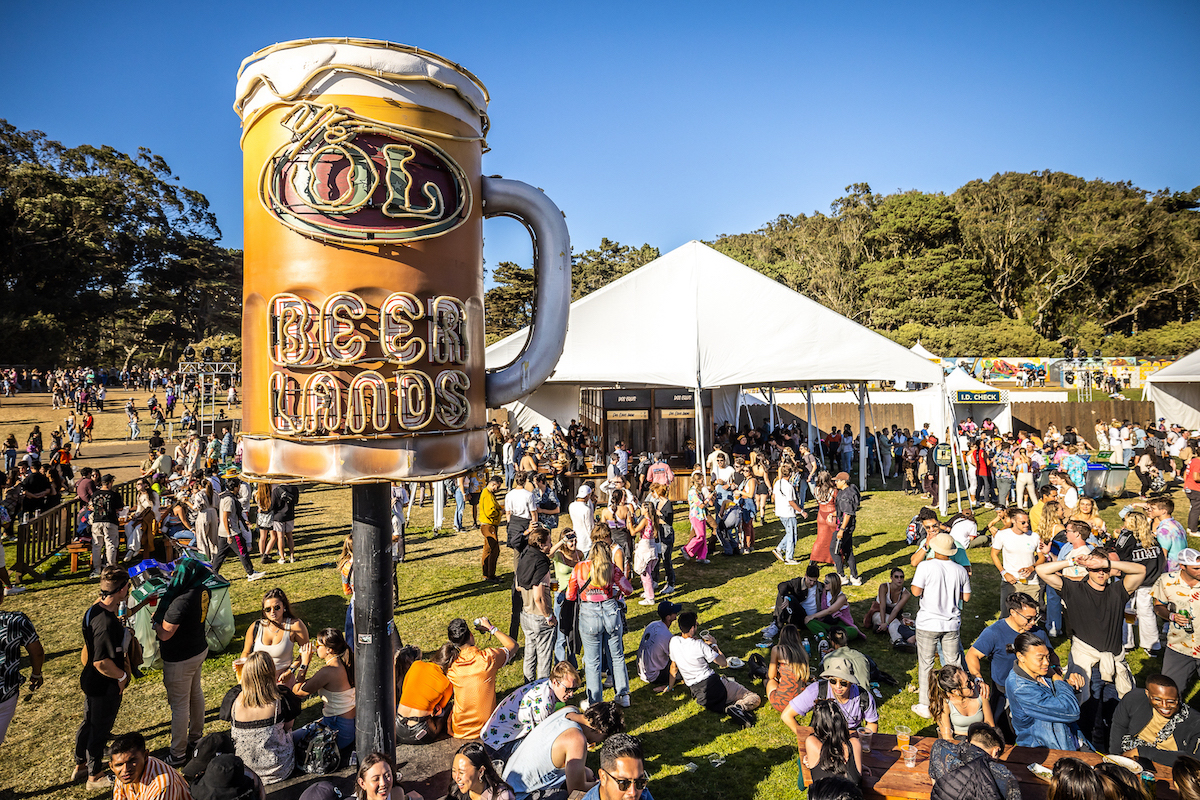 At Outside Lands, artists have frequently caught the spirit of impromptu collaboration. When a tech issue prevented Big Boi from performing in 2011, comedian Dave Chappelle hopped on stage to entertain the crowd instead. The Grateful Dead's Bob Weir has appeared with Norah Jones, the National, and Willie Nelson (with an assist from John Stamos on bongos), Q-Tip enlisted Phife Dawg in 2009 for a mini A Tribe Called Quest reunion, and Florence + the Machine's Florence Welch visited the 300-person capacity Barbery tent for an interview with Queer Eye's Jonathan Van Ness.
Outside Lands was even directly responsible for the launch of a new project, after Big Boi and Phantogram met for the first time at the festival, later released a 2015 EP as Big Grams, and toured in support of it.
Just as significant is the festival's ability to nurture homegrown talent such as electronic star and San Francisco native Zhu, who grew up a block away from Golden Gate Park and used to go roller skating there with his family as a kid. He calls his 2021 set at Outside Lands "unforgettable."
"When I think about Outside Lands, I'm reminded of the history and counterculture of San Francisco," he continues. "People might forget that CCR, Metallica, Santana, Sly and the Family Stone, Huey Lewis, the Grateful Dead, and the hyphy movement came out of the Bay. Before the tech and real estate boom, it felt like a music and arts culture capital, something Outside Lands seems to still embody today."
"They've done a great job of scaling the event without losing the soul and comfort of the experience," Tycho adds. "It still feels the same to me, and I feel relaxed and at home without a lot of the headaches of other festivals this size. It makes our jobs much easier when things are running smoothly and it makes the performance more fun knowing that the audience is having a good time."
That's precisely why authenticity remains vital to Scott and Farman's ongoing mission. "I don't think Outside Lands could be done by people who aren't from here, who don't live here, and who aren't invested in the community at large," Farman says. Adds Scott, "There's no other way to do this festival without celebrating San Francisco and what makes it great."