Good morning. Here's all you need to know about what went on in the world of music in the past 24 hours:
Wolfgang Van Halen's second Mammoth WVH is out later this week. Ahead of it, the rocker released a video for "I'm Alright."
The Replacements are reissuing Tim. Listen to a rarity titled "Left of the Dial."
Singer-songwriter Jaime Wyatt is back with her first album in over three years. The album was produced by Black Pumas' Adrian Quesada and you can hear its first single.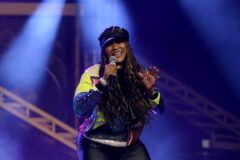 CHAI released "NEO KAWAII, K?" Buddy and Judy Miller debuted a Bob Dylan-penned track.
March SPIN cover star UPSAHL released her first-ever virtual reality performance with AmazeVR, including Sagittarius EP favorite "Kickflip."