What's the most annoying hip-hop trend of the last 50 years?
To me the most annoying trend was watching grown-ass men wearing skinny jeans and sagging with their entire ass hanging out. That was hard to watch coming from my generation.
What's a classic hip-hop album that flew under the radar? And why do you think it did?
The classic album I love that I believe is a Top 5 that flew under the radar is the D.O.C.'s No One Can Do It Better. The summer was 1989, and I was 14, living that life, bumping this everyday, and while the album was on fire, D.O.C. got into a car accident and of all things he lost his voice. Because we never got another album, I believe the greatness in his lyricism was overlooked.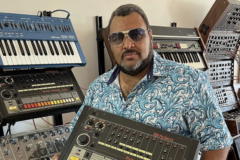 What are your earliest memories of rap?
Hearing "The Breaks," "Basketball," and "If I Ruled the World" by Kurtis Blow and then Run-DMC's "Walk This Way" and "My Adidas."
Then when I heard LL Cool J, I wanted to be a rapper and beat box like the Fat Boys and Doug E. Fresh. Oh, and Krush Groove and Beat Street sealed the deal, too. I remember when hip-hop played on Cleveland radio only on Saturdays at the Club Style and my favorite DJ was Johnny O. I'm a hip-hop baby fasho.
Interview by Kyle Eustice.