How do you see hip-hop evolving in the next handful of years?
It can, and it is, and it always will. Successful emcees are maniacal. To succeed in abundance, as this art form has, there's always going to be a level of maniacal dedication, even if we don't immediately have a vision of what that next thing looks like.
When was the first time you heard rap?
Seeing Dana Dane at halftime of this basketball classic at the Nassau Coliseum. They had little concerts in between the games, and he came out in furs and with two big-ass, beautiful huskies. Like, this is possible? I'm forever grateful to the most high for blessing me with that experience and this vision that day.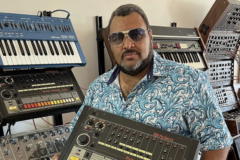 What do you think was the most important era in hip-hop?
The present. What's happening right now is a beautiful thing. I see the present as an actual present, with a gift wrap on. Kendrick, Cole, Ice Spice, Coi Leray.
Busta Rhymes has always been and always will be about the present. Once the ship leaves the dock, you always gotta keep sailing forward.
Interview by Daniel Kohn