Before the Britpop revolution fully took hold, Blur was just another band of underdogs aiming to marry insightful cultural commentary with music that was just as stylistically diverse. That all changed with the April 1994 release of its third album, Parklife, which sold millions of copies in the U.K. It generated four singles and ushered in the golden era of tabloid rivalries with fellow upstarts Oasis.
Loosely inspired by the itinerant journeys of the protagonist in Martin Amis' novel London Fields, Parklife found Blur upping its musical game at a time when most artists seemed content to just stick with what worked. "It just doesn't make any sense when people don't get better," frontman Damon Albarn told SPIN in 1994. "Most of our contemporaries have gone on to make sides three and four and five and six of their first album. And I think we got bold."
"Blur speaks earnestly in interviews about living in a post-rockist age of information and media simulacra, but their art-school pedigrees, impeccably tailored keyboards, and sense of teenage pathos are all in a grand rock 'n' roll tradition," Rob Sheffield wrote in the contemporary SPIN review of the Stephen Street-produced Parklife, which is best known for tracks such as "Girls & Boys," "This Is a Low," and its Phil Daniels-narrated title song.
With Blur back in the spotlight this summer thanks to a surprise new album, The Ballad of Darren, and an accompanying international tour, here's a look back at each track on Parklife.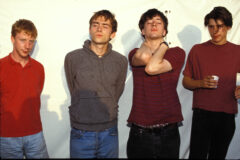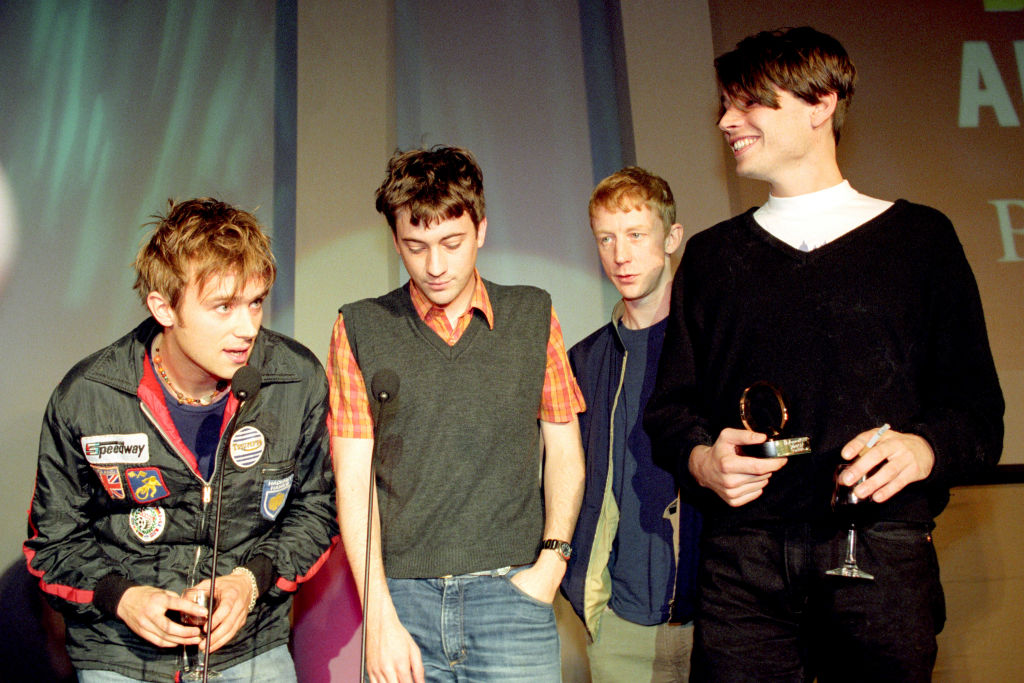 "Girls & Boys"
Blur rode the album opener's undulating bass line and pulsing Eurodance beat into what was then new territory for the band: a top-10 placement on the U.K. singles chart and worldwide airplay in clubs and on dance floors. The subject matter was inspired by a Spanish vacation Albarn took with then-girlfriend Justine Frischmann of Elastica, during which he was bemused by the obligation-free hookup scene prevalent in the local bars. Maybe modern life wasn't so rubbish after all?
"Tracy Jacks"
Blur returns to familiar motifs in this Kinks-y character sketch, which explores the ennui of the working class ("Is a golfing fanatic / but his putt is erratic") and its potential breaking points. By the end, the title character has been arrested for running around naked and has bulldozed his own house to the ground ("It's just so overrated").
"End of a Century"
Parklife's fourth single is a catchy, coming-of-age reckoning that feels more autobiographical than the surrounding tracks: "Your mind gets dirty / as you get closer to 30." The song also touches on Albarn's relationship with Frischmann and how couples often find themselves starting at the flickering light of a TV rather than at each other.
"Parklife"
The album's ebullient title track is perhaps the quintessential Britpop song, propelled by Quadrophenia star Phil Daniels' deadpan Cockney verse narration and the band's beery, pub singalong choruses (with Coxon handling the sax part). "You never knew exactly what the song was about, and I still don't," which is part of the magic of it," Daniels said years later. "What I do know is that as soon as it began to get played on the radio, dustmen started apologizing for waking me up in the morning."
"Bank Holiday"
Ninety seconds of terse, punk-tinged energy, "Bank Holiday" packs in as many pints and BBQ revelries as it can before it's sadly "back to work again."
"Badhead"
Parklife calms down a bit with this song, which meditates on a relationship the narrator seems to have given up on: "Today I'll get up around two / from a lack of anything to do."
"The Debt Collector"
This horn-laden, instrumental fairground waltz serves as a demarcation between the vinyl and/or cassette sides of Parklife.
"Far Out"
The album's second "side" begins with this sparse, trippy number, which has the distinction of being the only Blur album track written and sung by bassist Alex James. Here, he sounds like Syd Barrett staring into space during an astronomy lecture, as he plaintively muses on the names of various moons and stars.
"…To The End"
Albarn is thankfully back on the mic for this song, on which his soaring choral vocals interweave with the echoing French refrains of Stereolab chaunteuse Laetitia Sadier to create one Blur's most enduring ballads. It's the only track on Parklife not produced by Street, with the similarly named Stephen Hague manning the boards instead. Blur recorded another version with Albarn singing the vocals in French, and in 1995 remade the entire song as a duet with French singer Francoise Hardy.
"London Loves"
We're back in "Girls & Boys" territory with this jaunty, electro-pop number, as the rhythm section and Albarn's cooing vocals attempt to rein in guitarist Graham Coxon's angular riffing.
"Trouble in the Message Centre"
Coxon cranks his amps on this cautionary tale of rave culture excess, which fades into a memorable wordless singalong.
"Clover Over Dover"
This harpsichord-propelled ditty is another musical left turn, the repetitive rhyme scheme of which almost obscures the depression inherent in the lyrics (the narrator fantasizes about jumping or being pushed off Southern England's famous white cliffs).
"Magic America"
Blur is about as quintessentially British as modern rock bands come, but it has flirted with the U.S. since the beginning, and "Magic America" is one of its more overt winks in that direction. The song balances disdain and curiosity with lines like "fifty-nine cents gets you a good square meal / from the people who care how you feel."
"Jubilee"
"Jubilee" joins "Message Centre" as the album's most uptempo, guitar-forward tracks, with the band giving off strong T. Rex glam vibes while Albarn turns his critical eye to a teenage slacker who won't leave his couch and video game console.
"This Is a Low"
Ever the showmen, Blur saves one of its best for the ostensible album closer. This fan favorite is replete with British place-specific name-checks, shipping forecast allusions, soaring choruses, and an epic Coxon guitar solo. Albarn was scheduled to undergo a hernia operation the day the song was recorded, and when pressed for lyrics, drew from a handkerchief James had given him that was embroidered with different geographic locales. This top achievement contrasts with and crowns an album full of pop oddities.
"Lot 105"
Like side one, side two also ends with another mostly instrumental novelty. "Lot 105" isn't much to speak of, but like the Beatles' "Her Majesty," it's a cheeky addendum to a serious closer — one last fleeting expression of fun and creativity before we all go our (hopefully) merry ways.