This article originally appeared in the September 1994 issue of SPIN.
Not since England won the World Cup, not since Michael Caine, Jean Shrimpton, and David Bailey ate whelks in Carnaby Street, not since Lady Diana lowered her eyes and whispered "I do," has there been such an outpouring of chest-beating, flag-waving, and unashamed patriotism in Britain. The old bulldog is barking again and the reason is…Blur? Blur, you say? That baggy, shambling gang of tuneless no-hopers swept along on the glassy-eyed tide of post-acid house euphoria? The same.
Except this version of Blur has gone and concocted a stunner of a third album. Back in Blighty, they're hailing Parklife as pop album of the year. They're calling it another All Mod Cons, an Ogden's Nut Gone Flake, a My Generation even, and they're calling Blur the best British band since the Smiths.
The Brit media are notorious for genuflecting at the feet of any villain with a fast quote and a snare sample, but Blur bears out the grandiose claims made on its behalf. Parklife is like discovering a bunch of your favorite old British 45s. Punk, pop, mod, electro-pop (the Brits-abroad knees-up of "Girls & Boys"), and the vaudevillian psychedelia of the title track (a jaunty narrative on the life of leisure, delivered by one Phil Daniels, who is best known as Jimmy the Mod in Quadrophenia) nestle side by side, all of them resonating with the rainy romance of a British upbringing. How did they get so good?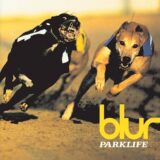 "Well, it just doesn't make any sense when people don't get better," reasons laconic dreamboat frontman, Damon Albarn. "Most of our contemporaries have gone on to make sides three and four and five and six of their first album. And I think we got bold."
In front of a Manchester crowd — whose adulation pumps Albarn's character studies and reflections on mundanity up into anthems — Blur seems like it might have greatness within its grasp. But in an America where Brit influences of choice tend more toward Black Sabbath and Led Zeppelin than Ray Davies and Paul Weller, can Blur carve out a niche? "When we go over, we'll be playing places like this and we'll hopefully be getting this sort of reaction," says Albarn, referring to the excited Mancunian hordes. "I don't want to do it until it's about this level. I don't want that tacky intermediate phase because we're not that sort of earnest hard-rocking work band. We want to give it some fantastic quality. The American bands did that. They came over as stars after they had made it in America. And it's about time we did that because, you know, fair's fair."