Organizers have canceled the final two days of Malaysia's Good Vibes festival after the 1975's Matty Healy kissed bandmate Ross MacDonald onstage on Friday, openly flouting the country's ban on homosexuality. In a statement released earlier today (July 22), organizers said the decision was pinned squarely on Healy's actions. The 1975 has also been banned from performing in the country again.
"We deeply regret to announce that the remaining schedule for Good Vibes Festival 2023 has been canceled following the controversial conduct and remarks made by U.K. artist Matty Healy from the band the 1975," the statement reads. "The decision adheres to the immediate cancelation directive issued at 1:20 p.m., 22 July 2023, by the Ministry of Communications and Digital. The Ministry has underlined its unwavering stance against any parties that challenge, ridicule, or contravene Malaysian laws."
Fan-shot footage shows Healy saying the Malaysia appearance had been "a mistake" and that he didn't "see the point of inviting the 1975 to a country and then telling us who we can have sex with. Unfortunately you don't get a set of loads of uplifting songs because I'm fucking furious. And that's not fair on you, because you're not representative of your government. Because you're young people, and I'm sure a lot of you are gay and progressive and cool."
Healy and MacDonald kissed as the 1975 performed "I Like America & America Likes Me," but shortly after, the full band walked off stage as Healy informed the crowd, "Alright, we just got banned from Kuala Lumpur. See you later."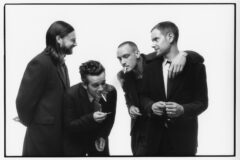 Wan Alman, the entertainment director for Good Vibes organizers Future Sound Asia, told the BBC that the 1975's management "reassured" them the band "would adhere to all local performance guidelines, as do all international artists that perform in the country. We were completely surprised that the performance took such a turn."
He continued, "I think it's very easy for [Healy] to fly in and do whatever he wants to do, and then just fly out without having to face or take accountability for any consequences for his actions, while the ones who suffered implications are his fans here because his set was cut short, the festival organizers, and the industry as a whole."
Good Vibes was to have continued through tomorrow with a lineup including the Strokes, the Kid Laroi, Porter Robinson, Dermot Kennedy, and Giveon. Many of the same acts are also performing this weekend in Jakarta at We the Fest, including the 1975, which is scheduled to headline the event tomorrow.