Since Sublime With Rome emerged over a decade ago as a proper tribute to the legendary Sublime, they've continued to spread good vibes. It's something the group's singer, Rome Ramirez, takes seriously. His job isn't just channeling the spirit of Bradley Nowell and giving his songs life — it's also connecting with fans.
In a conversation backstage at BeachLife Festival with SPIN editorial director Daniel Kohn, Rome explained the importance of artists speaking up about mental health.
"A lot more people [are] vocal about it. It's OK to talk about your mental fortitude or lack thereof," he says. "When I was a kid, you didn't talk about that stuff, especially being a guy. You keep that shit in and roll with the punches."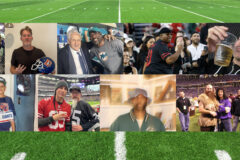 The biggest difference, he says, is the openness of people to have conversations — not only about mental health, but everything else too.
"I've seen a lot of progress," he continues. "The more people talk about it, the more it helps."
Within the artistic community, that openness allows for folks to discuss their struggles, especially when, as Rome puts it, "you're constantly in a talent show." Comparing yourself to contemporaries, he says, can be detrimental to your mental health.
"A lot of the time for artists, it's just them in their own head," he says. "Being able to talk about it with your fans creates a community. Some people have it really bad too. Like, when you're a DJ, it can be lonely compared to when you're in a band with a bunch of stinky guys."
As for himself, Rome tries to take things day by day, focusing on things like his family that give him "purpose" and ensure he's always in a good headspace.
"There's no time for me to self-loathe when I know I can reverse that energy and put it into something positive," he says.
Subscribe to SPIN on YouTube and check out more videos from our SPIN IMPACT series in the playlist below: