Like a lot of us, Neil Young went into seclusion in 2020, looking for social distance and viral safety in the wilderness as the COVID-19 pandemic swept the planet. He kept in touch through streamed performances from his cabin hideaway, but the touring life of this essential classic rocker and folk singer was on indefinite hold, even as the music world came stumbling back to life. No one could say when – or if – he would return to the stage.
Last night (June 30) in Los Angeles, Young ended his long hiatus, launching his first tour since 2019 with an intimate solo set loaded both with rarities and some of his biggest hits, including "Heart of Gold" and "Ohio." For Young and his fans, the obscure and the familiar have long carried equal weight. At 77, Young just rolls onward with his music of deep feeling, and neither rust nor the accumulated years have done much to slow him down.
To begin his return to action, Young chose the 1,200-capacity Ford Theater, right across the canyon from the much larger Hollywood Bowl. He's been playing arenas and big amphitheaters for 50 years and has rarely appeared at a small venue (like the beloved L.A. honky-tonk the Palomino back in 1984), so Friday's 90-year-old theater location was a statement on starting things back at human scale. Young arrived dressed for the train-themed Coastal Tour in shades of faded blue and gray, spattered with white paint on his back, the brim of an engineer's cap low over his forehead.
He began the night with a surprising choice, "I'm the Ocean," a driving guitar epic from his 1995 Mirror Ball album with Pearl Jam. The song was a bristling highlight from that record, but Young hasn't performed it live since 1997, according to Setlist.fm. The acoustic reinterpretation perhaps captured something of his current state of mind, with lyrics declaring, "People my age / they don't do the things I do / they go somewhere / while I run away with you."
Across the Hollywood Freeway, the crowd at a concert at the Bowl with Louis Tomlinson, formerly of One Direction, could sometimes be heard cheering crazily in the distance. But it was hardly noticeable, though Young at one point looked up and said, "What is that?"
Young also played "Song X" from that same album, this time on electric guitar, as he stomped on his effects pedals for a heavy and luxurious riff, fading out with a blast of reverb.
"A Dream That Can Last" was performed on upright piano, with Young's imprecise playing only adding to the charm of its tumbling melody. "I'm so happy I was here before AI was here," he joked. Following the bright and heavy tones of "Prime of Life," Young ambled over to the grand piano for "When I Hold You in My Arms," electric guitar still slung over his shoulder. An overlooked gem from 2002's Are You Passionate?, and recorded originally with Booker T. & the MG's, the song began with a cheerful piano melody before Young spun on his stool to solo on guitar for a gently searing blues line, tapping the heels of both feet to the rhythm as he played.
If Young's performance at the Ford at times seemed made up as he went along, the outlines were meticulously planned and paced. Crew members quietly stepped on and off stage to hand Young a guitar or to switch out a piano bench with a stool, or occasionally add brief accompaniment on piano or tap a small xylophone. Behind him, a model train sat on a track, which Young was unable to get moving when he arrived — the one glitch of the evening.
The lights were kept low, and Young was an amusing host between songs, as he joked about finding his old pump organ decades earlier "in a junk store on Main Street in Redwood City" and paying just $800 to bring it home. "I'm a good shopper," he said to laughs.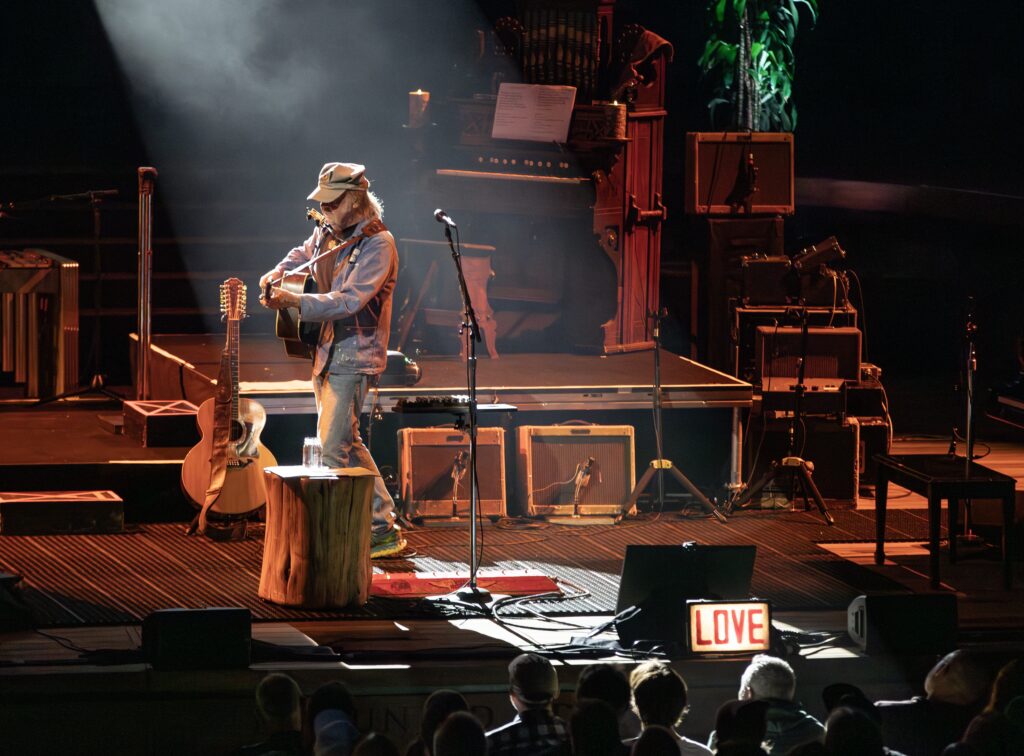 When he stood beside the organ and asked the crowd to choose between "Mother Earth" or "Mr. Soul," many in the crowd predictably shouted for the latter, an early ripper from his days in Buffalo Springfield. That may have just been a tease, as Young was soon back at the organ playing the heavy, majestic chords of "Mother Earth," a better and more soulful choice for the night.
After a raging "Ohio" on electric guitar came a poignant "Days That Used To Be," which looked back on his generation of idealists and the compromises that followed the 1960s. Recorded originally with Crazy Horse in 1990, its message was more devastating as an acoustic ballad, as Young sang, "seems like such a simple thing to follow one's own dream / but possessions and concession are not often what they seem … but we never had to make those deals / in the days that used to be."
Another major theme of the night, and of his overall career, has been the defense of the environment. He began the encore by attempting to get the crowd to sing along to the anthemic "Love Earth," scolding with a half-serious "You suck!" when fans fell short. Young closed with a wistful, emotional "Four Strong Winds," a folk song originally recorded by the Canadian duo Ian and Sylvia before it appeared on his own 1978 album Comes a Time.
Young said his goodbyes to a standing ovation from a crowd packed with fans, friends, and family. He began to leave, but before the lights went up, turned around and got back to centerstage in time to finish one more thing: finally getting that model train to run.