According to a report from Politico, the Justice Department could file an antitrust lawsuit against Live Nation and Ticketmaster for "abusing its power over the live music industry" before the end of the year, a move which could potentially lead to the companies being broken up.
Live Nation and Ticketmaster merged in 2010 in a deal approved on the condition that Live Nation sold a piece of its ticketing business to another company, which it eventually did to rival AEG. In 2019, Live Nation was found to have violated terms of its original deal. The New York Times reported last November the DOJ had opened an antitrust investigation into the companies.
"We're in regular contact with the DOJ and they haven't told us they think we're doing anything illegal or asked us to address any concerns," Live Nation executive VP for corporate and regulatory affairs Dan Wall said in a statement to Politico. "It would be highly irregular for the DOJ to file without that notice and a lot of dialogue afterwards. However, if they do file we are prepared to defend ourselves."
Ticketmaster has drawn the ire of lawmakers for more than 30 years, most recently at a Senate hearing in January during which Democrats pressed the company on what could be construed as its anticompetitive business practices.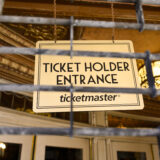 Over the past several months, Ticketmaster has faced widespread condemnation for its handling of on-sales for Taylor Swift's Eras tour and the lack of transparency around its service charges, which were brought to light in a series of social media posts from the Cure's Robert Smith.
After a June meeting at the White House, Live Nation and Ticketmaster agreed to adopt "all-in pricing" for concert tickets, which will show the true cost of the transaction upfront rather than at checkout.
Last summer, SPIN surveyed the ticketing landscape following fan outrage at Ticketmaster's handling of Bruce Springsteen's 2023 tour on-sales, including the handful of legislative efforts underway by lawmakers such as New York state senator James Skoufis to offer consumers greater transparency.