Blur will always be synonymous with the mid-'90s zeitgeist that brought the London quartet to the forefront of the Britpop movement and pulled them into an infamous rivalry with Oasis. Damon Albarn, Graham Coxon, Alex James and Dave Rowntree have proven over the years to be far more versatile and resilient than some of their peers, however, reinventing their sound time and time again.
The best-known Blur singles, including the shaggy dance rock of "There's No Other Way," the buzzing Eurotrash house of "Girls & Boys," the explosive indie rock jock jam "Song 2," and the soulful "Tender," all sound like they could've been made by different bands. Their albums are even more unpredictable, from the lush string and horn arrangements on Parklife to the odd William Orbit-assisted sprawl of 13. Though Blur has been on hiatus more often than not since 2003, the band has periodically returned with albums that continue to subtly expand its musical palette.
Blur's ninth album, The Ballad of Darren, is out today, and the band's landmark sophomore album Modern Life Is Rubbish turned 30 earlier this year. Where do those albums rank in the band's body of work as a whole?
9. Think Tank (2003)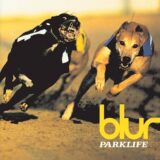 Graham Coxon left Blur during the Think Tank sessions, ultimately appearing only on the woozy standout "Battery In Your Leg." The remaining members stand as shakily as a three-legged chair on Think Tank, which sorely misses the input of the founding guitarist who'd written so many memorable riffs for the band. Fresh off of the Gorillaz debut and the 2002 collaborative album Mali Music, Albarn toys with electronic influences and African instrumentation, but Think Tank falls far short of being a bold worldbeat experiment along the lines of Remain In Light. Blur's most politically charged album, spurred largely by opposition to the invasion of Afghanistan, feels strangely listless with arrangements so minimal that it sounds almost unfinished, down to the vague song titles. "Crazy Beat" isn't particularly crazy and "Good Song" isn't any good. "For an album called Think Tank, this muddled retread seems awfully short on ideas," wrote Rob Brunner in Entertainment Weekly.
8. Leisure (1991)
Blur had a great run in the '90s, but it kicked off the decade inauspiciously with a debut album that was nakedly derivative of late '80s trends. The irresistible breakthrough single "There's No Other Way" drew from the 'Madchester' sound of the Stone Roses' 1989 debut, but other songs on Leisure flirt with shoegaze and neopsychedelia less memorably. The atmospheric six-minute track "Sing," with its pounding rhythms and fuzzy pianos, pointed the way towards the more original sounds that would follow on later Blur albums, however. That song would eventually find greater fame on the Trainspotting soundtrack. "Graham Coxon plays such a crucial part in this album's success that he can simply be declared the new Johnny Marr now," David Cavanagh wrote in a rave review for Select Magazine.
7. The Magic Whip (2015)
Coxon rejoined Blur in 2008, and spent the next five years on a reunited band victory lap: concerts, live albums, award shows, a couple of low-key singles, and a retrospective documentary. A new album didn't come easily, though, with the band scrapping initial 2012 sessions with William Orbit. A fortuitous 2013 festival cancellation left Blur with a few days to kill in a Hong Kong studio, and that spontaneous studio session jumpstarted its creative chemistry, ultimately resulting in The Magic Whip. With producer Stephen Street, a veteran of Blur's first five albums, returning to help them finish the songs, Blur picks up where it left off before Coxon's departure, with an easygoing charm on groove-driven songs like "Ghost Ship" and "I Broadcast." With Albarn finding lyrical inspiration in a foreign city, The Magic Whip presents something new and distinct from the pastoral English backdrop of Blur's previous albums. "Something special happens when these four get in a room, and you can still hear some of it happening here," Craig Jenkins wrote in the Pitchfork review.
6. The Great Escape (1995)
The Great Escape's lead single "Country House" debuted at No. 1 in the U.K., beating out Oasis's "Roll With It" in a chart race that the rock press had hyped as 'The Battle of Britpop.' The rival bands soon reversed roles with the albums that followed, however. Oasis's (What's the Story) Morning Glory? became a massive, record-breaking international blockbuster, while The Great Escape fell short of Parklife's sales and dropped off the charts much faster. Songs like the gorgeous "The Universal" epitomized Albarn's gift for combining glum lyrics with bright melodies. After three fairly similar albums in a row, though, Blur was ready for the hard reboot that would follow in 1997. "Such self-explanatory titles as 'Charmless Man' are supported by serrated, droll lyrics and irony-filled baroque-pop music carrying a Beatles-Bowie sense of drama," Steve Hochman wrote in the Los Angeles Times review.
5. The Ballad of Darren (2023)
Blur was always a quintessential CD-era band, and even its best albums were a little longer than they needed to be. At 36 minutes, however, The Ballad of Darren is by far the shortest album of the band's career, and each song seems to play a deliberate, irreplaceable role in its sequence. Outside of the lively throwback "St. Charles Square," there's an air of weary resignation in these songs, but not the band's performances, which sound steady and confident. "We have lost a feeling that we thought we'd never lose," Albarn sighs on "Barbaric," one of the album's most evocative refrains. Simian Mobile Disco's James Ford, who's also worked with Depeche Mode and Pet Shop Boys this year, produces The Ballad of Darren with the kind of subtly digital polish that's made him an ideal partner for veteran bands that want to sound modern but also sound like themselves, and his ear for thumping beats makes Dave Rowntree sound like a million bucks on "The Heights." The title of "The Everglades (For Leonard)" nods to the fact that Albarn worked on demos for the album in a Montreal hotel room that faced a Leonard Cohen mural, and this is almost certainly the first Blur album that sounds like Leonard Cohen could have been one of its guiding spirits.
4. 13 (1999)
Fresh off the pop crossover triumph of Madonna's Ray of Light, dance producer William Orbit was drafted to produce Blur's sixth album. Instead of a leap into electronica, 13 is an unwieldy yet immersive sprawl of different sounds. A gospel choir accompanies the band on the seven-minute opener "Tender," Albarn references Sun Ra's avant jazz classic "Space Is the Place" on "Bugman," and the most accessible song, "Coffee & TV," is sung by Coxon. 13 isn't just the most unpredictable and freeform Blur album, it's also a cathartic breakup record, with one of Albarn's greatest songs, "No Distance Left To Run," inspired by the end of his long relationship with Elastica's Justine Frischmann. It would be the last album with all four founding members for 15 years, and it feels like the messy but beautiful culmination of Blur learning and then unlearning how to be a pop band. "Damon Albarn tones down his trademark cheekiness on songs about violent heartbreak, as bandmates Graham Coxon, Alex James and Dave Rowntree cram the aural space with whiny keyboards, drum loops and rowdy guitar noise," Edna Gundersen wrote in the USA Today review.
3. Blur (1997)
Releasing a self-titled album several years into a career, particularly one that's a dramatic departure from your previous work, is a pop music power move that asserts a new beginning, as with The Beatles in 1968 or Fleetwood Mac in 1975. When Blur released its fifth album with a blurry cover photo, the band asserted that this shaggy, lo-fi incarnation was the real Blur more than its polished Britpop hits, something that's been confirmed by all of the band's subsequent albums. "Song 2" finally broke the band in America with quiet verses lunging into loud "woohoo!" choruses as effectively as any Nirvana hit. "Beetlebum" and "Look Inside America" also stand as some of Coxon's most inventive moments as a guitarist. "Despite such indulgences as the 11-minute, three-part electronic deluge that closes Blur, Damon Albarn is still essentially writing terse pop songs, but this time he doesn't sand down the rough edges," Greg Kot wrote in the Chicago Tribune review.
2. Modern Life Is Rubbish (1993)
When Modern Life Is Rubbish hit stores 30 years ago, Blur was dismissed as yesterday's news by the fickle UK press. None of the band's singles since "There's No Other Way" had done particularly well on the charts, including the non-album single "Popscene" which was meant to sustain Blur's momentum between full-lengths. After returning home from an unsuccessful first tour of America, Blur created a Kinks-influenced concept album that reveled in the band's Englishness, setting the course for the band's future hits as well as the Britpop era that was just about to gain steam. "Blue Jeans" and "Resigned" also introduce the wheezing melodica that would become one of Albarn's favorite musical accessories for the next couple of decades. "Modern Life Is Rubbish is a London odyssey crammed full of strange commuters, peeping Thomases and lost dreams; of opening the windows and breathing in Petrol," wrote Paul Moody in the NME review.
1. Parklife (1994)
After a few years as underdogs, Blur seized the spotlight with Parklife, an era-defining album that helped shape the Cool Brittania zeitgeist while resetting the parameters of what Albarn and Coxon were capable of as musicians. From the trashy neo-disco of "Girls & Boys" to the Beatlesque music hall whimsy of "The Debt Collector," Parklife was cheeky and infectious. "This Is A Low" and "End Of A Century" also showed Blur's depth and cinematic ambition as songwriters, combining character sketches, cultural commentary, and dryly funny musings on sex and aging. "Blur speaks earnestly in interviews about living in a post-rockist age of information and media simulacra, but their art-school pedigrees, impeccably tailored keyboards, and sense of teenage pathos are all in a grand rock 'n' roll tradition," wrote Rob Sheffield in the SPIN review of Parklife.