Tom Morello and Extreme are two of the featured acts at the Best of Blues and Rock festival in São Paulo, Brazil this weekend, which led to a surprising team-up last night (June 2) on a rendition of Audioslave's 2002 song "Cochise."
Extreme guitarist Nuno Bettencourt (a recent guest on the SPIN Presents Lipps Service podcast) and frontman Gary Cherone joined Morello on stage as he barreled into the song, the maiden release from his project with vocalist Chris Cornell and fellow Rage Against the Machine members Tim Commerford and Brad Wilk.
According to Blabbermouth, both Morello and Bettencourt spoke highly of each other during a festival press conference. "He's been a huge influence. Combining funky music with heavy music and then musicianship with abandon are things that have been involved in this band and I think in Nuno's playing from the very start," Morello shared.
Bettencourt added, "It's funny because [when] we heard Rage Against the Machine for the first time, we loved it so much that we hated them. … I thought Jimmy Page wrote all the great rock and roll riffs and threw the rest of us the scraps, the bones. And that was until I heard Rage Against the Machine. Every riff was monstrous. It was everything. And the fact that they had a rapper took it to a whole other level of genre and changed the game."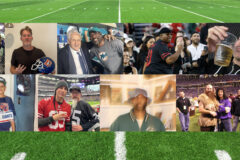 Extreme's new album, Six, will be released on June 9. It's the group's first in 15 years and was inspired by the death of Eddie Van Halen, with whom Cherone played in Van Halen from 1996-1999. Morello most recently appeared as a special guest on the Maneskin song "Gossip," and inked a deal with Asylum for his own Comandante Productions production company to develop documentary films and series.
Earlier this year, the guitarist chatted about free speech and censorship in a conversation for FIRE and SPIN.