That Mexican OT (Outta Texas) was mumbling raps before he could write them. When he failed grade school classes, he remembers his mother saying, "Fuck that school — my son is going to be a rapper." In middle school, his father regularly woke him late at night to battle (and embarrass) his inebriated homies. OT's decision to pursue a rap career might seem inevitable in this light, but he needed one final push, a moment of clarity so profound he couldn't deny fate. That life-altering realization, as it does for so many, arrived when he was running from the law. He was also soaked in urine, his toes caked with fresh cow shit.
"I pissed on myself like 12 times that night to stay warm. It was cold as fuck. I was stepping in cow shit to keep my toes warm," OT explains over the phone, understandably mum about the incident preceding the police chase. "I'm running from Brazoria [County, Texas] all the way to Lake Jackson. And while I'm running, guess what I'm doing? I'm rapping. That's when I realized there's no running from this rap shit. I have no choice but to do it."
Today, things are much improved from that ripe and shivery night in the Texas backwoods. The 24-year-old born Virgil Gazcon lives in Brazoria (about an hour south of Houston) with his girlfriend and his dog, Bushwick Bill. (OT says his dad partied with the famous Geto Boy.) Quietly signed to Good Talk/Manifest/Good Money Global last year, he spends most days playing video games, relaxing with family, and recording. Of late, he's added performing to the regular agenda. When we speak in mid-June, OT is back home from a string of sold-out Texas shows in cities like Corpus Christi and Austin.
"I've been performing my whole life," he says when asked how he prepared for his first concerts. "I was sitting on the bed rapping to music videos while my mom ironed money on the floor. My dad would wake me up in seventh grade — house full of women and dudes — and he'd want me to eat these dudes up in rap battles. I've been performing. Now, I'm just getting paid for it."
In recent months, OT's taken the first step toward building a national profile. His late May single "Johnny Dang," a titular ode to rap's preeminent Texas jeweler featuring Paul Wall, continues to rack up millions of plays across streaming platforms and recently landed on several Billboard charts. The single's sparse, ominous, and almost ethereal trap beat bumps as OT flexes the iced-grill spoils of moving weight and eliminates rivals with extreme, Tony-Montana-like prejudice. It's not a thematic marvel but a display of singular technique and rhythmic excellence. OT rolls dizzying strings of constants like it's an autonomic function, fires rounds of syllables that would tongue-tie many peers, and deftly shifts in and out of double-time cadences. And though "Johnny Dang" distills some of OT's greatest strengths, it only reveals one shade of a much broader musical palette.
OT's forthcoming album, Lonestar Luchador (GoodTalk/Manifest/Good Money Global), is a seamless fusion of contemporary trap, Texas blues, and country with nods to '90s New York boom bap, narco rap, screw music, mariachi, and more. (Big L, 50 Cent, Stevie Ray Vaughan, Santana, and George Strait are on the short list of OT's favorite artists.) It's the sound of a Texas-raised music-obsessive with eclectic tastes, over a decade of rap experience, and a harrowing past finding his voice and the confidence therein. In the estimation of this writer, it's one of the best rap albums of 2023.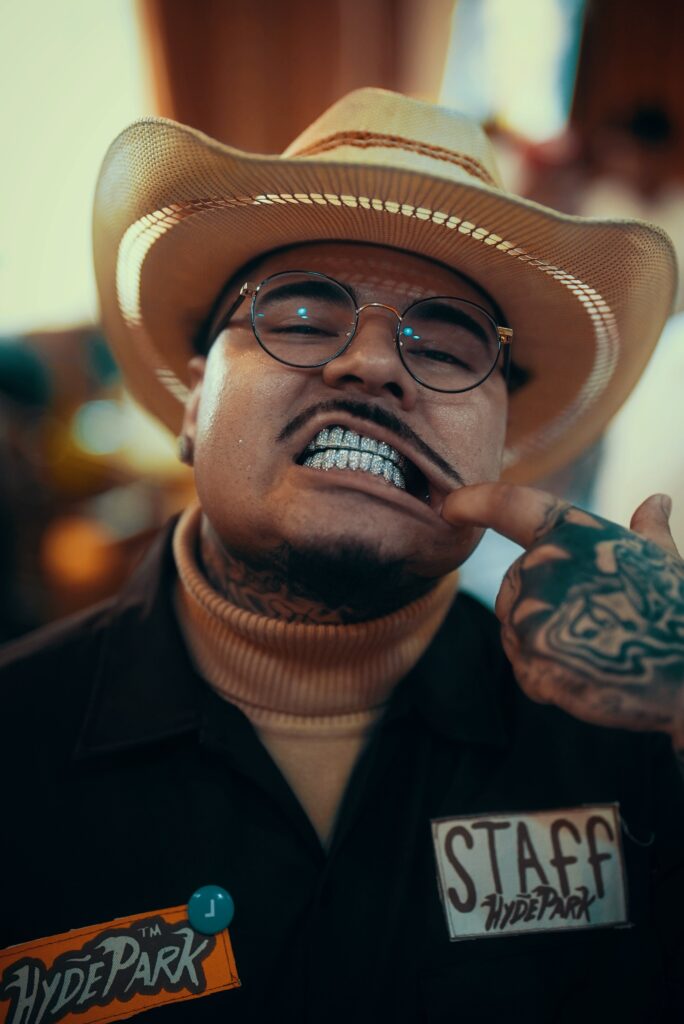 "I'm excited to fuck 'em up," OT says. "I put a lot of thought and a lot of work into it. I'm just overall proud of it."
On the surface, Lonestar Luchador is a modern street rap album you could recommend to fans of fellow Texans like Maxo Kream and BigXthaPlug. Closer listening reveals OT's reverence for classicist NY rap and Midwest chopping. He doesn't reach deep into the Jansport for his metaphors and similes, but their rapid succession makes them a collective knockout. In addition to rapping some bars in Spanish, he employs growling, half-sung lines he says are indebted to blues legend Howlin' Wolf. OT is equally comfortable rapping over skittering hi-hats and bluesy, psychedelic guitar riffs, so the album rarely feels disjointed. And he adds more structure through skits with Texas comedian Ralph Barbosa, the pair co-announcing lucha libre matches featuring such characters as The Invisible Masturbator and Los Federales. Topically, Lonestar Luchador doesn't move far beyond firing on opps, fucking, and gleeful substance abuse. But there's a ballad of heartache on par with any contemporary country song, and beneath all the partying, swaggering, and chest-beating on the album, you can hear OT's musical passion and desperation.
"I can't cook. I suck at following rules. I can't pay attention for shit. The real world wasn't for me, so I had to make this music happen."
OT often calls his hometown of Bay City, Texas by a different name: "Be Careful." The imperative is fitting for a small, rural town nearly 100 miles from Houston, where one either worked for local plants or jumped into gangbanging and its concomitant hustles. OT's parents passed on their broad musical tastes, playing everything from Juvenile to Muddy Waters and jazz, but they weren't punching in at the plant. OT's father was incarcerated for much of his childhood, and his mother made most of her income selling crack. She was killed by a drunk driver when was 26, leaving an 8-year-old OT and his younger half-brother in the care of family members.
Losing his mother and being separated from his brother drove OT deeper into writing raps. A therapeutic outlet on the one hand, rap was also the link to older cousins who recorded as Kick Doe Click. But no amount of writing could erase the grief OT grappled with while living with his grandmother. When OT's father was released from prison a few years later, OT moved with him to Austin. His father put a roof over his head, but there was little emotional support or supervision.
"I was alone, and I was always in trouble. I was mad at the fucking world," OT says of his time in Austin. By the end of middle school, he was doing bumps in the bathroom stall, fighting with classmates regularly, and trying to sell drugs. "My dad had some drugs in his truck, so here I am thinking I'm grown trying to sell drugs and shit. I was just getting in trouble with dumb shit."
Outside of school, OT found solace and distraction from his solitude in the arts. He devoured the urban young adult novels of Walter Dean Myers, wrote and recorded raps, and began drawing. The routine remained the same at Stony Point High School in Austin. OT managed to graduate, but he had no career plans. It wasn't long before he was engaging in the street activities he chronicles in his raps.
"You can't rap shit like that without it being real. They'll pull your card," OT says. "I'm really in the hood with these motherfuckers every day. Somebody going to pull your card. You got to be about it."
After that fateful night of piss, cow shit, and being about it, OT started recording earnestly. He rapped over YouTube beats until producers began reaching out. Between 2020 and 2022, OT released four projects: South Texas Project (2020), Southside Steppin (2021), 1 Double 0 (2021), and Nonsense and Mexican Shit (2022). Each record improved upon its predecessor, OT's delivery becoming sharper and more distinctive as the production grew more polished. Listen to them in succession and you can hear his musical vision building to Lonestar Luchador.
Since OT signed with Good Talk/Manifest/Good Money Global in 2022, his life has been a blur of recording sessions, album strategy meetings, music video shoots, and interviews. While the Paul Wall-assisted "Johnny Dang" climbs the charts, OT's recording with more Texas rap icons. Though he can't reveal any forthcoming collaborations on the record, he's quick to mention that he'd like to work with Devin the Dude, going so far as to sing the hook for "Doobie Ashtray." With OT's talent, taste, and reverence for his predecessors, he may continue to bridge generational divides. And while Texas rap had a short-lived moment of national resonance in the early aughts (see Mike Jones, Paul Wall, Slim Thug, etc.), OT has the potential to put the state on the proverbial map once again.
"I'm working with all the legends," OT says, his voice brimming with pride, "and they love me."