Blue Chips is a monthly rap column that highlights exceptional rising rappers. To read previous columns, click here.
BigXthaPlug speaks as he raps. On the phone and on record, the Dallas, TX native sounds like a chopped and screwed Mike Jones (e.g., the hook on "Back Then"). His deep, booming voice is relaxed and unhurried, every dragging syllable weighted with heavy breaths and slick with saliva. It's a voice that adds gravity to the mundane, solemnity to the grim, and sauce to every flex. Perfect for cutting through the quaking bass and narrating evocative vignettes, it also makes BigX sound much older than 24. He needs every ounce of youthful energy to keep pace with his rapid ascent in rap.
"Since I've been doing music, [everything's] been a blur," BigX explains, speaking from a Dallas studio on a recent weekday afternoon. In just three years, he's gone from releasing music in obscurity to hitting over 100 million global streams, his weekends now packed with headlining shows at Texas venues and opening spots for rappers like Maxo Kream and Key Glock. "I'm constantly moving. I'm never just sitting still. I don't know what time it be or what day it is."
The constant motion as a rapper is new, but BigX spent years moving quickly and dangerously to survive. After his future as a football star deflated, BigX robbed felons to provide for his infant son. Though penitent, he sometimes worries the inherent visibility of his rap career could mean retribution.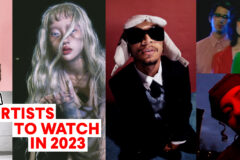 "Right now, I'm taking a big risk doing what I'm doing. I've done a lot of stuff to people in my past — I pray that God forgives me now — but I did what I had to do to survive. I'll look [the people I wronged] in the face and apologize, but I can't control how they'll react," he says. "Everybody knows who and where I am…. At any moment, anybody can pull up and do whatever. I just pray to God everybody sees I'm on a better path and stay where they at."
BigX's debut album AMAR — named after his now four-year-old son and released in partnership with United Masters — details his former life and his new path. The tropes are familiar, but they feel fresh with his voice, his thoughtful yet conversational writing, and his ear for production. With his commanding and twang-accented bass, he details the double-crossing inherent in crime, moving weight and waiting out prison time, and squeezing triggers while push-starting luxury cars. It's the soundtrack from trap to the penthouse, the darkness of matte black Glocks contrasted with the glint of sun-dappled infinity pools and diamond-encrusted smiles.
AMAR realizes the promise BigX displayed in the three years of singles that preceded it, including album singles "Safehouse" and "Texas." The latter has over 7.3 million streams on Spotify and is probably blaring from car stereos at Whataburger drive-thrus as you read this. Backed by a potent mix of gospel, trap, country, and blues, BigX displays some of his best writing on "Texas," casually condensing decades of Texas music and cultural history into forceful couplets. He hopes his music and presence can unify a Dallas rap scene that's been rife with infighting for years.
"I'm really the first artist in a minute in the Dallas-Fort Worth area that isn't beefing. That's what made me stick out as well," X explains. "I don't even want to engage in what other people got going on as far as this side versus that side… I'm trying to change all of that right now."
The desire for peace comes after decades of turmoil. BigX spent his first nine years in Pleasant Grove, a southeast Dallas neighborhood still plagued by crime and institutional neglect. His mother was "in the streets" to provide while his father was in and out of prison. If BigX wasn't committing petty theft, he was warring with his teachers. Years of this behavior drove his mother to the brink, at which point she drove him to live with his father in Commerce.
"I'm glad I got out of [that hood] when I did," he says of moving to a city he describes as "country." "If I would've waited until I was a teenager, I would've been too far gone."
With fewer opportunities for mischief, BigX channeled his anger into football. He grew to a hulking 6'2" in high school and became a sought-after offensive and defensive lineman. Though recruited by the University of Minnesota, BigX didn't have the grades to qualify academically. Instead, he enrolled at Minnesota's Crown College to play for a season while raising his GPA just enough to transfer to the U of M. Homesick and feeling alienated as one of the few Black people on campus, BigX self-medicated with marijuana. The private Christian college, modeling the mercy of their lord and savior, showed him the door as soon as they smelled the smoke.
Aimless and jobless, BigX settled with his girlfriend and eventual baby mama in Austin. He briefly worked in a pawn shop, but taking orders and earning minimum wage was far from the future he'd envisioned on the football field. After purchasing a gun from the pawn shop, BigX began robbing anyone who wouldn't file a police report for losing illicit money or drugs. Eventually incarcerated for burglary and aggravated robbery, he spent his son's first birthday in prison. BigX was consumed with rage that day, he wound up in solitary confinement. With no one to talk to, he started writing.
"If I wouldn't have missed my son's first birthday, if I never would've gone to jail, I wouldn't have been on this path," X says. "I didn't think [about a rap career] until I was sitting in that brick room."
Post incarceration, BigX released early songs like 2019's "Taliban Freestyle" on YouTube and SoundCloud. Streaming money was non-existent, so he hustled to provide for his son. With visibility and directorial help from Dallas music video director HalfPintFilmz, BigX songs like "Big Stepper" caught the attention of record labels. Rather than signing with a major, BigX partnered with distributor United Masters in September 2021. For him, the partnership was a chance to learn the finer points of the music industry and avoid being swallowed by labels intent on keeping him in the dark and lining their pockets.
BigX's discernment has paid dividends, from his advance to the millions of streams United Masters has helped him achieve. AMAR debuted at No. 4 on Billboard's Heatseekers album chart and sits in the top 30 albums on Apple Music, while album tracks feature on several primetime Spotify playlists. Though he didn't envision a rap career on the football field, BigX is approaching his new career with the same drive, devotion, and constant motion.
"Whatever I do, I want to be the best at it… Now that I'm doing this shit, I have no choice," BigX says. "I'm investing my time and my money in it. Why wouldn't I want to be the best?"