Slowdive has a new album on the way. Titled Everything Is Alive, the collection will be released on Sept. 1 through Dead Oceans, and is the band's first since 2017. Prior to the release of that self-titled album, it had been 22 years since Slowdive released new music.
The album is dedicated to the memory of guitarist Rachel Goswell's mother and drummer Simon Scott's father, both of whom died in 2020.
"There were some profound shifts for some of us personally," Goswell said.
Recording for Everything Is Alive began in 2020. Guitarist Neil Halstead originally conceived of the album as a "more minimal electronic record." However, that changed and the sound gravitated toward the band's original sound.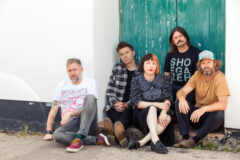 The band shared the album's first single, "kisses," on Tuesday. "It wouldn't feel right to make a really dark record right now. The album is quite eclectic emotionally, but it does feel hopeful," guitarist Neil Halstead said of the song.
Additionally, the band announced new North American and European tour dates, which kick off in Toronto on Sept. 23.
Slowdive's Everything Is Alive tracklist:
1. shanty
2. prayer remembered
3. alife
4. andalucia plays
5. kisses
6. skin in the game
7. chained to a cloud
8. the slab
Slowdive Tour Dates:
Sat. June 24 – Exeter, UK @ Phoenix [SOLD OUT]
Sun. June 25 – Somerset, UK @ Glastonbury Festival
Mon. July 17 – Perth, AU @ Astor Theatre [SOLD OUT]
Wed. July 19 – Brisbane, AU @ Princess Theatre
Fri. July 21 – Sydney, AU @ Enmore Theatre
Sat. July 22 – Melbourne, AU @ Forum
Sun. July 23 – Adelaide, AU @ Hindley St. Music Hall
Wed. July 26 – Auckland, NZ @ Powerstation [SOLD OUT]
Sat. July 29 – Niigata Prefecture, JP @ Fuji Rock Festival
Sat. Aug. 5 – Mysłowice, PL @ Off Festival
Fri. Aug. 11 – Sicily, IT @ Ypsigrock Festival
Fri. Aug. 18 – Brecon Beacon, GB @ Green Man Festival
Sat. Sep. 23 – Toronto, ON @ Queen Elizabeth Theatre
Mon. Sep. 25 – Boston, MA @ Citizens House of Blues Boston
Wed. Sep. 27 – New York, NY @ Webster Hall
Thu. Sep. 28 – New York, NY @ Webster Hall
Fri. Sep. 29 – Philadelphia, PA @ Union Transfer
Sat. Sep. 30 – Washington, DC @ 9:30 Club
Mon. Oct. 2 – Cleveland, OH @ The Roxy @ Mahall's
Tue. Oct. 3 – Chicago, IL @ Riviera Theatre
Wed. Oct. 4 – St. Paul, MN @ Palace Theatre
Fri. Oct. 6 – Denver, CO @ Cervantes' Masterpiece Ballroom
Sat. Oct. 7 – Salt Lake City, UT @ The Union
Mon. Oct. 9 – Portland, OR @ Crystal Ballroom
Tue. Oct. 10 – Seattle, WA @ Showbox SoDo
Thu. Oct. 12 – San Francisco, CA @ The Warfield
Sat. Oct. 14 – Los Angeles, CA @ The Bellwether
Mon. Oct. 30 – Glasgow, UK @ QMU
Tue. Oct. 31 – Manchester, UK @ Ritz
Wed. Nov. 1 – Bristol, UK @ SWX
Fri. Nov. 3 – London, UK @ Troxy
Sun. Nov. 5 – Belfast, UK @ Mandela Hall
Mon. Nov. 6 – Dublin, IE @ National Stadium