Ian Shelton always gets right to the point. It's what people like the most about him.
He formed Militarie Gun during the pandemic, recording demos on his iPhone, and visiting his practice space every day. He treated it like a job, using his pandemic assistance like a label advance. But he wasn't sure if anyone was going to care until they played their first show, a 2021 surprise set in a friend's backyard in Los Angeles.
By then, the band's EPs, 2020's My Life Is Over and 2021's two-part All Roads Lead To The Gun had been released and were catching on in hardcore and punk circles. These initial audiences, who'd been cooped up for the past year and needed a release, were eager to scream along with Shelton's words back at him, starting with the opening song "Don't Pick Up The Phone."
"Specifically 'I want money, I want love,' was a thing that people sang along the hardest at the first show," he remembers, quoting his song "Don't Pick Up the Phone." "And I was like, I can't believe that such simple lyrics have captured people because obviously, it seems kind of silly or just overly simplistic, but this still catches you. It catches people and they love singing it back."
Militarie Gun traffic in directness, songs that catch you the first time you hear them, and that don't need more than two minutes to make an impact. Their new album, Life Under the Gun, has 12 of them in less than a half hour, each one telling you exactly what's on Shelton's mind. He can't help being an open book, even if he sometimes worries about how he comes off.
Take, for example, "Very High," a hard-strummed pop-rock banger that sounds like if The Lemonheads got in the mosh-pit, It revolves around a brilliantly simple chorus: "I've been feeling pretty down/so I get/very high."
"I just was honestly using a lot of drugs at the time, not in an especially bleak way, but around that time, there was nothing going on in life and I was really aiming for numbing my reality 'cause it was so painfully boring and slow and it was pandemic times and there just was nothing to be done," he says, noting that he was enjoying and delivering legal weed at the time.
Versions of "Very High" have been around since the earliest days of Militarie Gun, Shelton says. "We were afraid of the song for a long time," he says. "The lyrics are almost plainly stupid… But I prefer them that way and I was nervous about that simplicity and putting that out to people."
Specifically, Shelton admits he was wary about the reaction from a lot of the "cool guys or people" that I would assume would have been the haters of the song have actually personally hit me to be like, 'Oh this is a great song,' or said something very positive about it."
Militarie Gun is from the world of hardcore punk, sharing members with scene stalwarts such as Drug Church and Modern Color, and, by and large, mostly makes hardcore punk. "Very High," isn't technically all that hardcore on the surface, but that's not much of a problem for the current wave of bands and fans redefining what the genre sounds and feels like these days.
"We just identify with the ethos and the DIY nature of hardcore," he says, "which is also kind of laughable now, considering obviously we have a team of people surrounding us."
Growing up in the Bay Area, Shelton was introduced to punk and hardcore at a young age, which made for a rude culture shock when his parents moved the family to Enumclaw, Wa., a small town mostly-known for a bizarre "horse sex case" that you're better off not Googling.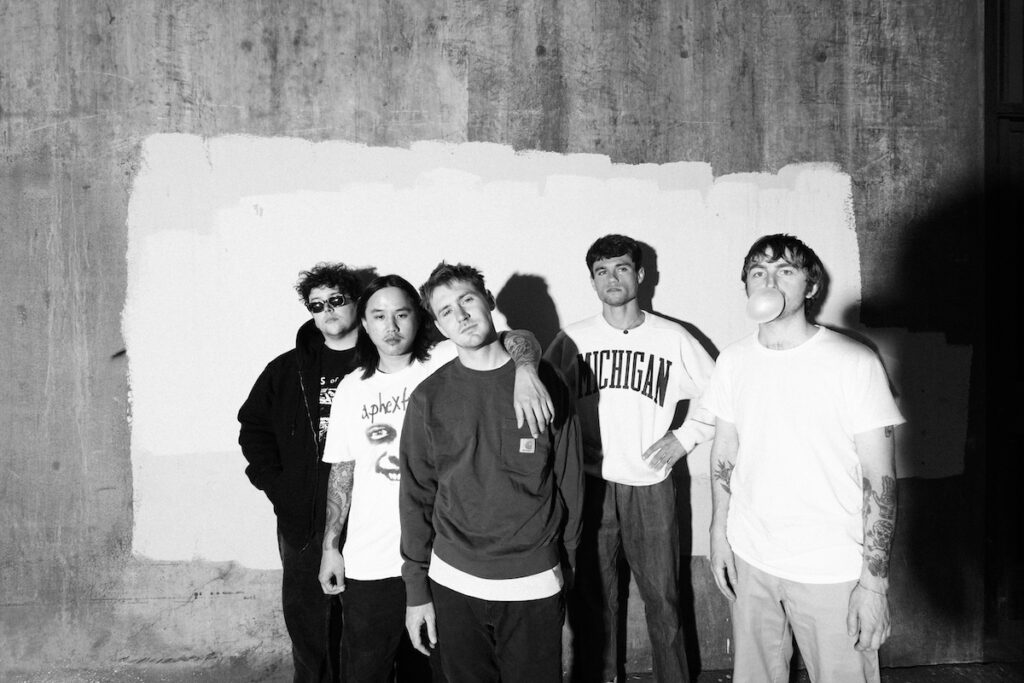 He grew up the child of two "constantly relapsing alcoholics," and didn't meet his biological father until he was 12. A school counselor introduced him to the straight-edge scene, and he grew up attending Alateen meetings and attending his parents' Alcoholics Anonymous meetings. He attended his first punk show, the arty-hardcore band Ceremony, at 15, and later moved to moved to Seattle and then L.A. He sang and drummed in the ultra-aggressive band Regional Justice Center, named for the institution in which his brother has been incarcerated for assault.
Regional Justice Center was preparing for shows when the pandemic hit, and then largely went inactive. (Though Shelton says there's a finished album from the group that will one day get released.) He admits he has an addictive personality and a near-pathological need to make music. Shelton immediately began working on new songs during quarantine, something that combined the aggression and catharsis that drew him to hardcore, with the melody and songcraft he loved in decidedly non-hardcore bands like Guided by Voices and Pavement.
"My original intention was somewhere between Born Against and Greg Ginn's guitar playing, and then eventually Modest Mouse kind of really entered the matrix heavily," he says, "and that hodgepodge of things that I think that, specifically, probably a lot of hardcore kids either aren't very interested in or talk shit on things like Modest Mouse. But I wasn't thinking that way early on."
By filtering hardcore energy through what could be considered the prism of Classic Alternative And Indie Rock, Militarie Gun, along with like-minded peers such as Scowl, High Vis and the now fully mainstream Turnstile helped to breathe life back into both genres, landing somewhere new in the process.
"I very vividly remember him sending me the demo for 'Very High,' right after he wrote it and I was just blown away by how overtly poppy it was while still very much feeling like an MG song," remembers James Goodson. He is Militarie Gun's former publicist, and like Shelton, the longtime punk underwent a spiritual rebirth in the pandemic, emerging with the tough power-pop outfit Dazy, which toured with Militarie Gun; the two even collaborated last year for the instant scene classic "Pressure Cooker."
He remembers hearing songs from Life Under the Gun even in its nascent stages, as a sign that his friend wasn't interested in being hemmed by anyone's opinions about what is and what isn't allowed in the subculture he's found a home in.
"I think that was right around when the EPs were coming out, or maybe even before, so it was really impressive to see how he was already pushing their sound so early on," he adds. "I'm always inspired by the way Ian will have a clear vision for something and will relentlessly chip away at it until he's seen it through to the best of his ability."
Shelton estimates that Militarie Gun, which also includes guitarists Nick Cogan and William Acuña, drummer Vince Nguyen, and bassist Max Epstein, played 90 shows as soon as touring become a feasible thing for bands, and then didn't stop, all while obsessively writing and reworking the songs that would eventually constitute their debut album.
"Our first tour was 50 shows in like 50-plus days. And it was like every other day we listened to our demos of the album and it was just obsessing over what was going to be Life Under the Gun," he says, "and we went in with the sequence already figured out, we knew what it needed to be. And basically, those two years have just been trying our best to make way for whatever needed to happen now.
"Before we ever played a show, we had these songs demoed in full and so we knew that the reality would not catch up to what we believed ourselves to be for quite some time."
From early single "Ain't No Flowers," he's deployed a recognizable, onomatopoeic "oof-oof" grunt that he often deploys to announce his presence, like a hardcore version of a sexy-sounding woman saying "Maybach Music."
"I'm a big fan of hip-hop and the idea that you know who's about to start singing before they start singing is a huge thing. It was really important to me and just I don't ever want it to be confused with who's singing."
Shelton often brings up the idea of "incompetent hands." He learned how to play guitar for Militarie Gun, but notes, "I definitely am getting a little more skilled, but the incompetent hands thing is the filter that makes the songs good I think. I don't think anyone wants to hear virtuosic guitar playing in a Militarie Gun song. I certainly don't think I do.
"So it's about chasing the naivete of it, of not looking past simplicity to stay in somewhat of a youthful mindset for creating a song."
But while he has a first-thought, best though, instinctual approach to songwriting, lyrically he knew he wanted to go deep for his debut. He knew he wanted to examine his upbringing, and how his parent's substance abuse and perpetual poverty impacted him in ways he's still coming to grips with.
"I can't outrun these sets of topics and I really have to address them head-on. I don't think it helps come to terms or rationalize or really do a ton internally, but I think what its biggest asset to me is just that it kind of puts all of it on the outside of myself so I could view it in a different way," he says.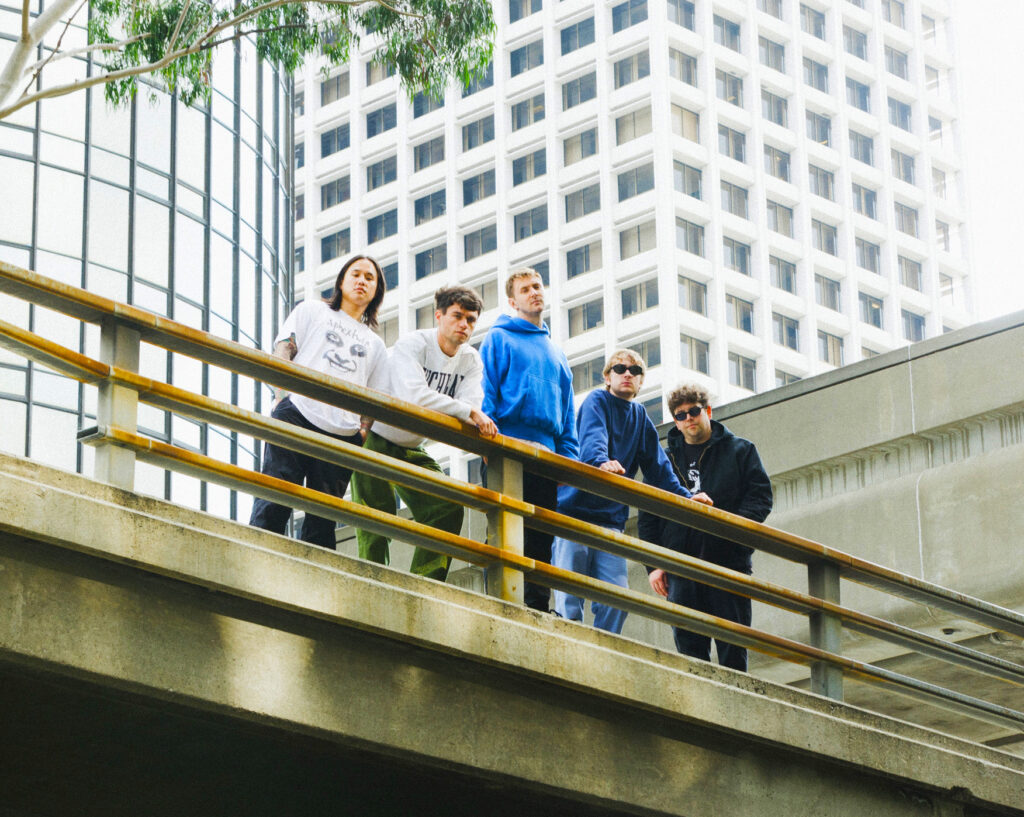 While demoing the album with co-producer Taylor Young, an engineer they were working with said "Man, all these songs are pretty fucking depressing. I don't know if you've realized that.' And I was like, 'Oh, I guess I didn't realize that 'cause at the same time I'm trying to make more or less a pop-rock record.' And then you look at the body of work and that was actually when I realized that that was the theme of the record. I didn't know that there was a theme and I kind of zoomed out and was like, 'Oh, all these songs intersect with this one general concept."
Ultimately, much of Life Under the Gun revolves around the idea that the only way to make peace with your past is to forgive and come to terms with your pain, a simple concept that is difficult for many people to accept.
"I think forgiveness is somewhat easy for me. I think that I've always been in the cycle of being apologized to. I think that there was this law of life of fuck up, forgive, fuck up, forgive. There was always kind of new amends being made because my mother was a constant relapsing alcoholic," he says.
It was important to him to discuss forgiveness "because I felt like the culture at large was so unkind. And it didn't make sense to me. You have to admit that you also fuck up. So it's just silly, the concept that you don't forgive others, but… would ever expect your own forgiveness?"
Life Under the Gun will be released on Loma Vista, a prominent indie that is the home to St. Vincent and Ghost. Militarie Gun was the first hardcore act to get signed after Turnstile blew up after the breakthrough success of Glow On, and Life Under the Gun is a useful bellwether of just how big this scene can get, and whether hardcore is on its way to becoming a major new youth music, and whether Militare Gun and their upcoming tour mates Scowl are set to win the hearts of America's teenagers.
"I'm loving the records that are coming out and seeing the success of our peers. These are all people I've been around for 10 years and to see everyone have the same passion level and the same drive this whole time and just finally getting on is incredible," he says. "I think we're at the point where just Turnstile is the next Foo Fighters, Red Hot Chili Peppers, that's just this generation's band."
His friends in Turnstile have shown Shelton what level a hardcore band can rise to. Like them, he's had a song in a Taco Bell commercial, because we all have to eat. Turnstile has been playing arenas since Glow On and will be a Riot Fest headliner in the fall. It's a path that Shelton admits he wouldn't mind following.
"As long as the music that we are making is genuine, I'm happy with whatever result," he says. "So do I want a big reality in exchange for making music I'm not passionate about? No, not in any way. but if the songs that I like making do get success because they're the songs I like making them, then of course I want that but I don't want it at the expense of the creative."
The Militarie Gun modus operandi is catchy and abrasive, and makes certain to never lose sight of either side; even the singles have rough edges that can't be sanded off, and they continue to traffic in confrontational poses (album covers with pictures of burning RVs on them, merchandise that features drawings of police officers getting stabbed). He wants to reach people, and he wants to offer them the same outlet that once saved him. It's why hardcore is having such a moment, and why he will be fine no matter what happens because he'll always have a home there.
"I think people just want vulnerability, I think they want honesty. I love pop music, I love all sorts of things, but there's not that honesty in every place. It is somewhat a difficult thing to come by," he says. "And if there's one thing that hardcore and punk music does offer, at its best, I think it offers emotional vulnerability and honesty.
"I was just an angry kid and I was looking for angry things. I wanted to scream. I've got problems. I'm a fucked up kid. It's as simple as that and hopefully, we and our peers can provide that same catharsis to this next generation of people."