Chinchilla Café is the coolest night club in Charlottesville, Virginia, but you won't find it on Google Maps or Yelp. The address is a secret. It hides within a house that transforms weekly into a concert space without permits, licenses, or fucks to give about permits and licenses. 
I can't make out the house numbers from the sidewalk, so I follow a lady lugging an amplifier and a dude in all black carrying a case of PBR, which makes me feel awkward about also being a dude wearing all black and carrying a twelver of PBR. 
A few people lounge on the front porch to collect the suggested 10-buck donation (it all goes either to the bands or to a non-profit). One of them is a trans woman wearing a denim vest emblazoned on the back with "ARM TRANS WOMEN."
This is definitely the right place.
Inside, the living room is converted into a stage. Furniture gone, ad hoc lighting. Band still setting up.
I drop the beer in the kitchen. A pot of some sort of stew simmers on a stove top with paper bowls and utensils nearby. Help yourself. A pantry has been converted into a merch area selling T shirts and stickers for F-12, an anarchist bookstore. In the former dining room, a three-level metal structure, basically a five-and-a-half-foot-tall playground for football-sized rodents, houses the real stars of every performance: The three chinchillas, who stage their own show before the final band goes on.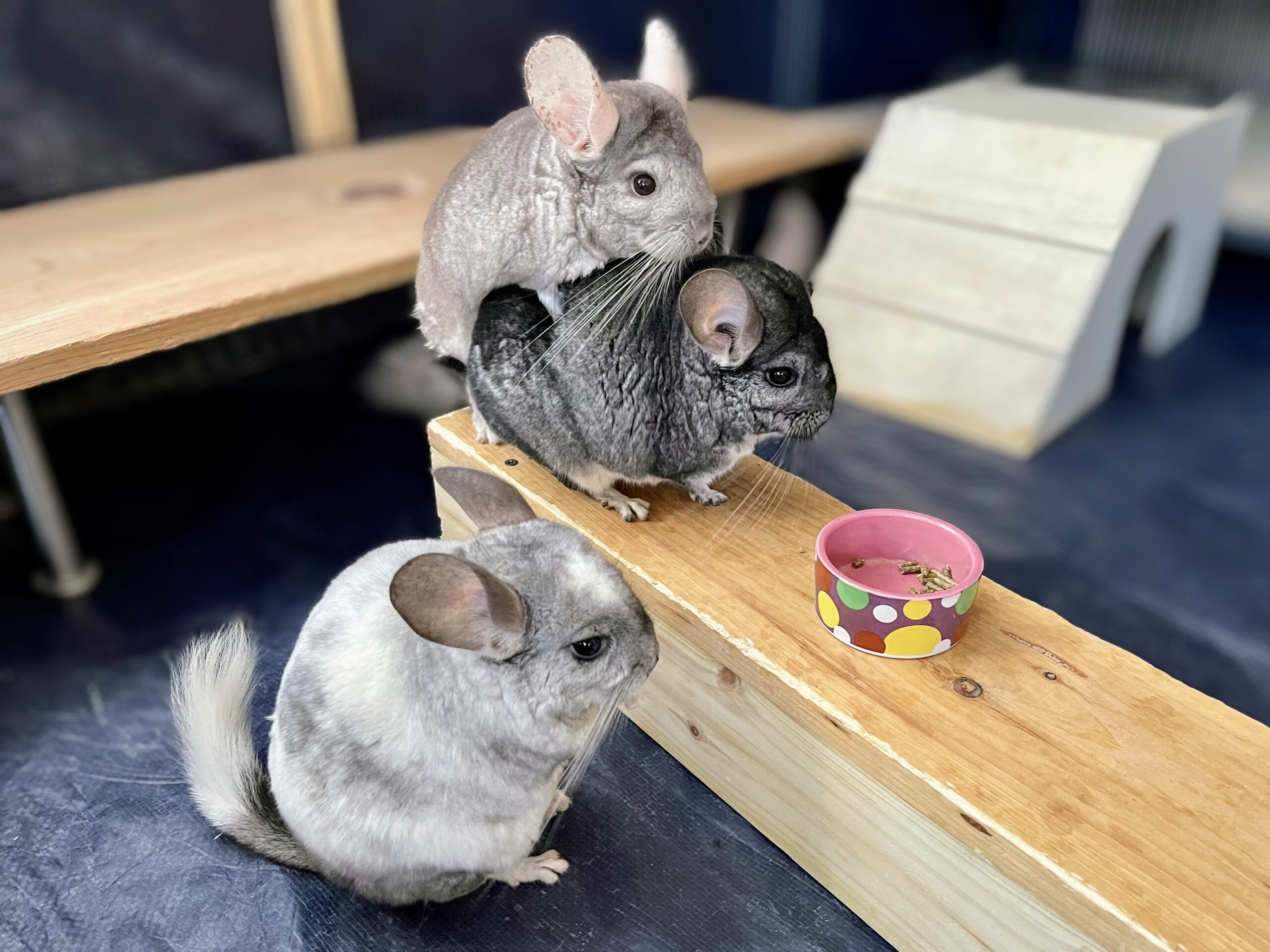 For a mid-sized college town, Charlottesville has produced more than its fair share of noteworthy musical acts: Pavement, the Dave Matthews Band, Tim Reynolds, gothic rockers Bella Morte, bluesman Corey Harris.
But in recent years, the city's three largest venues, all owned by Coran Capshaw's Red Light Management, have mostly booked Americana. Rock, electronic music, and anything weird has been pushed to the margins. The margins are pushing back.
When the four roommates who live in Chinchilla Café moved in, first they just wanted to get a lot of people to come over and check out their chinchillas.
They envisioned the house becoming a queer social space for chinchilla-tolerant people who didn't feel like there was another place where they belong. Charlottesville's long-time gay bar and dance space, Escafe, was bulldozed a few years back to make room for a "tech incubator" building, with sky-high rents offered to tech bros.
Just pushing chinchillas wasn't working. Nobody showed up. So they started booking bands. Then it blew up. The house is literally overflowing with people who have heard about it by word of mouth or Instagram. Touring bands come from other cities. 
"I would say the majority of people that come to Chinchilla Café events are queer," Lane Rasberry, a data scientist and Chinchilla Café resident, tells me. He looks dapper in an electric blue jacket with a black necktie, solid blue high tops, and a luxurious '80's rat tail hanging over his collar.
"And everyone else is very queer-friendly. We advertise it as a queer space. We've done that from the beginning … and we wanted to fulfill a need that was lacking in Charlottesville… And also when LGBTQ spaces get established, there's different patterns of how they can get established — like, it could be a bar in which the focus is always going to be alcohol, and that sets a certain kind of mood. So as a house venue, we're not serving alcohol. Some people can bring their own alcohol, but alcohol is not the focus."
In the backyard, a projector plays a curated list of weird music videos from Youtube on a large screen. The Avalanches' "Frontier Psychiatrist" screens while people drink and chat and vape. The crowd is heavy on musicians and artists. The kind of stand-out people who usually look like tropical fish amid a school of sardines, all put together in one aquarium.
A guy wearing a True Body T-shirt starts telling me about his band's last gig, and asks if I'm in a band. "No," I reply, feeling suddenly guilty about all of my life choices and the layer of dust on my guitars. He looks around for someone else to talk to. "I'm just shopping my new book and writing for SPIN magazine," I say. A nod of slight approval. Now the lights flicker to signal that the next band is starting.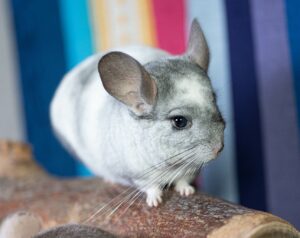 Synth pop duo Bro-X come on stage, or rather stand where the couch used to be, and put on their set of Depeche-Mode-meets-Wham goodness. The crowd is into it. The room is full, and somehow more people are coming in through the front door, and we press ever closer to the band. White, Black, trans, and a guy wearing a bondage dog mask. Someone spills beer on my boot.
When Bro-X is over, the horde of kids, millennials, and a sprinkling of Gen Xers heads to the chinchilla room.
A plastic bin, containing pulverized pumice stone dust, is reverently placed on the floor. A little gray chinchilla hops down from its tower of power and approaches. Then two more. They eye the dust bath, the crowd, and the dust bath again.
"It's performance anxiety," someone shouts. "Pretend to look away from them."
Some of us turn our heads. The bold gray one jumps in the bin and rolls around at lightning speed. The crowd goes wild. The other chinchillas follow. A couple of people sit on the floor near the dust bin. Tentatively, the chinchillas approach, hop on their laps, and give the concert-goers a good sniff. They love sniffing people but hate to be petted. Anyone looking to be sniffed by a chinchilla is welcome to partake until the next band goes on and the room empties out.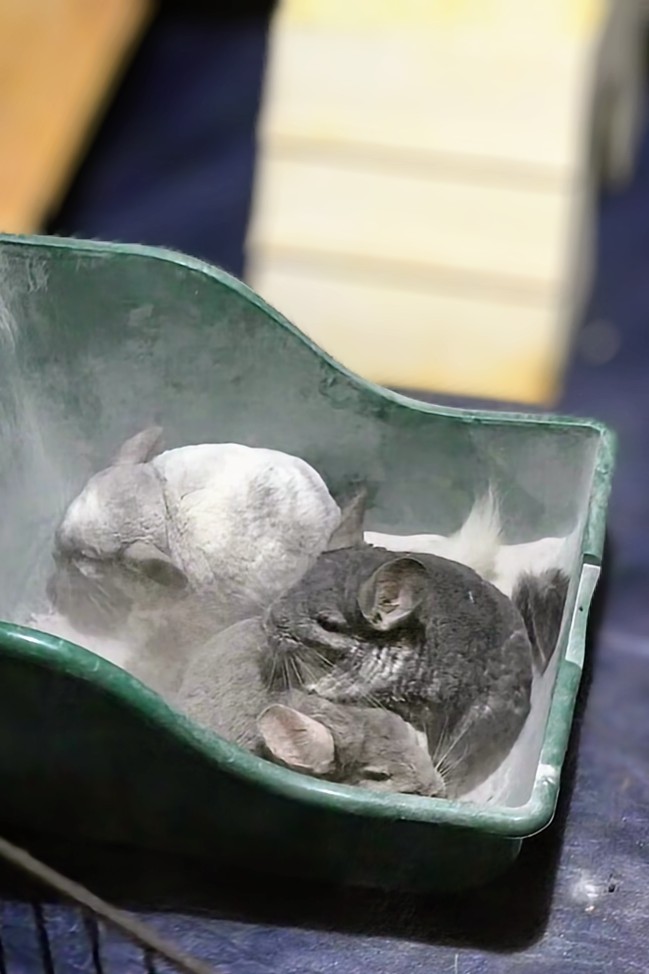 Chinchilla Café received their chinchillas and a knack for party promotion from Fabian Garcia, a former NYC Club Kid and current hairdresser for films and TV shows. He learned how to throw and promote parties as a drag queen DJ in New York during the 1990s. "We were sort of rivals to Michael Alig, who also wore costumes, but who were not as bitchy as him," Garcia says.
Also a photographer at the time, he took the famous photo of Andre "Angel" Melendez, whom Michael Alig would later murder, in a sensational case depicted in the film The Party Monster.
"The VIP rooms in the clubs, that's what the Chinchilla Café reminds me of," Fabian says. "You have to look fabulous and know people. There's a person at the door… we have to have some kind of screening, I suppose, because we don't want just anyone coming in. [The Club Kids were] definitely a queer scene. It went from sex workers to transgender to the richest people in the world all hanging out together. Sexuality was very fluid. The more outrageous you were, the more people come."
Garcia, who splits his time between Chinchilla Café and New York City, designs the flyers and posters promoting shows at Chinchilla Café. Old-school DIY cool, posted on Instagram and taped up around town.
It turns out that there are other places like this scattered around the east coast. Chinchilla Cafe establishing an Instagram presence accidentally summoned them to reach out.
Now Chinchilla Café is no longer just a house that hosts parties with local bands — it's a tour stop.
"We have connected with other house venues, and I did not anticipate this," Lane says. "Yeah, where they say a band is touring. 'They're going from us towards you in their travels in between these other places. Can they stop at Chinchilla Café?' Yeah. I would say we've made probably about 10 of these connections." 
There is now a circuit of underground DIY nightclubs, non-capitalist enterprises with extremely understanding neighbors. 
Shagwüf, arguably the best band ever to come out of Charlottesville, is playing last tonight. A three-piece psychedelic stoner rock band fronted by the pint-sized, acrobatic Sally Rose, they are absolutely killing it with audience members only inches away from the headstock of Sweet Pete's Telecaster. They're one of those bands where you see what is in front of you, and know that it is just guitar, bass, and drums but don't understand how this much sound is coming out of only three people. The audience stretches back through the hall, past one of the two bathrooms and into the kitchen. Some of the crowd are pogoing, and the floor flexes dangerously like a trampoline. This party could literally burst out of the room.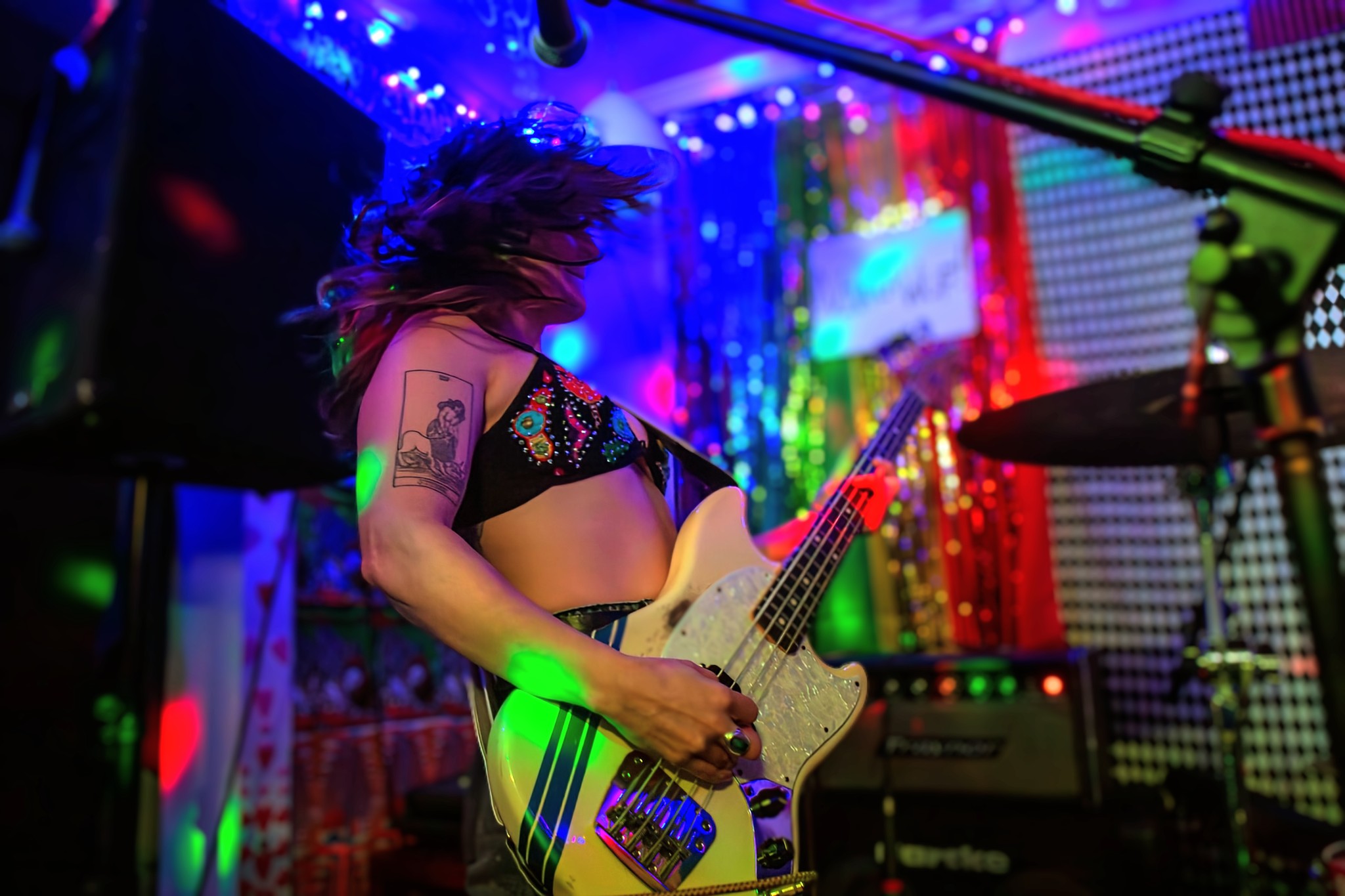 Like many bands in Charlottesville, Shagwüf has to sign agreements in order to play the main commercial venues, promising not to play any other gigs nearby for a month before and after. That makes it hard to build an audience and difficult for any kind of a scene to develop. Now Chinchilla Café, and their counterparts in places like Philadelphia, Richmond, Athens, and D.C., offer both gigs and an actual scene without any contracts or hassle.
"As someone who not just plays in the band, but handles all the booking, socials, bookkeeping, and overall management, I understand the origin of the non-compete clause," Sally says. "I don't necessarily disagree with it. Just like every other sweet freak fronting a band out there, I want as many sweaty bodies on the dance floor vibing and thrashing at our shows. I recognize that one band playing in the same small radius, back-to-back, can thin crowds. That being said, it does put independent artists in a particularly challenging position of 'pay to play.'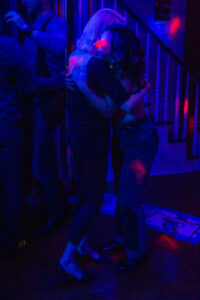 "Shagwüf is a three piece rock n' roll band. We all work multiple full-time jobs. None of us can afford not to. At this level, you have limited options. Play all covers at breweries and weddings that will pay you to sell your soul. Practically live on the road full-time, gaining exposure while burning yourself out completely. Or working full-time jobs to supplement income so you can invest in creating a scene within your own community. Shagwüf works very hard to try and cultivate that scene. That's why smaller DIY spaces like Chinchilla are so important… 
"We have strong convictions on a variety of social issues, especially BLM and LGBTQIA2S+ rights. Spaces like Chinchilla allow us to be authentically ourselves." 
Maybe this is what your town needs. Maybe your living room would do just fine. Maybe you could pull this off, too. You'd have to be OK with letting dozens of strangers use your bathroom and be ready to pick up some new people skills. Lane Rasberry was forced to learn how to live this way and then found that he liked it.
"I left the farm, moved into the big city," Lane recalled. "I grew up in rural Southeast Texas. I left my community for being gay. And I moved to Seattle where I didn't know anybody. I was a homeless kid on the streets of Seattle for a while and then ended up moving into cooperative housing. So the idea is that you have a punk house or communal house alternative lifestyle. You move into this place — it's packed with people and in an unconventional way with a lot of trust. People are sharing the rent, relying on each other, having parties. It's a relaxed environment where kind of anything goes and strangers are coming in and out of the house." 
"I took to this kind of group housing. And if I didn't like that kind of group housing today then I wouldn't be running a house venue. So you need experience to say what works and what sort of behavior is acceptable, what's not. So I've got a lifetime of experience with this. And that's why I'm comfortable saying a hundred people can come over to my house to a concert, and I know that I can handle anything that comes up."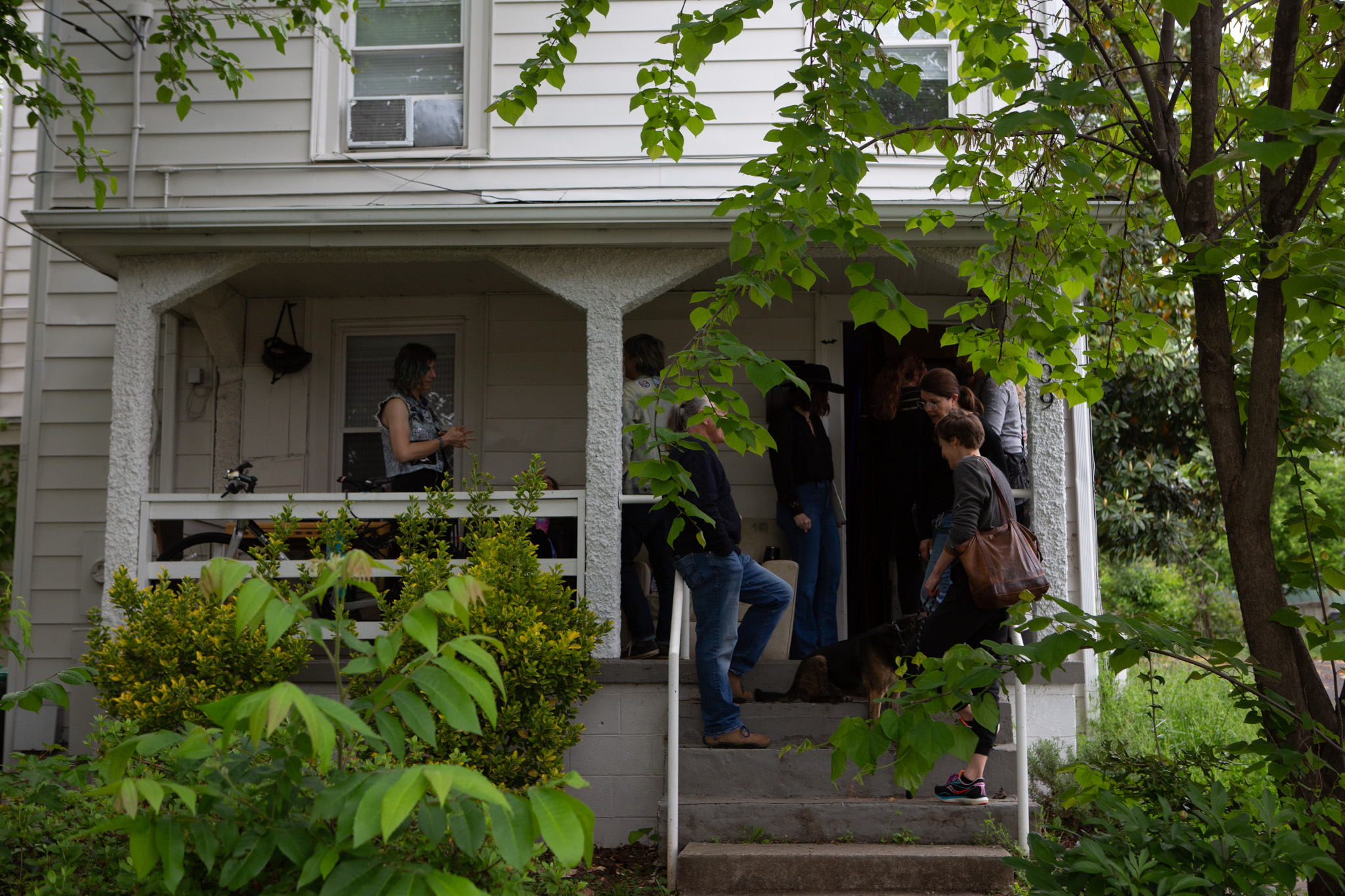 Robin Brown, also a resident, a trans woman and one of the organizers, says, "Do it. Fuckin' do it! It can just be one show. That's one of my dreams for this place. It's not gonna last forever. I want to inspire other people to do this. Because we're not experts or anything… Like, I'm a fucking biologist. I'm a scientist. I don't know anything about this stuff."
Fabian, the former Club Kid, is the only resident of Chinchilla Café who has ever been a pro at throwing parties at nightclubs. But someone books a band, someone makes some posters, someone else runs the Instagram, everyone helps clean up, and it all seems to work.
Your lease and zoning probably don't allow you to run a business from your house or apartment. No problem, just don't make any money. Chinchilla Café usually gives 100% of the donations at the door to the bands that play there. The only exceptions are when the money goes to charities like Arm Trans Women, a group which provides self-defense-oriented firearm training to trans women.
The result can be a custom music scene with no assholes, no obnoxious drunks, nobody you're trying to avoid other than maybe that one ex whom you have to pretend to be over.
"The grand beauty of a house show is that it's literally all about building community," says Sally. "It's all word of mouth. Posters designed by a local artist, plastered all over town and Instagram, saying, 'DM for address' or 'ask a punk.'"