The crowd looked like ants.
That's the first thing most artists who performed at the 1983 US Festival remember. And that makes sense since that's what crowds look like when you're flying in on a helicopter.
Because when you're about to play in front of hundreds of thousands of people, you don't just roll up in a limo – especially when it's on Apple co-founder Steve Wozniak's dime. So one performer after another was picked up from the Red Lion Inn – a small hotel in Southern California's sweltering Inland Empire that was used as the weekend's staging area – and flown into the festival.
"It was my first time on a helicopter," Brian Setzer of the Stray Cats remembers. "The organizers said, 'Boys, there's too much traffic and we're gonna have to chopper you in.' And as I looked down, I thought, 'Wow, this is real rock star shit. This is gonna be big.'"
It was big. Real fuckin' big. A record-setting 670,000 people turned out for the second and final US Festival over Memorial Day Weekend 1983 at Glen Helen Regional Park in San Bernardino, Ca. – a location so obscure that even most SoCal residents couldn't find it on a map even if you gave them a free ticket.
The lineup for the four-day event was loaded, and quintessentially '80s: a Flock of Seagulls, INXS, Men at Work, Quiet Riot, Mötley Crüe, Ozzy Osbourne, Berlin, U2, the Pretenders, and Stevie Nicks, just to name some of the acts. The co-headliners, David Bowie and Van Halen, each earned record-setting $1.5 million paydays for their sets. The '83 US Festival also holds historical significance as the last show the Clash ever played with co-founder/guitarist Mick Jones.
Wozniak, who spent $12.5 million on the first US Festival less than a year earlier, doubled down for the second edition and didn't come close to turning a profit either time ("It's going to be a significant loss," Wozniak said in the days leading up to the '83 show). But that wasn't the point. The then-32-year-old wunderkind's goal was to put on the "Super Bowl of rock," where the biggest musical acts would be showcased alongside cutting-edge technology.
"We were the first concert in the United States to use the big Diamond Vision video screen at a concert," Wozniak said years later. "The first [concert] to have speakers halfway into the audience to keep the sound balanced and out for a larger audience. We had a lot of firsts, [including] the largest stage at the time."
Beyond receiving a fat check, the artists were certainly appreciative of his efforts. "He seemed really affable and oddly humble – not like your normal multimillionaire," Dave Wakeling of the English Beat says. "The question of why you would want a quarter of a million people in the field in 120-degree weather just to celebrate is another question that's not for me to ponder. But he seemed to have his heart in it."
Despite its size, tech and star power, the US Festival often fails to get mentioned alongside better-known musical events such as Woodstock '94 and '99, nor does it get credit as the forerunner to American mega-fests like Coachella, Stagecoach, and Lollapalooza.
But the parallels are there: the all-weekend party, the big-name and big-money headliners, the blistering heat, the drugs, the giant video screens, the hype, the media. Those parallels seem clear, even if some of those who were closest to it feel differently. "It seems to have no historical importance for people," Barry Fey, the veteran promoter who helped book the '83 US Festival, said in 2012.
That isn't the case for the attendees or artists who were there, though. Their memories are remarkably clear, 40 years later. "It was massive," Van Halen bassist Michael Anthony says. "As we were coming in [on the helicopter], I looked down and thought, 'Oh my God – this is our Woodstock.'"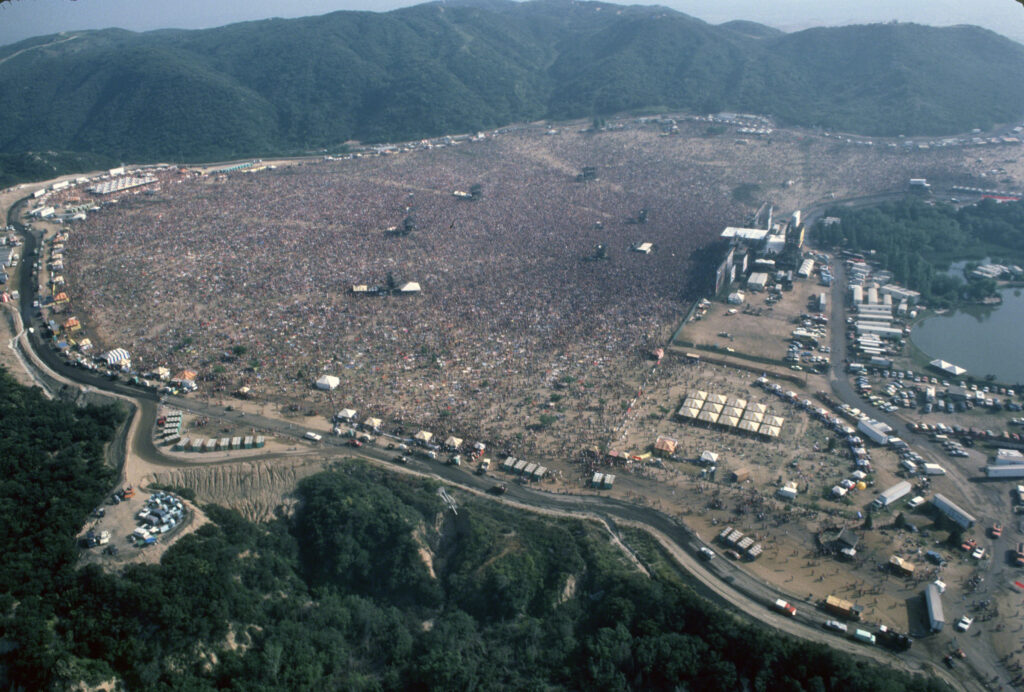 Day 1: "New Wave Day," Saturday, May 28, 1983
The '83 show was divided into distinct days, with "New Wave Day" kicking off the festival.
Saturday's lineup featured a group of upstarts (Divinyls, INXS, Wall of Voodoo) and early '80s staples (Oingo Boingo, the English Beat, a Flock of Seagulls, Men at Work). Stray Cats, with their punk-rockabilly sound, were wedged into the New Wave batch – something the band members didn't mind.
Slim Jim Phantom (Drummer, Stray Cats): We were very aware that we were bringing evangelical rockabilly to America, because we thought it was under-appreciated here. And the US Festival was a mainstream thing. We were kind of validating the whole [rockabilly movement], and we were very proud of that.
The Clash was set to close out the first night, however, last-minute issues nearly derailed that plan (more on that in a moment).
Artists were struck by a few things when they hit the stage, the first being the size of the crowd. An estimated 160,000 people – and possibly up to 200,000 – turned out for New Wave Day.
Brian Setzer (Lead Vocalist/Guitarist, Stray Cats): I hit the stage and said 'Holy cow.' It was a sea of people.
Lee Rocker (Upright Bassist, Stray Cats): By '83, we had been everywhere and played everywhere all around the world. But the scale of [the US Festival] just dwarfed anything else.
Phantom: Most people who played there, that wasn't the first time they had played a festival. But that was big, even for a festival.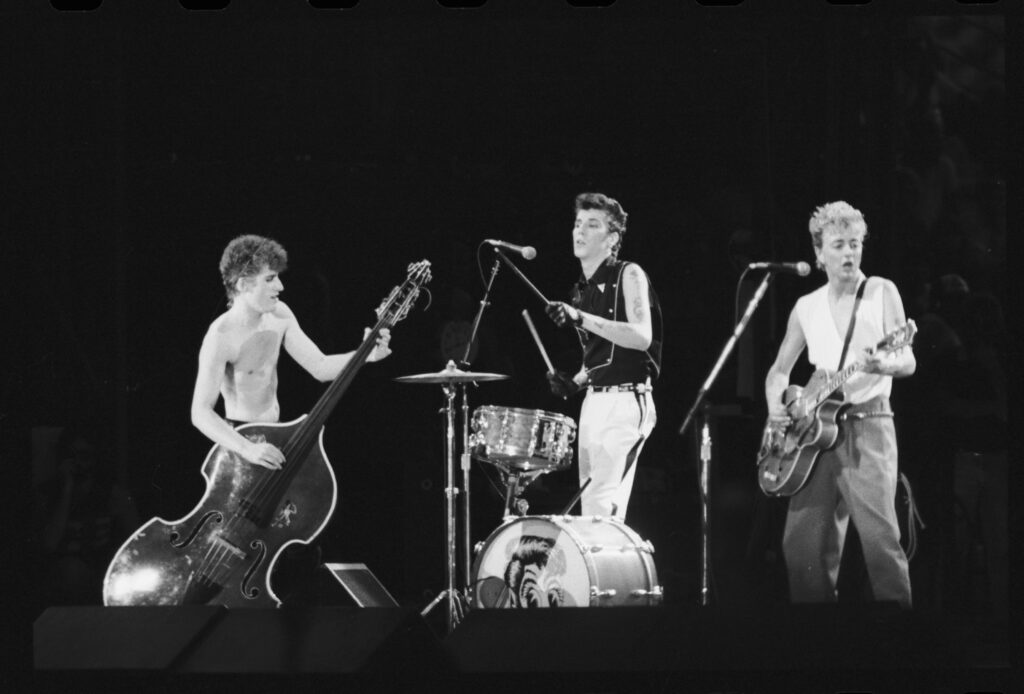 The mammoth stage and video screen compounded that feeling.
Mike Score (Lead Vocalist/Keyboardist, a Flock of Seagulls): I walked on stage, looked over at [bassist] Frank [Maudsley] and [guitarist] Paul [Reynolds] and remember suddenly going, 'Wow, they look about an inch tall.' Normally you see them, they're like two feet tall. They looked like little tiny fingers in the distance.
Setzer: I looked out into the field, which was far away from the stage. And my head was on this Megatron thing. That's when it really hit me, when I saw my 40-by-40 foot head. And I just laughed. When I saw that, I thought, 'This is just gonna be a hell of a good time.'
Another factor that impacted artists? The dirt floating up from the dancing crowd.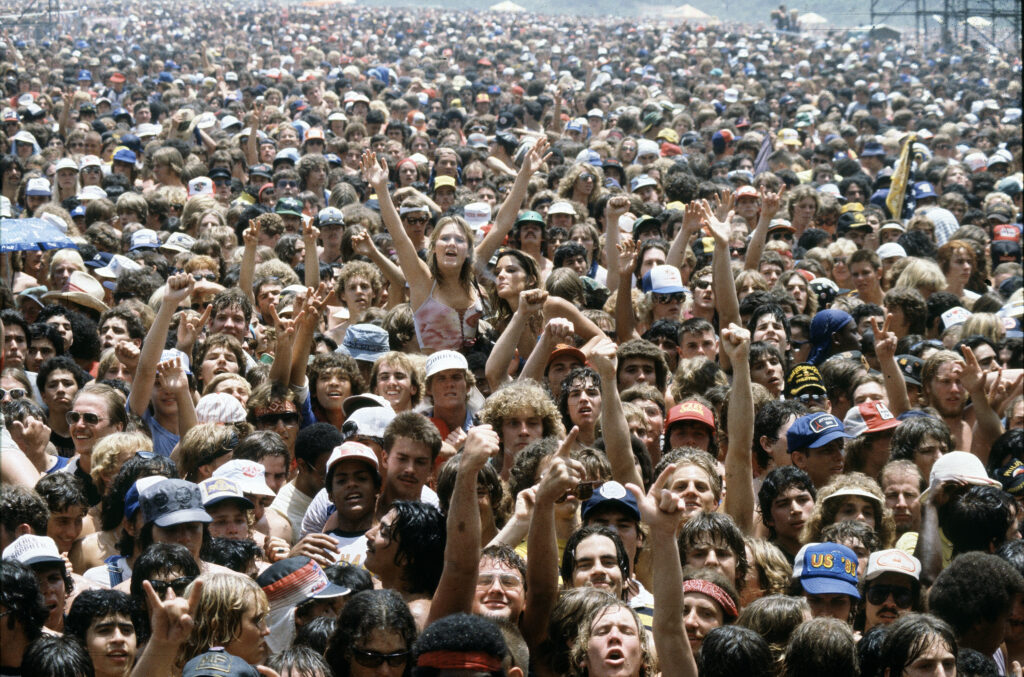 Dave Wakeling (Lead Vocalist/Guitarist, the English Beat): There was talk of 'US Festival Chest.' Too much tequila didn't help [Laughs.].
Backstage, artists were subjected to a steady diet of interviews. The sheer enormity of the event – artists were given trailers and their own roped-off areas that gave it more of a "gated community" vibe, as Mike Levine of Triumph put it – made it tricky for performers to mingle. Still, many of the artists found a way to hang out and partake in their favorite drinks and drugs.
Rocker: It was the '80s. Everything was going on [backstage].
The man of the hour behind the scenes on Saturday was a guy who wasn't even set to perform until the following night – Edward Van Halen.
Phantom: I remember spending a beautiful day with Edward Van Halen. He came a day early to watch all the bands and enjoy the whole experience. I thought that was cool, rather than arriving five minutes before [Van Halen] played. Everyone was drinking beer and smoking Marlboros.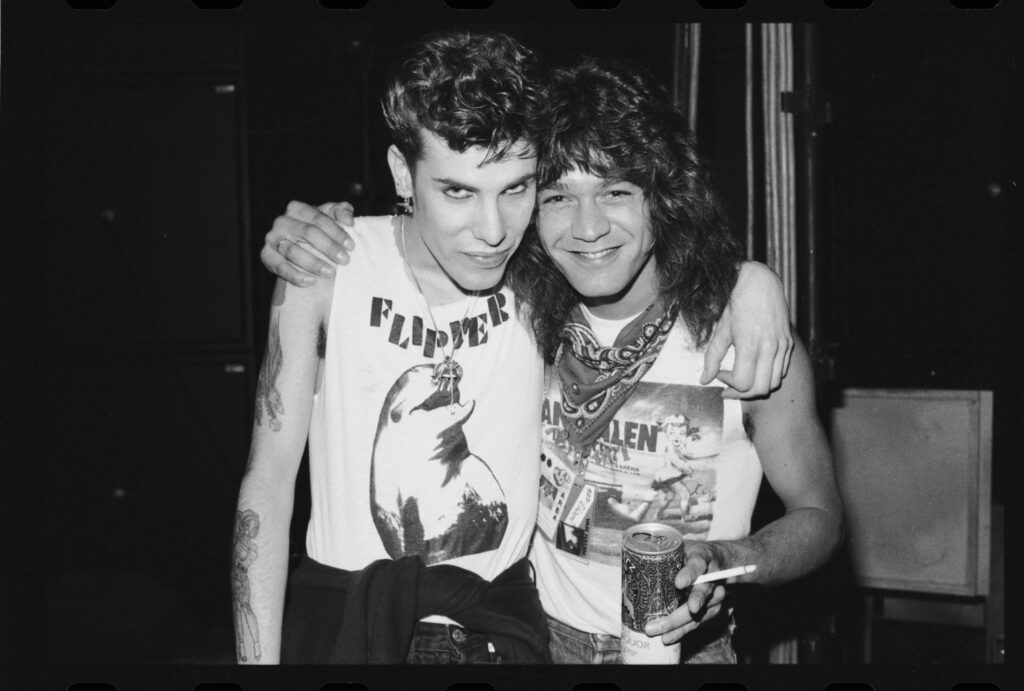 Rocker: Eddie was a sweetheart of a man. We were partying in the dressing room, and I think Valerie [Bertinelli, Van Halen's then-wife] was looking for him. She didn't find him!
Score: I felt really lucky – I got to actually meet Eddie Van Halen. I just met him for 10 minutes, but that was it. And then my manager was like, 'Come on, we gotta get back to the hotel. We got to get packed, we got to get ready for our flight, you know?' And I was kind of like, 'Hang on, hang on. I'm talking to Eddie Van Halen.' Our manager said, 'I don't care if you're talking to the Queen. Come on. We've got stuff to do.' But it was great. I mean, what a memory.
The camaraderie among artists was only occasionally pierced, like when Birmingham's The English Beat and Liverpool's A Flock of Seagulls almost brawled backstage, 5,000 miles away from home. The near-dust up stemmed from a barb heard through a thin screen wall separating the bands offstage.
Wakeling: Something happened on stage during the Flock of Seagulls show that some of them weren't happy with, and voices got raised. And it kind of went on and got louder in Liverpool accents – it was like listening to the Beatles fight.
We were about to go on stage soon, so we already had enough butterflies coming on. The last thing we needed was the sound of the Beatles arguing on the other side of the screen. And one member of [the English Beat] – I won't say who it was – thought it was actually a solid wall as opposed to a free-standing screen. So he kicked it and said, 'Shut up, you flock of fucking haircuts!,' thinking that he was just being insulting and that would get it off his chest. But at that point, the whole screen started falling and it hit the floor loudly. Then it was like West Side Story [Laughs.].
We're all facing up on each other. Most of us were really embarrassed, and a couple from the other side who wanted to fight anyway were willing to try and make something out of it. But better senses prevailed, and we were ushered away and they were ushered to the other end, and the screen was put back up and reality was restored [Laughs.]. We went on stage with extra verve.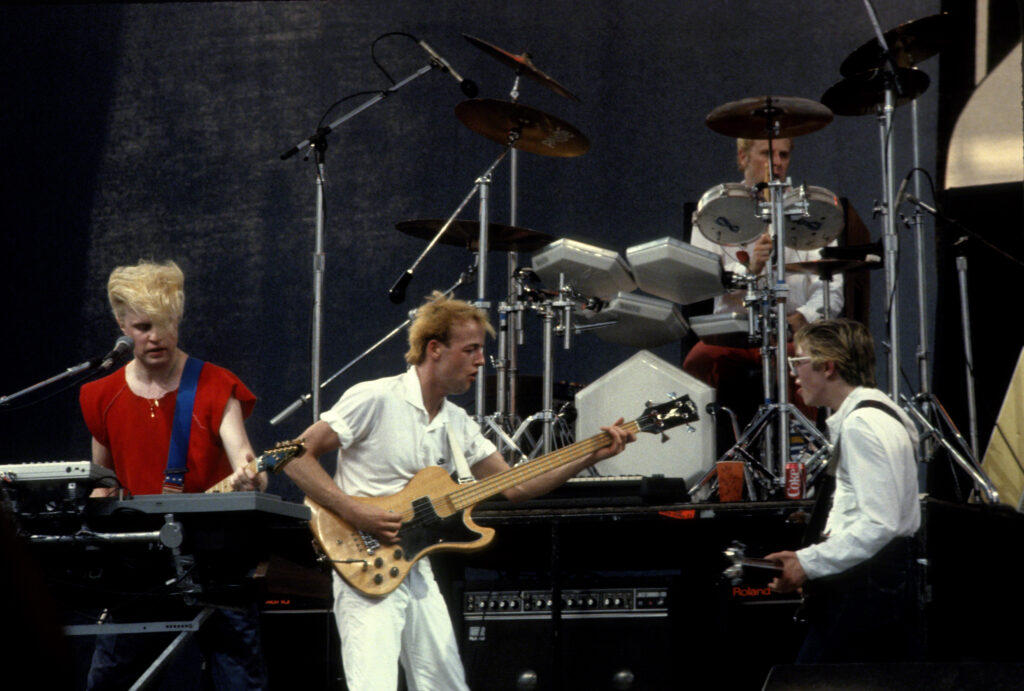 That memory is contested – or at least not shared – by the Seagulls' frontman.
Score: No, nothing [about a fight is remembered]. We did our thing. We walked off, of course, then we were scheduled for interviews and stuff like that. And that's all I remember: coming off stage and getting shown to an interview room.
For Score, other moments are more memorable – including the band's brief post-show party at the Red Lion Inn.
Score: When we got back to the hotel, there was like a frat party going on or something. And we looked in and somebody recognized us and they asked us if we could play a couple of songs. So we actually jumped 'on stage' and then we played 'I Ran' and 'Space Age Love Song.' That was our relief from the day. We did our little thing and had a great time.
It wasn't all fun and games for the Clash, though. The band was paid $500,000 for its performance, but according to then-manager Bernard Rhodes, festival promoters reneged at the last minute on an agreement to give a major cut of the money to charity.
Bernard Rhodes (Manager, the Clash): I decided that 10% of the gross is going to go to the poor people in the area because that's what we're about. I said 10% of gross and then suddenly they pulled out.
Steve Wozniak (Festival Founder): The Clash made a bit of a stink, taking some sort of workingman's revolutionary stance (From Sweaty & Filthy & Crazy & Drunk, SPIN, May 2007).
The Clash protested, staging an impromptu press conference as its set time quickly approached. The band demanded the US Festival donate $100,000 to charity before it performed.
Rocker: I think there was some kind of problem in a certain sense with their ethos – being such a street band and playing such a capitalist festival.
Setzer: I remember they had a press conference going on. I asked [Clash bassist] Paul Simonon,'"What are you guys doin'? Aren't you supposed to be on stage?' He just shrugged his shoulders and laughed.
A compromise between the promoters and the band was ultimately reached.
Rhodes: In the end, I think they paid some measly amount – $40,000 or something.
The Clash took the stage two hours late under a banner declaring "The Clash Not for Sale." Before launching into "London Calling," Joe Strummer hit the crowd with a sharp, and somewhat puzzling, address.
"Alright then, here we are," Strummer said, "in the capital of the decadent U.S. of A. This here set of music is now dedicated to making sure that those people who have children, there is something left for them later in the centuries."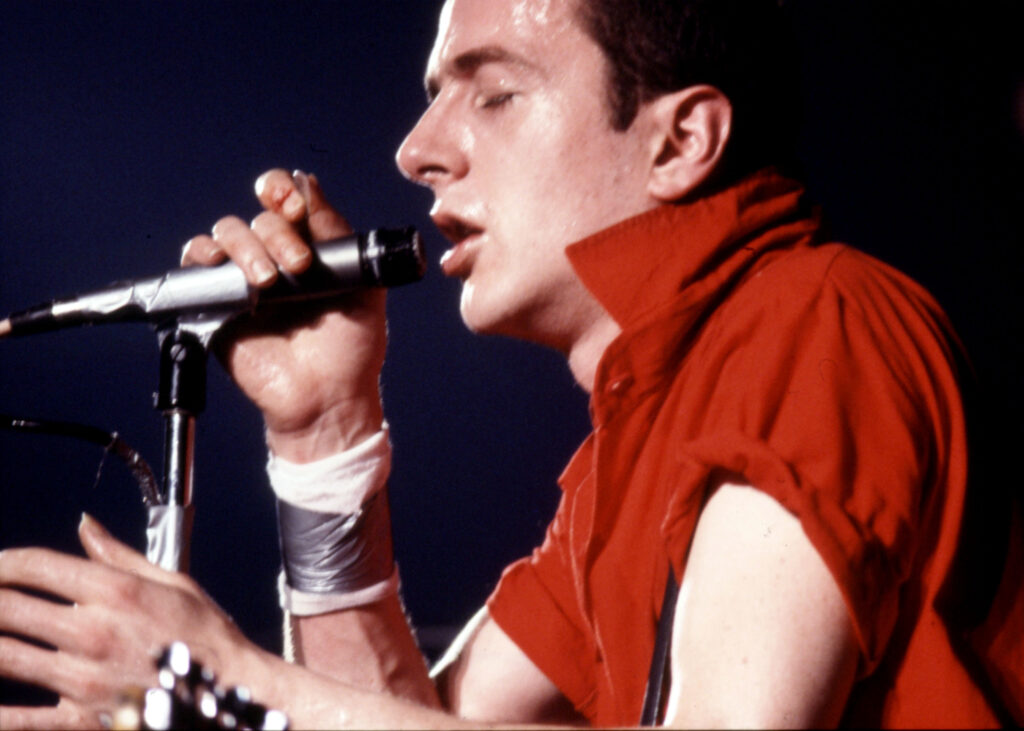 The band then blitzed through its 76-minute set, but as a unit, the Clash didn't have much left. Drummer Topper Headon had recently been replaced by Pete Howard, and as mentioned, the US Festival was the last time guitarist and co-lead vocalist Mick Jones ever performed with the band. It was a worthy swan song, at least to those who witnessed it.
Setzer: The Clash were fantastic. They were good [that day]. And when they were good, they were great.
Day 2: "Heavy Metal Day," Sunday, May 29, 1983
There was no momentum lost on Day 2 – appropriately dubbed "Heavy Metal Day," because its lineup was pretty close to being a Reagan-era hesher's wet dream.
The day kicked off at high noon, with Sunset Strip breakout stars Quiet Riot and Mötley Crüe performing back-to-back. They were followed by British metal icons Ozzy Osbourne and Judas Priest before more international heavy-hitters in Triumph (Canada) and Scorpions (Germany) took the stage. And Wozniak secured Van Halen, a band that was seemingly designed in a lab to host the biggest rock and roll party in SoCal history, to close out the day.
Gil Moore (Drummer/Co-Vocalist, Triumph): Any band on Heavy Metal Sunday could sell out an arena in California. When you add them all together, you went, 'holy smokes.' It was a powerful card.
Building this lineup cost Wozniak a pretty penny. He shelled out a million bucks for Van Halen, which was busy working on its tide-shifting 1984 album, to headline Heavy Metal Day. That payday later ballooned to $1.5 million, though, thanks to the addition of David Bowie and a shrewd contractual move by Van Halen manager Noel Monk.
Michael Anthony (Bassist, Van Halen): We had a most favored nations clause in our contract, which meant we couldn't make less than anybody else made.
Barry Fey (Promoter): David [Bowie] [told] me, 'We'll have to interrupt our tour and charter a [plane] to bring our equipment and get it right back again.' So I went to Steve [Wozniak], 'David's gonna cost you a million and a half, but it's gonna cost you an extra half a million for Van Halen.' He just shrugged his shoulders: 'So?' (From The Forgotten Festival in OC Register, 2012.)
Noel Monk (Manager, Van Halen): You don't say no to that kind of offer. I mean, you can't (From his 2017 book, Runnin' With the Devil).
Anthony: It was pretty crazy. But at that time, we loved playing to big crowds. And the outdoor festival thing was really big back then. So yeah, we were really excited to do it. Obviously, the financial part worked out. Just being on a show with all those acts – we always loved doing that kind of thing.
Wozniak and Fey, meanwhile, were busy putting the finishing touches on Heavy Metal Day in the weeks – and in some cases, days – leading up to the festival.
Mike Levine (Bassist/Keyboardist, Triumph): Wozniak flew up to Toronto and took us to dinner. We had a bit of an issue we were concerned about – our last play in Los Angeles had been a co-headliner with Journey at the Rose Bowl. And we were due for an indoor play in the L.A. area, so we also had the choice of playing a couple or three shows at the Long Beach Arena or doing the US Festival. And we're like,'"What the hell do we do with this festival thing? It's going to be sensational because it'll be a part of history. But we could end up blowing up the L.A. market for ourselves.' But it was one of those things where we just felt that it's better to be a part of history.
Rudy Sarzo (Bassist, Quiet Riot): Quiet Riot was on tour with the Scorpions. We shared the same agency, and they were playing a three-week warmup tour for the US Festival. We did that little tour with them, and the last day of their tour was in Denver. And Barry Fey happened to be backstage, and after our set, he runs in and introduces himself. He says, 'Listen, we have a spot available for the US Festival. Would you guys be interested?' And we said, 'What is that?' [Laughs.].
He explained what it was, we looked at each other, and our manager happened to be there, and we accepted it right there on the spot. This is two days before the show. Logistically, we had to scramble to make it happen. It meant we had no road crew for the US Festival because our crew was driving our rented U-Haul truck to our gig the day after the US Festival in Detroit.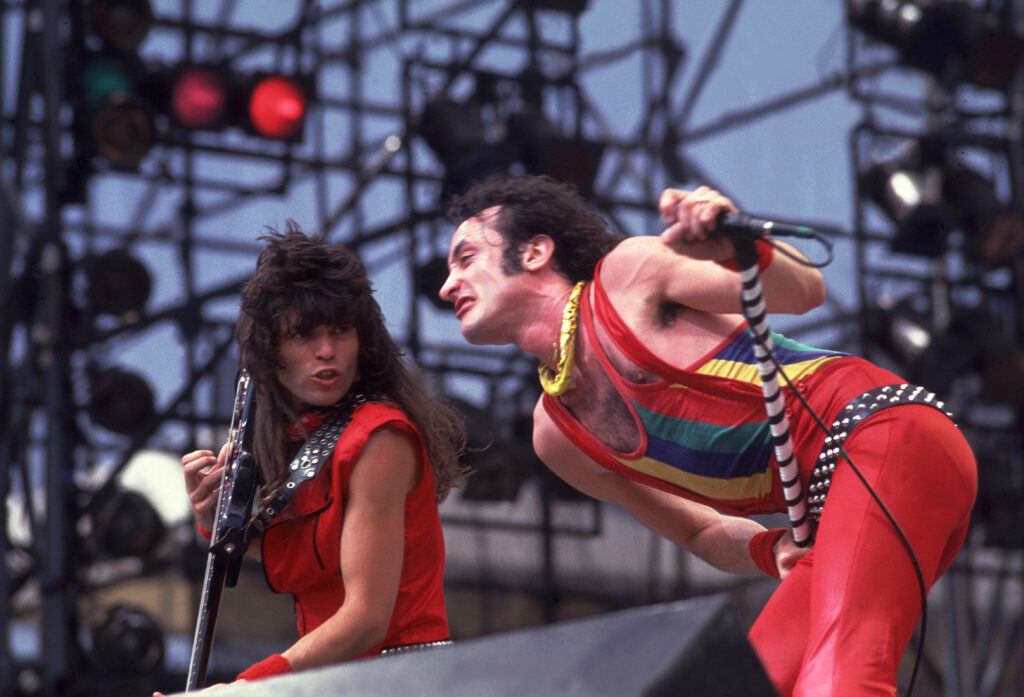 With its gear headed east and the band headed west, Quiet Riot ended up using last-minute rentals for its set.
Sarzo: It was still a typical Quiet Riot performance. No matter what – no soundcheck, no crew, rented equipment – it didn't matter. We just went ahead and got the job done.
Metalheads flooded into Glen Helen Park to see the stacked lineup, with an estimated 375,000 people attending the festival's middle day. They included Curt Granger, a 17-year-old Van Halen fanatic who drove out with his buddies from Alabama to attend, and Ruben Reza, a 16-year-old high schooler who spent $21.50 on his Heavy Metal Day ticket.
Curt Granger (Attendee): It was my first time in California. We snagged tickets for about $20 and hopped in my '73 Nova Super Sport with the intention of going out there and just having a ball, which we did.
Patrick Stansfield (Stage Coordinator): Heavy Metal Sunday went really smoothly. It was a big production – Judas Priest came onstage riding motorcycles. Sharon Osbourne was having a pissing match with security, and I stepped in and cooled it out. She sent me a Tiffany pen as a thank you (From Sweaty & Filthy & Crazy & Drunk, SPIN, May 2007).
Ruben Reza (Attendee): It had that whole '80s vibe, you know? Just walking around beforehand, people were camping out, cranking their music. You heard metal and people partying. Nobody was fighting. It was just a cool, fun, party vibe.
Tommy Lee (Drummer, Mötley Crüe): I remember arriving by helicopter and looking down on something I'd never, ever seen before – 300,000 people! Whoa! I was really excited and fucking nervous all at once. Kinda felt like puking, actually. When we got onstage – holy shit! We renamed it the Dust Festival. A sea of people in dust. I'll never forget that (From Sweaty & Filthy & Crazy & Drunk, SPIN, May 2007).
It was also scorching.
Ozzy Osbourne: I do remember it being fucking ridiculously hot. I mean, the bands are getting paid all this fucking money for playing a few songs, then there's this fucking immense crowd, and there's no fucking water for them to drink. It was like being in the middle of a forest fire (From Sweaty & Filthy & Crazy & Drunk, SPIN, May 2007).
Stansfield: Tons of bare boobs. A lot of bad sunburn (From Sweaty & Filthy & Crazy & Drunk, SPIN, May 2007).
The day also held added significance for Jake E. Lee, who was making his first major appearance as Osbourne's new guitarist (he had replaced iconic axeman Randy Rhoads a year earlier after Rhoads died in a plane crash).
Jake E. Lee (Guitarist, Ozzy Osbourne): We came out on stage, just before we started playing because I wanted to make sure my gear was working. I did a couple of chunk-chunks on the guitar, and it was so loud. You could feel the air coming out of the PA and the monitors. The stage kind of rumbled and it felt God-like. It was exhilarating. I was like, 'Holy shit, this is going to be awesome.' And then I looked out, and it was just a sea of people.
That's when the enormity of it struck me. I remember thinking, 'This is going to be a moment you'll remember for the rest of your life.' So I turned around, headed back towards my gear, and Tommy [Aldridge] started the drum intro to 'Over the Mountain.' And I couldn't remember how I was supposed to come into the song! I just drew a complete blank and I got a little panicky. I only had a couple of seconds, really. I turned to my tech, Barry Evans, rest in peace, and yelled 'How does it start?!' And thank God, he didn't think I was joking. He just looked at me and went, 'BAH BAH BAH,' just before I was supposed to play it. And after that, everything went great, but everything could've been so much different.
Ultimately, Osbourne – who was sporting short hair that more closely resembled a punk rocker, after shaving his dome months earlier – and Lee lived up to the challenge of putting on a great show, post-Rhoads.
Reza: They were awesome. Being a guitar player, I was one of those guys in the crowd like, 'Man, I could do that job.' I had my arms crossed and was being very anal, watching every little note that Jake E. Lee played. But he did a great job.
Curt Granger (Fan): Ozzy stood out that day. It was a stellar performance.
As the day went on, the bands had to not only grapple with nerves but also the sun, with the day's temperature pushing triple digits.
Moore: The heat for all the bands was tremendous. I remember watching Judas Priest go out. They had on the leather, and it wasn't just a little bit of leather – we're talking pounds and pounds of it. Each one of their outfits must've weighed 10 pounds in black leather and studs. I'm laughing – 'these guys are going to absolutely melt.' It's like 110 degrees, full-on sun.
Granger: There was no shade anywhere!
Reza: Judas Priest was killer. But it was funny – you could kind of see the impact of the heat. You could see on Rob Halford's face that it was hot.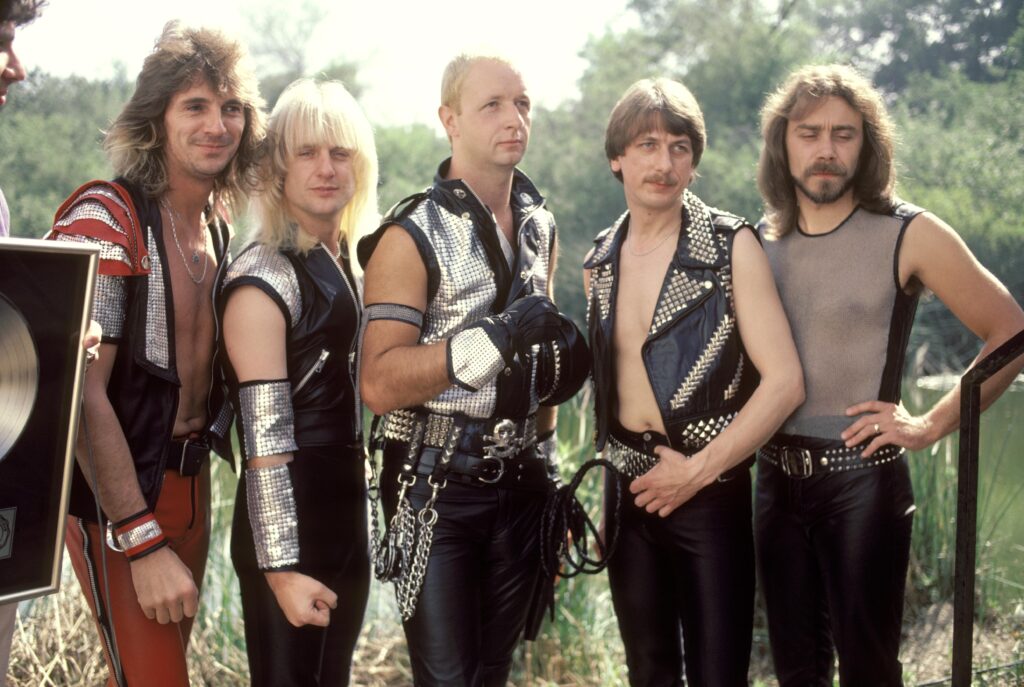 Levine: It was just so fuckin' hot there [Laughs.]. When we hit the stage, I could see nothin' but red skin and long hair for the first 10 rows.
While those bands battled the heat, Van Halen was busy leading the backstage party.
Anthony: We had a big backstage setup and we had a lot of guests. That was one big party. Mötley Crüe back then was just coming up. And Tommy Lee came up to me with a bottle of Jack Daniels in the middle of the afternoon: 'Come on, dude! Fuckin A!' [Laughs.]. I'm like, 'Brother, I'll drink with you. But let's wait until tonight [to really go hard].'
Other members of the band weren't compelled to pace themselves. David Lee Roth was holding court – and a paper cup – backstage, while giving interviews to MTV and other outlets.
Monk: David liked to drink a little before going out onstage, but very rarely had he imbibed so heavily that it affected his performance. There were a few times overseas when David had gotten drunk before media appearances, but in the States he had always been smart enough to keep things under control. So imagine my surprise when I returned to the trailer a couple hours later and found David drunk and krelled out of his mind (the band referred to cocaine as 'krell'). I mean, I was mortified; he could barely stand up (From his 2017 book, Runnin' With the Devil).
Wozniak: I went backstage and met Van Halen. David Lee Roth was really friendly. I guess he was getting a little drunk, but he ran 10 miles a day and the other guys didn't. They were slacking and needed to get in shape (From Sweaty & Filthy & Crazy & Drunk, SPIN, May 2007).
David Lee Roth (Lead Vocalist, Van Halen): The Clash are having a lot of troubles, man. They're trying to save the nation, they're trying to implement cultural exchange – and change – they're trying to make some, you know, advisements on terminology of what we're going to live. And they have a new drummer. So they have their hands full out there [Laughs.]. What can I say? By the way, the Clash did save the world – about a half hour late last night, ladies and gentlemen [Laughs.] (From a pre-show interview with MTV's Mark Goodman).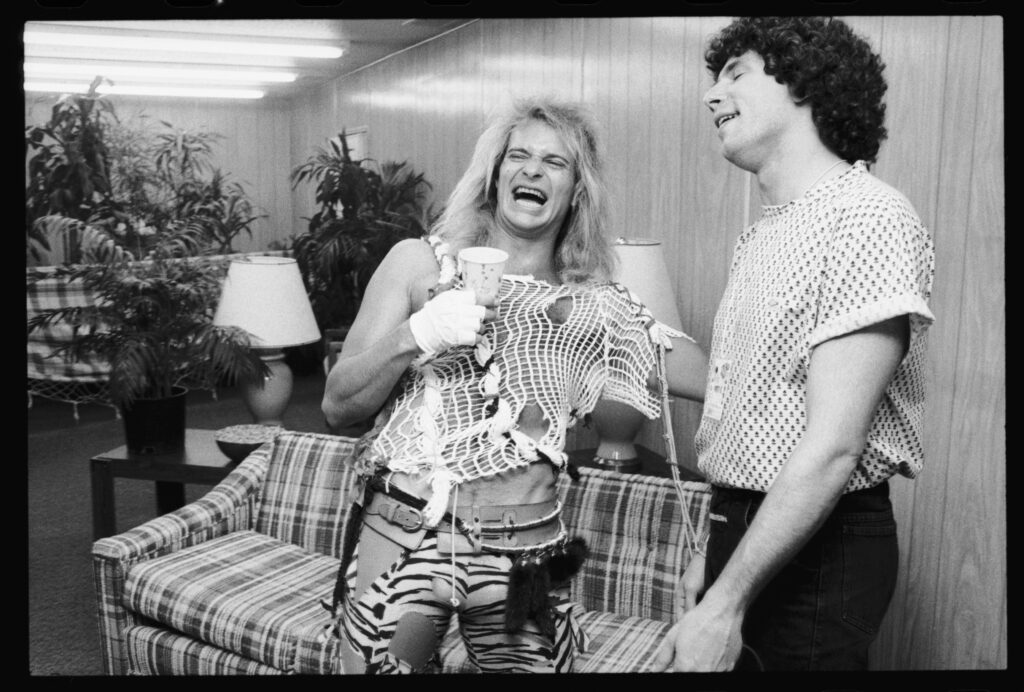 Anthony: We were pretty nervous. Roth was probably a little more nervous than everyone else. I don't like to talk smack about anybody, but he was doing interviews all day long, just kind of hyping the whole thing. And Dave was drinking Jack and whatever. He was pretty well plowed. You get caught up in the whole frickin' festival and the whole thing. And the next thing you know, it's kind of like, 'Oh my God, we gotta go on in an hour!'
After Triumph and Scorpions blitzed through their sets, it was time for the main event. To whip the crowd into even more of a frenzy, the giant video screen blasted footage of Van Halen partying backstage – complete with Anthony beating up a Space Invaders arcade game, Alex Van Halen pounding brews at the bar, a half-naked Roth enjoying the company of a half-naked blonde fan, and Eddie Van Halen showing off a large bass he'd recently "caught." The scantily clad women, butlers in tuxedos, and barnyard animals that were featured only added to the mayhem – with one catch.
Anthony: I mean, there's crazy stuff going on. There's midgets and sheep and all kinds of shit going on back there [Laughs.]. But we actually filmed that whole piece like a week before the show – not that it was too far from what was actually happening backstage!
The anticipation following the "backstage" video gave way to restlessness though, as the crowd waited for Van Halen to hit the stage. Two hours later, Van Halen guitar tech Rudy Leiren belted out the 16 words everyone had been waiting to hear: "Hello Southern California! Are you ready to get down? I give you, the mighty Van Halen!"
With that, Eddie Van Halen, rocking a pair of red-and-white striped overalls that matched his trademark "Frankenstrat," ripped into "Romeo Delight." Roth immediately followed suit with his own trademark leap from the drum riser – officially sending the crowd into full-blown party mode.
Reza: When Van Halen came out, it was like every light bulb in San Bernardino County had been purchased to light up that stage. It was a circus.
Granger: Van Halen comes on, and it's just party time.
Anthony: You could see bonfires in the background and just nothing but people as far as you could see.
Depending on who you ask though, the party was dimmed slightly due to Roth's raps between the songs.
Levine: Van Halen opened really strong. The first 20-30 minutes were hotter than hell. Just killing it. And then David started to talk. And kept talking, kept talking, kept talking [Laughs.].
Osbourne: Honestly, I don't know why Van Halen even bothered getting up there, they were so fucking drunk (From Sweaty & Filthy & Crazy & Drunk, SPIN, May 2007).
Roth did fire off some zingers during his interludes, including a pointed barb directed at the Clash: "I wanna take this time to say this is real whiskey here. The only people who put ice tea in Jack Daniels bottles is the Clash, baby!"
The frontman's between-song jokes and spotty vocals ultimately led to the band's US Festival performance becoming a Rorschach test that still divides fans to this day. In his book, Monk said, "David put on the worst performance I had ever seen from him." Others were more willing to overlook the uneven vocals – considering them to simply be a byproduct of the carnival-like atmosphere Roth and Van Halen brought to the stage in their prime years.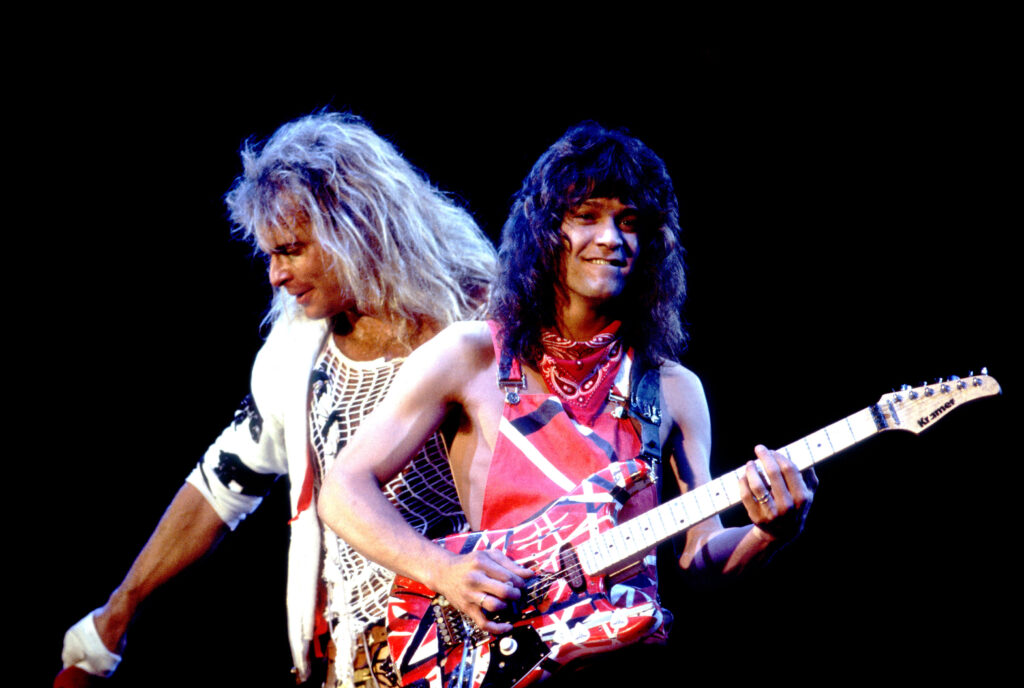 Granger: You know, Van Halen's always been the ultimate party band, right? Whatever it is – they can be loose, they can be off – whatever kind of night they're having, it's still gonna be the biggest party you've ever gone to. And that's certainly the way I felt that night.
Anthony: Roth, we always kind of let him do his thing. No matter how he sang, Ed, Al, and myself always made sure that between the three of us, we had our shit down. We were always pretty rough on ourselves. We recorded every show that we ever played, and we would listen back afterward and kind of critique it and see what we could do to make it better. Or, you know, 'You're drinking too much,' or 'Cut back on this or that.' At the end of the day, the most important thing was the show … the music.
It was great for Dave, because we could let him just go off and be Dave. We were tight behind him. And when I watch the tape back, we were firing on all cylinders. All four of us, whether Roth was drunk or not. The energy was there. The show is there.
Monk: Improbably, over the next couple of months, the legend of Van Halen, buoyed by a drunken, subpar performance at the US Festival, continued to grow. It was some sort of cosmic joke: we disappeared for three months, played one concert with a shitfaced frontman, and then disappeared again. And somehow, this only served to broaden the band's appeal (From his 2017 book, Runnin' With the Devil).
Day 3: "Rock Day," Monday, May 30, 1983
The third day, aka "Rock Day," continued the seemingly never-ending assembly line of '80s hitmakers. Los Lobos, Little Steven & the Disciples of Soul, Quarterflash, Berlin, Missing Persons, U2, the Pretenders, Joe Walsh, and Stevie Nicks all performed.
Headliner David Bowie had a tricky enough time just making it to the show. Bowie had kicked off his Serious Moonlight Tour in Europe a few weeks earlier in support of his juggernaut album Let's Dance. To get to the US Festival, Bowie needed to make a one-day trip to the States before heading back and continuing his slate of European shows. The Bowie team landed at LAX in the wee hours on Sunday.
Carmine Rojas (Bassist, David Bowie): It was a very long travel day. We were coming in from Europe – I think we were in France – and then we had to go to Brussels to refuel and make it all the way on our plane, the Boeing 707 Starship. We flew all the way to Los Angeles. And then when we got there, the plane was taken from us! It was confiscated.
This wasn't your typical rockstar run-in with authorities, though. A brick of hash? Enough cocaine to single-handedly fuel the entire US Festival crowd? Not exactly.
Rojas: Customs had to come on the plane, and they had to go through luggage and everything. They said they found fruit – bananas or some bullshit. And that's why they took the plane!
Carlos Alamor (Guitarist/Musical Director, David Bowie): When we found out, we were laughing our asses off.
After wiggling free from LAX, Bowie and co. headed east towards San Bernardino. With their body clocks still running on European time, the band members opted to hit the pool at the Red Lion while their road crew headed over to the festival grounds to prepare.
Rojas: The problem was, our trucks couldn't get into the compound because the Van Halen crew was still partying 'til seven in the morning!
Later, after the Bowie road crew successfully made it onto the grounds, band members jumped on the chopper and headed over. The backstage party was going strong by the time they arrived.
Rojas: Everybody was packing – and I don't mean guns. Everybody was holding, as they said back in the day.
Bowie, considering the weight of the festival, opted to bend some of his band rules for major shows.
Alomar: We were shitting bricks, alright. David used to freak out over California and New York [shows], and he would always tell us, 'Don't go partyin'!' – just like all the other bands that got totally ripped up and fucked up before the [US Festival] gig. We had done that before, and David sometimes was a little cautious and would say, 'Listen guys, don't party too hard because I need you to be [on your game].' Well, that doesn't work! He did not ask us that for the US Festival. We remained what we will call primed – we were totally fuckin' hyper and primed the minute we hit the stage. We were bouncing off the walls. So no, we did not do that 'get plenty of rest before the show bullshit.'
Whatever pre-show "vitamins" were ingested, they were in service of delivering a show worthy of Bowie's $1.5 million payday.
Rojas: David didn't have to say anything. We knew what we were there for.
Alomar: It was a huge, huge deal. We had to understand how special the occasion was. Van Halen, David Bowie – this is top of the line. This was a job that had to be fabulous. It had to be our best.
To accomplish that goal, Bowie's game plan was simple: hit the people with as many hits as possible. "David always wanted the set list to be somewhat of a greatest hits," Alomar explained. There was no fat to trim from the two-hour show, which blended '70s classics ("Heroes," "Golden Years," "Life on Mars?") with new pop-friendly chart-toppers ("Let's Dance," "Modern Love").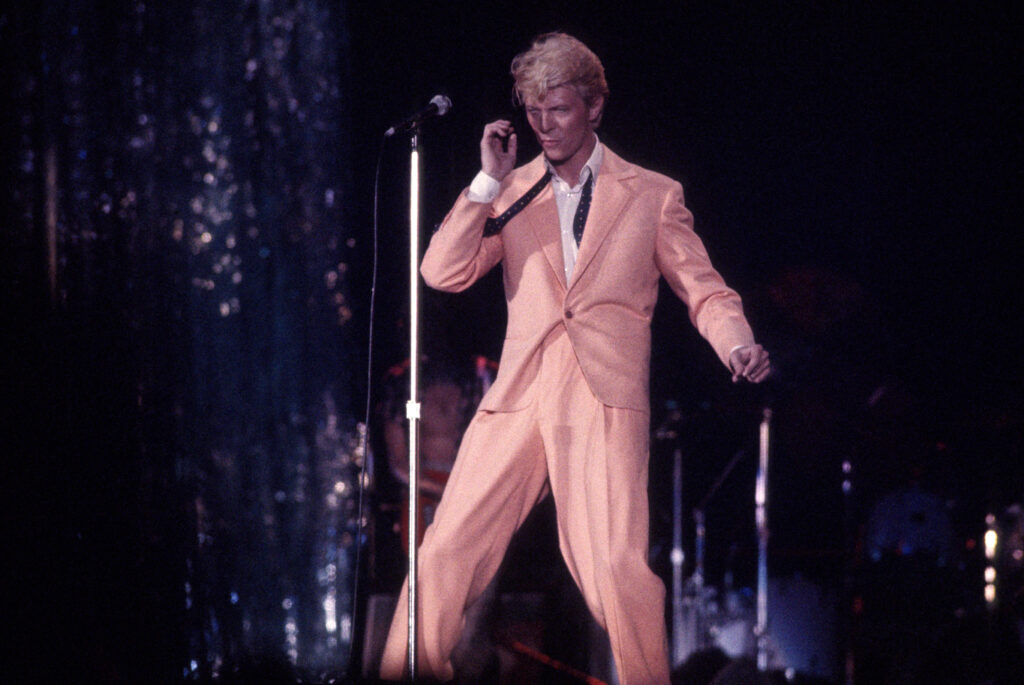 Alomar: I thought, 'God damn, that's a lot of people.' There were people in the trees, man. Everywhere you looked.
Rojas: It was majestic. The sound coming off the big speakers, and the audience singing along with you, it's powerful. It's very tribal. It touches on your emotions strongly when you have people [singing] back and forth with you like that, and you're one huge team. That's a very powerful, positive energy. And David was such a leader and frontman, controlling all of that – and he was loving it.
Alomar: I look back at that performance and can still see David turning around and smiling at me. We had this thing where he'd give me the cues and then I'd cue the band. So we always had this connection going. And sometimes when he looked back at me that night, I was like 'Dude, you're lookin' like a Cheshire cat right now' [Laughs.]. There was a different smile, a look of, 'We nailed it. We did it. They went for that one. Oh, they loved that one.' It was that kind of joy. It wasn't that regular 'this is a cue' look. No, it was 'listen to that.'
A round of applause in a small place is one thing. A round of applause in an auditorium is another. But a round of applause from a few hundred thousand people is a rolling wave that comes in sections. You hear the first applause, then the second applause, then the third applause, and then it goes back. It's a wave.
After closing out the show with "Modern Love" – and before jumping back on their (now returned) jet to head back to Europe – there was only one thing left for the Bowie crew to do.
Alomar: We partied our asses off!
Coda
The '83 US Festival is usually remembered for the three-day bash that took place over Memorial Day Weekend. But the festival didn't officially wrap up until the following weekend, when Waylon Jennings and Willie Nelson led a "Country Day" on June 4. Details like that tend to get lost over the course of four decades.
What hasn't been lost on the artists who performed at the festival, though, is the belief they were part of something significant – something that came to represent a distinct era.
Phantom: I'm thrilled to have been a part of it. It's one of those events that become an adjective: 'It was like the US Festival.' It's a very historic thing.
Anthony: What stands out to me is just the grandeur of the whole event – the sheer magnitude of the show. Because there hadn't been anything around like that up until then. And it was a cool lineup! The whole weekend was great.
Rocker: It was a powerful show. You feed off a crowd like that, right? That kind of intensity and that kind of energy. It was truly magical. And in some ways, I think it was maybe a little bit more innocent of a time.
Alomar: The US Festival means something. I missed Woodstock. But I did not miss the US Festival.
That pride in being part of the '83 US Festival is universal among the artists. The only real point of disagreement, 40 years later, stems from how it's characterized.
Sarzo: To me, Woodstock represents the end of an era, whereas, the '83 US Festival was the beginning. Every single act on that bill became icons of the '80s generation.