Rod Argent and Colin Blunstone, the cornerstones of iconic rock act the Zombies, have survived over five decades in an often-turbulent music industry. Part of that success has involved prioritizing their mental health, and they're happy to see stigmas around that issue dissolving.
"It's certainly much more open," says Argent, the band's keyboardist. "People don't get shy or embarrassed about talking about mental health issues. I think that's absolutely great because it's so prevalent in the world. It really, really is."
And musicians, Blunstone adds, are "particularly vulnerable" in this respect. "The thing that comes to mind is that you can be adored one month, and, frankly, you can be yesterday's news the next month," says the singer. "It's not easy for anyone, but for some people that can be really traumatic. They will need help to get over that. I would always say [to] anyone who wants to get into the music business, that's the first thing they've gotta learn: how to survive. It's tough."
"It's a weirdly structured life, as well," adds Argent. "You might be traveling, say, in a vehicle for six or seven hours, just being very quiet, and the whole activity is very low, and that's how it should be because otherwise you'd drive yourself mad. But then, suddenly in the evening, you get this huge rush of adrenaline, and you have to hit your maximum, your peak, and that might be for a couple of hours. And then after that, you've got to wind down somehow. So the pattern of your day is extraordinary, really."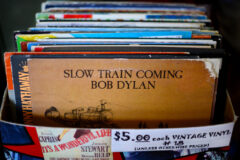 The Zombies duo seem to agree that it's crucial, amid the "peaks and troughs," for touring artists to reach for some kind of stability: eating well, sleeping well, staying hydrated, and, in the broader sense, staying grounded.
"Think in terms of career … rather than hit records," says Blunstone, "because hit records come and go."
Subscribe to SPIN on YouTube and check out more videos from our SPIN IMPACT series in the playlist below: