It looks like a really good hardcore show. Every person in the tight space frenetically banging their heads, bouncing off each other as a singer in a Black Flag shirt screams and yells in front of them. But it's not entirely typical. The lead singer, in this case, is only seven years old and comes up to the guitar player's waist, his ears muffed by bulbous noise-canceling headphones. This is the first video recording of BatScratch, a Canadian hardcore band led by Robbie Andrew who's in Grade 2.
What's striking about Robbie's singing is that when you close your eyes and listen to the music, you instantly picture someone much older grasping the mic.
"I really like singing, yeah" Robbie says over a video call from their acreage near Bragg Creek, Alberta. "I like all of the people and I like crowd surfing."
"And it's only to a specific song and two of my friends are carrying him the entire way," his father, Jeremy, quickly adds. "He's always safe and he loves it."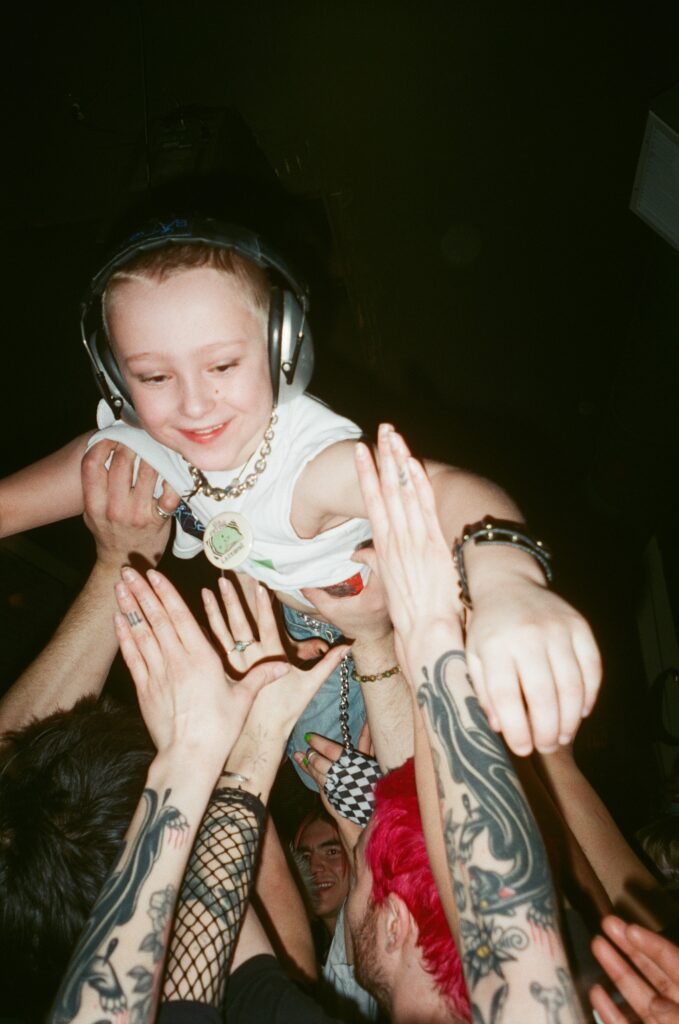 Robbie might be only four-foot-two inches tall, but his voice and talent are much bigger—and the online community is taking notice. Not only can he convincingly sing the lyrics to each song, but also embodies an undeniable small-but-mighty stage presence.
And what's surprising is that Robbie had never really been exposed to punk and hardcore around the house, mostly listening to classic hits and jazz. But that was until he saw his dad's punk band, Canadian-based Urethane, play a show for about 400 people when he was six. Unbeknownst to his parents, that show had a major impact on Robbie which was very apparent when, about a month later, he wandered into the practice space where his dad's band was rehearsing and asked if he could sing.
"He walked in the garage, we gave him the microphone and he unbelievably just nailed two songs out of nowhere," Jeremy remembers. "We were like, 'What was that?', you know? We never coached him at all."
For fun, they asked Robbie if he would perform some songs for one of their upcoming shows in Calgary and he blew everyone away yet again. Video from that show quickly went viral on Instagram.
"Within 10 minutes, there was already a few thousand plays," Jeremy recalls, still a bit shocked by it all. 
He admits that at first, there was some concern from himself and his wife about how this would all be viewed by the critical online public.
"I didn't know what people were going to think of a seven-year-old singing hardcore punk rock, even though he was doing a great job and having fun," he says. "We never tell him to do it and we don't push him or anything." 
However, since the first video exploded, the band has become an unique longer-term outlet for creativity as well as his raw, youthful energy that's perfect for hardcore punk and performing.
"I like how fast it is and I love the energy," Robbie says with a smile. "For some reason, my teachers know about my band…" he continues.
And…what do they think about BatScratch?
Robbie, who is drawing a smiley face on his dad's arm with a felt pen, stops to think about the question.
"That's a question that I do not know yet," he says innocently, shrugging his shoulders.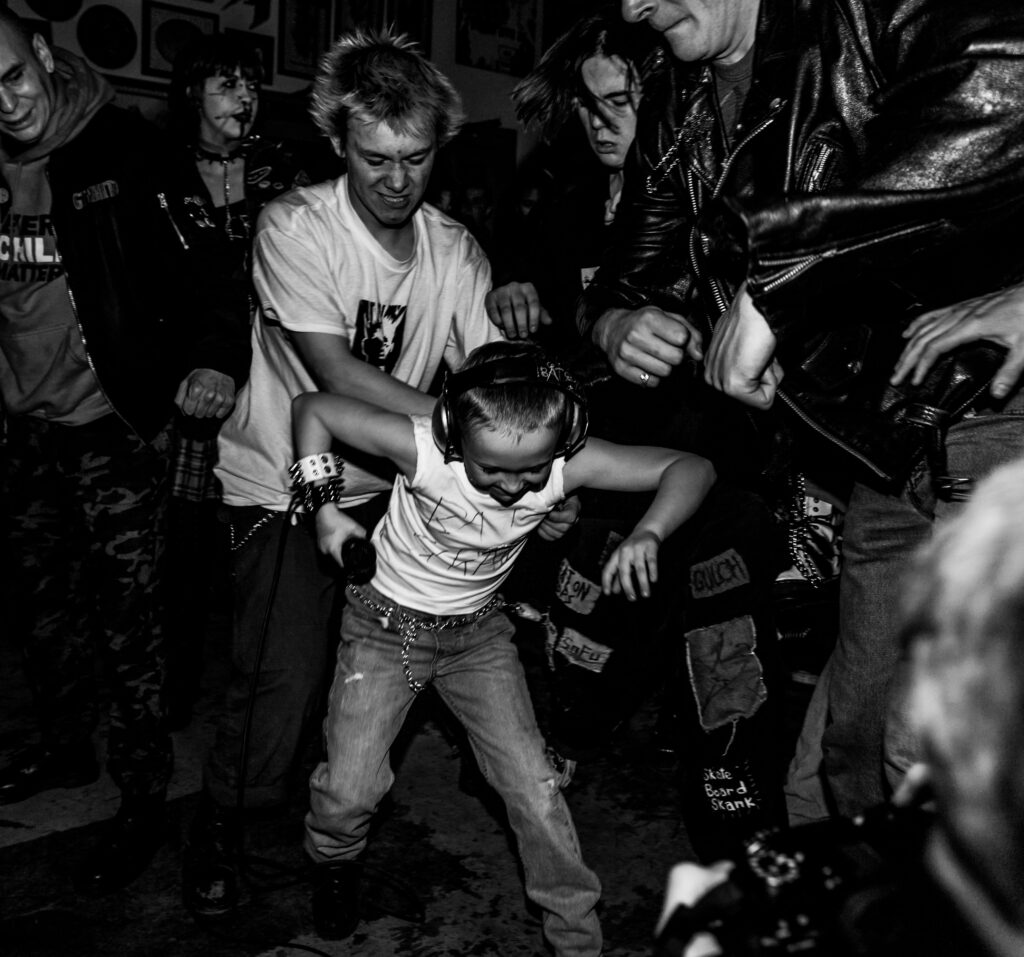 Getting To Know Robbie:
Age: 
7
Current Grade:
Grade 2
How I'm feeling, at this exact moment: 
Stoked.
Favorite book: 
George's Marvelous Medicine by Roald Dahl.
Favorite food: 
Steak.
Currently excited about:
I get two weeks off school!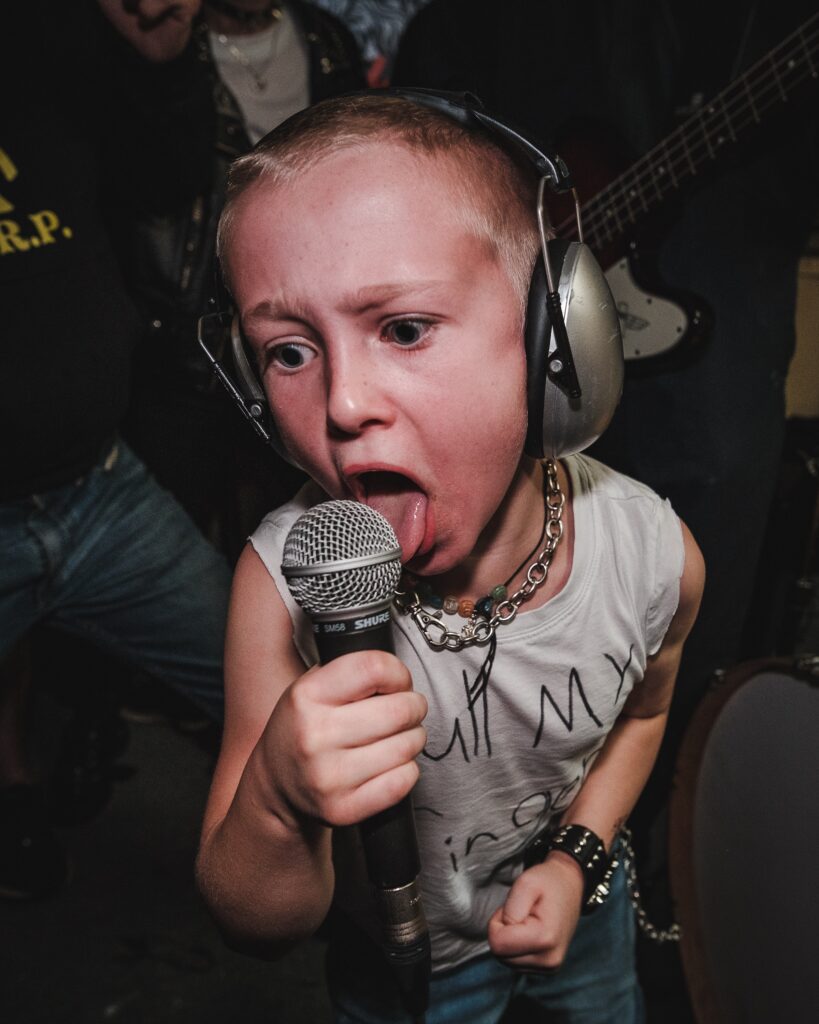 Next Live Event: 
Vernon, BC May 26th & Vancouver, BC May 27th
The song I love the most right now: 
"Come and Get your Love" by Redbone
My practice routine consists of…
Half an hour every week.
When I'm not playing practicing/performing, you can find me… 
I love to draw.
If I could meet one musician in person, it would be…
Freddie Madball.
In 10 years, I really hope to be…
Still be singing.
What are you most looking forward to for the rest of this year? 
Going to California.
Follow BatScratch on Instagram at @bat_scratch.