The crack of the bat, the ball smacking into the catcher's, the roar of the crowd, the sweet sounds of a professional athlete singing a novelty single … yes, baseball season in Japan is here!
Few countries love the sport quite like Japan. Baseball first came to the country in 1872, after Horace Wilson, an American professor at Tokyo's Keio University, introduced the game to students. It quickly found popularity as a college sport, but a 1934 tour of Japan by U.S. pro players — including Babe Ruth and Lou Gehrig among others — sparked an even greater love and eventually led to their own professional league, starting in 1950, called Nippon Professional Baseball (NPB).
The national team's recent victory in this year's World Baseball Classic enthralled the nation and attracted TV ratings on par with the Super Bowl for every match — and as any country obsessed with sports can attest to, that bleeds over to everything else. That includes music. In the same way that football teams and Olympians have ventured into recording songs, players in NPB have given music a go. 
It's … interesting! If not always the most palatable listen.
It's an intimidating corner of Japanese music to enter —there's enough songs about baseball and songs sung by ball players to warrant a book called Baseball Music, an essential document and helpful for the list ahead —  but one reminding of just how serious the sport is taken in Japan, to the point where dozens upon dozens of players can get the signal for their own novelty record. 
Here's a handful of tunes by players who participated in NPB over the years showing just how far back it goes.
Sadaharu Oh — "Shiroi Ball" (1964)
100 Minutes Version, If You Love Songs About Baseballs
NPB home run king Sadaharu Oh hit 868 dingers during his career with the Yomiuri Giants, an accomplishment making him revered in Japan and a big enough name to have been referenced by The Beastie Boys . That might also make him the most accomplished player to ever record a single (Barry Bonds doesn't have a single I'm aware of). "Shiroi Ball" ("White Ball") sung with actor Chiyoko Honma is about…baseball. He literally just lists things that happen in a baseball game (double play, single, etc.). When you discover this tune was written for children — like this is aimed at toddlers — it makes much more sense, though hearing a power hitter deliver it makes it all the more charming.
Tatsunori Hara — "Arifureta LOVE SONG" (1982)
Former Rookie Of The Year, MVP, multiple Japan Series champion as player and manager, current Yomiuri Giants skipper Tatsunori Hara has one other honor to add to his resume — an attempt at a musical crossover. Released a year after his dazzling debut season in 1981, his album Something only exists in bits and pieces online, but from those scraps we can piece together that Hara had a lot on his heart (despite getting to stand next to an incredible looking pooch for the album art), mostly centering his lyrics on relationships. "Arifureta LOVE SONG" ("Commonplace LOVE SONG") captures the general vibe — Hara tackles balladry, in all its complexities. Just don't dwell too much on the high notes.
Hideki Kuriyama — "Koutekisyu" (1992)
This man just coached Samurai Japan to a WBC title and has achieved hero status in his home country. He was also a pretty solid player for the Tokyo Yakult Swallows during the 1980s, especially defensively. After his playing days were done but before he returned to the dugout, he became a media personality…including releasing multiple songs, all of them about baseball. 
Part of the charm of all these '80s and '90s ballplayer songs is they exist in this weird window where J-pop — a term not in use until the early '90s and shaped predominantly by Eurobeat and other then-modern dance trends — hasn't taken hold, so they are performing nostalgic ballads over what sounds like keyboard presets with a few strings worked in for extra drama. This one's all about having a rival on the field…and simply appreciating that fact.
Young Swallows — TO THE TOP VICTORY ROAD (1993)
The wildest part about "The Super Bowl Shuffle" isn't that the 1985 Chicago Bears called their shot through hip-hop…it's that they did that and won the championship. TO THE TOP VICTORY ROAD pulls off something similar, albeit with a whole album's worth of material and slightly less swagger. Delivered by Young Swallows (misleading, as several players featured here were veterans by this point), this set, courtesy of Tokyo Yakult Swallows' players from the '93 season squad, features synthesized pop underlined by guitar cheese. It only occasionally puffs out its chest to declare "we're taking it this year," instead finding the team… expressing a love of karaoke. Baseball creeps in, but most of the songs here are about longing and loving. Walter Payton talked about scoring, sure, but that carried multiple meanings.
Anyway, a deeply weird album but still prophetic…the Swallows won the Nippon Series in 1993, the franchise's first in 15 years, so this deserves to be held up alongside everything else in a season that meant a lot to fans. It also features Japanese Baseball Hall of Fame catcher Atsuya Furuta just going for it over electric guitar, another fun detail.
Lee Brothers — "Baseball Boogie" (1980s)
Author Robert Whiting's You Gotta Have Wa documents a time when non-Japanese baseball players faced an uphill challenge in adjusting to the country's professional league. They stared down challenges domestic players never had to contend with, on and off the field. Those times have largely changed — like, it probably isn't a breeze, but I imagine it is nowhere near as hard bridging that gap as it was in 1980s Japan. 
"Baseball Boogie" is one of the few ways I think I can experience how weird that time must have been for a player coming over to Japan from the States.
After stints in MLB, Leon and Leron Lee had long-running careers in Japanese baseball, piling up honors and excelling, primarily for the Lotte Orions (now Marines). They are considered two of the best American imports to play in NPB ever. Yet even being great at their sport couldn't save them from recording novelty single "Baseball Boogie," featuring the lyrics "come on baseball boogie / take you to a happy wonderland / let's do the baseball boogie / take a ball, take a bat, come outside." That sounds even rougher than it looks, a reminder of why rhyming is useful. Still, as far as curios go, this is more of a nice souvenir with a ton of unintentional humor surrounding it, and now a time capsule of a period far out of view. It could have been worse for the Lee Brothers.
Thomas O'Malley — Thomas O'Malley Dynamic English (1994)
Thomas O'Malley came to the Osaka-area team Hanshin Tigers in 1991 and quickly emerged as one of their best players, even winning the league batting title in 1993. This couldn't save him from having to record an entire album of off-key novelties, including his effort at the team's official song "Rokko Oroshi" mostly in Japanese. Maybe it's because O'Malley and the Lee brothers were so good they had to enter the world of baseball pop — being great can present hurdles.
Ultimately, O'Malley went on to do even better on the field after signing with the Swallows for the 1995 season. He won the league MVP…and didn't have to sing.
DJ DOALA — "Doala No Theme" (2008)
Let's end the list by cheating — Doala, the koala mascot for Nagoya's Chunichi Dragons, is not a professional baseball player. However, their 2008 "Doala No Theme", as DJ DOALA, deserves credit for merging sounds of the time into the baseball landscape. Blockheaded dance with touches of Eurobeat…now that's what I'm talking about! The fact this bear could release this now and be on the pulse of popular music makes it all the more special, in my opinion.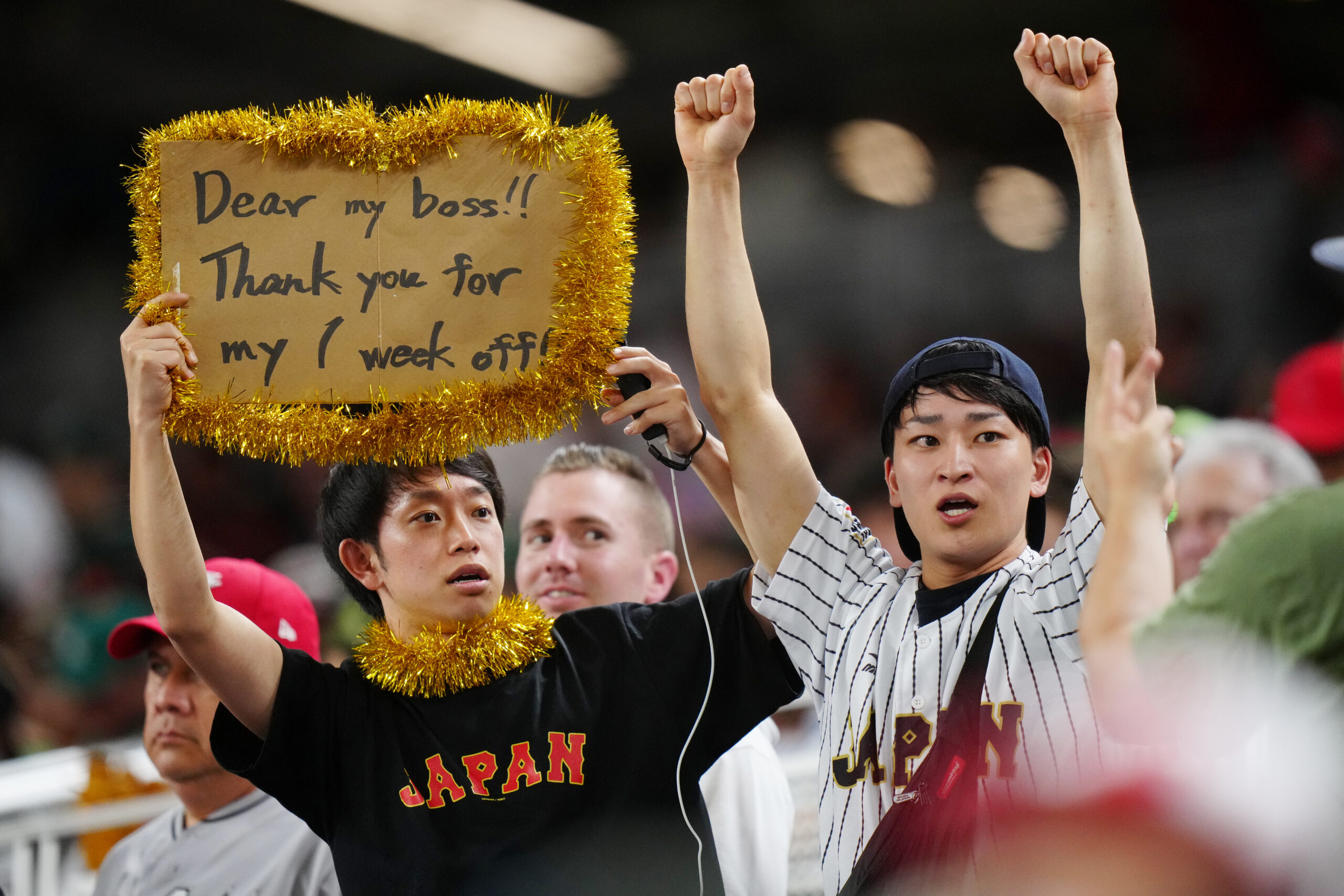 Bonus Musical Trend In Japanese Baseball
One of 2022's biggest musical surprises in Japan came courtesy of…Ylvis, the Norwegian pair responsible for 2013's "The Fox (What Does The Fox Say?"). Sapporo-based team Nippon Ham Fighters embraced this slice of early 2010s viral pop for a between-innings performance dubbed the "kitsune dance" ("fox dance"). This became a phenomenon, covered on TikTok and talked about on network TV, becoming one of last year's top buzzwords in the country. On top of it all, the team brought Ylvis themselves out to perform it live late in the season.