Ryuichi Sakamoto, an original member of groundbreaking Japanese group Yellow Magic Orchestra who later enjoyed international acclaim as a Grammy- and Oscar-winning composer, has died at the age of 71, per a statement on his Twitter account. The musician passed away on March 28 amid treatment for colon cancer, after surviving an earlier bout with throat cancer.
"While undergoing treatment for cancer discovered in June 2020, Sakamoto continued to create works in his home studio whenever his health would allow. He lived with music until the very end," reads a statement from Sakamoto's management company, which also thanked health care workers in the U.S. and Japan who "did everything in their power to cure him." It ends with one of Sakamoto's favorite quotes, "Ars longa, vita brevis," which translates to "Art is long, life is short."
Sakamoto was born in 1952 in Tokyo and began composing music as a pre-teen. In 1970, he enrolled in formal courses at the Tokyo National University of Fine Arts and Music, where he earned a masters in music composition. At this early age, he was firmly focused on electronic music, after discovering and tinkering with synthesizers during his studies. He was also highly influenced by classical music, calling French composer Claude Debussy one of his prime sources of inspiration.
Sakamoto worked largely as a session musician for many Japanese acts during the 1970s before releasing his debut solo album, Thousand Knives of Ryuichi Sakamoto, in 1978. That same year, he became a part of pioneering electronic music act Yellow Magic Orchestra, alongside Yukihiro Takahashi and Haruomi Hosono. The group's 1978 self-titled debut album proved highly influential thanks to its use of synths, digital recording techniques, samplers, and drum machines.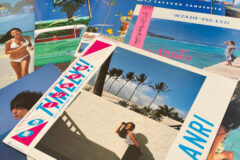 Yellow Magic Orchestra became one of the most successful Japanese bands of all time and has been hailed as a key inspiration for genres as wide-ranging as video game music, hip-hop, and the synth-driven pop music of Duran Duran and Depeche Mode. The group released seven albums between 1978-1983, but Sakamato worked with it only sporadically as his solo and composing career blossomed in the '80s.
His first major film score with 1983's Merry Christmas Mr. Lawrence, in which he also appeared as an actor alongside David Bowie. In 1987, Sakamoto won an Academy Award, Grammy, and Golden Globe (along with David Byrne) for his score to the Bernardo Bertolucci film The Last Emperor, and was nominated for an Oscar for his 2015 score for Alejandro González Iñárritu's The Revenant.
His solo projects featured contributions by everyone from Byrne and Iggy Pop to Arto Lindsay, David Sylvian, Thomas Dolby, and Youssou N'Dour. A 2017 documentary, Coda, followed Sakamoto's career leading up to his work on The Revenant.
In January 2021, Sakamoto revealed he'd been diagnosed with colon cancer, just a few years after being treated for throat cancer. "From now on, I will be living alongside cancer," he said. "But, I am hoping to make music for a little while longer." His final album, 12, was released on Jan. 17.
Sakamoto was preceded in death by his Yellow Magic Orchestra bandmate Yukihiro Takahashi, who died in January at 70  as a result of complications from a brain tumor. See below for tributes to Sakamoto from a host of fellow musicians and collaborators.
— ryuichi sakamoto (@ryuichisakamoto) April 2, 2023
— commmons (@commmons) April 2, 2023
RIP ryuichi sakamoto. one of the greatest ever. i am grateful for the friendship and the music we made.

— fenneszㅤ (@cjf) April 2, 2023
thank you @ryuichisakamoto for more than I could ever explain in words, rip. pic.twitter.com/SdibbE7YR8

— oneohtrix point never (@0PN) April 2, 2023
RIP my dear Ryuichi, your art will remain forever.#Ryuichi #Sakamoto #composer #electronicMusic pic.twitter.com/JZ7UDQmfEX

— Jean-Michel Jarre (@jeanmicheljarre) April 2, 2023
A sad farewell to the Japanese composer and actor Ryuichi Sakamoto (1952 – 2023). His most recent album "12" is a stunning work, sombre and elegiac in tone. It resonates with a sense of his own mortality, conscious that he about to plunge into the unknown, drawn away from life. pic.twitter.com/XLSzs4dqjg

— Robin Rimbaud – Scanner (@robinrimbaud) April 2, 2023