For those who enjoy their vampire movies with a healthy dose of broad comedy, Chris McKay's Renfield might arouse some interest, even as its only real feat is bringing John Wick-inspired fight choreography to something Mel Brooks already did in Dracula: Dead and Loving It (1995). 
True, Brooks' specific parodic stylings include screwball gags so fast and loose something always eventually sticks, while this script from Ryan Ridley and Robert Kirkman has other aims and desires. But there's only so much blood-soaked "gee, golly!" cuteness and awkward rom-com tension this scenario can muster before it eventually reveals a sense of the sloppy and derivative. Essentially, this is a tale of two Nicks—stars Nicolas Cage and Nicholas Hoult—and the novel casting of a pitch-perfect Cage as the eternally bloodthirsty Vlad Dracula suggests the script should have been revamped to showcase the production's greatest asset.
After a recent attempt against his life from some wily vampire hunters, from which he barely escaped, the imperious Count Dracula (Cage) recuperates in New Orleans, as dependent as ever upon his eternal assistant, Robert Montague Renfield (Hoult). Only, Renfield, who taps into his own superpowers whenever he eats bugs, is experiencing a crisis of faith as an indentured servant to his immortal master. Hungry for a change and wanting to do the right thing instead of leading the innocent (and even the not-so-innocent) to slaughter, Renfield has infiltrated a self-help group in their new city, learning ways to combat his boss' manipulations and foster his own sense of agency. Meanwhile, Rebecca (Awkwafina), an honest cop hungry to exact revenge on Tedward Lobo (Ben Schwartz), a sniveling criminal who's next in line to run a local syndicate responsible for her father's death, crosses paths with Renfield. They both realize they have similar skills and interests.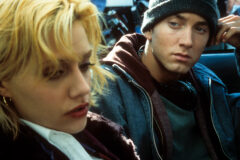 While we've encountered innumerable depictions of Dracula before, there's a vague inclination towards Tod Browning's iconic 1931 adaptation of Bram Stoker's classic, injecting Cage into a black-and-white version of Bela Lugosi. While Awkwafina, more often than not, excels at bringing a hunched physicality to the reputable Rebecca (her stooped gait recalls old-school hoods like Edward G. Robinson, or maybe even the crazed vampire hunter played by Samuel Fuller in Larry Cohen's A Return to Salem's Lot, 1987), her supposed attraction with Hoult's Renfield feels tacked on, surprisingly as blunted as the score from the customarily engaging Marco Beltrami. Ben Schwartz's (the recent voice of Sonic the Hedgehog) monotonous and taxing Tedward Lobo could have been excised completely in favor of enhancing Aghdashloo's gravelly matriarch, especially since their initial mother/son White Heat (1949) vibes are quickly dissipated by the busy-bodied script, which darts to and fro but somehow never manages to surprise.
Likewise, Mitchell Amundsen's cinematography often portrays New Orleans as a bit too glossy considering this is a world where the city is rife with more crime sagas than Gotham (not to mention an abandoned, monolithic hospital where Dracula is currently holed up as he heals). Which leaves all the heavy lifting to Cage, who seems more than happy to dip into extreme melodrama, even though the script doesn't actually create anything he could really sink his teeth into (though he appears to share the same dentitia as the Zuni fetish doll from Trilogy of Terror, 1975). But Cage in full-blown Lon Chaney mode is certainly worth the price of admission, even if revisiting his bonkers performance in 1988's Vampire's Kiss is the sentiment this film leaves you with. Missed opportunities aside, this is an improvement from the intolerable storytelling showcased in McKay's last feature, 2021's The Tomorrow War. But any episode of What We Do in the Shadows trumps whatever's being attempted with either horror or comedy in the flaccid offerings of Renfield.
Watch Nick and his husband Joseph review (and spoil) films on their YouTube channel, Fish Jelly Film Reviews. Their podcast of the same name is available everywhere.