How's this for a five-year plan? Since 2018, Taylor Swift has released four new studio albums (three during the pandemic), completely re-recorded two other back catalog albums, written and directed a Grammy-winning short film, and acted in the movies Cats and Amsterdam. Her sales numbers at retail and the box office are similarly record-breaking (to wit, Swifties literally broke Ticketmaster when these shows went on sale last fall).
But as Swift showed last night (March 17) at the opener of her Eras Tour in front of 70,000 fans in Glendale, Az., her motivation appears to be to continuously push herself creatively, especially when it comes to challenges such as coherently representing her entire career in the course of one show, which is the chosen format for the 2023 dates.
In a move that allowed for a true immersion into Swift's increasingly accomplished musical world-building, she devoted separate blocks in the three-hour-and-15-minute marathon set to each of her 10 studio albums, with one contributing as many as eight songs to the 44-song set, and two others offering just one track each. Overall, Swift played 12 different songs for the first time last night, making up for the unusually long stretch she's spent off the road since she wrapped her Reputation tour in the fall of 2018.
"To say that a lot has happened is really an understatement," she said of the past five years. "I can't even go into how much I missed you because there's no way to verbalize it." On Friday in the honorarily renamed Swift City, just more than half of the set list (24 songs) was drawn from the 2018-onwards Lover, folklore, evermore, and last year's Midnights, and that material was received with deafening screams of approval from a Swift fanbase so starved for in-person, live-in-the-flesh, real-time interaction with her.
Swift gave them plenty to celebrate, from the richly detailed stage design and its state-of-the-art image projection technology to a regular series of outfit changes (think: spangled gold, silver, and black leotards, and colorful, frilly dresses) and welcome detours into other musical styles. On more than one occasion, it was impossible not to feel the energy radiating around State Farm Stadium, as arms-linked teenagers held flashlight-enabled phones high and sang along at top volume while Swift worked the room along a giant catwalk between the main and secondary stages.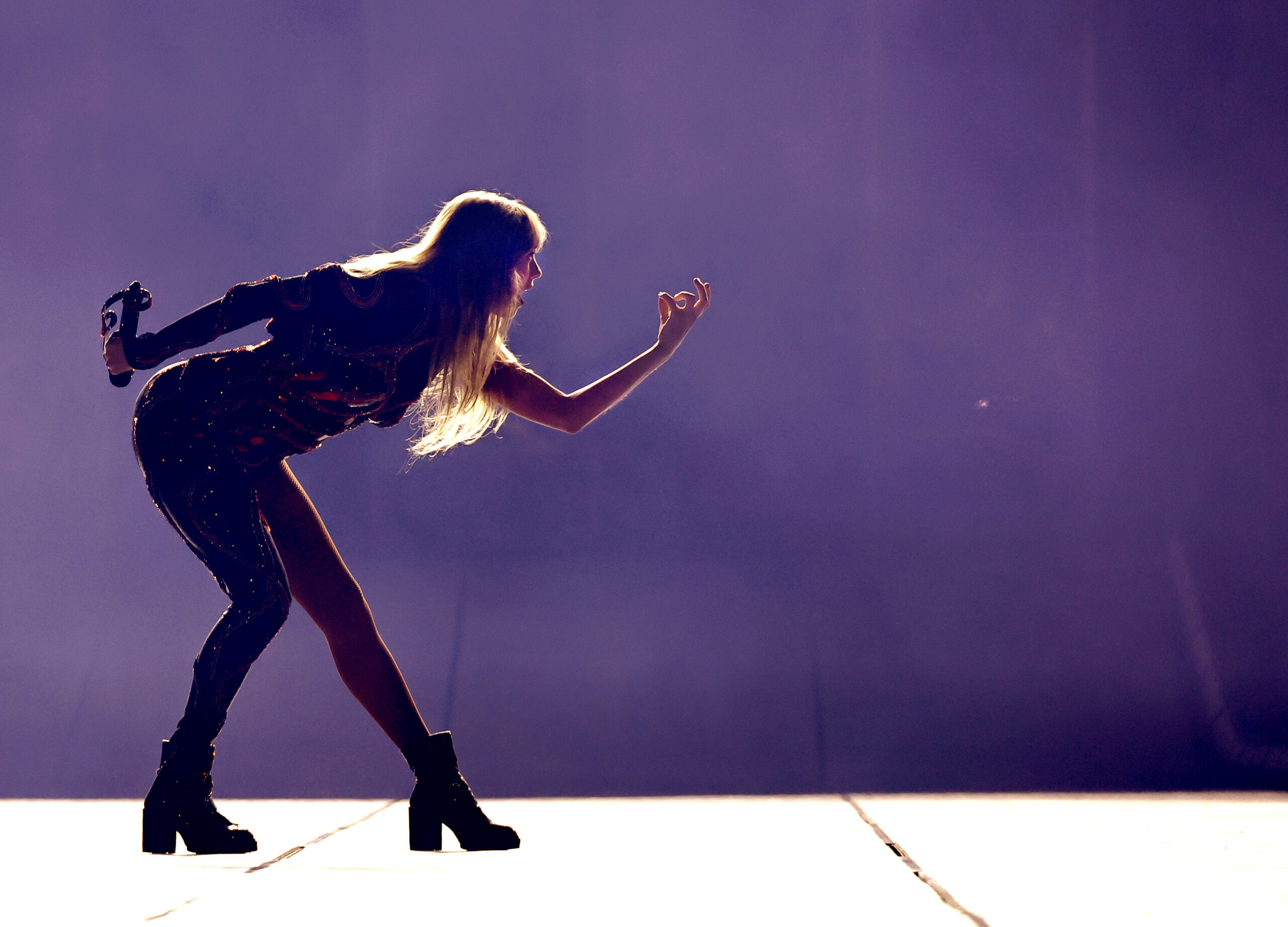 The show began just before 8 p.m. with six songs from Lover, the 2019 album in support of which Swift never properly toured behind. After the opening one-two of a shortened "Miss Americana & the Heartbreak Prince" followed by "Cruel Summer," Swift soaked up the scene and shared, "I don't know how to process all of this and the way that it's making me feel right now."
Intuitively, the performer and audience remained in virtual lockstep from there, even when Swift veered into blocks of music that were fairly downtempo and vibe-y in the context of a typical stadium concert. The seven-song folklore block halfway through the show was a perfect example, with virtually everyone on their feet while Swift navigated three delicate songs in a row ("illicit affairs," "my tears ricochet," "cardigan") that rewarded patient listening. The stage backdrop for this section was an ingenious cross-section of a cabin in the woods, complete with a mossy roof on which Swift sat to sing the Aaron Dessner-produced and co-written earworm "invisible string."
The vibe would flip again during the five smashes from 1989: "Style," "Blank Space," "Shake It Off," "Wildest Dreams," and "Bad Blood" (cue fire cannons!). At one point, the backing dancers rode glowing bicycles around Swift on the catwalk and then pretended to smash up a sports car with golf clubs (even Swift was wielding one with mock menace). The block from Red showcased her arguably peerless skill for pure pop craft, with the "girls just wanna have our own fun" spirit of "22," "We Are Never Getting Back Together," and "Trouble" ratcheting the good times up significantly.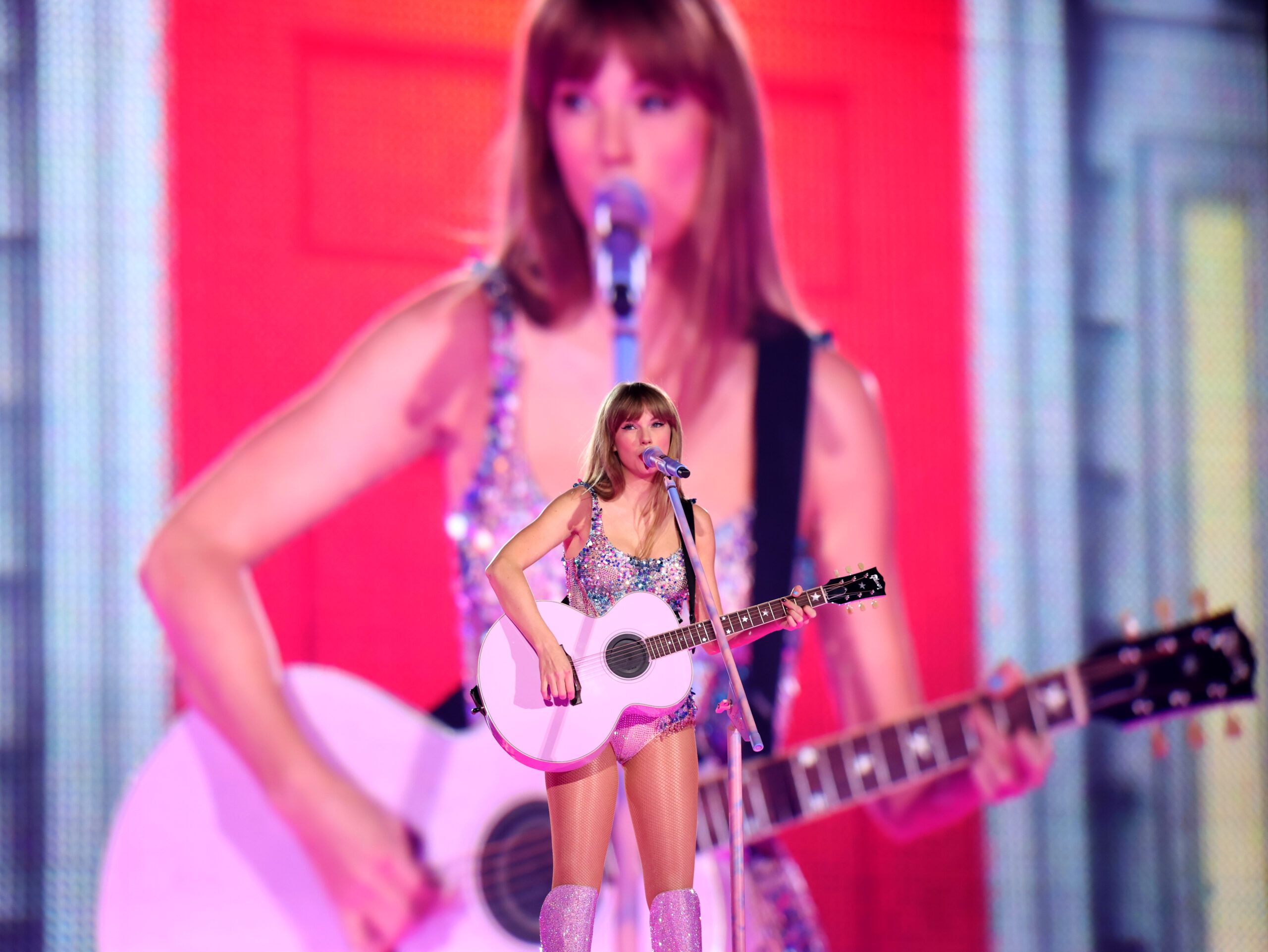 Swift will apparently also be playing a song solo acoustic each night and pledged to not repeat the same one throughout the tour unless she messes it up so badly that she has no other choice but to try again another time. Tonight's mess-up-free wild card choice was the eighth from folklore, "mirrorball," which paired nicely with a subsequent solo piano rendition of "Tim McGraw."
"I thought it might be fun to play the very first song I put out," Swift said beforehand, while also acknowledging the "very amazing specific visual representations of lyrics of weird online inside jokes we have" in the crowd. "Someone dressed as a whole entire willow tree, and there were an alarming number of adults dressed as sexy babies." Indeed, Swift's fans are remarkably inclusive in a way that tends to negate cynicism, as families, couples, and friends of every persuasion were seen having what looked like the times of their lives all over the venue.
As the show pushed close to the three-hour mark, it was fitting for Swift to save Midnights songs for last, as, after all, they're the newest additions to the repertoire. Any concerns about how the varied but heavily dance- and electronic pop sounds of that album would translate to the stage were dispelled with an extended, pulsating "Lavender Haze" to start the block. Swift saved her most sultry moment of the evening for "Vigilante Shit," as she and the dancers writhed on and around chairs amid lyrics about "dressing for revenge" and playing mind games with a lover's ex-wife.
When Swift confidently paraded the catwalk one last time to the slinky strains of "Karma," rainbow confetti fluttered from the ceiling and colored firecrackers went off in unison, signaling that we'd collectively reached the end of this "era" — at least for tonight. Artists at the absolute peak of their careers rarely present their catalogs in concert like Swift did last evening — a uniquely retrospective approach that in many cases improved on the originals. It was also a clear dividing line between the Swift that's come to dominate pop culture and … check back in five years?
State Farm Stadium was just as hospitable to Swift as it was to opening acts Gayle and Paramore. The former, an 18-year-old singer/songwriter who had a viral smash in 2021 with "ABCDEFU," admitted she could "barely comprehend what is happening right now" as she looked out into the masses. With its take-no-bullshit energy, her credible cover of Alanis Morissette's "You Oughta Know" connected the "women who rock" lineage through to Paramore, whose own 45-minute set was blazing from start to finish.
Commanding the stage in a black vinyl jacket and skirt with ankle-high red boots, Hayley Williams showed off one of the most wondrous voices in rock — powerful, clear, and still more than capable of hitting the high notes on the fist-pumping 2007 emo all-timer "Misery Business." Amid excellent new songs such as the herky-jerky jolt of set opener "This Is Why," Williams spoke warmly of her long friendship with Swift, which began after Kanye West infamously interrupted her acceptance speech at the 2009 MTV Video Music Awards.
"I am not sure that you get how fucking incredible this person is," she said of Swift. "You're here witnessing history. We're so thankful to be a part of it." 70,000 people happily streaming out into the cold Arizona night would doubtless agree.
Here is Taylor Swift's setlist:
Lover
Miss Americana & the Heartbreak Prince *
Cruel Summer *
The Man
You Need To Calm Down
Lover
The Archer *
Fearless
Fearless
You Belong With Me
Love Story
evermore
'tis the damn season *
willow
marjorie *
champagne problems *
tolerate it *
reputation
…Ready for It?
Delicate
Don't Blame Me
Look What You Made Me Do
Speak Now
Enchanted
Red
22
We Are Never Ever Getting Back Together
I Knew You Were Trouble
All Too Well (10-minute version)
folklore
invisible string
betty
the last great american dynasty
august
illicit affairs
my tears ricochet
cardigan
1989
Style
Blank Space
Shake It Off
Wildest Dreams
Bad Blood
Acoustic song
mirrorball
Taylor Swift
Tim McGraw (acoustic)
Midnights
Lavender Haze *
Anti‐Hero
Midnight Rain *
Vigilante Shit *
Bejeweled *
Mastermind *
Karma *
* – live debut