In celebration of the impending 10th anniversary of its self-titled debut album, Run the Jewels will play four-night residencies in four U.S. cities this fall. Rappers El-P and Killer Mike will perform at New York City's Terminal 5 from Sept. 13-16, Chicago's Salt Shed from Sept. 27-30, Atlanta's the Eastern from Oct. 2-5, and Los Angeles' Hollywood Palladium from Oct. 11-14.
Within each four-show run per city, the duo will feature a different album in its sets every night and welcome as-yet-unannounced special guests. Information on ticket on-sales can be found here.
"It's mind-blowing to us that it's been 10 years since we joined forces as RTJ," the pair said in a statement. "The best way we can think to celebrate is to get the whole family together and do what we love for the people who love us back. It's going to be amazing, just like this entire ride has been, and we are grateful to get a chance to celebrate with our jewel runners this year and finally get back into clubs to destroy some stages for you. We're doing four cities, four nights each, and four full albums worth of jams, many we have only performed a small handful of times during our whole existence. So on night one it's RTJ1 in full plus many more songs from the other records, night two it's RTJ2 … etc. etc. We can't wait to get out there and see you."
Meanwhile, Run the Jewels' Nike sneaker collaborations will see wide release on April 20, following their debut last year at Corona Capital in Mexico. The "Low" edition shares a color scheme with the cover of Run the Jewels 3, while the "High" is inspired by the cover of 2020's RTJ4.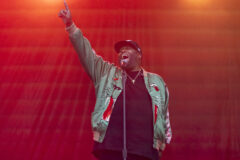 As previously reported, Killer Mike played his first major solo set since Run the Jewels formed as part of SPIN's South by Southwest showcase on March 17 at Stubb's in Austin, Tx. During it, he debuted a host of new material, including "Shed Tears," "High + Holy," and the recent single "RUN," while performing to an intimate indoor audience after the outdoor portion of the venue was evacuated due to lightning storms.