Bringing to life the music from the night's biggest winner at the 95th Academy Awards ceremony, David Byrne was joined by actress Stephanie Hsu and Son Lux to deliver a theatrical performance of the best original song nominee "This Is a Life" from Everything Everywhere All at Once. The number was complete with video clips of animated raccoons and Byrne bearing hot dog fingers — two nods to images from the zany film.
Everything Everywhere All at Once had the most award nominations of the evening with 11 and wound up winning seven major awards, including best picture, best actress for Michelle Yeoh, and best supporting actor and actress for Ke Huy Quan and Jamie Lee Curtis, respectively
The song was written by Byrne along with Son Lux founder Ryan Lott and singer/songwriter Mitski; Byrne and Lott contributed the lyrics. Hsu appears in the film and was nominated for best supporting actress for the role (though she lost to Jamie Lee Curtis), while Son Lux is credited for the movie's original score.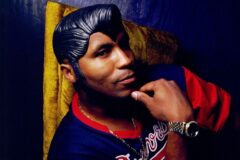 Former Talking Heads frontman Byrne is no stranger to the Academy Awards, having won an Oscar for his work on the score to the 1987 movie The Last Emperor with Ryuichi Sakamoto and Cong Su.
As previously reported, Byrne and Fatboy Slim's theater production Here Lies Love, described as an "immersive disco pop musical" about former Philippines first lady Imelda Marcos, will debut on Broadway July 20 at New York's Broadway Theatre.