¡Bienvenidos, Dudes! Motley Crue va a México y se encuentra con el monstruo de metal fundido de la Ciudad de México… ¡SPIN dice Bienvenidos, amigos!
(Translation: SPIN is super proud to be publishing a look at what happens when Motley Crue and Def Leppard meet Mexico City's mighty metalhead mob…and win! Reader's Choice: English or Espanol! Read at your own risk!)
Walking through Mexico City means listening to music everywhere. Here you can go down the street and hear a cumbia in a puesto de tortas callejeras, a street sandwich stand. Pirate record vendors carry 12-inch speakers on their backs that blast the latest hit from Bad Bunny as they navigate the bowels of the Metro, and rise to the streets.
Thus, you could go up in one of the tallest skyscrapers in the city and sit in a pretentious restaurant and suddenly be joined by Bad Bunny:
"If I put it in, don't call me
'Cause this is not for you to fall in love, hey!
If your boyfriend doesn't lick your asshole
For that, why even try?"
Or you may hear the feminist protests during which thousands of hooded, naked, outraged women demand an end to the 11 femicides that occur every day in Mexico. In these demonstrations, the old and dusty sound systems accompany them on trucks while they broadcast a slogan to the rhythm of Sara Hebe's Argentinian trap.
"I had to set fire to the balcony
I had to burn the dome of the National Congress
I had to burn Messenger
I had to burn all of yesterday and the day before yesterday."
Punk is gone. In Mexico today they protest with reggaeton.
Giving a radio dial a full twist in traffic in 21st-century Mexico City is enough to know who's boss: In the old DF Distrito Federal, you hear reggaeton, trap, salsa, bachata… and tragedies on the news.
Being a rock star is something that is almost forgotten on this side of the world. No one blames the Mexican hip-hop or trap scene, which enlists millions in Mexico City, but who would have expected so many metalheads to still be alive and rocking?
Rock metal? That has long since fallen from the ears of the mass public, of the mainstream. Guitar heroes have long since been banished by severe lack of interest or attention from colleges, independent niches, or ephemeral spaces. Metal is for memories.
Who would have thought? In this city of more than 20 million (no one ever knows the exact count — how could they?), the headbangers have not seen each other on the streets for a long time. Somehow, this noisy city has kept a secret. There are days, weeks, months that it seems that this mighty monster of a city swallowed them alive… until, that is, they are spewed out like a black, burning, noisy paste that comes flowing down from the volcanoes that surround this stinky piece of asphalt that we call CDMX — Mexico City.
They ooze from the barrios and populous neighborhoods of the east, the poor side. From places far from the city center; separated by astronomical amounts of traffic. From places where workers and professionals alike leave and arrive home almost always accompanied only by the moon.
Others are excreted from the intestines of office buildings after spending eight hours trapped in gentrified business-barrios and serving their corporate masters, their black shirts hidden by white shirts and proper skirts.
Like all forces of nature, this noisy black magma must find its place. Gravity takes charge. Suddenly, flared pants are seen. Fans in black T-shirts arriving by subway, on buses, on foot, by car. Alone or in groups. Waiting for friends, some sip beer or whiskey waiting for friends outside Foro Sol, the largest capacity stage on this side of the world, a stadium inside a race track.
Look! There's a fan looking like she's stepped out of an elevated cage at Gazzarri's on the Sunset Strip in the '80s, wearing a glittery silver top and go-go skirt and a massive fake-blond mane that made her look like Tina Turner herself or the ghost of Ratt's Robbin Crosby in drag.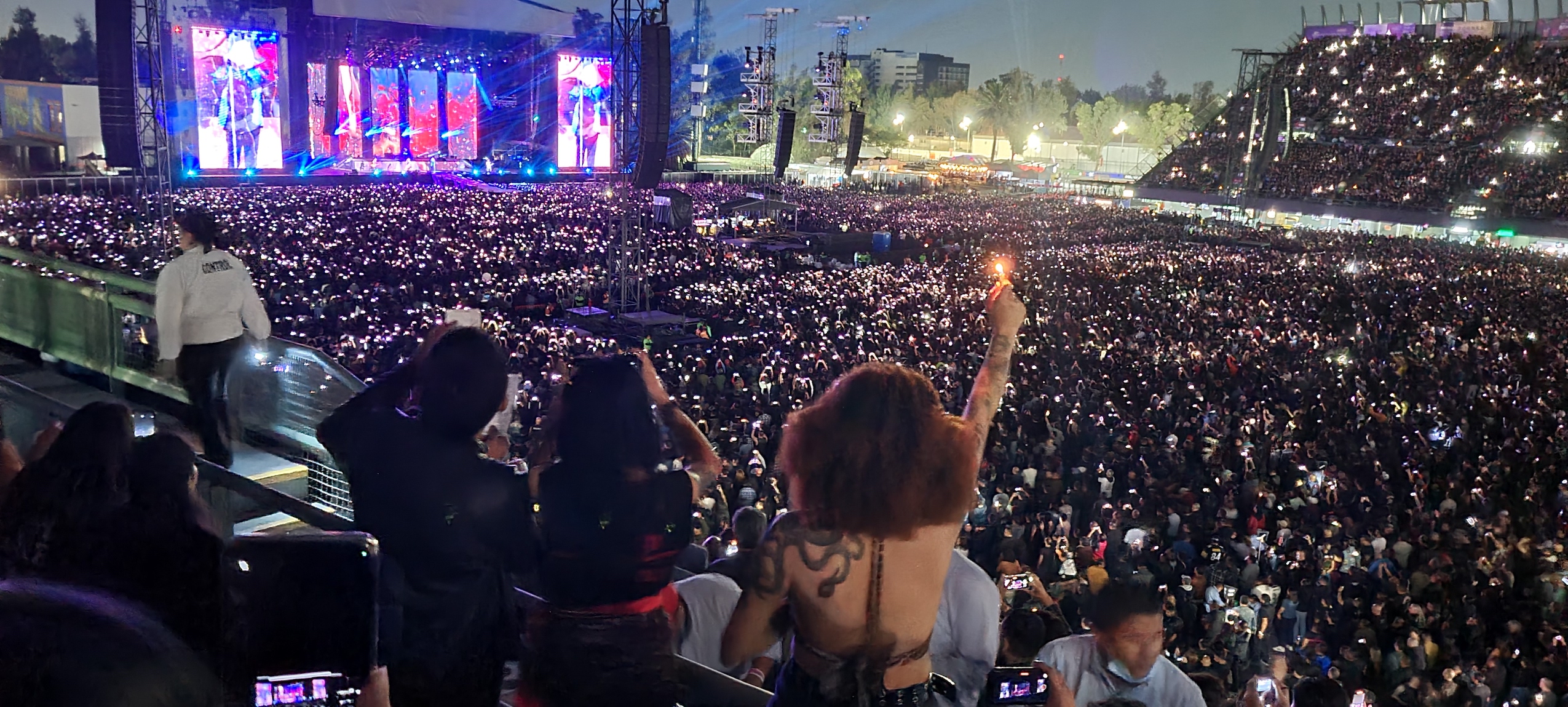 Just like in those years when metal dominated the Strip in Los Angeles, in Mexico City we would need to wait until night fell to start traveling back in time.
Headlines in the Mexican press shout at the devil: "Metal is back," "The '80s revive": It is as if they have forgotten that there are millions of metalheads hidden away in plain sight. It's as if they don't remember that not so long ago, once upon a time in Mexico, the government could arrest you and even sentence you to prison for the simple act of playing punk or metal music.
Trust me, in the '70s and '80s, Mexico was not a friendly place to practice your rock star moves or even air guitar. There was a time when being a rocker or a metalhead in Mexico was a crime in the eyes of the state. Until almost the mid-'90s, listening to a guajolotero solo (shredders sounding like super-speedy turkeys gobbling — !es verdad!), organizing weekend mosh pits, or promoting small gigs with your friends could cost you contempt, money, and even jail.
Mexico lived under the thumb of a single party, the PRI. Here we called it, quietly, the perfect dictatorship.
Those were the times when the Mexican government, encouraged by the CIA, feared that the great communist revolution would take shape in the cultural, student, and union movements (including rock and then, later, metal). Playing rock was the same as betraying the country.
Many of the fans who are here tonight first gathered at the Monsters of Mexican Metal Festival, which for more than 20 years has brought together the best metal bands in this country, many of them formed in the '80s, which was the decade that marked the birth of Aztec Heavy Metal.
Since then, and at first clandestinely in order to avoid government repression, these headbangers have listened to bands that are unknown to the rest of the world beyond, bands like Enigma, El Ritual, Megatón, Khafra or Luzbel. All Mexican, all metal. Some play covers of Judas Priest, Black Sabbath, or Mötley Crüe; others, only original songs and only in Spanish.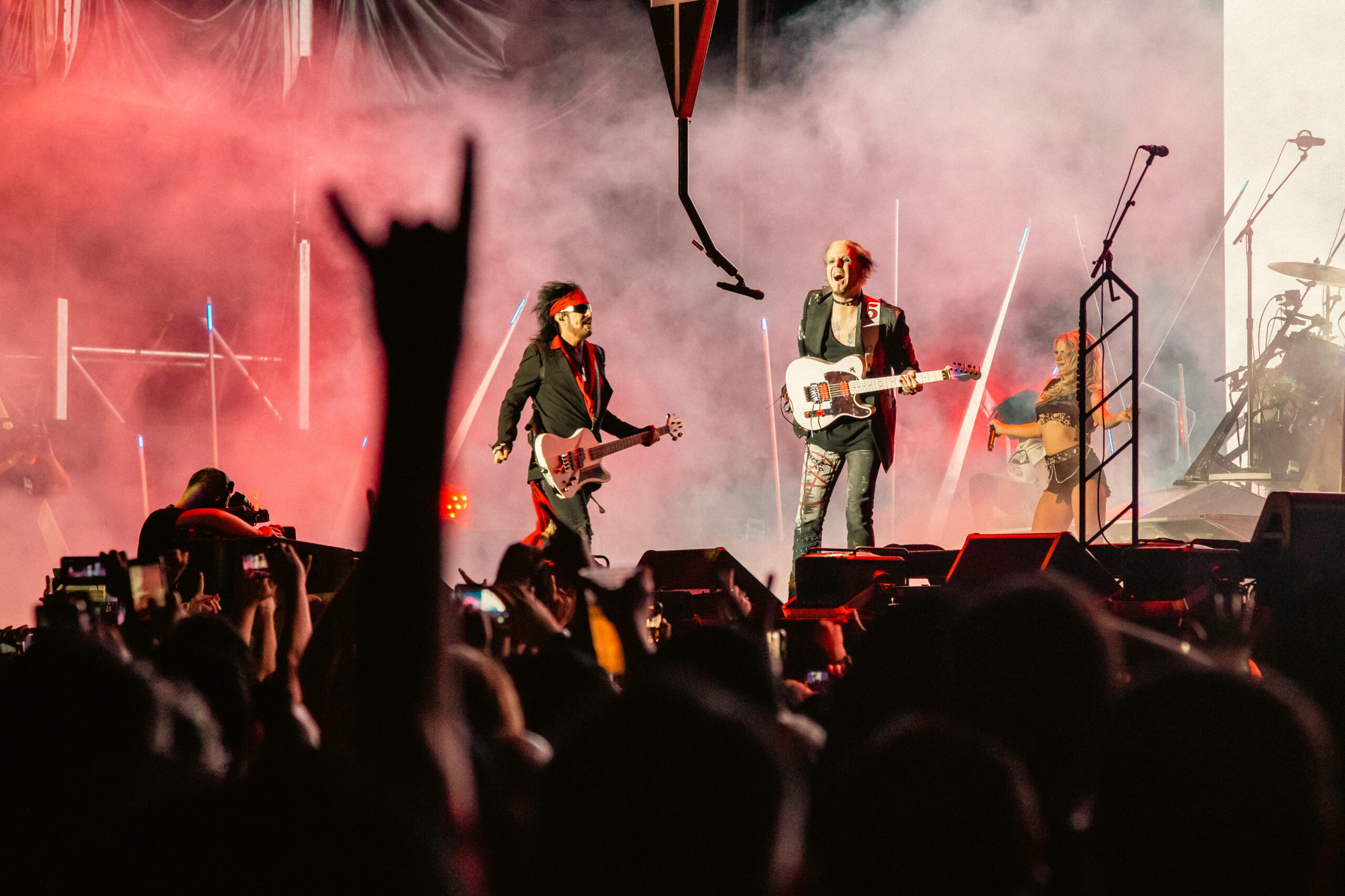 Tonight, though — tonight it's Saturday. In the capital of Mexico, on this warm, cloudless night in February 2023, with the moralistic dictatorial regime long extinct, the wild, excessive, romantic, promiscuous power-chord promises of '80s metal are alive and storming the capital. No better way to honor this hair-flipping attitude that dominated the world four decades ago and 3,000 kilometers away.
Def Leppard and Mötley Crüe arrive in a very different country than they might have seen had they played here then. The scene in the Foro Sol is much more like the Strip of the '80s than the Distrito Federal of the '70s. Same feeling of celebration, of freedom, of the unexpected, and no sense that the stadium will be surrounded by armed cops with clubs and machine guns.
It's not hard to find the sweet spot. In front of the race track, the Autodromo Hermanos Rodriguez, there is a lower-middle-class neighborhood well accustomed to chaos. In some of the small, colorful houses, the locals sell beer and food. These aren't full-fledged bars, of course. Nobody knows they exist, even if we can all see them, open as Saturday night. In a city like this, opportunities come where you least expect them.
In this place, in exchange for about $50, you and your friends can pre-drink your fill, and get drunk before entering the gig, thereby avoiding spending unrealistic amounts of money on absurdly expensive glasses of beer, shots of imitation mezcal, or adulterated whiskey shots.
It's in one of these small family houses that a group of 16- or 17-year-old caguengues entertain the clientele of the clandestine bar with classics like "Blitzkrieg Bop" or "Seven Nation Army." The band is called Panda Negro, and Carlos, its founder and frontman, is an enthusiastic showman in front of an audience of metalheads making a lubricating pit-stop before entering the Autodromo.
Panda Negro gives it their rocking all, wearing shirts displaying the bodies of Nikki Sixx and Joe Elliott. "That's not metal..but I'm already wasted…" one dude yells. "C'mon, kids, get it on! I'm losing my buzz!"
What none of us could know is that a few hours later, inside the stadium, Mötley Crüe would, in addition to covering the Ramones, run through a medley that included "Rock and Roll Part 2," "Smokin' in the Boy's Room," "Helter Skelter," and "Anarchy in the U.K." !Panda Negro redeemed!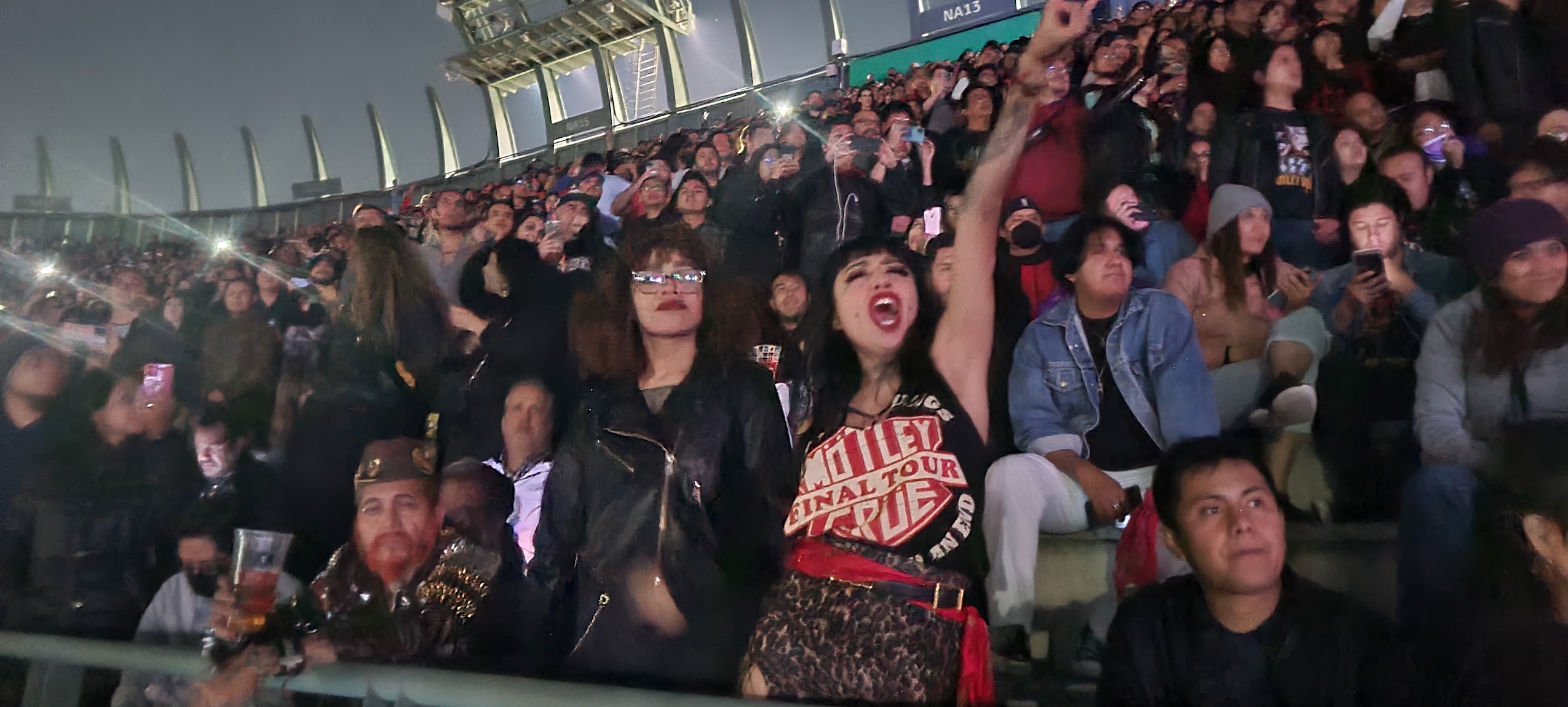 Inside the Autodromo, Sergio "the Viking" is one of the thousands crammed in front of the stage waiting for the '80's to start. It's only too obvious why his nickname is "Viking." Hairless but with a bushy red beard that reaches to his chest, black shirt, wide square glasses, and military boots, he is 55 years old. He was 15 when Shout At The Devil hit the streets in cassette or vinyl.
Aside from his appearance, the Viking draws everyone's attention because he has a group of children accompanying him, looking like they might be on an elementary school field trip.
Who are these kids? Downing his beer in one gulp before answering, El Vikingo says that they are two nephews and a grandson. "I'm going to be honest, I never thought I'd be coming with grandchildren. It's a long way between the toquines of 40 years ago to come with your grandchildren, but I want them to feel this …because I fell in love with this music."
Moon overhead, Bowie's "Heroes," and suddenly the stage goes deep black. A few seconds later Def Leppard's Rick Allen is kicking off what would be a four-hour return to the '80s with "Take What You Want."
Our one-handed hero, with his clicky kick drum and echo-clogged snare, unleashes howling screams, as headbangers begin to shake their heads in the air. Thousands of women begin to wiggle their hips and raise their arms. Def Leppard have arrived, and that sticky black paste has finally grown arms, hips, and made head-banging sense.
As the British band's performance progressed, it was more and more obvious: Things had changed in Mexico. Tonight felt like we were on the Strip we'd never strutted. In the glam world, everything remained the same. Makeup, head bands, microphone in one hand, a bottle in the other. Hair that needed to shake.
After about 20 minutes of people warming up their throats (Viking was lubricating his throat primarily with beer), Phil Collen approached the catwalk and wove through the crowd to greet the amorphous mass that swirled in front of him in almost perfectly unintelligible Spanish.
It didn't matter. Despite the battered language, we all understood: The Mexican metal tribe was back together again, and that was something to celebrate.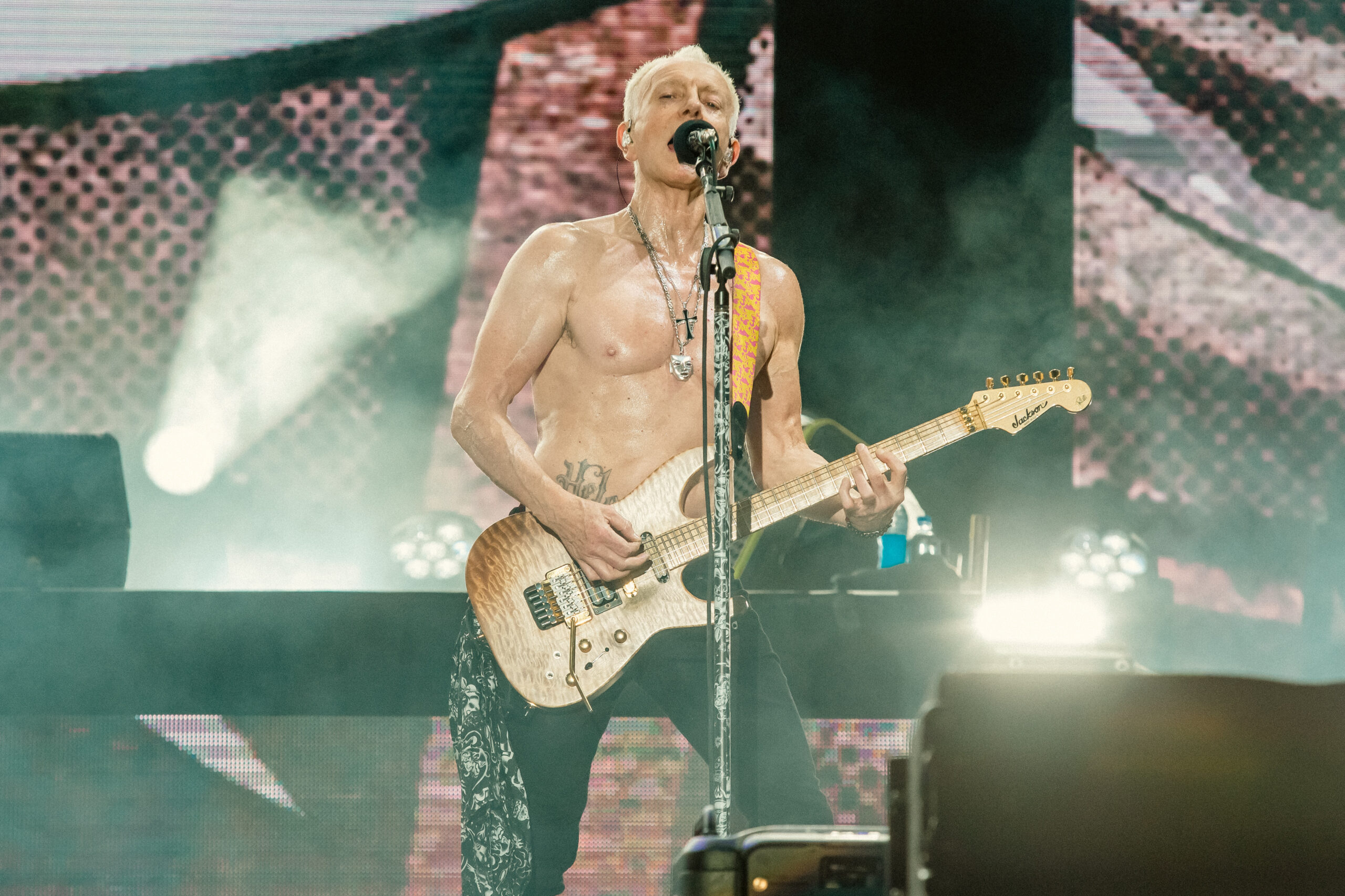 Joe Elliott, Phil Collen, and Vivian Campbell played acoustic guitars together to sing "This Guitar" like in the old MTV days, lowering the intensity with the only power ballad of the night. Sublime. Repetitive, but effective. It isn't the '80s without a power ballad.
The glam metal formula remains the same across the decades: distorted guitars, melodic choruses, monosyllabic lyrics suitable to chant and sing along. Those "Girls, Girls, Girls" may not dance in gilded cages anymore, but the energy in the air was enough to make you feel like you were in a small, sweaty, smelly club somewhere on the Strip.
The newest of Motley Crüe's novelties is the novel addition of John 5 as a lead guitarist, subbing for Mick Mars, who can no longer tour due to his illness, ankylosing spondylitis, causing him more and more pain and preventing him from moving much more than an Olmec stone idol.
Almost the entire Mötley Crüe setlist transports us to 1989's "Dr. Feelgood" and includes no less than five songs from that record, mixed with other Crüe classics like "Girls Girls Girls," "Home Sweet Home," "Live Wire," "Looks That Kill," and "The Dirt."
After a few minutes with the Crüe cranking, Tommy Lee decided to climb off his Pearl drum kit and engage the crowd in dialogue. "I can't believe it took us a decade to come back!" And he went on later to gobble down a shot of what we were all sure must certainly be tequila or mezcal.
Tommy Lee once said that the Strip was "a place of magic, a place where anything was possible. It was where we found our voice and learned to be rock stars." I think for a moment, if only for the time it takes to toss down a shot, many of us felt like rock stars knocking back shots with a fellow Major Dude hanging at the Rainbow.
Afros, hip chains, short skirts, black hair, gray hair, beer, screaming and sweat, and even more beer. At the end of the night everyone is satisfied, exhausted, or both. The burning lava that until a few minutes ago gathered itself around the will and desires of a few musicians at last starts to cool down, to solidify; turns to stone as the last chord of "Kickstart My Heart" ends with one last roar from all of us.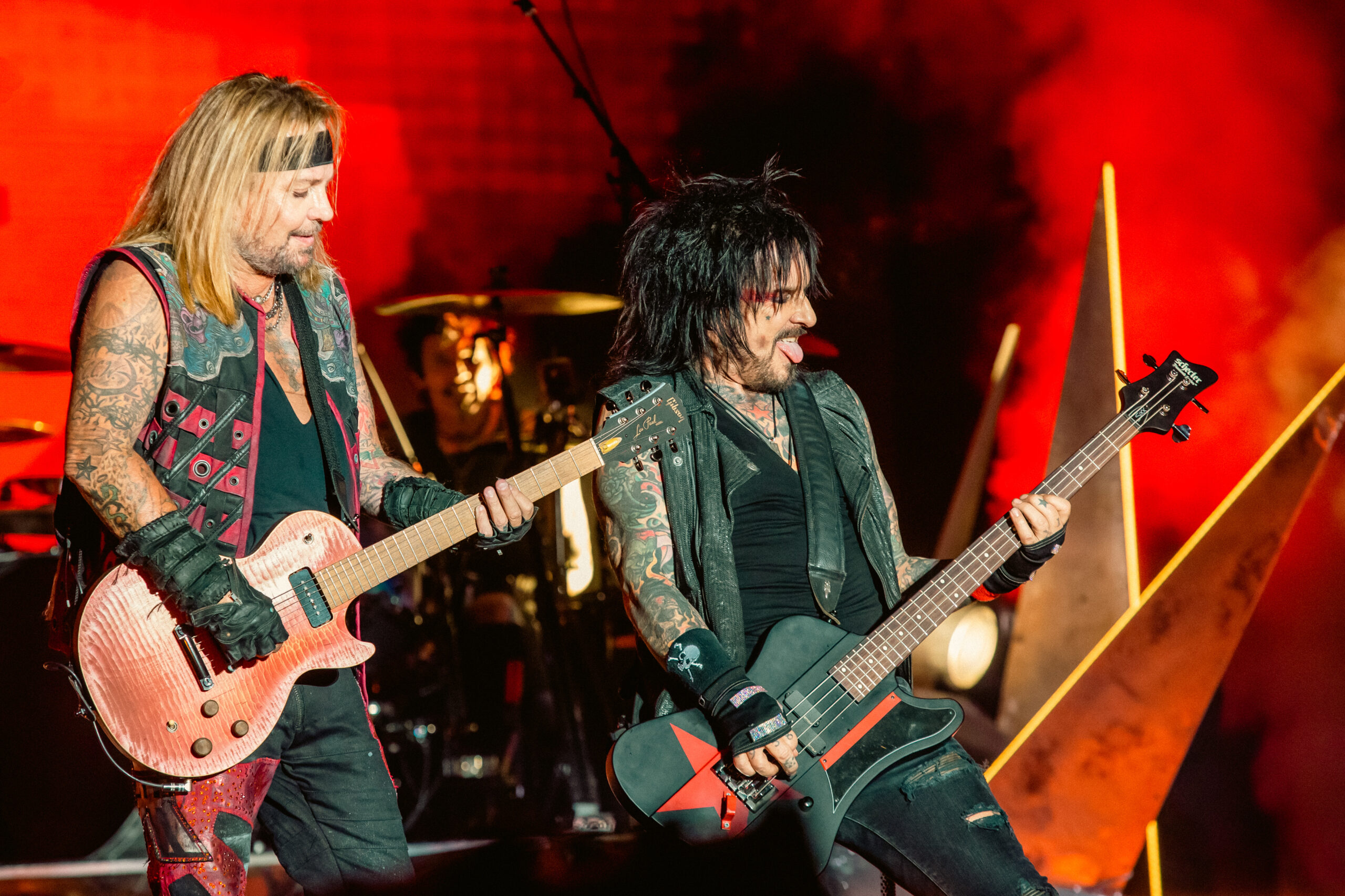 And with that, at the slow, steady pace of lava, we spread out over the enormity of this monster made of asphalt and life. In reverse motion, we return to the crater through the same fiery veins from which we came. Little by little, reggaeton, rap, and bad news are heard again in the distance.
These are other times and in Mexico, people live differently. As our four hours of the '80s dwindled away, and as we all spread out in the dark outside the Foro Sol, the street vendors yell at everyone offering black T-shirts with the bands' logos. (The ones emblazoned with the faces of Vince Neil and Tommy Lee seemed to be selling particularly well.)
Certainly in the days of the PRI, the departure of thousands of euphoric, tired, and drunk metalheads would be worthy of a police operation. Undoubtedly, in those days no one in this tribe of shaggy metalheads could count on dozens of taco stands ready to serve. Instead, they would have been running scared, racing away, shouting at the devils.
Sergio the Viking is walking sideways as he searches for the best way to return his grandson in one piece. The wigs and go-go skirts stopped sparkling when the stage lights went down, but still seem to attract the late-night last-minute gazes of all who descend on the party of tacos al pastor and sopes with lots of salsa. The fake wigs no longer wave in front of Joe Elliott; gig over, they are wafting in the smoke from the meat being seared on the griddle.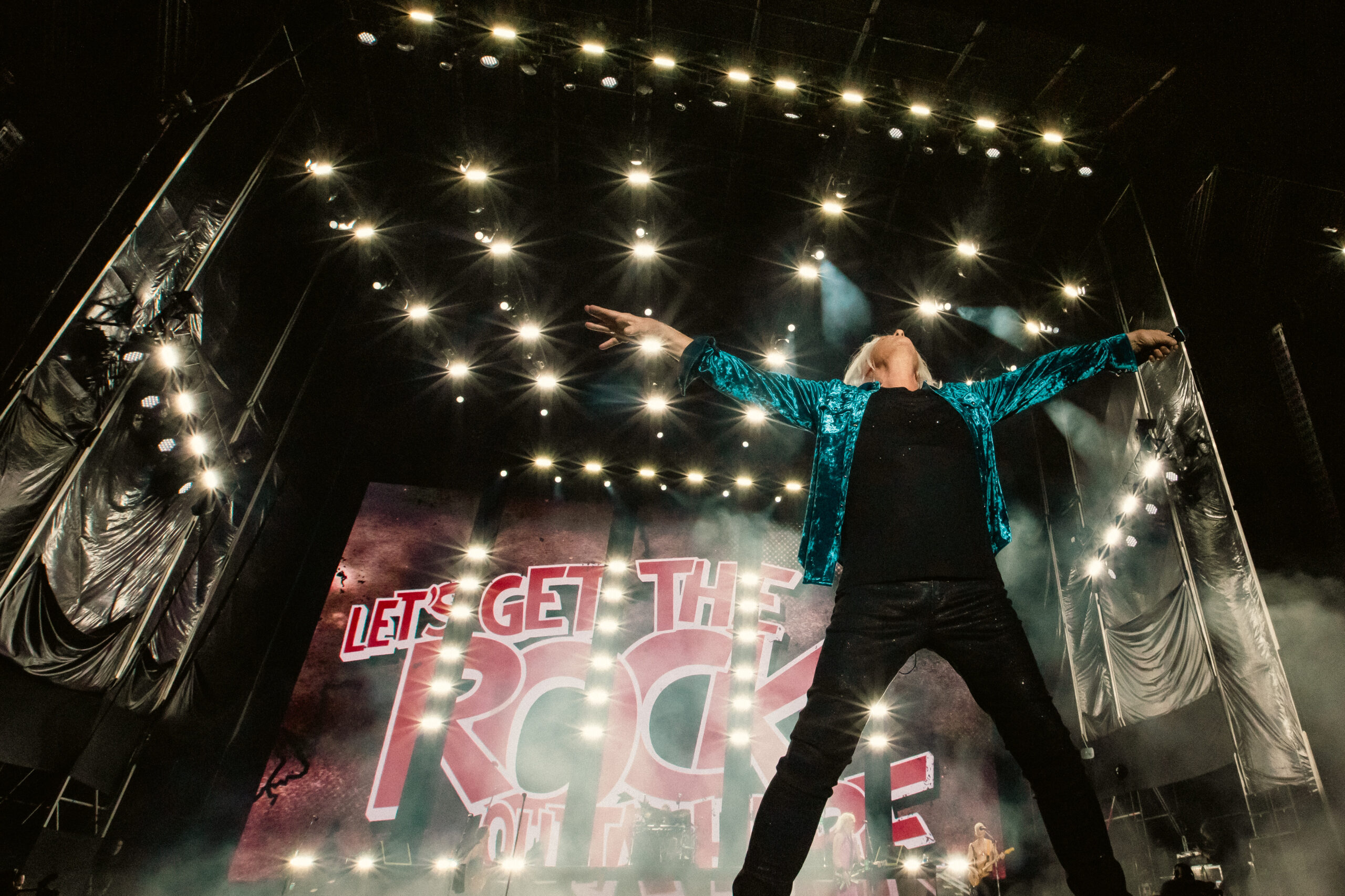 Def Leppard and Mötley Crüe leave behind a satisfied Mexico City. Next, they head north to Monterrey, where the vibe will be different. Because Mexico is not one country, it is many different countries. They will meet another amorphous metal mass, with its own character. After this brief approach north toward the southern US border, this World Tour will take the bands on an adventure to the south of the continent: Colombia, Peru, Chile, Brazil, and Argentina will be the next stops. Maybe we will see what the South American headbangers are like, and what they eat when the show is over. Maybe they will be like us. Maybe for four hours it will be as if it's still the '80s on the Sunset Strip, and they'll be there, too. After our own Sunset Strip moment ends, thousands of headbangers leave full of everything they're certain makes metal the greatest of music, heading off into an enormous city that forgets and even despises them. They're happy, they're proud. Because in a place like this, in an endless city where not so long ago any expression that reeked of being different and contentious was repressed and coerced and beaten down, a night of excess and wild, hair-flinging head-banging metal will always be good news.
Perhaps the Strip would be proud, too… I like to think that being Los Angeles, after all the infamous partying and rocking and rampaging, musicians of the Strip scene also ate tacos.