Metal remains an insular and sometimes elitist genre, so it's always welcome when a well-known figure from outside the scene tips their hat to the heavy stuff. Last week, R&B hit-maker T-Pain blessed us with a cover of one of the genre's all-time-great anthems. If you haven't yet heard his version of Black Sabbath's "War Pigs," the concluding number on a new covers album that also includes takes on classics by Sam Cooke and Journey, you really should. It's a pretty faithful rendition, with ultra-punchy drums and gleaming organ that give the track a distinct gospel aura, but the obvious highlight is hearing the lusty voice behind "Buy U a Drank (Shawty Snappin')" tear into fearsome Geezer Butler–penned, originally Ozzy-sung lines like "Death and hatred to mankind/Poisoning their brainwashed minds." T-Pain's wordless ad-libs as the song kicks in remind the listener just how much R&B there was in the DNA of the original Sabbath, and how a great voice can make genre boundaries seem like petty micro-distinctions. (Butler later gave his stamp of approval.) Now, if we could only get him to duet with Ozzy on this at some point, our lives would be complete.
And onward to the best new metal of the month!
Liturgy, "Ananon"
A little after the three-and-a-half-minute mark, "Ananon" — a track from Liturgy's 93696, March's most riveting, not to mention overwhelming, new metal album — reaches what seems like peak intensity, as bursts of feverish drumming meet waves of choral vocals, trilling guitar and shrieks that sound actually throat-damaging. But somehow, the piece has another gear in store, as the band tears into an oceanic half-time riff, disrupted by post-production glitches and dissolving into weird ambient static. This passage is a good indicator of the relentless avant-garde maximalism that's on display throughout this record, always upping not just in intensity but in sheer genre-busting invention. The band has totally reconfigured since their early phase that culminated in 2011's monumental Aesthethica, but bandleader Haela Ravenna Hunt-Hendrix remains committed to a musical vision that combines the fury of black metal with the rigor and imagination of cutting-edge classical composition. This kind of thing isn't for everyone, but if you're looking for something uncategorizable and truly extreme on every possible front, 93696 is essential listening.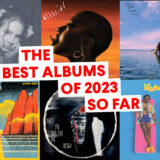 Zulu, "Our Day Is Now"
Just as rich and complex, though in a very different way, is A New Tomorrow, the debut full-length from L.A.'s Zulu. Fittingly, one of the album's harshest moments is also one of its most uplifting. On "Our Day Is Now," over a furious grindcore riff, dual vocalists Anaiah Lei (also the band's leader/mastermind, handling multiple instruments on the album) and drummer Christine Cadette trade lines as they scream, "Step out/Into the sea/Of pure love/Where we're meant to be." Like the album as a whole, the song portrays Black joy as an irrepressible force, flourishing despite centuries of trauma. The band's insistence on highlighting positivity in their volcanically heavy protest songs, and in connecting seemingly disparate strands of Black music through savvy sampling — you'll hear a snippet of Freddie McGregor's 1986 reggae single "Push Come to Shove" at the end of "Our Day Is Now" — align them spiritually with trailblazing acts like Bad Brains.
Entheos, "The Sinking Sun"
Another March release that chronicles both despair and the will to rise above it is Time Will Take Us All, the new third album from Entheos — the proggy yet ferocious Santa Cruz, Ca., duo of vocalist Chaney Crabb and multi-instrumentalist Navene Koperweis — which was recorded in the wake of a harrowing motorized-scooter accident that Crabb endured in 2021. "And slowly I/Drift away into the darkness/The depths of my own mind/Where sorrow and hope collide," Crabb growls on "The Sinking Sun," a seven-minute stunner near the end of the album. The track touches on the band's many strengths, from crushing groove to sci-fi hypertechnicality, sometimes combining both at once in a way that can suggest a more emotionally urgent Meshuggah.
Spirit Possession, "Second Possession"
Spirit Possession are also a West Coast duo, hailing from Portland, Or., though that's where any similarity with Entheos ends. This outfit plays a particularly wild-eyed sort of black metal, driven by mind-warping riffs — courtesy of Steve Peacock, also of a slew of other feral yet progressive-minded bands, including Ulthar — and a seething, chaotic energy, enhanced by the fierce precision bashing of drummer Ashley Spungin, formerly of Insect Ark. You can practically smell the brimstone emanating from "Second Possession," an advance track from the band's second LP, Of the Sign…, out at the end of the month.
Enslaved, "Behind the Mirror"
Of the Norwegian black-metal grandaddies who are still around, some (Immortal, for example) have taken an "ain't broke, don't fix it" approach, while others (Mayhem, e.g.) have opted for a staunchly evolutionary path. Enslaved are in the latter camp, but their brand of progress is closer to, say, Pink Floyd's than King Crimson's, with psychedelic and art-rock elements softening the edges of their still-epic sound. Heimdal, their 16th, and latest album, is another strong effort from core duo Ivar Bjørnson and Grutle Kjellson & Co. Check out opening track "Behind the Mirror," where growled and sung vocals blend elegantly with shimmering, synth-haloed grooves and massive, chugging riffs. There's a refreshing sense with this band that they're not remotely hung up on checking the boxes of black metal, or any sort of metal, for that matter; they're simply writing adventurous, smartly constructed songs that go wherever their formidable imaginations take them.
Netherlands, "Severance"
I get a similar sense of freedom from Netherlands. The long-running New York outfit's sound revolves around huge, fuzz-caked riffs and the eccentric sing-song of guitar-vocalist-bandleader Timo Ellis, a former member of Cibo Matto. It's an odd blend on the surface, but as you can hear on "Severance," the title track their new album — and first for the consistently compelling Finnish label Svart, who also put out a cool comeback album this month by arty death-metalists turned rock & roll weirdos Xysma — it's both heavy as hell and charmingly bizarre, sometimes evoking a more whimsical Torche or even Queens of the Stone Age at their most unhinged.
Astriferous, "Blinding the Seven Eyes of God"
Seemingly a month doesn't go by these days without the release of a great new album from a newish death-metal band evoking the shadowy brilliance of the early '90s. In February, we had Sacramento's Tentacult occupying this lane and in March, it's Costa Rica's Astriferous, whose name, somewhat awesomely, means "star-bearing." If you've been keeping up with the so-called OSDM (old-school death metal) movement in recent years, their new debut, Pulsations From the Black Orb, will feel mighty familiar, but as evidenced by "Blinding the Seven Eyes of God" — with its gnarled riffs, heaving grooves, clever tempo changes and cosmic-maw vocal emanations — there's just something so satisfying about this style when done right, like a warm blanket decorated with little Cthulhus. Fingers crossed for some U.S. gigs from these guys very soon.
Rotten Sound, "Suburban Bliss"
Bands from the Descendents to Rush were railing against the cookie-cutter constrictions of the suburbs more than 40 years ago. But Rotten Sound show that there's still plenty more to gripe about on "Suburban Bliss," an advance track from Apocalypse, the new album from the Finnish grindcore stalwarts. Vocalist Keijo Niinimaa convincingly portrays what for many is the long, tedious march to home ownership as he howls, "Mortgage of tomorrow/Reason to wake up/Must work to pay/Too many square meters," as the band alternately gallops and blasts beneath him. State-of-the-art production aside, this stuff is proudly atavistic in its approach, but brutally satisfying all the same.
Kruelty, "Manufactured Insanity"
The same goes for Untopia, the new full-length from Kruelty, whose Bandcamp description reads, brilliantly and simply, "Disgusting music from Tokyo, Japan." Their sound reflects a recent mutual nod of respect between the hardcore and death-metal scenes, and it's easy to imagine a track like "Manufactured Insanity," with its whiplash tempo changes, lurching breakdowns and overall aura of cold-eyed menace appealing equally to fans of Bolt Thrower and Merauder.
Majesties, "The World Unseen"
Majesties' sonic palette is as vibrant as Kruelty's is monochromatic. The Minneapolis band plays the kind of extreme metal that might remind you more of Iron Maiden or a John Williams score than the gruesome likes of Autopsy or Obituary, with triumphant, eminently hummable riffs taking up almost every inch of the musical canvas. "The World Unseen" — from the band's new debut, Vast Reaches Unclaimed — finds vocalist and multi-instrumentalist Tanner Anderson, also of ethereal black-metal outfit Obsequiae, shrieking about a trippy dream in which he becomes "bodily displaced" and witnesses the universe's "infinite clockwork design," and the song's soaring, expertly paced musical motifs provide a suitably wondrous backdrop.
Babymetal, "Divine Attack"
And then there's Babymetal. Brand them as a novelty and you'd sort of be right, except for the fact that it's been close to a decade since their original viral breakthrough, and they're still going
strong, averaging a respectable 1.6 million Spotify streams per month, vastly more than any other band you'll read about in this Blast Rites. More importantly, their songs are really good: Take "Divine Attack," a track from the group's upcoming fourth album, The Other One, which convincingly weds pulse-pounding uptempo pop with bombastic shred. Sure, I'd rather be watching the Babymetal squad perform an expertly choreographed, pyro-enhanced version in a packed arena, but this still works as good escapist fun when listening at home.
Verminous Serpent, "The Malign Covenant"
I've previously known Alan Averill, a.k.a. A.A. Nemtheanga, as one of the more distinctive vocalists in extreme metal: His dire, expressive belt, heard most prominently in the long-running Irish band Primordial, has made him something like the Ronnie James Dio of black metal. But his considerable melodic gifts are nowhere to be found on The Malign Covenant, the debut from new project Verminous Serpent. Instead, here, where he doubles on bass, he adopts a raspy growl that perfectly suits the band's pitch-black rumble. As you can hear on the title track, this is trudging and, by design, fairly dismal stuff, driven by majestically gloomy riffs. If you've enjoyed the grinding slo-mo groove of recent Darkthrone but found the proceedings too upbeat, this just might be the band for you.
Primitive Man and Full of Hell, "Trepanation for Future Joys"
In last month's column, I covered a collaborative single by Kreator and Lamb of God, released in advance of a joint tour. It was a cool, novel idea, and I mentioned then that I'd love to hear more of that sort of thing. Well, here's another example, from a bit further underground: a new joint album from Primitive Man and Full of Hell, who are currently on the road together on a package topped by Fit for an Autopsy and the Acacia Strain. It's a compelling pairing, as Full of Hell are a band known for their blinding speed while Primitive have typically favored apocalyptic downtempo sludge. "Trepanation for Future Joys," the opening track from their new team-up, Suffocating Hallucination, sort of sounds like the two bands just set up opposite one another in the studio and started jamming, not a bad thing when the acts in question are as seasoned as these two. The nearly 10-minute track starts out in Primitive Man territory but starts to pick up as the groups' respective drummers power a slight tempo jump, accompanied by a wall of noxious guitar noise and screeching distorted vocals. Things only get bleaker from there. We sure wouldn't mind witnessing this dark, almost ritualistic nastiness unfold onstage on one of the upcoming dates.
Gorod, "We Are the Sun Gods"
Compared to the prior two entries, France's Gorod sound downright sprightly, offering a brand of speed-driven technicality that recalls the head-spinning inventions of eternally on-pause German death-metalists Necrophagist. On "We Are the Sun Gods," from the band's latest, The Orb, the drums and guitar rush forward in an immaculately choreographed mutant-thrash ballet, accompanied by the expressive growl-and-screech of vocalist Julien Deyres. Halfway through, the band breaks into a flashy fusion-esque breakdown complete with a mini drum solo, rounding out a portrait of an extreme metal band that's not shy about flaunting its considerable chops.
Nanowar of Steel, "Pasadena 1994"
Gorod's athletic displays are a good lead-in for our final pick of the month, from an Italian band that sends up metal's more over-the-top tropes through the use of groan-worthy comedy. We can't really imagine sitting through a whole album of this stuff, but we also can't deny the goofy charms of a song like "Pasadena 1994." Featuring Sabaton vocalist Joakim Brodén, the track channels the might of European power metal into a undeniably catchy anthem about, yes, the 1994 World Cup final, which the band dubs "the Italian waterloo" in light of the fact that their country's team lost to Brazil that day. Scoff if you will, but just try and get that "Pasadena 1994/The last fight of the heroes sent to war" chant out of your head. Till next time!