It's shaping up to be a huge year for live metal. The amount of stacked festivals and unmissable tours is growing by the week. Baltimore's venerable Maryland Deathfest may be taking a year off — a breather before the event comes roaring back in 2024 — but in its place, the battle-vest-clad faithful can choose between new Baltimore blowout Hell in the Harbor as well as the reactivated Milwaukee Metal Fest, both taking place during Memorial Day weekend, with Decibel's Metal & Beer Fest taking over Philly a month earlier. And big names such as Carcass, Emperor, Ghost, Dying Fetus, Mastodon and Gojira (on the same bill), Morbid Angel, the quasi-reunited Pantera, all-star Death tribute Death to All, and some band called Metallica will all be criss-crossing the States throughout the spring and summer. In the meantime, the release calendar is starting to heat up, so let's run down the best of February's brand-new heaviness.
Memoriam, "Total War"
In 1989, in the opening minutes of Bolt Thrower's classic Realm of Chaos LP, Karl Willetts lamented "the ongoing battle of the eternal war." Some 34 years later, the vocalist has still got the battlefield on the brain on Rise to Power, the fifth album in six years from his current project, Memoriam. "War! Total war!" he growls on, yes, "Total War," an eventful, tempo-hopping track that shows off the potent chemistry between Willetts — whose convincingly dire delivery helped make his old band one of the most beloved in all of underground metal — and guitarist-songwriter Scott Fairfax. Willetts has said that the song was specifically inspired by the war in Ukraine, and you can hear the disgust in his voice as he shouts, "And now history repeats itself once more/In 2022, a new global war."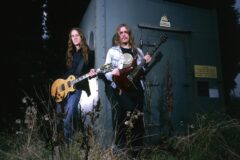 Siege of Power, "The Devil's Grasp"
Another death-metal veteran — Chris Reifert, best known as drummer-vocalist of the legendary Autopsy — is in peak form on This Is Tomorrow, the new second album from Siege of Power. The band shares a considerable amount of DNA with Dutch death-metal institution Asphyx, including that outfit's former drummer, Bob Bagchus, and current guitarist, Paul Baayens. If you're familiar with the Asphyx and Autopsy back catalogs, you won't be remotely surprised by "The Devil's Grasp," but there's something extremely satisfying about the way Reifert's patented gruff bark — accented with all manner of wordless punctuations: "ugh," "arghhhhhh!" "oooooo…" — complements the song's barreling, hardcore-style drive.
FesterDecay, "Exposing the Skin Tissue"
More inspired primitivism arrives this month from FesterDecay, a Japanese outfit that acts as a historical preservation society for a very specific early chapter in the discography of U.K. extreme-metal legends Carcass. That band has long since moved on from the so-called goregrind of its debut album, 1988's Reek of Putrefaction, but an entire subgenre still orbits its gloriously gross audiovisual aesthetic. FesterDecay check all the boxes on their debut album, Reality Rotten to the Core, pairing stomach-turning cover art that looks like an anatomy textbook illustrated by Dalí with grotesque blasts of aural vomit. "Exposing the Skin Tissue" finds the band capturing the unhinged energy of its heroes while weaving in a few insistently catchy riffs.
Heaven's Gate, "Cinder Woman"
Also keeping things nasty, brutish and short are Heaven's Gate, a new quasi-supergroup from Tampa, Fla. that unites Municipal Waste and Iron Reagan frontman Tony Foresta with guitarist Mike Goo (of a bunch of bands, including New York metallic-punk faves Warthog), bassist Jeff Howe (whose C.V. includes stints with influential screamo-adjacent acts Reversal of Man and Combatwoundedveteran) and drummer Paul Mazurkiewicz of a scrappy, up-and-coming outfit called Cannibal Corpse. The band's self-titled debut EP is a hell of a lot of fun, and the minute-long "Cinder Woman" perfectly captures the quartet's punky, stripped-down attack, seasoned with some choice Mazurkiewicz blasts. (We feel compelled to add that we're exceedingly charmed by the idea of a band featuring the drummer of the biggest death-metal act in the world gigging at a St. Petersburg VFW hall, as Heaven's Gate did earlier this month.)
Venomous Concept, "Fractured"
Let's continue with that underground-all-stars theme and shout out Venomous Concept. Does Shane Embury — the longest-tenured current member of Napalm Death, and also the bassist for Brujeria, Lock Up and a bunch of others — really need another musical outlet? On the basis of "Fractured" — a track from the band's new fifth full-length, The Good Ship Lollipop — we'd answer in the affirmative. Embury takes over lead-vocal duties here, and while we're big fans of the group's primary frontman, Brutal Truth's Kevin Sharp, we're pretty blown away by what the bassist comes up with here: a readymade post-punk anthem that pairs the bassist's moody Jaz Coleman–style melodicism with the raging riffs of current Napalm Death live member John Cooke and sturdy groove of former Cancer drummer Carl Stokes.
Curta'n Wall, "Siege Ubsessed!"
Following in Embury's ultra-prolific footsteps is Abysmal Specter, the musician behind Northern California's Grime Stone Records. He's involved in a bunch of projects, many of which deftly walk the line between righteously raw and unabashedly ridiculous. Siege Ubsessed! — the latest from his solo endeavor Curta'n Wall — fully embraces the latter zone, right down to its "1987 Ren Faire program"–caliber cover art. You really have to hear this stuff to get the full effect, but strap in for a bewildering amalgam of rickety bedroom black metal; jaunty, accordion-accented melody that brings to mind dances in a medieval town square; theatrical female vocals that you might expect to hear in an onstage adaptation of The Legend of Zelda; and a little saxophone thrown in for good measure. We don't pretend to have a clue as to what's driving Mr. Specter to create such madness, but we nevertheless raise a goblet to his lovably batshit vision.
Clouds Taste Satanic, "Sun Death Ritual"
Though Curta'n Wall and Clouds Taste Satanic sound nothing alike, there's a similar kind of insular charm to the latter outfit, a New York band that's steadfastly devoted to playing groovy, riff-forward doom metal at an epic scale. The group's lack of vocals might stands out on paper, but as you can hear on "Sun Death Ritual" — one of four tracks on their new album, Tales of Demonic Possession, all of which hover around the 20-minute mark — guitarists Steven Scavuzzo and Brian Bauhs, bassist Sean Bay and drummer Greg Acampora are so focused on their core mission of trudging endlessly onward through a psychedelic expanse that words could only spoil the mood. This album is what we imagine the desert nomads seen on the cover of Sleep's Dopesmoker reissue might be blasting in their headphones.
Sanguisugabogg, "Mortal Admonishment"
Another band with a lot invested in the art of groove is Sanguisugabogg. The Columbus, Oh., outfit caused an underground stir with their 2019 EP Pornographic Seizures and their jokey, meme-savvy online presence, only to be quickly snapped up by Sony Music's Century Media in 2021. The band hasn't modified its core sound much since ascending to the metal big leagues: As you can hear on "Mortal Admonishment," a standout track from their new second LP, Homicidal Ecstasy, they remain committed to beefy, head-nodding riffs, reveling in the Neanderthal grooves of the "slam" death-metal subgenre while spicing up the songwriting just enough to keep things interesting. Devin Swank is a powerful, resolutely guttural presence on the mic, but the VIP here is unquestionably Cody Davidson, the band's drummer and in-house producer, who invests every grody breakdown with a funky, hardcore-style bounce.
Vampire Squid, "Cosmic Seapage"
Vampire Squid, a death-metal outfit from Corona, Ca., with a penchant for aquatic-themed grotesqueries, harness a similar neck-wrecking potential on their excellent new EP, Plasmic. "Cosmic Seapage" — see what they did there? — features one of the catchiest choruses we've heard in a metal track this month, a double-kick-driven strut featuring charmingly graphic lyrics about being devoured by a swarm of tenatacled beasts: "Sucked up like an anemone/Open wounds that can never heal," blurts vocalist-guitarist Andrew Virrueta. "Squeeze out into a jelly/Degraded to a lesser meal." That's gotta hurt!
Tentacult, "Litany of Relict Caverns"
In the mood for more tentacle action? Tentacult have you covered on their full-length debut, Lacerating Pattern. Like many of their young death-metal contemporaries, the Sacramento band harks back to the genre's early-'90s glory days with inspired results. "Litany of Relict Caverns," from their debut LP, Lacerating Pattern (surely the year's coolest title so far), capably combines the dismal doominess of classic Finnish bands like Abhorrence with a twisted dark-sci-fi atmosphere that might put you in mind of Florida visionaries Nocturnus. If you're a fan of the early work of heavy hitters like Tomb Mold and Blood Incantation — and, really, who isn't? — we strongly urge you to spend 10-plus minutes immersing yourself in the occult-prog vibes on offer here. Definitely a band to watch.
Lamb of God and Kreator, "State of Unrest"
Having spent a lot of this month's column in the shadowy realms of the underground, let's take a moment to check out what some of metal's marquee names are up to. Off the top of our heads, we can't think of another collaboration quite like "State of Unrest," a stand-alone team-up between Lamb of God and Kreator, unveiled in advance of their in-progress European tour. It's a solid, anthemic track featuring those bands' beloved respective vocalists, Randy Blythe and Mille Petrozza, trading off lines about humanity's technology-induced malaise. The inevitable sight of the two bands joining forces to perform it on the tour is enticing, and another compelling aspect of "State of Unrest" comes via its backstory: The track was originally supposed to feature lead vocals from Riley Gale, the late frontman of Power Trip, billmates on the original version of this tour, slated for spring 2020 and postponed due to COVID-19. All proceeds from the song will go to Dallas Hope Charities, a charity assisting homeless LGBTQ youth that Gale worked with. We've gotta say: This idea of a tour-themed collaborative single is super cool, and we'd love to see more co-billed bands trying something like this.
In Flames, "The Great Deceiver"
Maybe the month's most high-profile metal release is Foregone, the latest from Swedish melodic-death-metal heavyweights In Flames. Their Gothenburg peers At the Gates tend to get more underground props, but In Flames still commands a pretty massive audience, and it's easy to hear why on "The Great Deceiver." The band's mixture of triumphant, hooky riffs and caustic vocals is huge-sounding and fist-pumping fun, clearly benefiting from the pop-minded savvy of co-writer and producer Howard Benson, who has worked with big names like Kelly Clarkson and Bon Jovi and here helms his third straight In Flames LP.
Big Brave, "Carvers, Farriers and Knaves"
"Carvers, Farriers and Knaves," taken from nature morte, the new album by Montreal's Big Brave, is as exploratory as "The Great Deceiver" is straightforward. Unfolding across seven gripping minutes, the track combines pummeling art doom with the alternately wailing and shrieking delivery of vocalist Robin Wattie. The trio's sound is crushing yet admirably outside the box, and we'd highly recommend this one to fans of similarly uncategorizable outfits from Swans to Sumac.
Menstrual Vampires, "Bestial Encounter"
If you're looking for something a little more crude — OK, a lot more crude! — have a listen to "Bestial Encounter," a track from the new self-titled debut EP by the absurdly named duo Menstrual Vampires. This one is a mighty-strange blend of the primitive blurt of way-underground death metal (burping-frog vocals, percussion that sounds like it's emanating from an 8-bit drum machine, though honestly we're not sure what's going on there…) with riffs that are way more coherent and memorable than the ones you usually hear associated with this style. The involvement of one Scott Conner — better known as the man behind renowned one-man black-metal project turned depressive folk act Xasthur — only makes the whole thing seem that much more out of left field. We're curious to see where this project goes!
Nucleus, "Inculcate"
Azath, "In Reptilian Pathways"
And rounding things out this month, we have a good-old split seven-inch: a partnership between Chicago's Nucleus and the apparently Seattle-based Azath (though we're honestly not sure where the latter band is from, as Encyclopedia Metallum says they're split between California and Canada), featuring charmingly campy cover art adorned by a murderous lizard man, and, more importantly, two savage death-metal tracks. Nucleus keep you guessing by juxtaposing head-down midtempo churn with chaotic speed bursts and sneaky technicality, while Azath dive straight into blastbeat-driven aggression that never lets up. Both tracks bode well for whatever's next from each of these groups.