Since bursting onto the charts with "Just Can't Get Enough" in 1981 at the height of new wave, Depeche Mode has proven to be one of the U.K.'s most enduring bands while taking synth pop to dark and dramatic new places. Though it incorporated guitars into hits like "Personal Jesus" and "I Feel You," Depeche Mode has held true to the transcendent emotional power of synthesizers and drum machines, keeping equal footing in dance music and alternative rock in a way few, if any, other bands have. Despite numerous lineup changes, Depeche Mode has remained creatively resilient in the 21st century while still headlining stadiums and arenas.
Indeed, while Depeche Mode has been together for more than four decades, the last few years have been particularly eventful for the pioneering British electronic band. Vince Clarke, Andy Fletcher, Dave Gahan, Martin Gore, and Alan Wilder were inducted into the Rock and Roll Hall of Fame in 2020, though Fletcher sadly passed away in 2022. The band's 1987 hit "Never Let Me Down Again" experienced a recent resurgence after appearing in the HBO series The Last of Us. This week, Gahan and Gore released Memento Mori, Depeche Mode's first album since Fletcher's death, and will kick off a U.S. tour in Sacramento.
With Depeche Mode's 15th album out on March 24, we've ranked its entire catalog, from Speak & Spell to Memento Mori.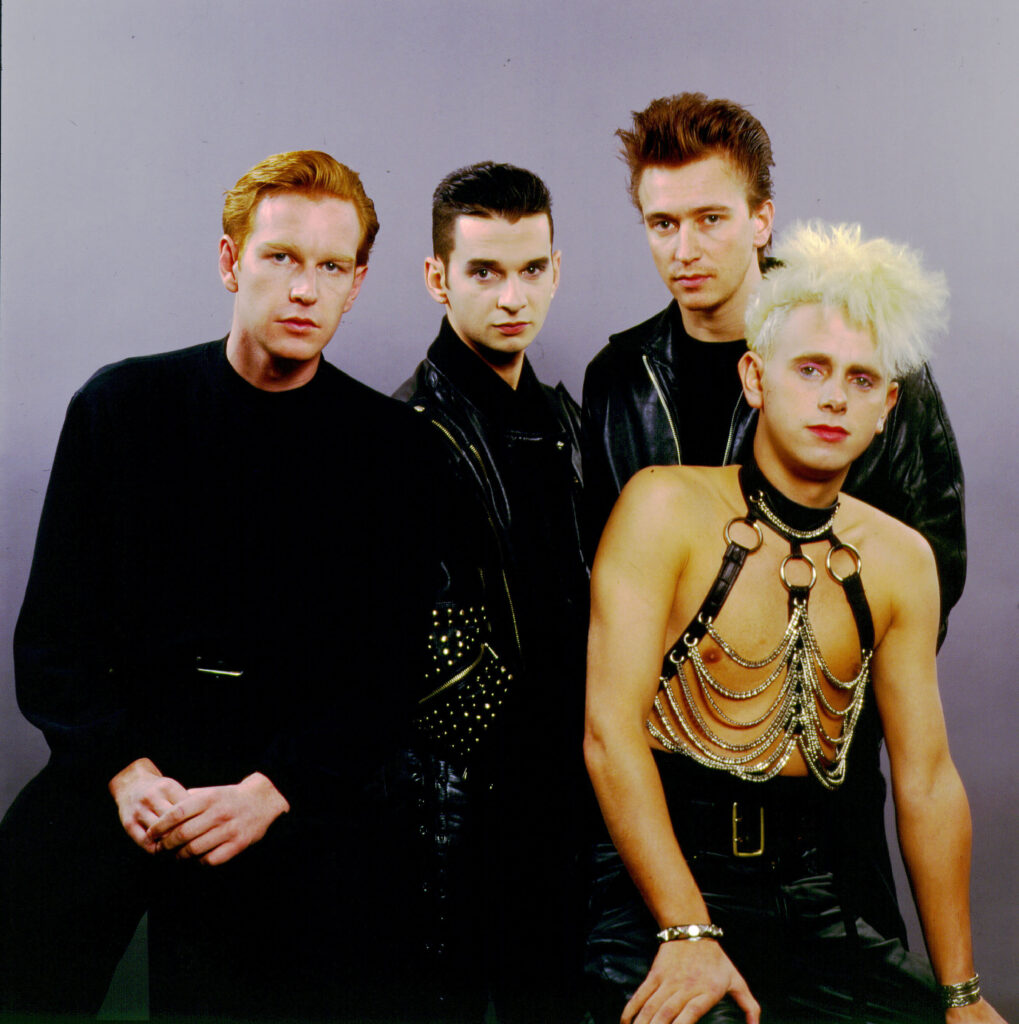 15. Exciter (2001)
The first Depeche Mode album of the new millennium felt quieter and more restrained, despite what a title like Exciter may imply. The album's muted sonic palette reflects the influence of the kind of minimal techno that was in vogue in the early 2000s, marking a left turn from the band's more bombastic '90s records. "The Dead of the Night" still packs a nice wallop, but the scaled-down Depeche Mode heard on "Dream On" and "The Sweetest Condition" can feel a little listless and dull compared to the high drama of the band's best work. "Exciter is basically a vehicle for Martin Gore's increasingly formulaic songs, featuring Behind the Music poster-boy Dave Gahan's robust but inexpressive vocals backed with sort of Depeche Mode-influenced electronics abetted by Bjork producer Mark Bell," wrote Douglas Wolk in Spin's pan of the album.
14. Speak & Spell (1981)
Speak & Spell is one of those debuts that feels awkwardly removed from every other album in the artist's catalog. That's because it's the only Depeche Mode album written primarily by co-founder Vince Clarke, whose sugary synth-pop confections are far more cheerful than anything they'd make once Martin Gore became the band's creative leader. As goofy as it is, "Just Can't Get Enough" remains one of the band's most irresistible singles, but the album's only other keeper is the long-running live staple "Photographic." Even the song named "I Sometimes Wish I Was Dead" sounds more chipper than anything the band would release after 1982. If this was its only album, Depeche Mode would probably be remembered as a poor man's Human League. Ultimately, Clarke's exit from the group was a win/win: Depeche Mode became the moody beast we know and love today, and Clarke was free to explore his brighter sensibility on better albums with his subsequent groups Erasure and Yaz. "Most of this tuneful pap crosses Meco (without the humble functionalism), Gary Numan (without the devotion to surface) and Kraftwerk (without the humor)," wrote Robert Christgau in the Village Voice review.
13. Delta Machine (2013)
Mark "Flood" Ellis, who had a hand in some of Depeche Mode's biggest hits as the co-producer of Violator and Songs of Faith and Devotion, reunited with the band two decades later to mix Delta Machine. The album even features a bluesy song Gore had first written for Devotion, "Slow," and Gahan's vocals on "Angel" and "Secret to the End" retain a bit of his '90s swagger. Delta Machine is far from Depeche Mode's most memorable set of songs, but it sounds grand and expansive, and "Soothe My Soul" is one of the best instances of Gahan and Gore weaving their voices together in a song.
12. A Broken Frame (1982)
One could be forgiven for thinking in 1982 that Depeche Mode didn't have much of a future. Vince Clarke, the author of the band's signature song "Just Can't Get Enough," had left to start Yaz, whose debut album Upstairs At Eric's handily outperformed his former band's sophomore effort on the U.K. charts. While Depeche Mode's first album with Martin Gore in charge was not an immediate sensation, it offered a sturdy blueprint for future triumphs with the more brooding and introspective sounds of "See You" and "Leave In Silence." "Their increasing complexity sounds less the result of exterior persuasion than an understandable, natural development," wrote Steve Sutherland in the Melody Maker review of A Broken Frame.
11. Sounds of the Universe (2009)
After reaching a late-career high point with Playing the Angel, Depeche Mode reunited with producer Ben Hiller for Sounds of the Universe. The deep grooves of "In Sympathy" and "Hole To Feed" make it one of the group's most danceable albums since the '80s, even if the use of vintage gear sometimes make Universe sound a little too retro for its own good. "The pulsing single 'Wrong' oozes classic synth-pop angst, but with Commodore 64-style beats and laser-tag keyboards, ballads like 'Peace' are comically New Romantic, and the dour 'Spacewalker' sounds like the score to Star Trek rewritten by a deeply bummed-out robot," Melissa Maerz wrote in the Rolling Stone review.
10. Ultra (1997)
Depeche Mode came the closest it had ever gotten to breaking up in the mid-'90s, with Andy Fletcher later stating that the Devotional tour "nearly destroyed the band." Alan Wilder left, and Dave Gahan survived a suicide attempt and a near-fatal overdose. Gahan's continued heroin addiction almost derailed sessions for Ultra, which became the first Depeche Mode album not supported with a full-scale tour. In that context, Ultra is a harrowing listen even by Depeche Mode standards, particularly the lead single "Barrel of a Gun." Still, the group returned at an apt moment when electronica and industrial rock were reaching a new commercial peak, and sounded perfectly at home among a new generation of acts it had influenced. Depeche Mode toyed with retro camp in the "It's No Good" video, but managed to sidestep the kind of backlash U2 endured with the concurrent release of Pop and retain a dignified elder statesman air.
9. Memento Mori (2023)
Gahan and Gore's first album since Andy Fletcher's death is rife with references to mortality and dying, expressing grief and sometimes exploring more macabre themes. "I'll meet you by the river, or maybe on the other side, you find it hard to swallow when you watch another angel die ," Gahan sings over the album's most warm, melodic synth arpeggios on "Wagging Tongues." Later, he ominously croons, "You be the killer, I'll be the corpse" over a film noir waltz on "Don't Say You Love Me." Fittingly, Memento Mori may be Depeche Mode's most gothic and foreboding album since Black Celebration, with the notable exception of the lively and propulsive penultimate track "Never Let Me Go." It's hard to know what to make of the cryptic and repetitive "Caroline's Monkey," but the rest of Depeche Mode's first album as a duo bodes well for the band's continued existence in the 2020s.
8. Spirit (2017)
In February 2017, white supremacist activist Richard Spencer made the revolting claim that "Depeche Mode is the official band of the alt-right." The band quickly rebuked Spencer's declaration, with Dave Gahan pointedly stating, "He's a cunt." In fact, Depeche Mode was gearing up to release perhaps its most explicitly political work a month later, featuring antifascist and environmentalist anthems like "Where's the Revolution" and "Going Backwards." The band's final album with Andy Fletcher has a distinctly loose feel to it, with producer John Ford (Simian Mobile Disco, Arctic Monkeys) contributing far more live drums than had been heard before. "Somehow, the new political focus has inspired a return to riffs and melodies that stick," wrote Jim Farber in the Entertainment Weekly review.
7. Construction Time Again (1983)
With the addition of Alan Wilder in 1982, Depeche Mode's classic lineup was complete, and the band kicked off its peak period a year later with the non-LP single "Get the Balance Right!" and its third album, Construction Time Again. Here, Depeche Mode started lightly incorporating guitars into the mix, and an Einsturzende Neubauten concert inspired Martin Gore to give his new songs an edge with harsher industrial drum sounds. On "Everything Counts," the band worked out how to make singles that were as hooky as "Just Can't Get Enough" but far more somber and philosophical.
6. Songs of Faith and Devotion (1993)
At the dawn of the '90s, alternative rock was dominated by moody, atmospheric British bands like Depeche Mode, The Cure, and New Order. By 1993, the modern rock landscape had shifted towards bombastic Seattle bands like Nirvana and Pearl Jam. While "I Feel You" was hardly a grunge song, Depeche Mode picked a good time to crank up the guitars, and Songs of Faith and Devotion became the band's first and only No. 1 album in America. "We get faux doo-wop ('Condemnation'), gospel choruses ('Get Right With Me') and an orchestra with strings ('One Caress') ornamenting the usual clank-and-whir of machinery and the non-threatening angst of singer David Gahan," wrote Greg Kot in The Chicago Tribune.
5. Playing The Angel (2005)
For more than 20 years, Depeche Mode fostered a Daltrey/Townshend dynamic, with Dave Gahan singing lyrics written by Martin Gore (and Gore occasionally singing as well). But after releasing his debut solo album Paper Monsters in 2003, Gahan stepped up and began co-writing songs on Depeche Mode's later projects. The frontman penned lyrics for three songs on Playing the Angel, including the single "Suffer Well," an eloquent look back at his struggles with addiction. Playing the Angel was the first of three albums produced by Ben Hillier (Elbow, Blur), and its modern update on the classic Depeche Mode sound signaled the arrival of a late period renaissance for the band, which arguably sounds more vital in its third decade together than fellow survivors U2 and the Cure. "Depeche Mode's core fans will flip for it; it's the best thing they've released in a long while. Everyone else? It's pretty okay," wrote Nitsuh Abebe in the Pitchfork review.
4. Some Great Reward (1984)
Depeche Mode was becoming an unstoppable force by the time it made Some Great Reward, and "People Are People" and "Blasphemous Rumours" are among its most beloved songs (hilariously, the group followed the album with a VHS tape titled Some Great Videos). "Somebody" is the biggest surprise of the album, with Martin Gore stripping away all the bells and whistles to deliver a simple, beautiful piano ballad. If anything holds Some Great Reward back from being the definitive Depeche Mode album, it's "Something To Do," a clunky and lightweight opening track that sounds like it could've been on Speak & Spell.
3. Black Celebration (1986)
Black Celebration's commercial impact was muted – it was the first Depeche Mode album that failed to generate a top 10 single in the U.K., and it charted far lower in America than Some Great Reward. Songs like "Dressed In Black" and "Stripped" may have helped stereotype Depeche Mode as the gloomy soundtrack of the disaffected teenagers and goth club hipsters of the '80s, but they undoubtedly paved the way for the band to trust its darkest instincts in their subsequent blockbusters. The video for "A Question of Time" was the band's first collaboration with Dutch artist Anton Corbijn, who would become the primary architect of Depeche Mode's visual aesthetic by frequently directing its videos and designing album covers. In April 1989, a young SPIN celebrated its fourth anniversary by ranking Black Celebration at No. 15 on a list of the 25 Greatest Albums of All Time, right between George Michael's Faith and Al Green's The Belle Album.
2. Music For The Masses (1987)
The title Music For the Masses was meant as a tongue-in-cheek joke about what the band considered an uncompromising and uncommercial album. Perhaps the rising tide of alternative rock in the late '80s helped lift Depeche Mode's sixth album to new heights, or perhaps the band's dense cathedral of synthesizers and samplers was just becoming bigger, louder, and more irresistible, but the masses liked the album just fine. Songs like "Strangelove" and the pulsing, club-ready "Behind the Wheel" were turning Dave Gahan into a sex symbol. The band's growing popularity in America and particularly Southern California, thanks to heavy airplay on KROQ, reached a tipping point when it headlined the Rose Bowl at the end of the Music For the Masses Tour in 1988.
1. Violator (1990)
Flood first found success in the mid-'80s producing the first two albums by Erasure, one of Vince Clarke's post-Depeche Mode projects. With the British producer/mixing engineer's profile steadily rising thanks to work with U2 and Nine Inch Nails, he was drafted by Depeche Mode to co-produce what would become the band's biggest and best album. This time around, Martin Gore decided to be less thorough with pre-production, leaving more space for the rest of the band to bring his demos to life in the studio. The most famous benefit of this approach was Alan Wilder's suggestion to turn the ballad-leaning demo of "Enjoy the Silence" into the uptempo banger that would become a worldwide hit. The iconic bluesy guitar riff on "Personal Jesus," meanwhile, added a whole new dimension to the band's sound on Violator that would help cement its unlikely rise to rock stardom.