Kelvin "Posdnous" Mercer, Dave "Trugoy the Dove" Jolicoeur, and Vincent "Maseo" Mason formed De La Soul as Long Island teenagers in 1988. With the release of their landmark debut 3 Feet High and Rising a year later, De La Soul became the face of a progressive new movement in hip-hop, spearheading the Afrocentric and socially conscious Native Tongues collective alongside A Tribe Called Quest and the Jungle Brothers.
Due to label red tape and the complicated and expensive business of sample clearance, the majority of De La Soul's albums, which constitute one of the most indispensable catalogs in hip-hop history, has been unavailable for streaming or purchase throughout the modern digital era. Earlier this year, however, the group announced that its first six albums — everything from 3 Feet High to 2001's AOI: Bionix — will hit streaming services for the first time on March 3.
Sadly, Trugoy died on Feb. 12 at the age of 54, just as the group was on the verge of a long-awaited celebration of his life's work. In anticipation of De La Soul's discography reaching a new generation, here's a guide to the ups and downs of the group's sonic journey over the past three decades.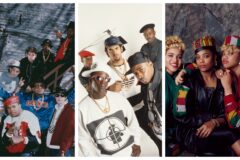 After a decade of ups and downs during which it gradually drifted further from the center of mainstream hip-hop, De La Soul mounted a comeback in 2000, announcing a trilogy of new albums. The first installment in the Art Official Intelligence series gave De La its top Billboard 200 showing ever when it debuted at No. 9 with more than 80,000 first-week copies sold, thanks in part to heavy MTV airplay for lead single "Oooh" featuring Redman. With an emphasis on trunk-rattling bass, Mosaic Thump is an accessible and star-studded album with appearances by Xzibit, Chaka Khan, Busta Rhymes, and Beastie Boys. Unfortunately, for once the group sounds like it is reluctantly playing catchup with the changing sound of rap instead of standing firm on its own territory. De La Soul never made a bad album, but Mosaic Thump could use more tracks like "The Art of Getting Jumped" that capture its inventive spirit and mischievous sense of humor. "So many guests make it difficult for their flavour to shine," James Poletti wrote in the Yahoo! Music review of the album.
Buy Art Official Intelligence on Amazon 
First Serve isn't quite a proper De La Soul album, with Posdnous and Trugoy teaming up with two French producers, DJ Chokolate and DJ Khalid Music. Even without Maseo's presence, the album (released on the storied New York rap label Duck Down) continues in the De La Soul tradition of sample-heavy beats and clever rhymes skewering the rap game. Rhyming in character as members of a fictional group called First Serve, Pos and Dave detail the trials and tribulations of rap stardom throughout the album, with a withering eye at the way the music industry chews up rappers and spits them out.
The second Art Official Intelligence album found De La Soul closer to its comfort zone, with a guest list full of peers like Slick Rick, B-Real, Devin the Dude, and Cee-Lo Green. Sadly, the group's longtime label Tommy Boy Records started to hit the skids shortly after the release of Bionix, limiting promotional efforts and cutting the AOI trilogy short after two installments. The only single "Baby Phat," a funky and progressive celebration of women's curves, was the group's last hip-hop radio hit. "Anyone who ever wondered what hip-hop might sound like when it grew up now has an answer," Robert Christgau wrote in the Village Voice review.
There was a strange period in the late 2000s when sneaker giant Nike's marketing strategy included a boutique music label, the Nike+ Original Run series, which released acclaimed projects like LCD Soundsystem's 45:33 that were intended as a runner's iPod soundtrack. On the 20th anniversary of 3 Feet High and Rising, Nike+ Sport Music teamed with De La Soul for a mixtape produced by the Chicago DJ duo Flosstradamus. The collection, which features 10 new songs that run together as a continuous groove, goes above and beyond for a freebie made possible by a corporate sponsor, with De La's lyrics at their most motivational and the production on a bright, synth-heavy tip. The project wound up about in digital limbo like much of the group's catalog – once an iTunes exclusive, Are You In? isn't even available on Apple Music today. "As a series of joints primed to either pump you up or cool you down, it does its job more than well enough," Andrew Martin wrote in the PopMatters review.
De La Soul's kitchen-sink approach to sampling has always made it one of the most omnivorous and sonically diverse rap groups. And the Anonymous Nobody… is truly all over the map like no other De La Soul album before it, however, with David Byrne, Usher, Damon Albarn, Justin Hawkins, Little Dragon, and 2 Chainz joining the group over live band grooves and string arrangements. Luckily, the spacey, melodic stretches of the album dominated by guest singers don't diminish the hip-hop at its core. If the last album released in Trugoy's lifetime is indeed De La Soul's swan song, it's a suitably ambitious and unique effort to end the group's run. "An eclectic genre mashup with an enviable roster of guests, And the Anonymous Nobody… bristles with creative rebirth and more than a touch of hard earned, 'we're back' braggadocio," Ryan Bray wrote in the AV Club review.
Buy And the Anonymous Nobody… on Amazon
Resurfacing three years after the sudden end of the Art Official Intelligence series and the group's long relationship with Tommy Boy, De La Soul returned with its greatest late period album on the indie Sanctuary Records. The classicist boom bap on The Grind Date sounds revitalized by the rising tide of kindred spirits like J Dilla, Madlib, MF Doom, 9th Wonder, Ghostface Killah, and Common. "The Grind Date brings together an unimaginable team of the underground's hottest producers and meshes their idiosyncrasies without dissidence," Jamin Warren wrote in the Pitchfork review. De La Soul may have seemed very distant from the mainstream on The Grind Date, but one of its biggest crossover moments followed a year later. In 2005, the group guested on the Gorillaz single "Feel Good Inc." garnering both its first Grammy and top 20 hit on the Hot 100.
Buhloone Mindstate was the last of the three career-launching De La Soul albums that were fully produced by Paul "Prince Paul" Huston, the Stetsasonic DJ who went to Amityville Memorial High School with Pos, Trugoy, and Maseo. It's also the group's jazziest, most exploratory album, featuring collaborations with James Brown sidemen Maceo Parker and Fred Wesley as well as Japanese hip-hop group SDP. Pulling back from the dialogue-heavy skits that dominated De La's first two albums allows Buhloone Mindstate to hang together as a rambling road trip, more introspective than the music industry critiques that would shape later albums. "Buhloone is more economical – its beats are simple, but the tracks are alive with intricate layering and small touches that make them undeniably catchy," wrote James Bernard in the Entertainment Weekly review.
Buy Buhloone Mindstate on Amazon
In retrospect, 1996 feels like a turning point when hip-hop was growing rapidly as a commercial force but also splintering into deeply divided camps. De La Soul's fourth album, the Roots' "What We Do" video, and DJ Shadow's "Why Hip Hop Sucks in '96" all mark key moments of that year, when voices within hip-hop sharply criticized the ascent of the genre's flashier, more materialistic side. Stakes Is High, then, is remembered as De La Soul's crankiest album, the one where the trio started to repeatedly take aim at "champagne-sippin' money fakers." The more somber, mature posture felt right as De La shifted into a new role as elder statesmen, though. Recorded without Prince Paul behind the boards for the first time, Stakes Is High contains the most self-produced tracks of any De La Soul album, a confident showcase for Maseo's skill at chopping samples. The single "Itzsoweezee (HOT)" also stands as Trugoy's best solo showcase in the group's catalog.
De La Soul's debut stands alongside It Takes a Nation of Millions to Hold Us Back by Public Enemy and Paul's Boutique by Beastie Boys as the albums that completely redefined the possibilities of sampling in hip-hop in the late '80s. Where early hip-hop DJs would find a hot breakbeat and let it ride out, De La Soul and its contemporaries would layer and juxtapose dozens of samples, channel-surfing from one sound to the next at a dizzying pace. De La Soul and producer Prince Paul's ear for pop gems by Steely Dan, the Turtles, and Hall & Oates matched the laid back D.A.I.S.Y. Age peacenik attitude of Posdnous and Trugoy's lyrics. Irresistible singles like "Me, Myself & I" and the Native Tongues posse cut "Buddy" eventually made 3 Feet High the group's only platinum album. "The uncanny sonic collages are as catchy as they are clever, and the mellow, bass-heavy grooves are tailor-made for blissful hip-shaking," Michael Azerrad wrote in the Rolling Stone review.
Buy 3 Feet High and Rising on Amazon
Countless successful artists have hit a breaking point where they decide to blow up the image that the public knows and love, mock themselves, and pivot to a new sound and attitude. De La Soul got there a little faster than most, immediately tearing down its 3 Feet High and Rising hippie image on the follow-up album two years later, with wilted daisies in a shattered pot on the cover of De La Soul Is Dead representing the end of the D.A.I.S.Y. Age. Kanye West didn't sound this disillusioned with rap stardom until at least his fifth album. Even the catchy single "Ring Ring Ring (Ha Ha Hey)" is a salty lament about aspiring rappers that wanted De La to listen to their demos. From the hilarious skits, carrying multiple storylines about a fictional radio station and unimpressed teens listening to the album, to outrageously original songs like "Bitties in the BK Lounge" and "A Roller Skating Jam Named 'Saturdays,'" however, De La Soul Is Dead is too playful and entertaining to get bogged down by the group's move away from sunny optimism. The darker subject matter on "Millie Pulled a Pistol on Santa" and "My Brother's a Basehead" proved once and for all that De La's members weren't lightweights and could stand among hip-hop's most fearless songwriters. "De La has successfully escaped the sophomore jinx with grooves that are harder than a brick wall," ATCO wrote in The Source's 5 mic review of De La Soul Is Dead.
Buy De La Soul Is Dead on Amazon
If you purchase an independently reviewed product or service through a link on our website, SPIN may receive an affiliate commission.