Trugoy the Dove, a founding member of legendary hip-hop trio De La Soul, has passed away, according to multiple media reports. The artist, who was born Dave Jolicoeur, was 54. A cause of death has not been disclosed, although Jolicoeur had battled congestive heart failure for some time and in 2020 was briefly hospitalized for the condition.
Jolicoeur was born in Brooklyn and raised in Long Island, where he met his future collaborators Posdnuos and Maseo in high school during the 1980s. They officially formed De La Soul in 1988, releasing their highly influential debut album 3 Feet High and Rising the following year.
De La Soul recently announced that their catalog will finally be available on streaming services as of March 3, following the resolution of decades-long negotiations regarding contracts and sample clearances. After the trio's first six albums were acquired by Reservoir Media (as part of a deal with De La Soul's longtime label Tommy Boy Records), the move was made possible. Leading up to the full catalog release, the single "The Magic Number" hit streaming sites on Jan. 13.
De La Soul members Posdnuos and Maseo most recently appeared at the 65th Grammy Awards telecast on Feb. 5 as part of a 50th anniversary tribute to hip-hop, though Trugoy was not present. In recent years, members of the trio have appeared on several Gorillaz albums and performed live with the group.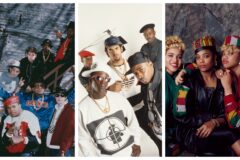 De La Soul is scheduled to embark on an international tour this spring, though there's been no announcement yet if it will continue as planned. Read tributes to Trugoy below.
#RestInBeats my Bro #Dave #Trugoy #DeLaSoul forever ⁦@hiphopgods⁩ pic.twitter.com/bS5thhyOA1

— Chuck D (@MrChuckD) February 12, 2023
We lost another legend of hip hop music and culture in my brother Trugoy aka Dave of De La Soul. His music will allow him to live in our hearts and minds as he is gone. But not only was he a great musician but he was a great human being. He meant allow to us 🙏🏼 pic.twitter.com/OgFLCuzrJZ

— B Real ™ (@B_Real) February 12, 2023
Trugoy Dave from De La Soul has gone up ⬆️ to be with the day of the stars with the Master.
Sending love, light and positive vibrations to his family, The Soul and everyone whose lives have been touched by his existence.
Oodles and Oodles and Oodles of O's ✨🔥💛🎢🙌🏾🍯❤️‍🩹🙏🏾

— Pharrell Williams (@Pharrell) February 13, 2023
You have no idea how much pain in this last year . Dave love you bro ❤️ a blessing we got a chance to unite again .Divine power . Literally no words anymore 😪. De la soul forever 🙏🏽

— DJ Prince Paul (@DJPrincePaul) February 12, 2023