The Grammy Awards may be an industry-wide celebration of "music's biggest night" during which dozens of trophies are handed out in every major genre and usually one artist emerges as the primary protagonist: think Jon Batiste last year or Billie Eilish in 2020. However, the 65th Grammys there wasn't one clear-cut winner. Beyoncé's four wins brought her to a career total of 32 Grammys, making her the most-awarded musician in Recording Academy history. But she didn't perform last night, and was shut out of the Big Four all-genre categories. And her expected rival, Adele, took home one award.
Perhaps it was appropriate that a lack of consensus allowed the Grammys to, for once, celebrate the recording profession as a collective. The best performance of the night, a joyous, Questlove-steered segment dubbed 50 Years of Hip-Hop, featured dozens of artists. Bonnie Raitt, in a Song of the Year upset for "Just Like That," was more shocked to win on Sunday than she was when her commercial breakthrough album, Nick of Time, swept the Grammys in 1990. Harry Styles, who won album of the year in a competitive race over Beyoncé, Adele, Bad Bunny, and Kendrick Lamar, emphasized his respect for his peers in his acceptance speech: "I think on nights like tonight, it's obviously so important for us to remember that there is no such thing as 'best' in music."
Even without a definitive winner at the end of the night holding half a dozen gramophone statuettes, however, the 2023 Grammys felt like a sign of the times. Beyoncé transitioned from teenage stardom to A-list solo success decades ago. This year, it was Harry Styles's turn to make that ascent, become the first boy band alumnus to win Album of the Year since Michael Jackson, something that Justin Timberlake, George Michael, and others never reached. But there were many other subplots throughout Sunday's telecast.
The Broadcast
Grammy producers Raj Kapoor and Ben Winston tried out a few new things in this year's telecast, and their best idea was for many of the performers to be introduced by people who know them best. Brandi Carlile was introduced by her wife Catherine and their two daughters, Harry Styles was introduced by his producer Kid Harpoon, and Luke Combs was introduced by Justin Davis, a North Carolina tavern owner who employed Combs as a bouncer before he ascended to country stardom. It was touching and humanizing to see friends and loved ones from the stars' day-to-day lives speak about them with pride and affection.
Another less charming new idea was a series of pre-taped segments where music lovers held a roundtable discussion about the album of the year category, with each nominee the subject of a passionate argument from a fan about why they should win. These long, rambling segments wound up taking up far too much of the broadcast, feeling less welcome each time they returned. At the end of the night, host Trevor Noah brought the same fans up onstage to help him announce Album of the Year, an awkward and forced attempt at trying to make the listening public feel like part of the celebration.
In a refreshing move that made the Grammys feel more Golden Globes casual than Oscars formal, most of the guests of honor were seated together at tables on the floor of Crypto.com Arena instead of in stadium seating, Throughout the night, Noah was able to walk between tables and have spontaneous moments with stars, delivering his patter even while Future strolled past to find his seat.
First Timers
New York singer Samara Joy won Best New Artist over Latto, Wet Leg, and Maneskin among others. She also won Best Jazz Vocal Album. Joy is the first jazz musician to be named Best New Artist since 2011 when Esperanza Spalding won in an upset over Justin Bieber and Drake.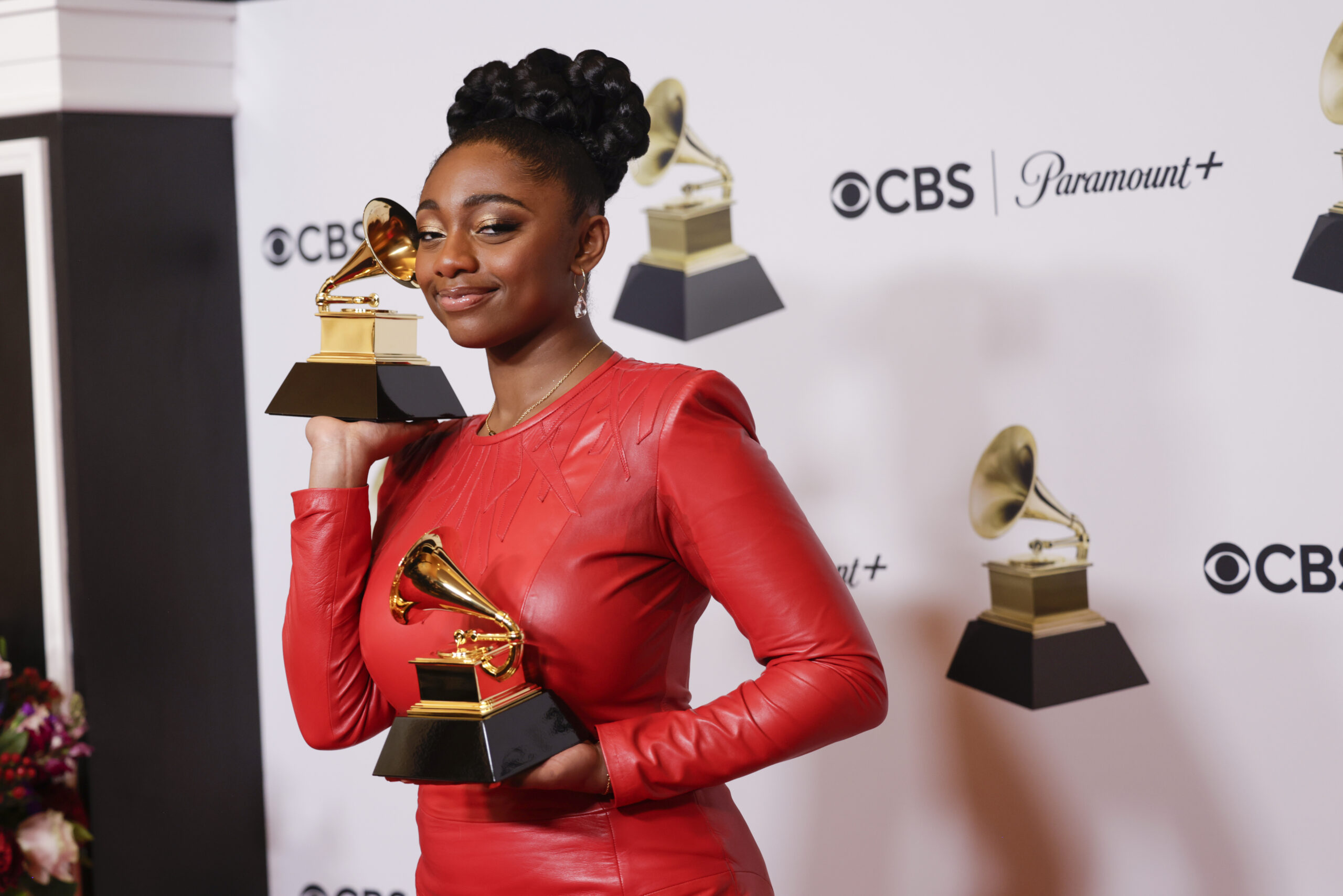 Without an overnight sensation dominating the awards like Olivia Rodrigo last year, the artists who won their first Grammys signaled a subtle changing of the guard. Steve Lacy and Muni Long represented the new sound of R&B with breakthrough hits boosted by TikTok. Kim Petras's first win was historic for trans artists as well as the subversive hyperpop genre. Wet Leg bested veterans like Arcade Fire and the Yeah Yeah Yeahs for a pair of wins in the alternative categories.
Edgar Winter, who won best contemporary blues album, waited the longest for his first Grammy, exactly 50 years after his last nomination. Actress Viola Davis, who presented the best R&B song award to Beyonce, won a Grammy for best audiobook, narration and storytelling recording, bringing her to full EGOT status following earlier Emmy, Oscar, and Tony victories.
Snubs
Mary J. Blige and DJ Khaled were the only artists with six or more nominations who hadn't won any awards by the end of the night. Other artists with multiple nominations in major categories that came up empty this year included Coldplay, ABBA, Jay-Z, and Doja Cat. Turnstile also won none of the three awards for which it was nominated. Even Billy Crystal, introducing a performance by Stevie Wonder in tribute to MusiCares Persons of the Year Smokey Robinson and Berry Gordy, lamented that he'd lost the third Grammy nomination of his career earlier in the night.
Controversies
Sunday's ceremony was relatively light on scandal, although Madonna introduced the Sam Smith and Kim Petras performance with an arched eyebrow, asking, "Are you ready for a little controversy?" Smith wore a hat with devil horns, surrounded by flames, chains, and whips, no doubt eager to provoke a backlash from conservative media, at a time when trans issues and genderfluidity are a flashpoint of debate and legislation. After the song concluded, Noah playfully pantomimed a phone call with his mother, trying to calm her down about the performance's satanic undertones.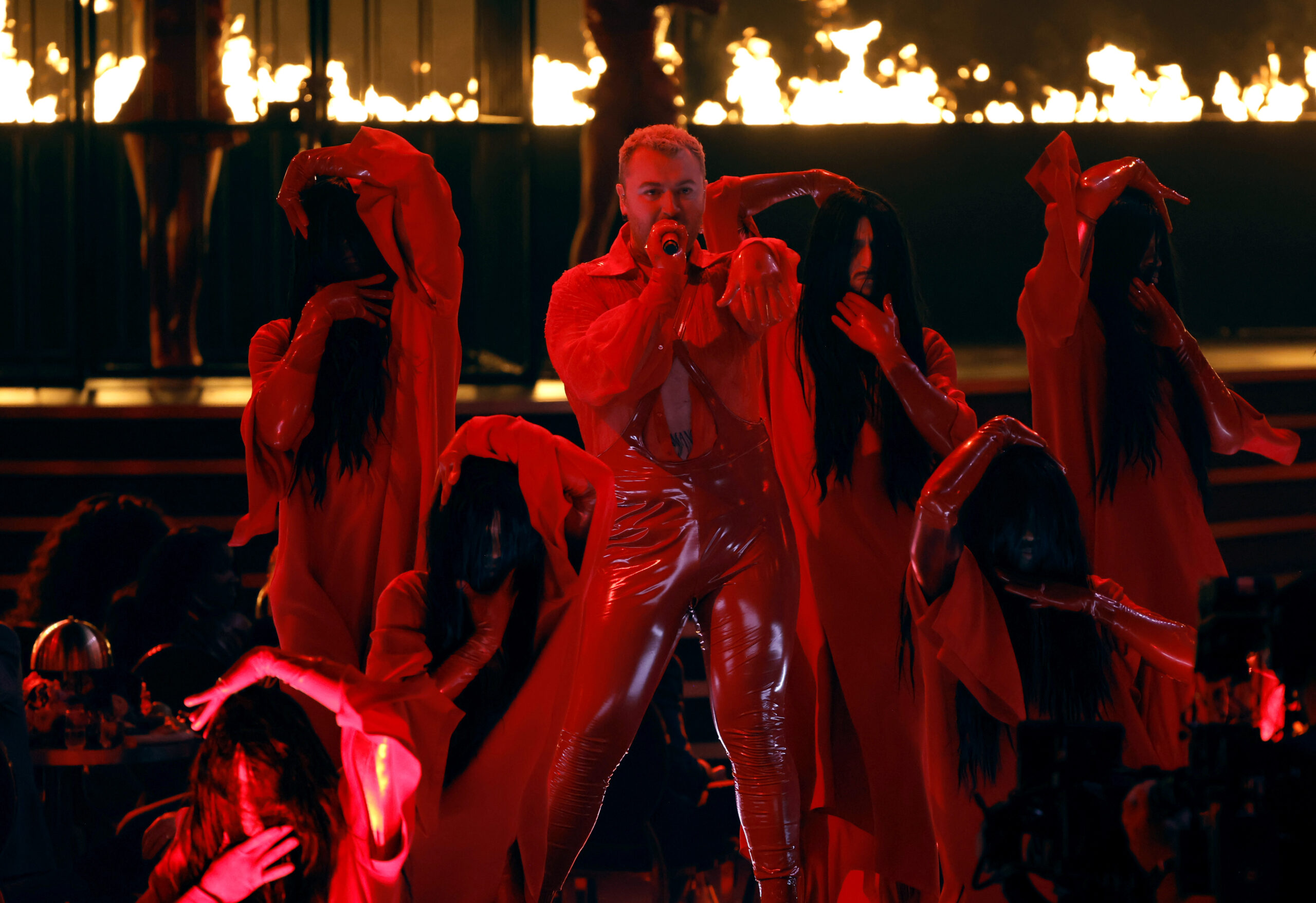 Dave Chappelle won Best Comedy Album for The Closer, an album and Netflix special that drew criticism for transphobic jokes. Netflix employees staged a walkout protest in October 2021 in response to its release. Robert Glasper won his fifth Grammy when Black Radio III took home best R&B album over releases from Chris Brown, Lucky Daye, and others. Brown, who has only won one Grammy out of 20 nominations over the course of his career, posted "Who the fuck is Robert Glasper" on his Instagram account on Sunday night before deleting it amid social media backlash.
The Speeches
Of the four awards Beyoncé won, she was only physically present to accept one, Best Dance/Electronic Album, and it was the moment when she broke the record for most Grammys. It was Beyoncé's first Grammy in a dance category, which felt like part of an effort throughout her career to break out of being pigeonholed as merely an R&B artist. In 2017, "Don't Hurt Yourself" was nominated for a rock award, and she submitted "Daddy Lessons" for country categories. "I'm trying not to get too emotional, I'm trying to just receive this night," Beyoncé said. She thanked God, her Uncle Johnny, famously name-checked on the song, "Heated," and "the queer community, for inventing the genre." One dance artist seemed nonplussed, however, with onetime Beyoncé collaborator Diplo appearing to mouth the words "they bought that" after losing the award to her.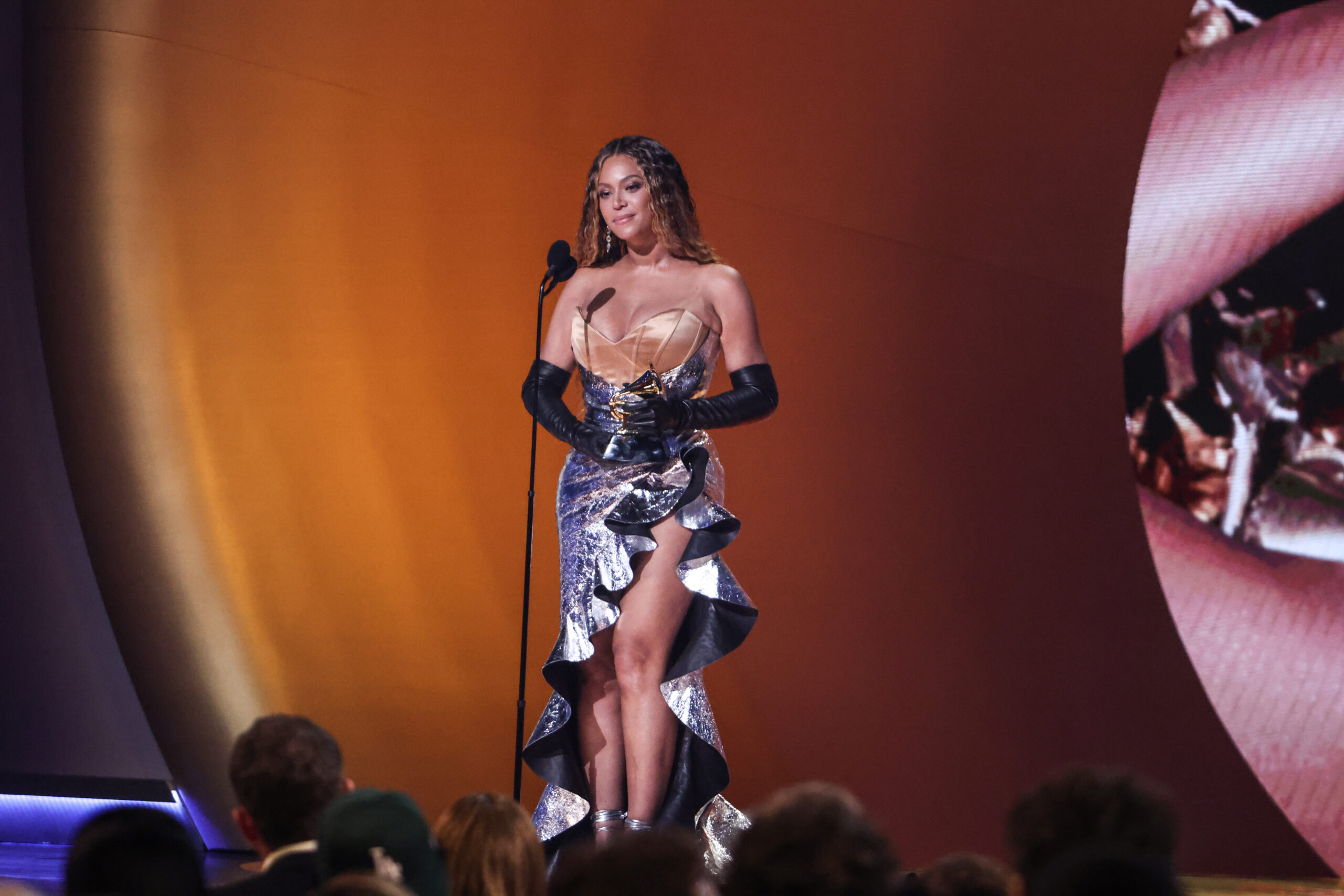 Kendrick Lamar was initially in a playful mood when he accepted the award for Best Rap Album, chuckling, "Grammys, y'all done got cute as hell with these tables." Then, he delivered some thoughtful words about the hotly debated lyrics on Mr. Morale & The Big Steppers. "As artists, we're all entertainers. We say things to provoke thoughts and feelings and emotions," he said. "I would like to thank the culture for allowing me to evolve. I finally found imperfection with this album."
Lizzo seemed genuinely caught off guard after winning record of the year, initially saying simply "Um…huh?" She quickly collected herself, dedicating the award to Prince, whose death inspired her to focus on making "positive music." In a bit of a reenactment of Adele's 2017 acceptance speech, Lizzo directly addressed Beyonce from the podium and thanked her for being an inspiration and "the artist of our lives." By the time Lizzo left the stage, she had whipped the audience into a frenzy with more energy than her actual performance of "About Damn Time" and "Special." A moment later, Noah remarked, "They should give out a Grammy for the best speech as well. Wow, that was amazing!"
The Performances
Sunday's broadcast started off with two of its best live performances. Bad Bunny kicked off the night with a festive live band performance that gave his hit "Despues de la Playa" a brassy makeover, and immediately had many of the celebrities in attendance dancing in the aisles. Brandi Carlile gave an explosive performance of "Broken Horses," which won both Best Rock Song and Best Rock Performance hours earlier during the pre-broadcast ceremony.
By far and away the highlight of the night, and one of the best all-star performances in Grammy history, was 50 Years of Hip-Hop. Questlove and the Roots curated and backed an incredible lineup of dozens of rappers, DJs, and groups from across the genre's history. The roughly chronological medley began with Grandmaster Flash and Run-DMC taking hip-hop through the decades and through countless new styles and regional variations and ended in the present day with Lil Baby, GloRilla, and Lil Uzi Vert. Each artist got less than a minute to run through one of their signature songs, but the breathlessly paced spectacle was put together beautifully. From Public Enemy's Chuck D. and Flavor Flav tearing into "Rebel Without a Pause" to Busta Rhymes rapping "Put Your Hands Where My Eyes Can See," the medley overflowed with iconic moments that at least gestured effectively at just how rich and diverse hip-hop has become in the past half-century.
The night ended with another lengthy rap performance, with DJ Khaled, Jay-Z, Rick Ross, Lil Wayne, John Legend, and Fridayy uniting for their eight-minute song "God Did." The self-aggrandizing performance, with the stars seated at a table in a Last Supper-style arrangement outside the Crypto.com Arena, culminated in a famously endless Jay-Z verse and some triumphant Khaled ad-libs. Unfortunately, it felt a little dour and anticlimactic in comparison to the far more energetic celebration of hip-hop that had aired an hour earlier. LL Cool J, Questlove, and over 20 other artists did it for the culture and captured the night's spirit of community. But DJ Khaled, as usual, seemed too eager to make it all about himself.