Drummer Alan White, who spent 50 years behind the kit for UK progressive rock icons Yes and also appeared on legendary post-Beatles recordings with John Lennon and George Harrison, died today (May 26) at the age of 72 in his Seattle-area home after a brief illness.
White had been planning to join Yes on an upcoming British tour, but the group announced last weekend that he would miss the shows "due to current health issues" and would be replaced by his friend Jay Schellen.
White joined Yes in 1972 and remained in the band ever since. Beforehand, he played on both "Imagine" and "Instant Karma" with Lennon and the Plastic Ono Band, and also contributed to Harrison's 1970 solo debut All Things Must Pass.
"Throughout his life and six-decade career, Alan was many things to many people: a certified rock star to fans around the world, bandmate to a select few and gentleman and friend to all who met him," White's family wrote on Facebook.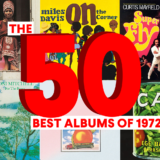 White started playing drums as a pre-teen and was a frequent presence on the stages of London clubs in short order. Recruited by Lennon to play at a 1969 Toronto concert, White suddenly found himself on stage with Eric Clapton and Yoko Ono. Lennon was impressed enough by White's performance that he asked him to play on the Imagine album, including its title track. This experience led Harrison to seek out white to perform on All Things Must Pass.
When Yes drummer Bill Bruford exited the group in 1972, White was poached from Joe Cocker's band after a recommendation by Yes bassist Chris Squire and vocalist Jon Anderson. He officially joined Yes on July 27, 1972, and three days later made his concert debut in front of 15,000 people in Dallas.
White can be heard on such classic Yes prog albums as Tales From Topographic Oceans and Going for the One, and remained in the group through its surprising 1980s turn toward commercial rock on 90125, which spawned the hit singles "Owner of a Lonely Heart" and "Leave It."
Following Squire's death in 2015, White became the longest continually serving member of Yes. He was inducted into the Rock and Roll Hall of Fame with the group in 2017 and last performed live with them in July 2019, although he appears on the 2021 album The Quest.