The Ye / XXXTentacion song "True Love" is the lead track on the rapper formerly known as Kanye West's recent album Donda 2, but unless you purchased a Stem Player or scoured the Internet for a bootleg, odds are that you haven't heard it.
The track is now getting a proper release at midnight ET Friday (May 27) via Columbia Records in conjunction with the Hulu documentary Look at Me: XXXTentacion and will also appear on XXXTentacion's Look at Me: The Album, a release date for which has not been announced.
The cover art for the track was designed by Ye and sports handwritten notes from XXXTentacion ("am I supposed to pretend to be heartless?," "love love love" and "a feeling you just can't explain") from a journal recently discovered by his mother. The controversial rapper was murdered in 2018 in Florida and has since been the subject of several posthumous releases.
It's unknown whether the impending widespread arrival of "True Love" will lead to a more conventional release for Donda 2, which came out exclusively through the Stem Player in February and was as such ruled ineligible for the Billboard charts. It is currently not available on any streaming platforms.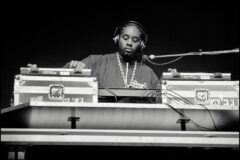 XXXTentacion was a longtime, vocal fan of Ye's, making the "True Love" collaboration "a full circle moment and another milestone in his unprecedented legacy," according to Columbia. Ye previously guested on the XXXTentacion track "One Minute" from the latter's posthumous 2018 album Skins.