Saba was overwhelmed with memories in the glare of a thousand fans' phone screens. The 27-year-old rapper shouted "We was 16, in the library!" as he introduced members of his band on stage at Chicago's Aragon Ballroom earlier this month, reminiscing about the teenaged studio sessions that led him to headline in his hometown a decade later.
In the early 2010s, Saba practiced rapping at open mics, libraries, and eventually a studio constructed in his grandmother's home. He emerged from neglected West Side neighborhood Austin and stood out among a talented class of young Chicago musicians (Lil Durk, Noname, Mick Jenkins, Chief Keef) thanks to his vivid writing and tongue-twisting style, indebted to Bone Thugs-N-Harmony and fellow West Siders Crucial Conflict and Twista.
In 2018, Saba earned glowing reviews – a Best New Music from Pitchfork, year-end lists from Complex, Billboard, and NPR – and growing crowds following the release of Care for Me, an album that depicted his mourning for his cousin and collaborator John Walt. At the onset of the pandemic, he sought new sounds with creative drills, like writing 16 bars in 16 minutes over Zoom calls, and worked on new music that he described as "the anti-Care For Me," refusing to be defined by its somber tone and autobiographical detail.
On his latest album, Few Good Things, which was released in February, Saba celebrates sharing his successes with his loved ones while recognizing the responsibilities and anxieties he's accumulated in young Black adulthood, like when he raps "I'm the one that paid my sister tuition, I should probably go to the meetings" on the drill track "Survivor's Guilt." On "One Way or Every N***a With a Budget," he raps about the bittersweet feeling of a new home in California that's on a one-way street for security's sake.
The importance of ownership goes back generations in Saba's family; his grandfather Carl appears on the album cover and in a voice-over on the record itself, telling the story of how his own mother purchased her Chicago home. Before the show, I spotted him taking the elevator up to a private section flanked by relatives. "To be honest, half of them tickets is probably just family," Saba said on the phone a few days after the show. "It's almost like a family reunion or something, where you see your cousins, grandma and grandpa, you just see everybody."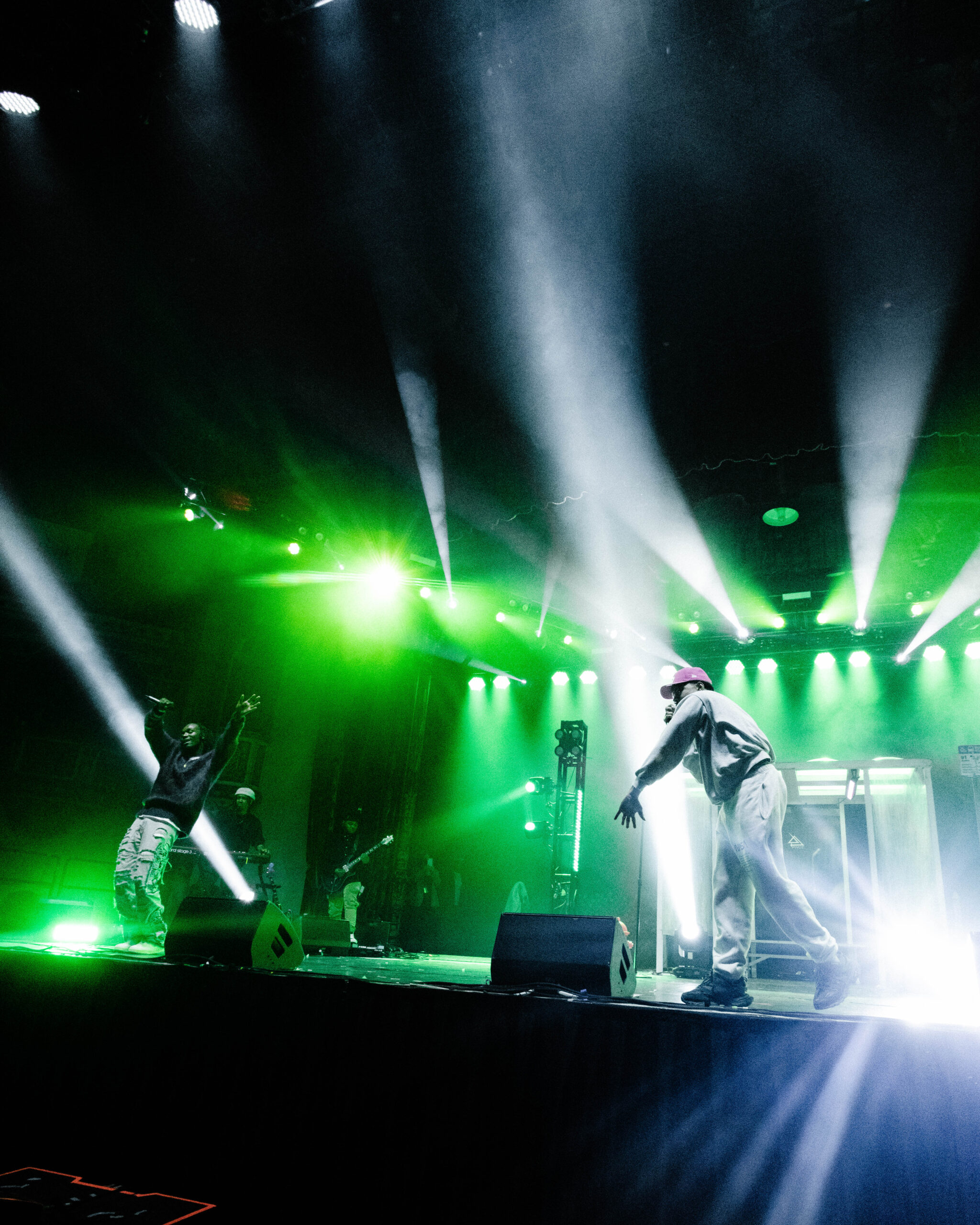 Saba's entire career has grown from maintaining ownership alongside his loved ones. His brother Joseph Chilliams co-wrote nearly every song on Few Good Things, and he's also a co-founder of Pivot Gang, their rap group and self-described "boy band" of neighborhood friends. Members Chilliams, MFnMelo, and Frsh Waters have taken turns opening for Saba on different stretches of the tour, and at the Chicago stop, they all came on stage to perform Pivot posse cut "Soldier."
The production on Few Good Things incorporates sounds from neo-soul, Chicago drill, P-funk, and pop, but the majority of the songs were produced by Saba with Pivot compatriots Daoud and daedaePIVOT. After working with them for years in remote collaborations and 10-hour studio lock-ins alike, Saba trusts their work. "A lot of conversations that you need to have with producers don't have to happen because I've already been working with them for so long," he said.
On stage, Saba was framed by a replica Route 91 bus stop from Austin and Division, complete with trademark blue and white CTA sign. It's the stop he used to linger under as a teenager waiting to travel east into downtown. "It felt appropriate for the Back Home Tour, I wanted to bring a piece of that with me," he said. "It's been real dope to play city to city and see people able to appreciate it."
Saba has performed in Chicago countless times, often part of a festival lineup or the annual John Walt Day events to benefit the local nonprofit established in his cousin's memory. His show at the Aragon was the first time he "got to play the same show that all of these other cities get to see," he said, presenting his personal vision of Chicago back to its residents. "It just felt really great to feel received from a hometown crowd like that."
In addition to Pivot Gang and R&B singer theMIND, Saba brought out a special guest: Chance the Rapper, unmistakable in a bright pink 3 hat. The two performed their collaboration from Chance's classic 2013 mixtape Acid Rap for the first time together. "I figured it could be special to perform that "Everybody's Something" record, especially because it was such a big part of my journey as an artist," Saba said. "That was kind of my debut to a lot of people, where they first heard of me." Over the loose Dilla-derived beat, his verse about kids on corners and cops filling quotas fit perfectly with his more recent work, and the crowd crooned along to every bar.
After 10 years of growth as an independent artist, Saba wanted to talk some shit too. "Stop 'lil bro'-ing me like we not doing this shit!" he announced between songs. "[Pivot Gang] is viewed as so humble, and so 'Oh, they're in their own world, in their own lane,'" he explained later. "And that's the thing that I just wanted to address publicly. Whether you accept it or not, we're here, we're doing this. This is our hometown show, we're in Chicago, this is important." After the Back Home tour concludes, Saba is already at work on a mixtape with Chicago hip-hop icon No I.D., as well as planning future John Walt Foundation benefits still to-be-determined.
True to the themes of Few Good Things, Saba made the most of his hometown show, dominating the stage with sung hooks and knotty verses, blending autobiography and urban history like Kendrick Lamar touring good kid, maad city a decade ago. Saba will play many more stages but at the Aragon, he kept it simple: "This is one of the best moments of my life, being onstage in front of y'all."