When the guitar Kurt Cobain played in Nirvana's "Smells Like Teen Spirit" music video went up for auction, its estimated value was between $600,000-$800,000. But the final price far exceeded those estimates.
Indianapolis Colts owner Jim Irsay ended up buying the left-handed Fender Mustang for a whopping $4,500,000. "I am thrilled to preserve and protect another piece of American culture that changed the way we looked at [the] world," Irsay said in a statement. "The fact that a portion of the proceeds will go toward our effort to kick the stigma surrounding mental health makes this acquisition even more special to me."
"To have this legendary guitar, one of the most culturally significant and historically important guitars of Kurt Cobain and in all of rock music history return to my home state of Indiana to be part of Jim Irsay's renowned memorabilia collection is a great honor and personal highlight of my life," said Indiana native Darren Julien, President/Chief Executive Officer of Julien's Auctions. "This once-in-a-lifetime auction has been one of the greatest privileges in my professional career and I'm duly pleased that the proceeds will also bring much needed attention to mental health awareness."
In addition to the guitar, Cobain's 1965 Dodge Dart and an accompanying NFT also sold for $375,000. See what other famous items sold at Julien's Auctions' Music Icons showcase here.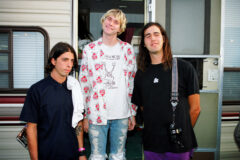 Though $4,500,000 is a hefty price tag, it isn't the most expensive guitar played by Cobain. In 2020, the acoustic 1959 Martin D-18E he famously strummed for MTV Unplugged sold at auction for a record-breaking $6 million.