Australian rock band King Gizzard the Lizard Wizard are often dinged for their at times unbelievable level of recorded output — 20 studio albums since 2012, including five in 2017 alone (each in a different musical style), umpteen official and unofficial live releases, a tour documentary soundtrack, rarities collections, one-off singles and wickedly creative music videos. But as the group's catalog grows, so does its worldwide audience, which is poised to make 2022 the biggest year in Gizzard history.
Indeed, the band is achieving any number of new milestones in the weeks ahead, from selling out two Red Rocks shows eight months in advance (a third was just added), to playing their largest New York-area concert to date in October at the 13,000-capacity Forest Hills Tennis Stadium and reaching the top tiers of international festival lineups with zero radio airplay or traditional promo. Gizzard's band-to-fan dynamic has taken both entities to places they've never dreamed, where fans are encouraged to press and sell their own bootleg Gizzard t-shirts and vinyl and make their own music out of Gizzard's actual multi-track recording session stems, which are posted for free on the band's website.
None of this would mean much if Gizzard didn't continue to up its musical game, as it has done on the brand-new 16-song, 80-minute double LP Omnium Gatherum. Released April 22 via the band's own KGLW label, the follow-up to last year's surprisingly upbeat, synth-driven Butterfly 3000, was originally intended as a way to round up material that never felt quite right on previous Gizzard releases. But band members quickly began writing new songs once Australian COVID-19 protocols were eased and they were able to gather in the same room, resulting in a project featuring everything from super heavy shredding ("Predator X," "Gaia") to actual hip-hop ("The Grim Reaper," "Sadie Sorceress"), immersive psych-rock ("Kepler-22b," "Magenta Mountain") and off-kilter vintage pop ("Presumptuous," "Ambergris").
Having just slayed Coachella audiences with midnight sets over the past two weekends, Gizzard is now traversing North America on a tour that runs through the end of May. In June, it will play five shows in six nights at Primavera Sound in Barcelona, followed by European and North American touring through early November. Gizzard frontman Stu Mackenzie hopped on the phone with SPIN from somewhere near San Luis Obispo to talk about the living, breathing Gizzard-verse and how he and his bandmates (drummer Michael "Cavs" Cavanagh, multi-instrumentalists Ambrose Kenny-Smith, Joey Walker, Cook Craig and Lucas Harwood) keep finding new ways to inhabit it.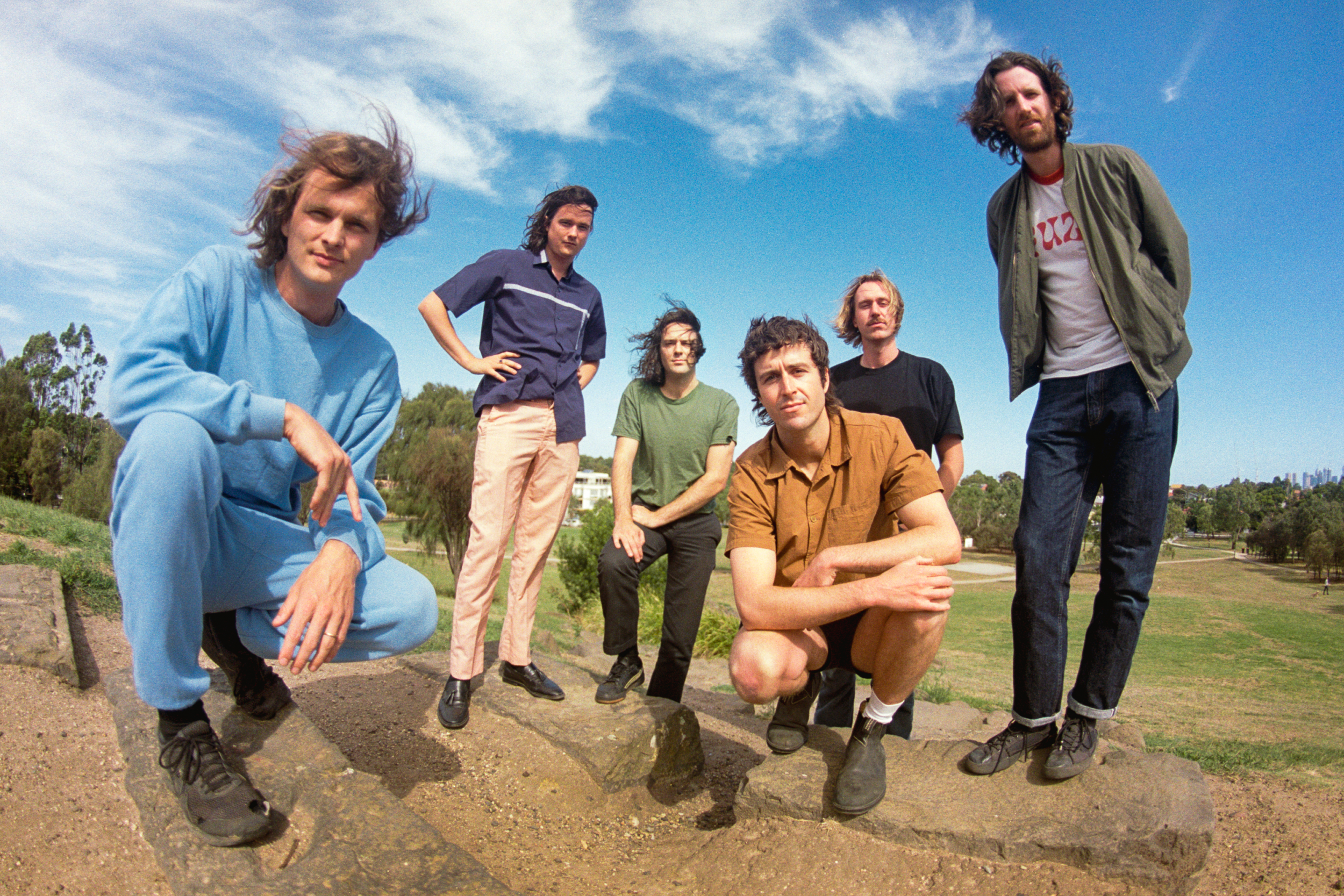 SPIN: Welcome back to the U.S.A. How were the two Coachella sets?
Stu McKenzie: It has been sick. We've had a good trip. We're on this Cali/Las Vegas/Arizona desert holiday road trip thing. We did the midnight slot at Coachella and played some shows in between. We're in a van right now on some kind of crazy vacation. Maybe the late-night Coachella slot fits our vibe a little bit, actually. It feels correct. I'd be more concerned if we played really chilled-out music because I think people would go to sleep. It's about hyping people up after they've had a massive day out there already. It has been great vibes.
The way you guys super-serve the Gizzard fan base is pretty unique, from the authorized bootlegging to making exclusive music for specific special shows, like you did with Timeland and New Year's Eve. What are some lessons you've learned that have helped you not only build this relationship but actually expand it?
Thanks. I appreciate you noticing all that stuff. It is truly why we do it. With the bootlegger thing, it was an idea we had on the bus or something, like, is it crazy to let fans make their own versions of Gizzard stuff? Sometimes we see people selling t-shirts they made, and it's like, that's kind of sick! As long as they're not a big corporation or something, let them do it. It all stemmed from that — let's allow people to do it and see what happens. Maybe it's a more 21st-century version of what Deadheads did and still do — a version of that that feels internet-based. We've always just tried to be free and do whatever feels right. It has been important that we've always had a really small team. Nobody has tried to change the band or even encourage us to do anything else other than what we want to do musically, creatively or whatever. With the bootleg thing, all the labels we work with to help distribute our records around the world said, you guys are insane, but okay [Laughs]. We have very great people around us who help facilitate a lot of these things, and that's definitely worth mentioning.
The best part is that it is self-perpetuating and growing. More and more people are sharing the music with each other and really diving into the world you have created.
Yeah! It is obscene. It's so strange. It's really weird. We also have only been able to build it to where it is because we've been supported by so many amazing fans who continue to come to the shows. It's our job now, which I feel extremely grateful for. We're just out here playing. But it is a perpetuating thing. It fuels itself. I think over the last few years, the band has changed again, and I hope it continues to change every few years. The philosophy with the shows now is that each one should feel unique, and that everyone experiences that live music is ephemeral. The point of going is that you'll see something the people the night before didn't see. I've been rolling with that lately, which has been good for us as a band to keep creative and feel like musicians, rather than performers who get on stage and perform. We can only do it because people come watch us for some reason [Laughs]. We are very fortunate for that.
Omnium Gatherum is different for Gizzard in that it collects tracks from various eras, but overall, what feels special about it to you?
When we go into making a record, the thing I've always felt is different about our process is that it's similar to most people's process of writing a song. Our albums are like one giant song. It's just the way we've always done it. This is the third time where we've tried to liberate ourselves from the shackles of that and try to look at songs as individual pieces of music, where a song is just a song, you know? That allowed us to journey down some paths that wouldn't have been relevant for an entire album's worth, or maybe we didn't have an entire album's worth of ideas in one particular type of vibe or feel. There were some songs laying around that we picked up for this album — things we wanted to finish that we'd been working on for a while that never found a home. But for the most part, it ended up being freshly minted songs with that liberating feeling of, it doesn't matter what this sounds like. It doesn't need to fit on the album. The whole point is that it doesn't fit. The whole point is to let it spread its wings and fly in some crazy direction. It allowed each song to be different from each other, which is what normal people do when they make an album, but for some reason, we don't do that usually [Laughs].
Can you give examples of the lineage of some of these songs? Did any of them just need a light touch-up to be finished? Which ones were built from the ground up?
"The Dripping Tap" is a weird one. It was actually an idea that has been kicking around for a long time. We do have several recordings of it dating back as far as 2018 when we were recording Fishing for Fishies. We thought it was gonna be this kind of boogie-ish thing that would fit on Fishing for Fishies, but it was way too hectically rock or something. It just didn't really work for that, so we put it down. It didn't work on Infest the Rat's Nest, of course. Then we made a couple microtonal records and then Butterfly 3000. It was like, shit. This song's sweet and we need to finish it. That one was like that, but it was a newly recorded thing. It had a vibe. We didn't know it was going to be that long.
One pandemic activity we dabbled in was trying to make music out of samples. I was doing dollar bin world music LP buying. I had to not know what it was. It had to be either one dollar or two dollars, and not in English. I was trying to figure out how to cut up samples and be creative with that. Cookie and Joey and myself all fiddle around with that sort of thing, and that led to making "Sadie Sorceress," "The Grim Reaper" and "Kepler-22b." Those were built out of samples that were chopped out of records we'd never heard before. They were all very fresh in that way.
"Grim Reaper" and "Sadie Sorceress" are the first full-on Gizzard hip-hop songs, which will probably come as quite a surprise to some listeners. Who knew Ambrose could rap like that?
Amby has always had one foot in that world and has been super keen to pursue that with Gizz one day. That was making music out of samples, which is a piece of hip-hop culture. It just naturally evolved and the logical next step was to get some shrimp bars on there. It was a very natural thing. We actually made quite a lot more hip-hop and rap-type of tracks, but we're still figuring out how to do it, especially using a turntable as an instrument.
Could there be a full Gizzard hip-hop record in the future?
I wouldn't rule it out, but like I was saying, the liberating thing about this record is that we didn't do that. We didn't constrain ourselves to making a whole record in one style. The entire point was for it not to be an album of sample-based songs, or hip-hop songs, or whatever. Maybe we'll do it one day, but at this stage, they're just kind of experiments.
Were there songs that really changed once you got your claws into them in the studio?
"Evilest Man" is kind of an older one. It was actually recorded at our old studio, which we haven't been in since 2019. After we made Butterfly, we figured out how to use analog modular synths a little bit better, and that one got more synth-heavy. It was more of a straight-ahead rock song to begin with. "Presumptuous" grew a lot, too. That's the one where Amby starts it off with a keyboard/vocal thing. He sent me a demo of that when we were in lockdown, and I was like, this is sick. This is the recording. He said, what? This is the demo. I was like, no! This is the recording. That ended up being the intro part, and we added the jam later.
Speaking of Butterfly, the album's not even a year old but most of that material still hasn't been played live.
It's not for lack of trying. We are a band in the old-fashioned sense of, besides Joey, who comes from a DJ world, I don't know how to use MIDI or any of that stuff. I'm like a caveman who uses analog gear. Butterfly was made with analog synths that were awkwardly synced to drum machines in, like, the wrong way. We only really reached Kraftwerk in the continuum of electronic music — that's as far as we've gotten. Translating those songs live, because they were made piecemeal, has been very challenging. It's just not how we know how to make music. Basically, every song is led by an arpeggiated synth, which means it has to be synced to a grid or a click. We just have to work out some new equipment, all the while trying to make records and tour. I very, very much want to play a lot of those songs on the reg, so we will get there. There are Gizzard songs on records that we didn't start playing until years later, and then they become part of the repertoire.
You've thrown the gauntlet down by saying you won't repeat songs at some of the upcoming shows. What's the enforcement policy on that?
We actually do have quite a few double shows in the same venues this year — more than we ever have. For those, there will definitely be zero repeats. And Red Rocks will have zero repeats. I'm obsessed with setlist.fm. It's so handy for me as a reference because, let's say we roll up to Vegas. I'll look at what we played in Vegas last time and try not to play anything, or very little, from that show. We played Phoenix and Tucson last week, and I don't think we repeated anything. It helps keep us sane too, to be honest. If people want to come to multiple shows, that's the best. As long as they're interested, we'll keep doing that.