On Saturday night (or Sunday morning depending on where you live), Billie Eilish became the youngest person to headline Coachella. During her set, Eilish had a few surprises up her sleeve. Early in the set, she brought up Khalid for a version of "lovely" and her brother Finneas joined her for "I love you" and "Your Power."
Billie eilish and Khalid – Lovely, Coachella pic.twitter.com/h8aGfEaA9A

— kdkrown (@girlonsaturn__) April 17, 2022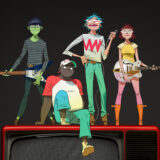 However, the biggest surprise came when she brought up Damon Albarn. The Blur/Gorillaz/The Good, The Bad and the Queen frontman performed "Getting Older" with Eilish. After Eilish shared a quite few kind words about his many projects and his influence on her, Albarn and Posdnuos of De La Soul played Gorillaz's "Feel Good Inc." which pleased the headliner.
ELES! Billie Eilish e Damon Albarn, do Gorillaz, performando "Getting Older" no #Coachella2022 #BILLIECHELLA pic.twitter.com/Vy0nTBFqzA

— Billie Eilish Brasil (@BillieEilishBR) April 17, 2022
Billie Eilish en Coachella presentando 'Feel Good Inc' junto a Damon Albarn (GORILAZ) pic.twitter.com/iBO421sAmX

— FER (@HourlyToxBlink) April 17, 2022
[Music]
20歳のBillie Eilish(ビリー・アイリッシュ) が、史上最年少ヘッドライナーとして『Coachella(コーチェラ)』に登場。"Bellyache"などの人気楽曲を披露する中、「自分の人生を変えた人物」としてDamon Albarn(デーモン・アルバーン)を紹介し、Gorillaz(ゴリラズ)の"Feel Good Inc."で共演した。 pic.twitter.com/trvBJZeycw

— Internet BoyFriends (@Internet_BF2020) April 17, 2022
Eilish would run through a number of her biggest songs, including the one-two closing punch of "Bad Guy" and "Happier Than Ever." As she left the stage, Eilish apologized for not being Beyoncé.
Albarn, if you might remember, got himself into some hot water after taking a perceived shot at Taylor Swift in an interview with the Los Angeles Times. Swift swiftly hit back at him after he wrongfully said that she didn't write her own material and things got a bit wild after that. Albarn would go on to apologize and address the comments at his show in Los Angeles the same night.
See Billie Eilish's full set below:
bury a friend
I Didn't Change My Number
NDA
Therefore I Am
my strange addiction
idontwannabeyouanymore
lovely (Billie Eilish & Khalid cover) (with Khalid)
you should see me in a crown
Billie Bossa Nova
GOLDWING
Halley's Comet
Oxytocin
ilomilo
i love you (with FINNEAS) (Shortened)
Your Power (with FINNEAS)
Not My Responsibility
OverHeated
bellyache
ocean eyes
Getting Older (with Damon Albarn)
Feel Good Inc. (Gorillaz cover) (with Damon Albarn) (and Posdnuos of De La Soul)
when the party's over
all the good girls go to hell
everything i wanted
bad guy
Happier Than Ever