Every member of Korn tells me, individually, that they wanted to "think outside the box" for the rollout of their 14th album Requiem – in those exact words. To their credit, they know that a band nearly 30 years into their career merely saying "we wanted to think about the box" sounds like they're checking off prepared talking points for a band on their 14th album. This is why guitarist Brian "Head" Welch spent an entire day wearing a leather jacket with enormous shoulder spikes during a King Kong-themed photoshoot for a European fashion magazine.
"I felt like I was a Vogue model," Welch boasts over Zoom from his hotel room, the night after playing San Diego State's basketball arena with System of a Down. "I could see Kanye and Kim and her family wearing this stuff."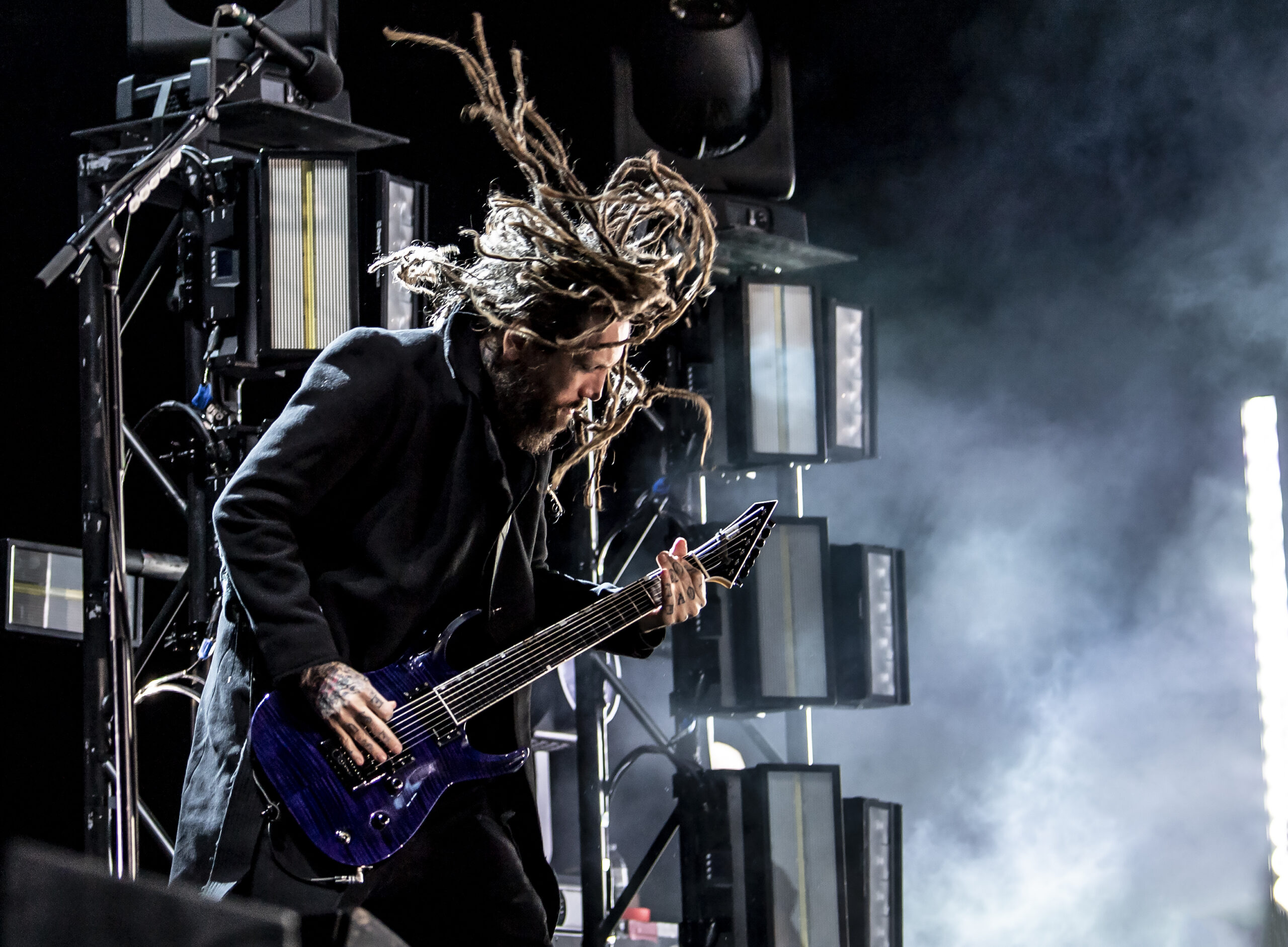 Frontman Jonathan Davis has a more muted take on the situation – "he looked like King Koopa." It's only fair to ask Welch how this type of high-concept reimagining of the metal innovators aligns with the prevailing narrative surrounding Requiem – that it's a back-to-basics, no-bullshit, hard-and-fast reminder of what makes Korn Korn. Especially when Welch says that the shoot lasted 8 hours. Thinking back on Korn's commercial peak, Welch rhetorically asks, "Do you think Fieldy or David or even Jonathan would do an eight-hour photoshoot?"
If Welch had said something like that back in 1999, this would have been the gotcha quote – the one that exposes the interpersonal conflict and tensions that rose as five guys from Bakersfield mashed Mr. Bungle, Cypress Hill and Duran Duran into the dominant sound of rock music going into the 21st century, popular enough to make them both peers and foils for Britney Spears and 'N Sync. In fact, "Got the Life" was the first video that had to be retired from TRL.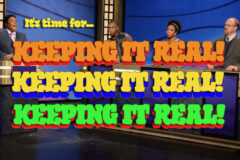 Korn will admit they had almost no idea how to handle any of it at that time. Though none of them have yet powered through Get Back's eight or so hours of mesmerizingly mundane Beatles studio footage, Korn can at least fathom what it was like to be in their position. At the peak of their fame, "the egos were so big, everybody had their own bus, each of us had a ridiculous entourage, we got very irritated with each other easily," guitarist James "Munky" Shaffer recalls. "You intermix alcoholism and drugs in that shit, you're gonna have a disaster."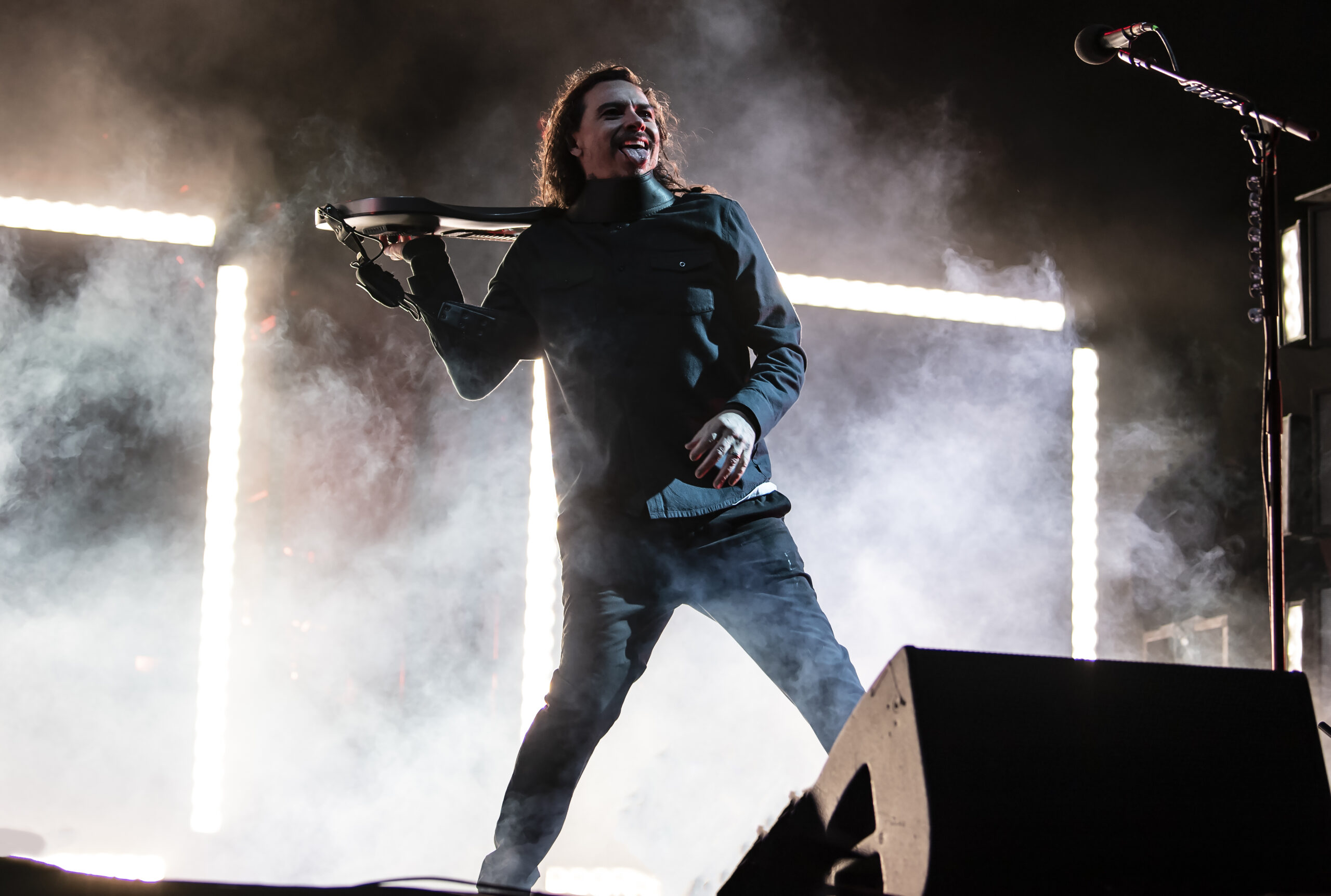 Within that dynamic, Welch saw drummer David Silveria and bassist Reginald "Fieldy" Arvizu as the "big, father personalities" of the band, whereas Davis had typically shrunk from conflict until Korn's massive success emboldened him to speak his mind; he was also the first member of the band to get sober, after 1998's Follow the Leader. Welch saw himself as the class clown of the bunch, doing Jim Carrey impersonations to mask the deep hurt he felt if one of his riffs got rejected during songwriting sessions.
But Silveria's seat has been occupied by Sunset Strip survivor Ray Luzier since 2008, after a tumultuous and seemingly resolved relationship with the band; Fieldy is on hiatus with the band's blessing. And those original members that remain share a bond that has strengthened as they've split time between the West Coast and Nashville and experienced life outside of Korn, lives that are largely defined by sobriety, spirituality and family.
"Me and Munky and Head, we enjoy being in each other's company," Davis reiterates. "Imagine trying to write or do anything creative when you hate the motherfucker next to you." And besides, Davis says he was in and out of the King Kong photoshoot in only two hours.
Requiem is the culmination of the interpersonal work Korn have done since turning 40, when "most of us got sober and got our shit together," Shaffer jokes. Korn were simultaneously hit harder than most bands by the pandemic – Luzier and Shaffer contracted COVID and Shaffer did so twice – and better prepared to sustain the damage; during the pockets of time they were able to tour in 2020, Korn had a literal group of understudies to make sure they show could go on. "We've got backup guitar players, drummers, everyone was in place," according to Shaffer. "As long as Jonathan doesn't get it we'll be fine, we built a barrier around him and…nevertheless!"
Though they appreciated the opportunity to be completely engaged in the process of at-home fatherhood, arranging Zoom classes and playdates for their children, Welch, in particular, recognized that it wouldn't be long until Korn started relating to their older records. "I'm going crazy because I can't tour or go to the store and if I do, I'm dressed like a stormtrooper. I called up our manager, like, 'We need to make a record.'"
With no real timetable or pressure from label execs – Korn have been operating as free agents on a record-by-record basis – Requiem confounded the typical, remote creative process we've seen from "pandemic albums." "Me, Munky, Head and Fieldy, when we're in the room, that's a Korn song," Davis states. If that's the case, they haven't made a true Korn song in quite some time. Since Welch rejoined in 2013 after an eight-year hiatus, the band would work out instrumentals in Nashville with producer Nick Rasculinecz and send the results back to Davis.
"When it came time to do vocals, I'd try to get in and out as soon as possible," Davis admits, needing to tend to his children and the "chaos in my head." "What we were doing was great, so no one was bitching at me."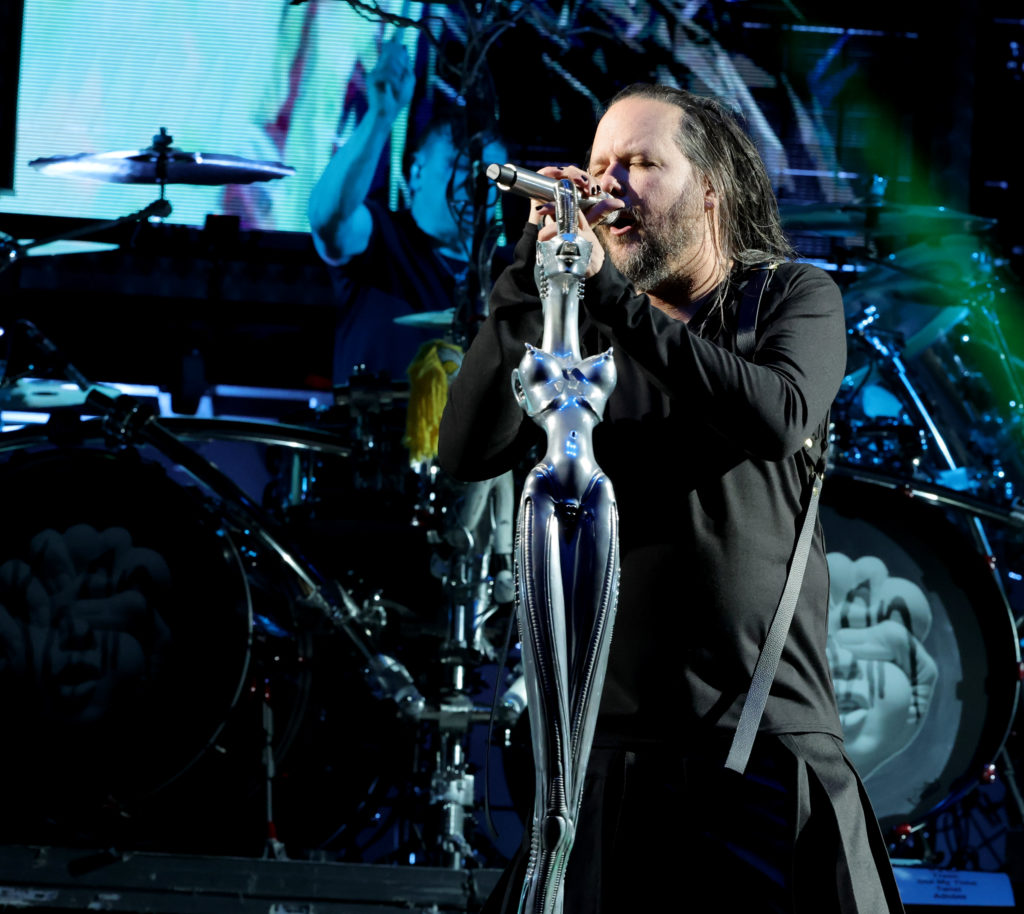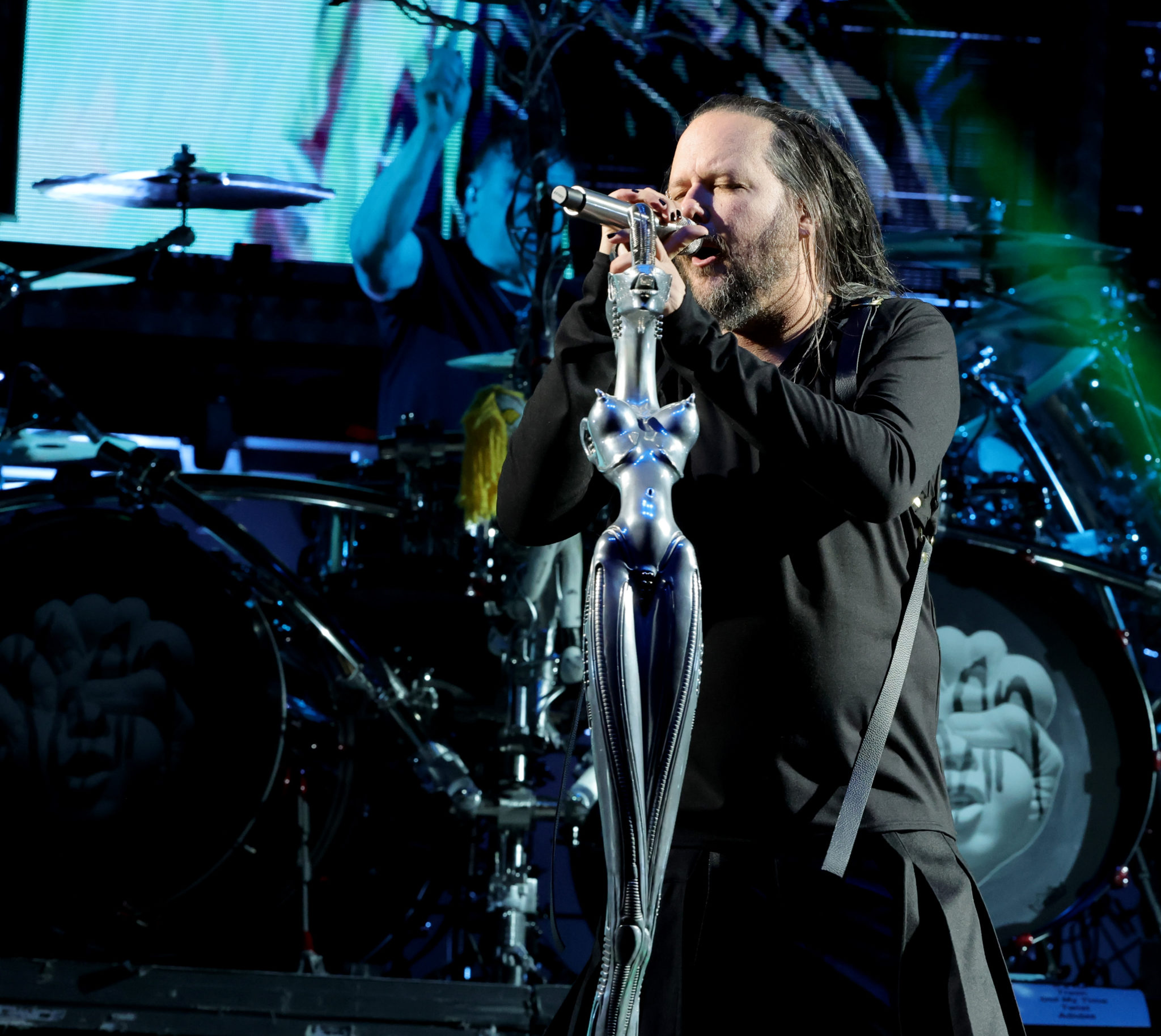 It's true that Korn's output was becoming increasingly strong after the return of Welch, culminating in 2019's The Nothing – Davis experienced the death of his aunt, his mother and his wife during the creative process, which led critics to ascribe it a gravitas that wasn't typically projected onto latter-day Korn albums. All members of Korn are in agreement as to what makes Requiem sound so raw and urgent – Davis was present this time around, mentally, physically, spiritually.
"We see Jonathan walking around the room rocking out, recording ideas and lyrics into his phone and melodies," Welch says with obvious admiration in his smile. "And we're looking at each other like, 'who is this fucking guy?'"
Requiem is very much Korn doing Korn things, a return to form a slightly different context – all five members writing in the same room, recording to analog tape, an album clocking in at a lean 34 minutes, like they're an indie rock band or something. Everyone in the band allows that attention spans are shorter than ever, which can work to their advantage. Their shortest song – all 49 seconds of it – has become an unexpected hit on TikTok. An unseen person walks into a field, shouts "OH MY GOD, IT'S CORN!" and proceeds to perform Davis' feral scatting from "Twist," the intro to 1996's Life is Peachy. "It's the best impression I've heard in 30 years," Shaffer laughs.
The immediacy of Requiem appears to be working – the reviews are largely positive, some wildly enthusiastic. Lead single "Start the Healing" is their biggest hit since 2011's The Path of Totality, a divisive foray into EDM alchemy that featured three songs produced by Skrillex. Requiem doesn't exactly reinvent Korn; it's nearly impossible to do something like that with a vocalist as distinctive as Davis and even their Unplugged and electronic albums are clearly the work of the same people who made "Blind." But reinvention isn't really the goal. Korn's imprint is more pronounced than ever throughout metal and rap music. The challenge lies in bringing Korn themselves into the narrative of 2022 while tending to their legacy.
Last year, Korn embarked on a co-headlining tour with Staind, a band whose style, sound and commercial peak barely coincided with their own; taking a long enough view, the pairing makes sense. A year later, they played a brief West Coast run with System of a Down, Faith No More and Helmet, all peers and formative influences for Korn; Shaffer remembers bonding with Davis at a college show in Irvine featuring Helmet and an unsigned No Doubt. But for all of the mutual respect Korn have for these bands, they're the only one that has consistently released new music throughout the 21st century. And with that, the narrative had to shift for Requiem.
"If our management thinks we're that band from the '90s and that's all we got, they're gonna use that," Welch states. "You have to be competitive on some level in this business to stay ahead of the pack," Shaffer concurs. "You're gonna become a nostalgia act and don't get me wrong, fans love to listen to the old songs but we want them to get them excited about the new music too.
And so this is how Korn finds themselves being covered by international fashion magazines and publications that might otherwise lean towards indie rock. They've linked up with a PR company whose representative clients include the likes of 100 Gecs, Earl Sweatshirt and Rex Orange County. Though they've had a mutually beneficial relationship with metal stronghold Roadrunner, Korn were looking for a fresh set of eyes and ears this time around. Welch admits that a few labels passed on Requiem before Korn signed with Loma Vista, putting them on a roster with St. Vincent, Soccer Mommy and Local Natives.
The band can sense a different energy surrounding the release of Requiem compared to their previous releases, though the optics are only a part of it. Though the music of Olivia Rodrigo or Machine Gun Kelly or Billie Eilish has little in common with, say, "Got the Life," Shaffer sees the reintegration of guitar into mainstream pop as a cultural shift that benefits all rock bands. There's ample evidence of Korn's influence in some of the more populist-leaning extreme music out there, their upcoming tourmates Code Orange and Welch favorite Spiritbox being the most prominent examples.
But for the original core, there's a tremendous validation in hearing Korn's influence on modern hip-hop; like most of the metal bands who showed an interest in rap during the '90s, Korn were often stereotyped as interlopers, a reputation that Shaffer admits wasn't entirely undeserved.
"We felt like there was a big musical movement, we didn't realize how cultural it was," he notes. "We're white kids with dreads and Adidas tracksuits, we were just a conglomerate of inspirational artists."
Even still, they had a backpacker's level of reverence for the West Coast hip-hop they grew up on; witness the W.C. and Slimkid3 cameos in the "Got the Life" video, collaborating with Ice Cube on Follow the Leader's "Children of the Corn." When Ice Cube rebooted his career as a rapper, he released a Korn feature called "Fuck Dying" as a single.
More recently, they were all blown away after seeing a video of Danny Brown covering "Freak on a Leash" and have witnessed the atonal squall of their '90s albums filtering into some of the more confrontational pop-rap of the SoundCloud era. I mention Rico Nasty and Playboi Carti's Whole Lotta Red specifically and, off-camera, Welch's 23-year old daughter is pumping her fist; she had seen their recent tour in Indianapolis.
All of this confounds the perception of who was actually listening to Korn throughout years; "the band appeals to a fanbase almost entirely composed of aggressive, confused males," Chuck Klosterman wrote in 2001's Fargo Rock City, and that was a largely positive profile of the band. There's an unspoken implication of white in there as well, which was echoed throughout the 2021 HBO documentary Woodstock 99: Peace, Love and Rage. If it didn't quite outright blame nü-metal or rap-rock for the unforgivable violence that occurred at the festival, Woodstock 99 at the very least tried to implicate bands like Korn as a main accomplice – a sound emblematic of a greater cultural rot.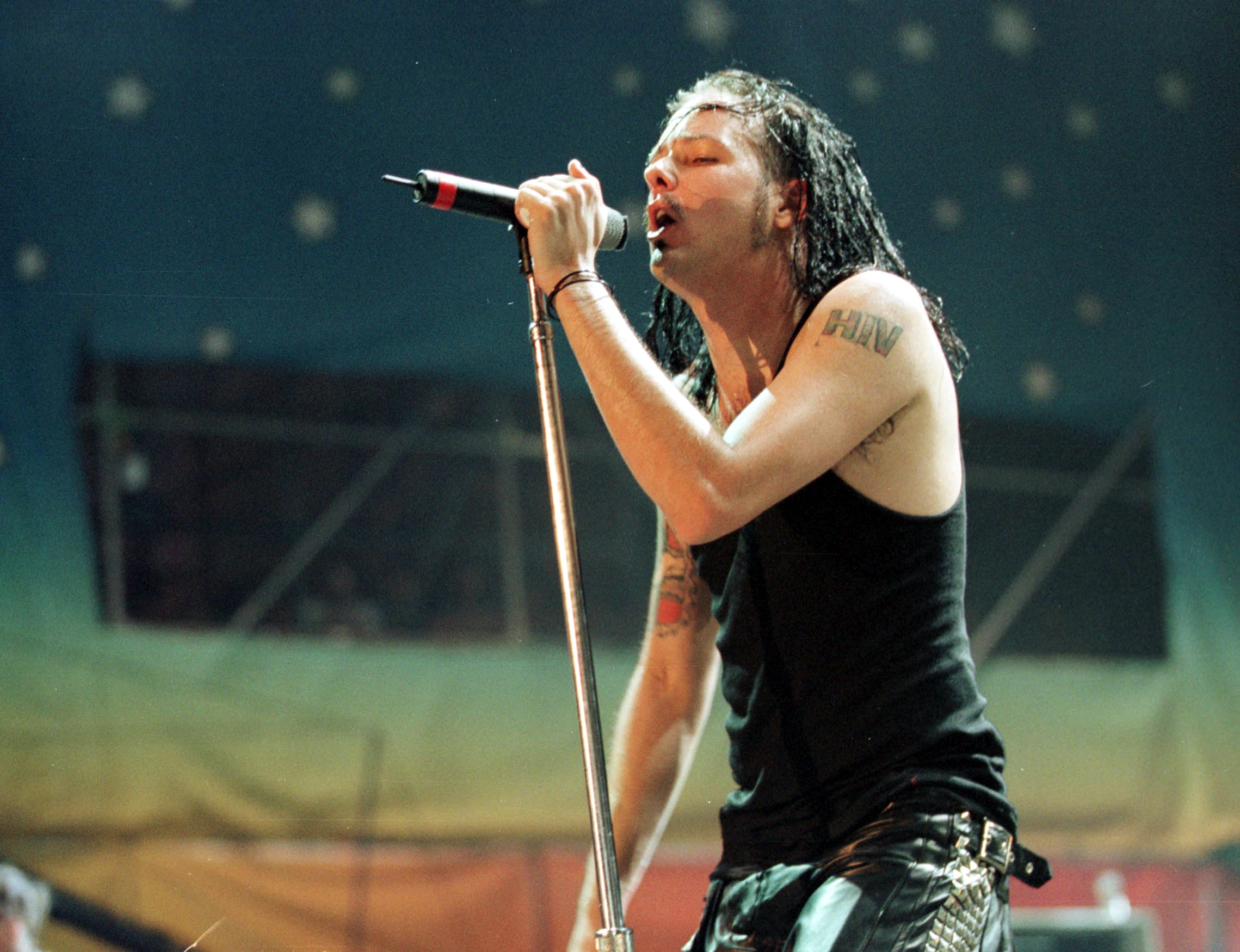 As a purely documentary work, Woodstock 99 succeeded in making the festival's organizers look even guiltier than anyone could've remembered, simply by letting them speak on their own behalf. But as a piece of cultural critique, the creators were plagued by confirmation bias. "It was 100 and something degrees, water was $6 and people are walking in shit and piss, that would make anyone mad!" Davis explains. While the band still are still a bit hesitant to associate themselves with Limp Bizkit, "they play that show all the fucking time and then they got blamed for no fucking reason." There were just as many granola college rock acts as metal bands, what do G. Love and Guster and Rusted Root have to say for themselves? If metal bands were uniquely positioned to instigate the kind of depravity that made Woodstock '99 infamous, why didn't something like this happen every single night on Ozzfest or Family Values tour? When the likes of Sheryl Crow, Moby and Dave Holmes caricatured fans as privileged, no one thought to actually explore whether that was true, or even ask a single metal fan why this type of music actually resonated so profoundly at the time.
Woodstock 99 was correct in that the festival represented a repudiation of fake boomer nostalgia, but it failed to address its own false utopian view of early '90s alt-rock or how its sound was often just an extension of classic rock. It's nearly impossible to overstate the influence of Korn's debut album, which arguably did more damage to hair metal than grunge ever did. Luzier recalls teaching at Musician's Institute in Hollywood in the mid-'90s and there were two songs that were requested for a live performance class – "Smells Like Teen Spirit" and "Blind," which requires drummers to ditch the metronome and play entirely by feel.
But Korn sense that their original artistic vision has been vindicated by a greater cultural shift. In 2022, the experience of popular art centered around "processing of trauma" has become so prevalent that it's basically a meme. But in 1994, nobody was doing that, certainly not in the realm of popular metal. The first several Korn records were almost entirely about Davis' experiences of abuse and bullying; "Daddy" infamously ends with him crying in the recording booth.
As with Nirvana and Rage Against the Machine, jocks and assholes and bullies were drawn to the brutality of the music and missed the point of the lyrics completely. "Jonathan would get pissed off after shows, saying there's jocks out there beating up on the goth kids," Welch recollects. "'I was a goth kid, how do I get these jocks to leave our concerts?'" Though Luzier grew up in completely different circumstances than his bandmates – "I'm so not Bakersfield, I'm Pittsburgh farm boy…I never went into the city except to see Mötley Crüe" – even in his mid-20s, he could still access the memories of being an outcast in rural Western Pennsylvania upon hearing Korn. "I got called 'band f–' in high school because I wasn't a sports guy, I had a marching snare on."
Though Korn never went so far as to make their own version of the Incesticide liner notes, it's possible to hear Korn as an album that predicted conversations that would become mainstream nearly 30 years later. "I love today," Davis flatly states. "I love that people talk about this shit, finally. People lost the mentality of 'just be a man and suck it up.' I'm so happy my son is gonna grow up in that world that they can have an outlet where I didn't, where I was called certain things because of the way I looked or the way I felt."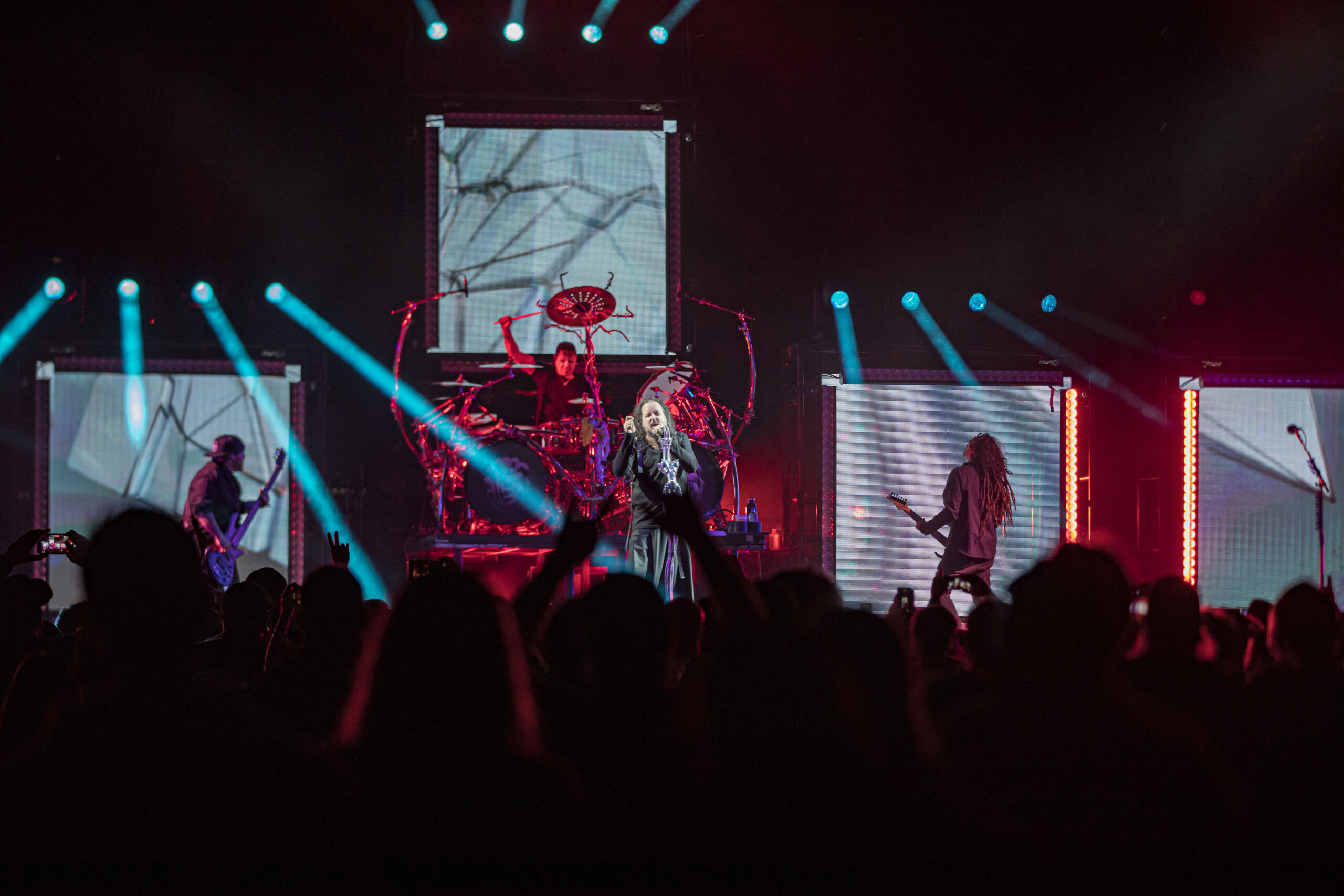 This is the energy that fuels "Start the Healing" – along with its obvious hope for a post-pandemic existence and a closure on The Nothing. It's Korn's latest Great Statement Song, but too midtempo to work as an opener. This is what might be considered a luxury issue for Korn, who are now the living classic rock that they once opposed. This belies their most famous quote to date – "The Rolling Stones, Led Zeppelin—those bands haven't influenced us in any way," Fieldy told Klosterman in Fargo Rock City. "Nobody in this band ever listened to that stuff. Our musical history starts with the Red Hot Chili Peppers and early Faith No More. As a band, that's where we begin." Robert Plant is Davis' first choice for a dream collaboration, they've covered Pink Floyd and Shaffer admits that he unearthed some home videos of Led Zeppelin that spurred his vision of Korn eventually doing a stadium tour. For now, they take the stage for the first of two nights at Los Angeles' Banc of California Stadium. They don't open with "It's On," or "Right Now" or even "Blind," a song that I can't possibly ever imagine not starting a Korn show. For this run, they've chosen their opening statement as a form of wish fulfillment – "Here to Stay."