Listen to Blu DeTiger for 30 seconds and you'll know exactly what defines the young artist's music.
It's the bass.
Not those thumping samples found on any modern pop track, but slinking lines plucked and slapped from a real bass guitar — sounds of a bygone, much funkier era.
For 22-year-old DeTiger (her real name), the bass has been an obsession since she was 7 years old.
"I remember thinking 'So many girls play guitar and sing,'" DeTiger tells SPIN, taking a break from working on new music to call in from Los Angeles. "I was like, 'I want to be different. I want to do something unique.' And I've never looked back."
DeTiger's commitment to the bass as the centerpiece in her songwriting has launched the Manhattan native as one of the most exciting — and genuinely singular — new artists to ascend during the pandemic. Her debut EP, last March's How Did We Get Here? has notched more than 80 million well-deserved streams. The pop-funk project oozed a cool, sexy confidence, providing a disco-rific soundtrack for getting lost in the city (or as lost as you can get in 18 minutes, anyway).
Last month, DeTiger hit "some bucket list stuff" when she performed on Saturday Night Live. She was just filling in on bass for Bleachers, but she's already manifesting her next appearance on the show for her own project.
But before the network TV exposure, DeTiger amassed more than 1 million followers on TikTok with her blend of original music and live bass covers. It's the platform that first gave her a boost thanks to her fresh, virtuosic bass lines over everything from Baby Keem and Lil Nas X to Beyoncé and Justin Timberlake.
"[TikTok] gave me a lot more confidence in owning the bass, because I would post these videos and they would just randomly go super viral," she says. "I was like, 'Oh, people actually do like this. I'm going to lean into it.'"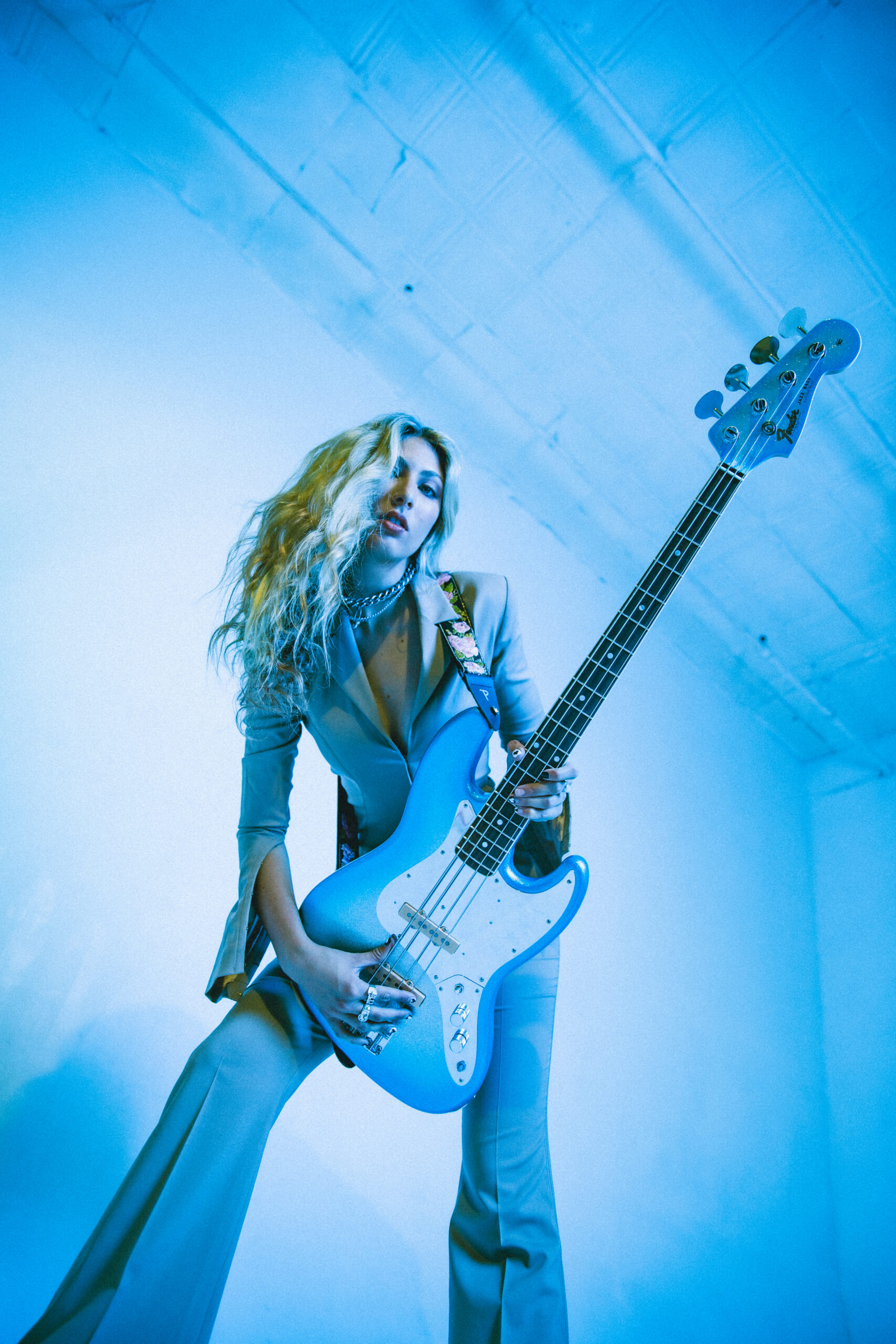 The covers started around spring 2020, just as DeTiger's European tour opening and playing bass for alt-pop star Fletcher was axed due to COVID. That tour was supposed to be the follow-up to DeTiger's busy 2019, which consisted of pulling double duty (as an opener and then bassist) for The Knocks, Fletcher and Caroline Polachek. That success forced the busy teenager — who'd also taken on session work in between DJing in New York's underground club scene — to drop out of New York University's Tisch School of the Arts.
"One leave of absence turned into another leave of absence," she says. "I was ready to go for it."
All of the success earned DeTiger a deal with Capitol Records in November, and she dropped her major-label debut single that same month. The addictive "Blondes" delivered big hooks and her signature bass all tied around a darker underside. "They say that blondes, they have more fun, get what they want / Why am I so different, I'm just sitting at home, feeling dumb and alone?" DeTiger sings in the chorus.
"[It's] piggybacking off of the pandemic and just wanting to feel alive again — getting out of those routines and mundaneness," she says of the song, which was written with veteran songwriter Teddy Geiger (Shawn Mendes, Niall Horan). "It's kind of just about doing something, or anything, to make you feel sort of extreme."
More music is on the way, with a new track coming "in a few weeks" as she works toward her eventual debut LP. She's hoping to get that out later this year, but until then, she's booked for a list of shows and festivals, including Governor's Ball and Bonnaroo, as well as her first headlining gigs in Europe. Of course, the European gigs will also be a bit of a throwback to when she was playing tight rooms before her more mainstream popularity kicked in.
"You only really do that once, when you're coming up," she says. "With everyone jumping in small, sweaty, 200 cap rooms in Berlin. I'm just really excited to do that sort of thing."
But DeTiger assures that if she can do it, anyone can. And as she's seen during her ascent, plenty are trying. The artist's rise has led a crop of young fans to pick up the perennially less-loved instrument.
"A lot of people hit me up saying they bought a bass in the pandemic because they've seen some of my videos," she says. "That means a lot to me because ultimately what I want to do is inspire other people."