Ahead of the release of their forthcoming record, Spiritualized unveiled a video for its newest single "Crazy."
"Crazy" follows the release of the upcoming LP's first single and opener, "Always Together With You." The country-soul kissed track is supported with backing vocals from Nikki Lane, and its video was directed by the band's frontman Jason Pierce, a.k.a., J Spaceman. In directing, he was inspired by Andy Warhol's iconic, 1963 silent experimental film, Kiss.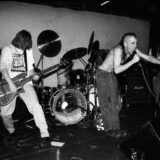 Everything Was Beautiful is set to be released on February 25 through Fat Possum. It was recorded in 11 different studios, and J Spaceman plays with 16 different instruments throughout the LP. Having recruited more than 30 musicians and singers, J Spaceman included his daughter Poppy, string and brass sections, choirs, finger bells, and chimes from the Whitechapel Bell Foundry to further elevate the band's staple ethereal sounds on Everything.
"I felt like I'd been in training for this my whole life," J Spaceman said in a statement. "There was so much information on it that the slightest move would unbalance it, but going around in circles is important to me. Not like you're spiraling out of control but you're going around and around and on each revolution you hold onto the good each time. Sure, you get mistakes as well, but you hold on to some of those too and that's how you kind of… achieve. Well, you get there."
Everything Was Beautiful Track List
1. Always Together With You
2. Best Thing You Never Had (The D Song)
3. Let It Bleed (For Iggy)
4. Crazy
5. The Mainline Song
6. The A Song (Laid In Your Arms)
7. I'm Coming Home Again
Spiritualized Tour Dates
March 2, 2022– Utrecht – TivoliVredenberg Grote Zaal tickets
March 3, 2022 – Copenhagen – DR Studie 2 tickets
March 4, 2022 – Oslo – Parkteatret tickets
March 5, 2022 – Gothenburg – Pustervik tickets
March 7, 2022 – Berlin – Passionskirche
March 8, 2022 – Hamburg – Laeiszhalle
March 9, 2022 – Cologne – Gloria
March 10, 2022– Paris – La Gaîté Lyrique tickets
March 11, 2022 – Brussels – Ancienne Belgique tickets
March 31, 2022– Dallas – Granada Theater tickets
April 1, 2022 – Austin – Scoot Inn tickets
April 3, 2022 – Santa Fe – Meow Wolf tickets
April 4, 2022 – Denver – Ogden Theatre tickets
April 5, 2022 – Salt Lake City – The Commonwealth Room tickets
April 7, 2022 – Seattle – Neptune tickets
April 8, 2022 – Portland – Revolution Hall tickets
April 9, 2022 – Vancouver – Commodore Ballroom tickets
April 11, 2022 – San Francisco – The Fillmore tickets
April 12, 2022 – San Francisco – The Fillmore tickets
April 14, 2022 – Solana Beach – Belly Up Tavern tickets
April 28, 2022 – Bath – The Forum
April 29, 2022 – Cambridge – Corn Exchange
April 30, 2022 – Brighton – Dome
May 2, 2022 – Birmingham – Symphony Hall
May 4, 2022– Gateshead – Sage tickets
May 5, 2022 – Glasgow – SWG3 Galvanizers tickets
May 7, 2022 – Dublin – Olympia Theatre tickets
May 8, 2022 – Manchester – Bridgewater Hall tickets
May 9, 2022 – Nottingham – Royal Concert Hall
May 10, 2022 – London – Roundhouse